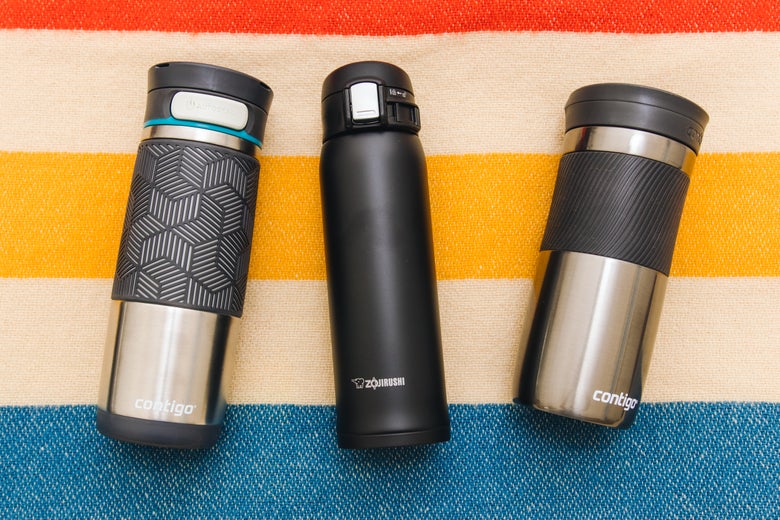 After close to 78 hours of research and testing over the past four years, we still believe that the Zojirushi SM-SA48 Stainless Steel Mug is the best travel mug for keeping your drinks hot, preventing leaks, and accompanying you on any commute. In our latest round of testing, the Zojirushi kept liquids significantly hotter than any other mug we tried, even after 8 hours in the harsh environment of a freezer—and that's important if you want to enjoy your drink for longer.
Our pick: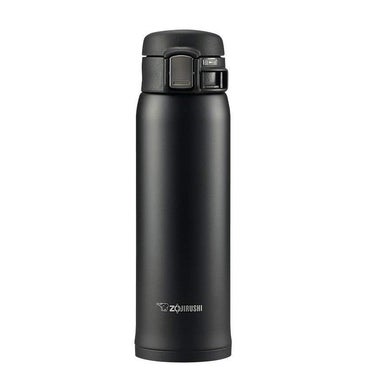 The Zojirushi SM-SA (or SM-SC in certain colors) offers amazing heat-retention, one-handed usability, and a locking, leakproof lid.
The Zojirushi SM-SA Stainless Steel Mug is an exceptional vacuum insulated travel mug that keeps beverages hot for hours, even in cold environments. It has a well-designed exterior, an easy-to-clean nonstick Teflon interior, and a foolproof lid locking mechanism that's you can operate with one hand. The mug is lightweight and slim, but that means it may not fit snugly in some cup holders. The Zojirushi is also on the pricey end for a mug, but after years of long-term testing, it's the mug we trust most not to spill in your bag, and it's hard to put a price on that. (Actually, that would be about the price of a new bag, laptop, phone, and whatever else happened to be in there at the time.) It's available in both 12- (SM-SA36) and 20-ounce (SM-SA60) versions as well as the 16-ounce size (SM-SA48) we tested. Zojirushi's newer SM-SC mug is exactly the same as the SM-SA, but in different colors.
Also great: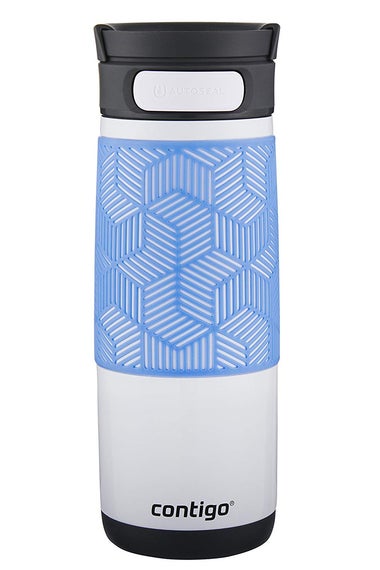 This is a very different mug from the Zojirushi SM-SA, but it offers several features we like
The Contigo Autoseal Transit Mug is a very different mug from the Zojirushi SM-SA, but it offers several features we like. The lid has fewer parts, is easier to clean, and prevents spills with its Autoseal button, which you have to hold down to keep the sipping port open. Plus, the flat lid won't bump your nose or get in your line of sight while you're drinking like the Zojirushi's flip-top lid can. Although the Transit doesn't keep drinks nearly as hot as the Zojirushi over a long period of time, some people might prefer this (we've heard complaints of the Zojirushi keeping drinks too hot in the past). The Transit is a little wider than the SM-SA, good if you want your mug to fit more snugly in a car cup holder or use devices like an Aeropress, pour-over dripper, or tea steeper directly with the mug, but this means it's heavier and bulkier, too.
Budget pick: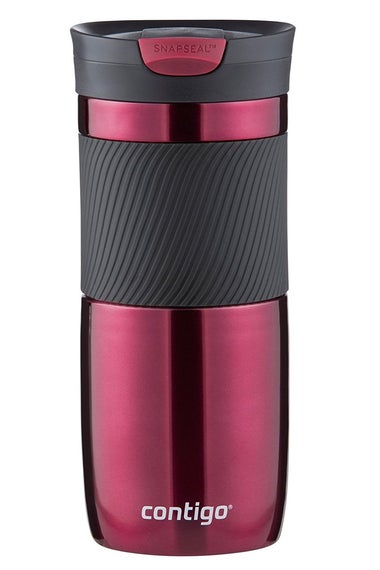 At half the price of most mugs we tested, the Contigo SnapSeal Byron Mug is a great budget option if you don't plan to throw around your mug.
Contigo's SnapSeal Byron Travel Mug is a basic mug that passed our leak tests, is easy to drink from and clean, and is wide enough to fit snugly in car cup holders. We like that it's simple to use (one pop-top button lets you sip from the mug) and is easy to clean. Like the Transit, it also has a rubberized grip, so it's easier to hold onto. It will keep drinks warm for hours at room temperature, although not as piping hot as our top pick (it did just as well as the Transit in our heat tests). We'd be nervous to toss this mug into a bag since the tab on the lid doesn't lock as securely as our other picks, but it's a fine mug if you won't throw it around as much.
Also great: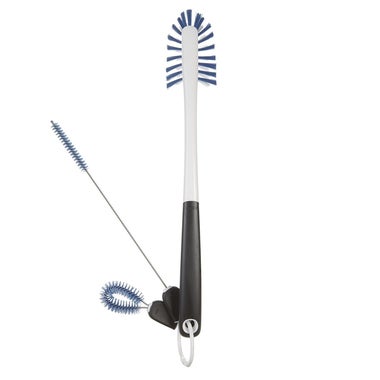 The OXO bottle-cleaning set has a skinny straw brush and a looped detail-cleaning brush, which are all you need to keep your travel mug squeaky clean.
And let's not forget that these things need cleaning every once in awhile. That's why we also have a bottle-brush recommendation for when you need to clean out the gunk.
Why you should trust us
Over the past four years, we've spent 60 hours researching travel mugs to keep this guide current. For this update, I (Anna Perling) spent 10 hours researching and comparing mugs from 12 different brands and four major retailers, and 18 hours testing 13 finalists against our top picks. I also took a trip to Target to see how the mugs felt in real life.
I spoke to two engineers about mug design, Dr. Hongbin (Bill) Ma, director of the Center of Thermal Management at the University of Missouri and owner of ThermAvant Technologies, and Dr. Michael Dickey, a professor of chemical and environmental engineering at North Carolina State University. To learn about ideal coffee and tea drinking temperatures and how these beverages break down over time, I emailed Rachel Sandstrom Morrison, a digital editor at Fresh Cup magazine. Rachel also reached out to Michael Wise, the director of coffee at Dapper & Wise and a licensed Q grader (basically, a coffee sommelier) to find out how long coffee will really stay good in a travel mug.
Who this is for
Travel mugs, as their name implies, are for people who want to take beverages on the go. In addition to being portable, travel mugs also retain hot or cold temperatures for several hours so you can enjoy your coffee, tea, or cocoa over time. Compared to paper or styrofoam to-go cups or open ceramic mugs, a good travel mug will offer better insulation and also safeguard against leaks or spills. If you commute, work or travel outside, or simply want to savor drinks for longer, a travel mug is for you.
You can also save money and reduce your environmental impact, by taking a drink in a travel mug versus buying one on the go. According to a 2012 report, the average American spends $1,092 a year on coffee. And according to a 2014 CNN report, over 50 billion paper cups are thrown away every year (many paper cups are lined with plastic, making them unrecyclable). A travel mug offers green solutions to both problems.
Tumblers, thermoses, and insulated bottles
So what about tumblers, thermoses, and insulated water bottles, all close cousins to the travel mug? Tumblers have sipping ports that don't seal as tightly or securely as travel mugs and have wider mouths so you can add ice cubes; many also have straws for sipping cold beverages. You can check out our guide to tumblers if these kinds of cups are what you're looking for. As for thermoses, most lack the slim size and lid design features that make travel mugs portable and convenient. With a thermos, instead of popping open a lid to take a sip, you'll need to unscrew the cap and pour liquid into an open cup to drink. (Try doing that while driving. Actually, please don't.) And insulated water bottles are geared towards keeping drinks cold, and don't have sipping ports like travel mugs (instead, they often have screw-top lids that require two hands, or sport caps that aren't great for hot drinks).
How we picked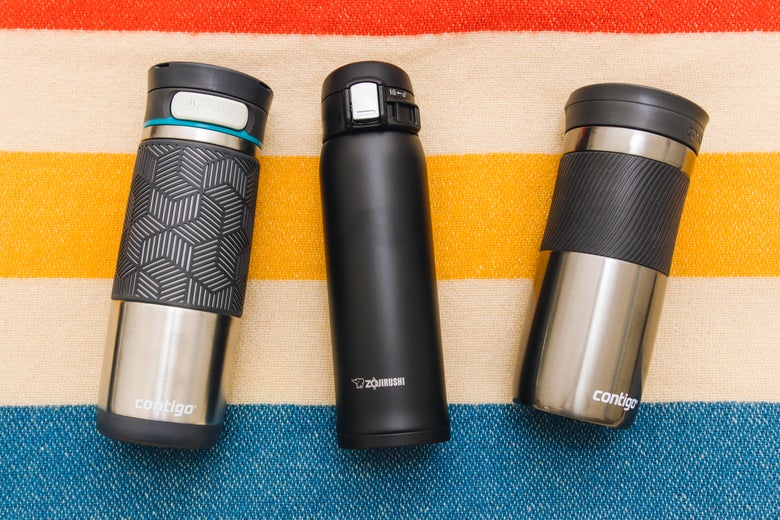 For our 2017 update, we combed the internet to look for any new editorial pieces published since our last guide. Cook's Illustrated (subscription required) has a review from 2014 that we considered, as does Outside Online. We also looked at reviews from Your Best Digs and Good Housekeeping, and read through hundreds of comments on our existing mug, water bottle, and tumbler reviews. We compared the top 40 bestsellers from Amazon, Target, Walmart, Costco, and REI, and reviewed the mugs we dismissed in 2016 to see if any had been updated or discontinued. Then we ventured to Target to see how some of the mugs actually felt in our hands. Based on our expert interviews and research, we looked for mugs that met the following criteria:
Vacuum-insulated: All of the mugs we considered are double-walled and vacuum-insulated. Dr. Michael Dickey, professor of chemical engineering at North Carolina State University, explained that vacuum insulated mugs provide the best heat retention: "Heat is transferred via conduction. Think about heat transferring from your hand to surface. But if there's a gap in between, like a vacuum, heat doesn't transfer as fast." There are very few atoms at all to conduct heat in a vacuum, which is why it works particularly well as insulation.
Heat retention: A mug should retain a drink's hot or cold temperature for as long as its specs advertise, and we looked for mugs with the longest heat and cold retention times. Both engineers we spoke to noted that the majority of heat loss occurs through the lid, and that mugs with wider lids are likelier to lose heat faster. Because of this, we gave preference to mugs without wide, open mouth drinking ports. But since some people prefer to drink from a wider sipping port, which feels more like a ceramic mug, we did include a few wide-mouth mugs in our tests.
Stainless steel: Most travel mugs are made from either glass, ceramic, plastic, or stainless steel. We prefer stainless steel because it's more durable than glass or ceramic, and retains heat better than plastic. It's also the best material for vacuum insulation (and therefore heat retention). When you look at various other guides that have been written on the subject, including an extensive heat-retention test performed by Tested, the mugs that rise to the top are always double-walled, vacuum-insulated, and stainless steel.
Occasionally, travel mugs come with a stainless steel exterior and a ceramic or glass interior. That's likely because some people think that stainless steel affects the taste of beverages, but there's no scientific evidence to prove this phenomenon. The problem with glass or ceramic interiors is that they can break easily. Plus, a growing number of mugs lined with stainless steel now come with electro-polished interiors, which makes the steel less likely to retain strange odors and flavors. Our pick has a non-stick, Teflon inner coating, so it's a breeze to rinse out.
Leakproof and spillproof: When you put a mug into a bag or cup holder, its lid shouldn't leak. The best mugs have two sealing mechanisms: the first covers the sipping port and the second locks the lid into to place to prevent it from being jostled open. With some mugs, you have to hold down a button to open the sipping port for drinking, so it seals automatically when you let go. This auto-sealing mechanism prevents spills if you knock over your mug.
Easy to use: A travel mug should be easy to use. This may sound silly, but a few of the mugs we considered are harder to operate than others. If you're going to be using your mug while driving or biking (not that we recommend doing so), you'll definitely need at least one hand free, and probably both eyes. A good mug should be easy to both open and close, as well as to lock and unlock, with one hand. The lid shouldn't completely block your vision while driving, or hit your nose when drinking, and it should be easy to disassemble for cleaning.
Handle-free: We decided not to test mugs with handles for several reasons. First, they're unnecessary: With a vacuum-insulated mug, you don't need to worry about burning your hand on the mug's body. Handles add additional heft and weight to a bag or backpack, and may also prevent a mug from fitting into a cup holder.
Size: Some people prefer wider mugs that won't rattle in cupholders, while others like slimmer mugs that take up less space in backpacks or bags. We prefer lighter mugs because they're easier to carry, and we looked for mugs that would fit in cup holders while still being easy enough to hold in one hand. We also took into account how versatile mugs were for preparing beverages and whether they accommodated pour-over drippers, Aeropresses, our favorite tea steeper, or single-cup brewing devices like Keurig machines. We opted to test mugs with a 16-ounce capacity, which was the median size for most mugs we considered (one exception that we tested only came in an 18-ounce size).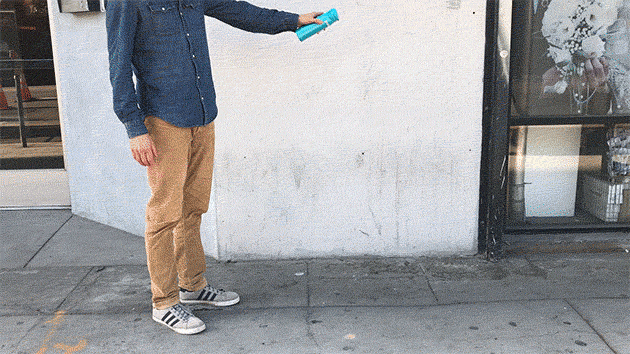 Durability: A mug shouldn't dent or break when dropped from a reasonable height or start leaking afterwards. Nor should its paint or coating wear away after cleaning per the manufacturer's instructions. We eliminated mugs with poor reviews that complained of leaking, paint chipping, or dents.
How we tested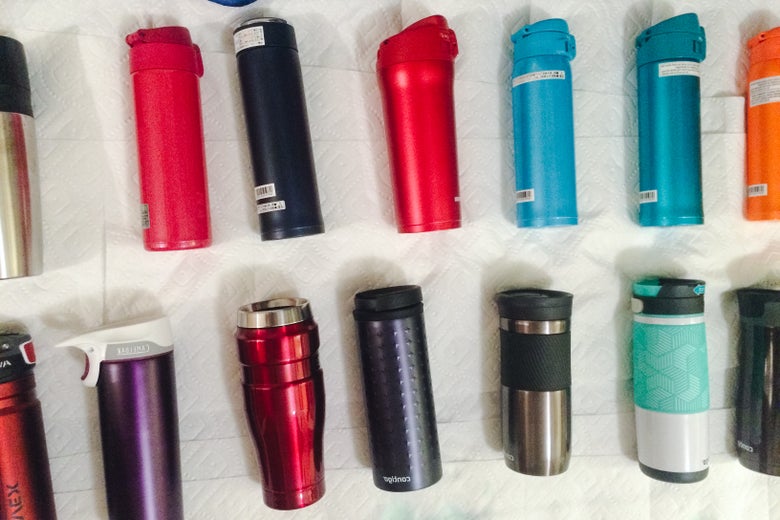 When designing tests for this update, I considered the everyday wear and tear that a travel mug might go through in a variety of real-world scenarios: on bike commutes, cars, trains, fishing boats, and beyond. I tested mugs for leaks, dropped them, measured how long they could keep drinks warm in a cold environment. I also hand washed them, took apart their lids, and tested them in cup holders and with a various brewing devices.
First, I did an overnight leak test. I filled each of the travel mugs with water and several drops of green food dye, laid them down on a bed of paper towels and tarp on my kitchen floor (sorry, roommate), and left them overnight. I disqualified any mug with a green stain on the paper towel underneath in the morning.
To see if mugs would leak when jostled in a bag, I did a shake test. I wrapped mugs, still full of water and green food dye, in a paper towel and then put them in a plastic bag. I put the plastic bag in a backpack, and then, channeling my high-school Jazzercise days, pumped some tunes and did 30 jumping jacks, ran around for 30 seconds, and then shook the bag by hand for 30 seconds (I would not recommend doing this after eating breakfast, should you conduct your own mug testing).
Then I filled all mugs to capacity with water, went to my apartment's parking lot, and dropped each mug three times from a height of 4 feet. I eliminated any mugs that broke or leaked upon impact.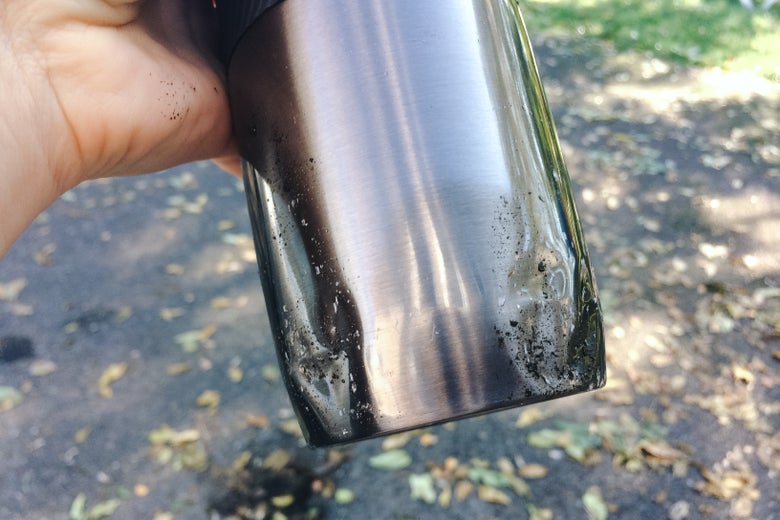 Next, I investigated how well each travel mug could maintain the heat of the liquid inside. According to both 2012 US Barista Champion Katie Carguilo and the Specialty Coffee Association of America, the ideal brewing temperature for coffee (and black tea) is about 200 °F, and the best temperature to drink is at roughly 145 °F to 155 °F. Using those temperatures as a benchmark, I put each mug's insulation to test in a cold, harsh environment: my freezer.1 I filled each mug with water at 200 ºF, put them in the freezer, and checked the temperature of the water every hour for eight hours. With the top performers, I repeated this test at room temperature.
I also hand washed all mugs, reading their manuals to learn how to take apart and reassemble their sometimes-tricky lids.
To see how versatile mug sizes were, I tried putting the mugs in a bike cup holder and in the cup holders of a 2010 Hyundai Elantra. I tried putting a pour-over dripper and an Aeropress on each mug, and measured each opening to see whether our favorite tea steeper would fit. I also asked several Wirecutter staffers to measure the height of their Keurigs to get an idea whether mugs would fit under a single-serve coffee maker. Most reported 6-7.5 inches of clearance after removing a bottom platform.
Our pick: Zojirushi SM-SA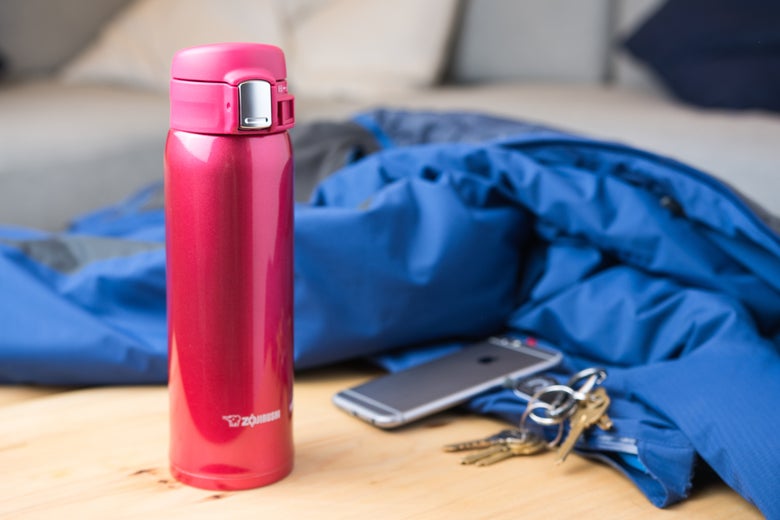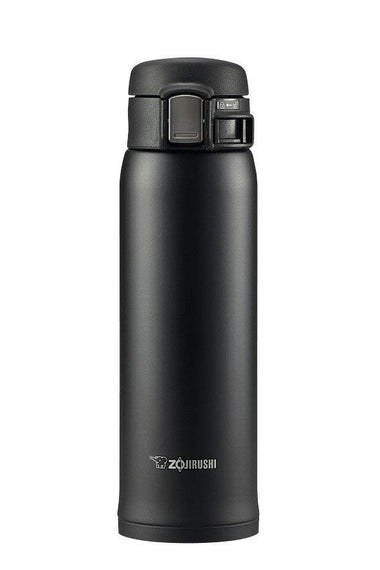 The Zojirushi SM-SA (or SM-SC in certain colors) offers amazing heat-retention, one-handed usability, and a locking, leakproof lid.
The Zojirushi SM-SA is the absolute best travel mug for keeping drinks hot for long periods of time. It features impressive thermal-retention abilities, and has a thoroughly leak-proof, locking lid. Compared to similar Zojirushi mugs, the SM-SA is a bit slimmer and lighter, and more comfortable to drink out of. This mug comes in 12-, 16-, and 20-ounce sizes (the SM-SA36, SM-SA48, and SM-SA60 respectively). After spending close to 78 hours on research and testing and considering more than 98 travel mugs over four years, we have no doubt that this is the best travel mug you can get.
The SM-SA has sturdy, leakproof seals and a simple locking mechanism that we trust to keep our belongings dry. Just close the lid, switch the lock into position, and you're guaranteed that the top won't pop open when you don't want it to. Although other mugs, such as the Contigo Autoseal Transit and the Avex ReCharge, seal automatically to prevent spills, we found them more difficult to use one-handed since you'll need to hold down a button to drink.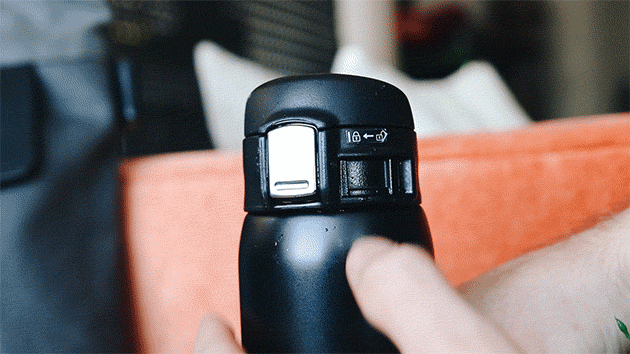 Zojirushi's stainless steel mugs have continued to dominate the competition in our heat-retention tests. After 8 hours in the freezer, the water inside the SM-SA was 142°F—a decrease of 58 degrees. At room temperature, the mug performed even better, with water measuring 188°F after 1 hour, and 165°F after 8 hours. That means you're getting drinkable, hot, 140-degree-plus coffee eight hours after brewing, even when stored in a freezing cold environment. (If you're opening the mug more frequently than once an hour, however, it might cool a bit faster.)
The other Zojirushi mugs we tested, the SM-KHE (the older version of this mug) and the SM-LA (a wide-mouthed option with a screw-off lid) kept liquids just as warm as the SM-SA over the course of 8 hours in the freezer. These mugs are also well constructed, but we prefer the SM-SA over the rest of the Zojirushi mugs for its lighter weight and simpler lid, which has fewer pieces to clean. The flip-top lid on the SM-SA is also more compact than the the one on the SM-KHE, so it obscures your view a bit less. But if you prefer a different Zojirushi, we think they're all fine choices; we also break down what's different about all of Zojirushi's mugs in our competition section.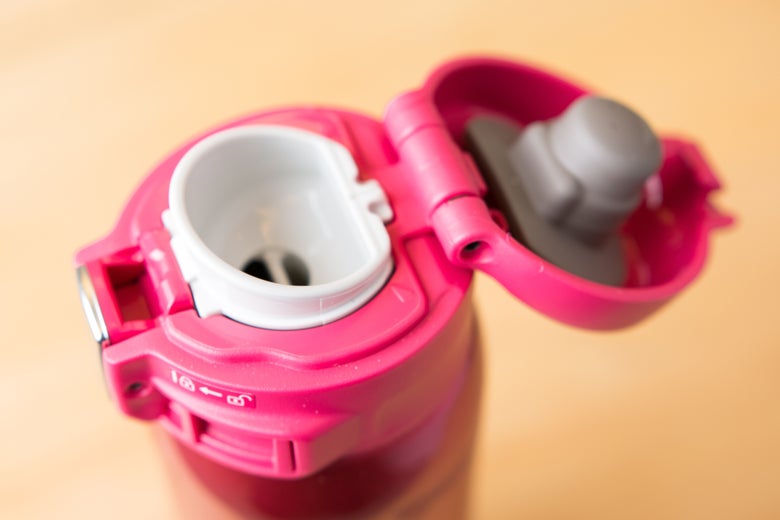 Zojirushi recommends rinsing its mugs immediately after use and hand-washing them. It's easy enough to clean the SM-SA using some soap and occasionally a bottle brush when necessary. You can completely disassemble the plastic lid to clean out any smells or gunk that might get lodged in hard-to-reach places, although the small plastic parts can be difficult to get on and off the lid. The nonstick interior also helps to prevent odors and stains, but the mug's instructions warn against using milk or fruit juices in the mug. The nonstick coating is made from fluoropolymers of the sort used in Teflon—which are not harmful to people, even if ingested.2 If you prefer drinking from a vessel that doesn't have a nonstick coating, you might prefer the SM-KHE, which has an electro-polished stainless steel interior.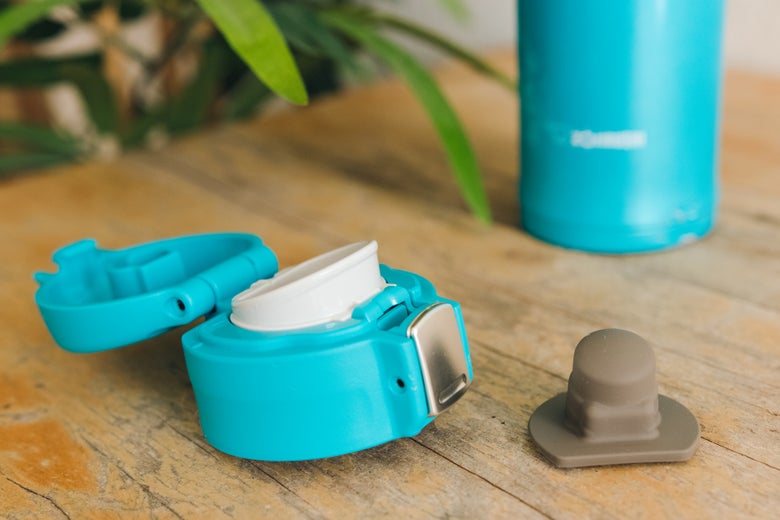 The SM-SA is durable. It did develop a few scuffs after our drop tests, but not any more than the other mugs we tried (some of which dented, chipped, and scuffed far worse). Zojirushi backs the vacuum insulation of its stainless steel mugs with a five-year limited warranty, and on the off-chance that the lid breaks or wears out, Zojirushi sells all the individual replacement parts online.
The SM-SA also has an attractive design that's minimalist yet eye-catching in its simplicity. It comes in black, cinnamon gold, red, and pearl pink; the identical SM-SC comes in slate gray, turquoise, and coral.
Long-term test notes
The Zojirushi travel mug might be the single product that the most Wirecutter staffers own and use on a daily basis—it's been a pick through many iterations of this guide, and has proved itself repeatedly. It's been praised for still working well after years of use, as well as surviving drops onto cement (once from a third floor balcony) without more than a dent. Multiple Wirecutter folks have also reported successfully using the Zojirushi to bring chilled wine or other alcoholic beverages to events in parks and other public places—though we couldn't possibly condone such behavior.
The primary criticism that we have for it is that it sometimes keeps things unusably hot—and that if you put it through the dishwasher rather than hand-washing it, the paint can flake (but it remains a good mug).
What about cold drinks?
Although we didn't place much emphasis on keeping cold liquids cold for this guide—check out our water bottle guide for what's best in that regard—we have historically found that the Zojirushi SM-SA retains cold better than all of the other mugs in our testing lineup.
Over a period of eight hours in our previous tests, this mug allowed our icy-cold 33 °F water to warm up by only 4 degrees, while the other mugs in our test group allowed the temperature to rise considerably more over that time. So if you're looking for a dual-use container that can preserve both hot and cold well, the SM-SA can hold its own—especially since it's available in a larger, 20-ounce capacity. Just be aware that its narrow opening is less than ideal when you're trying to quench your thirst after cresting a tall hill.
Flaws but not dealbreakers
Our only major complaint about the Zojirushi SM-SA is that sometimes it's toogood at insulating. We've found that if we make a fresh pot of coffee and pour it directly into the travel mug, the liquid ends up staying scalding hot for hours, and we've heard feedback about this from readers as well. To prevent this from happening, you can let your beverage cool a little before closing the lid.
We also reached out to some coffee experts to learn whether it's a good idea to actually keep coffee in a mug for 8 hours. Coffee roaster and licensed coffee grader Michael Ryan told us: "Coffee that is kept hot is still subject to a breakdown in flavor. When kept in a sealed, insulated carafe where evaporation and heat loss are minimal, coffee still tastes terrible after a while." He explained that this happens because coffee's acids break down over time and cause bitterness. So, know that your coffee might not taste as great after a long period of time even if it is still warm.
Another small complaint is that this mug is a bit skinnier than your typical travel mug, which means it may not fit snugly in a car cup holder or bike water-bottle cage. The SM-SA's narrow width also means you can't use an Aeropress, pour-over dripper, or tea steeper with it, and it's too tall to fit under a single-cup brewer like a Keurig. If you prefer a travel mug with a larger circumference, check out our also great and budget picks.
While the SM-SA is leakproof, it isn't spill-proof like our runner-up; there's no automatic seal to prevent water from gushing out if you knock the mug over while the lid's open.
Finally, at around $25 for the 16-ounce size, the SM-SA is on the higher end of the price range for a travel mug. But we think it's worth the extra dollars over the competition because of its superior construction and performance.
Long-term test notes
Many Wirecutter staffers own the SM-SA, and we haven't heard any major complaints from anyone about the mug since we named it a pick. Although cleaning in the dishwasher is not advisable, and Zojirushi specifies hand-washing (see the Care and maintenance section below), this mug has survived several accidental trips through the dishwasher without any noticeable decrease in performance. It has also traveled in many crowded bags, backpacks, and purses without any leaks, and survived the occasional fall.
Also great: Contigo Autoseal Transit Mug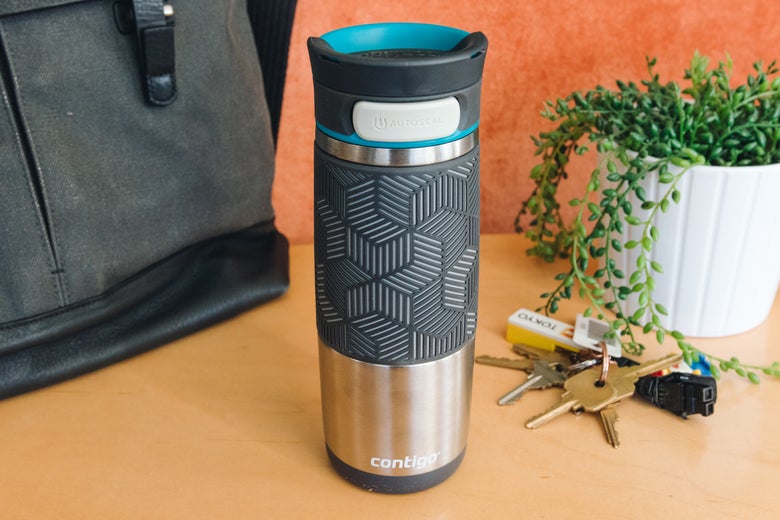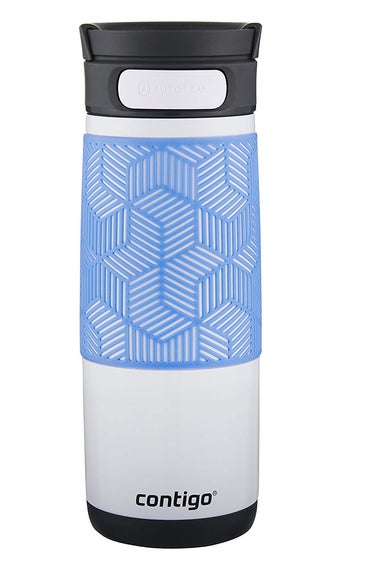 This is a very different mug from the Zojirushi SM-SA, but it offers several features we like
If you want a mug that will fit more snugly in a cup holder and is easier to clean, get the Contigo Autoseal Transit Mug. The Transit will keep drinks warm for hours, but not as hot as the Zojirushi. To prevent spills, the Transit has a push-button (the Autoseal) which you have to hold down to drink, plus a cap that rotates to cover the sipping port. While it passed our leak test, it doesn't have an actual lock to secure the lid cover like the Zojirushi does. The Transit may fit more securely in car cup holders since it's wider than the SM-SA. It can also accommodate Aeropresses, single pour-over drippers, and the medium size of our favorite tea steeper, although it's too tall to fit under most single-cup brewing machines. We think the Autoseal is easier to use than our previous runner-up, the Contigo West Loop, and like that it has an added barrier over the sipping port to keep out dirt and help prevent leaking.
The Transit won't keep your beverages hot for as long as our top pick, but that might be a plus for some people who think the Zojirushi keeps drinks too hot. In our room temperature tests, the Transit's contents measured 171 °F after 1 hour, and 114 °F after 8. That's 51 degrees colder than the water in the Zojirushi after 8 hours. But while 115 °F isn't piping hot, it's still drinkable. In the freezer tests, however, the Transit cooled faster. After an hour, the contents of the Transit dropped to 158 °F. That's 26 degrees lower than the temperature of our main pick. In its eighth hour of freezer testing, the water inside the Transit measured a lukewarm 80 °F. But if you drink your beverages quickly or don't want to wait for them to cool down before sealing your mug, the Transit may be a better option for you.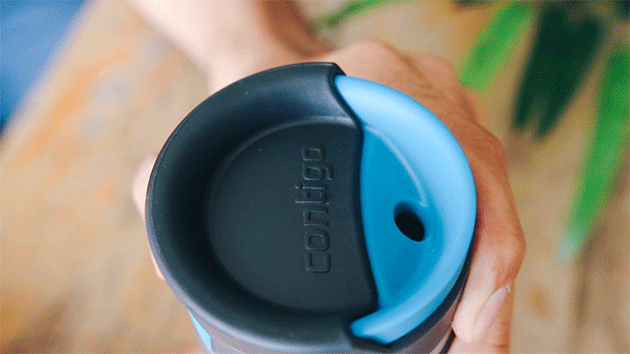 With the Transit, you'll need to hold down a button to keep the sipping port open and drink from the mugs. Other mugs like the Contigo West Loop (our former runner-up), Avex ReCharge, OXO Good Grips, and Camelbak Forge had a similar button, but I found the Transit's horizontal push-button easier to press and hold than other buttons, which required more pressure. The push-button interface is slightly harder to operate than just flicking the switch on the Zojirushi, and may be frustrating to some who don't want to have to push before taking every sip. But it does mean you can't accidentally spill anything, since the mug closes automatically.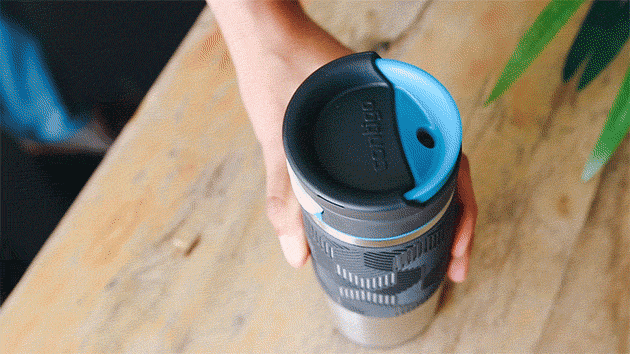 The Transit also has a twisting lid that covers the sipping port, while the similar West Loop only uses a pop tab to open the sipping port. The Transit's twist top is a little more difficult to open one-handed but protects the sipping port from gunk or germs and also offers a first line of defense against any leaks. In both our shake test and overnight leak test, the Transit didn't leak a drop.
The Transit held up fairly well during our drop tests, but scuffed on its plastic lid and rubberized bottom. Contigo does offer a limited lifetime warranty, and sells replacement lids, should something happen to your mug. Some other reviewers mention that the lid has hard-to-reach nooks and crannies, but it has fewer pieces than the Zojirushi, and is overall easier to take apart. You can soak the lid in soapy water as well to thoroughly clean it.
If you care about colors, the Transit comes in a few fun combinations: white with either mint green or periwinkle accents, matte black, or a brushed stainless steel. It only comes in a 16-ounce size.
Budget pick: Contigo SnapSeal Byron Mug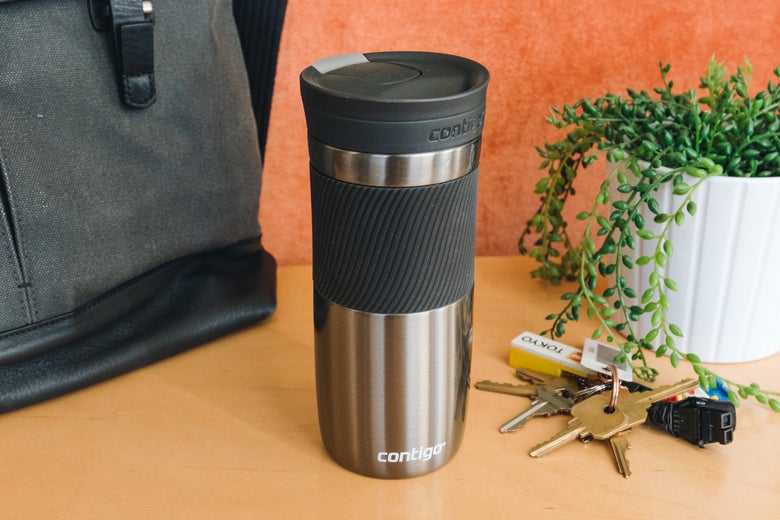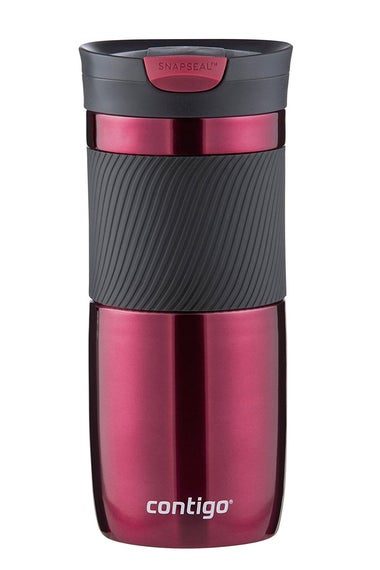 At half the price of most mugs we tested, the Contigo SnapSeal Byron Mug is a great budget option if you don't plan to throw around your mug.
Although the Contigo SnapSeal Byron Mug isn't as hardy or leakproof as our top pick, it's a wide, easy-to-hold mug that will work fine if you use it more gently. The Byron only has one sealing mechanism—a tab that you push to open the sipping port—which is easy to use, but doesn't lock closed like the lids on our other picks. The Byron also didn't keep drinks nearly as hot as the Zojirushi SM-SA. But if you won't be throwing your mug in a messenger bag or slowly sipping your drink all day, we like the Byron as a budget option.
In our tests, the Byron performed on par with the rest of the Contigo mugs we tested. In the freezer, 200-degree water cooled to 153 °F after 1 hour, and 78 °F after 8. At room temperature, water in the Byron was 172 °F after 1 hour and 115 °F after 8. That's about the same heat retention as the Contigo Transit, our also great pick.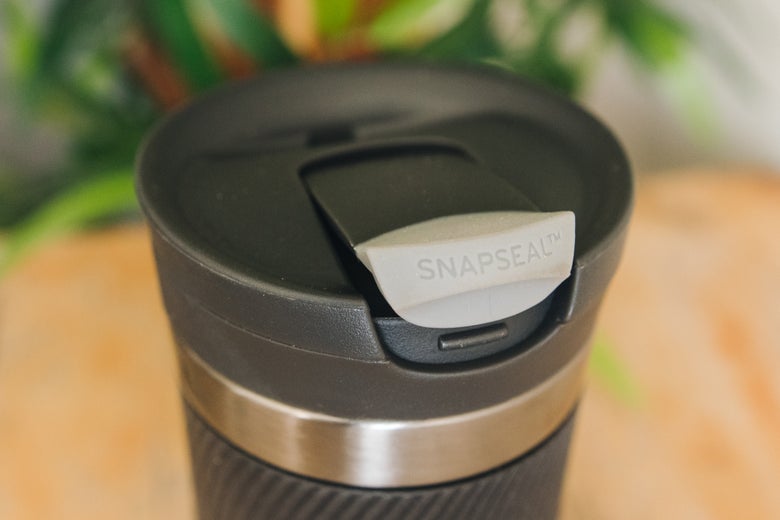 The Byron's SnapSeal lid is easy to use: you simply press down on a tab at the top of the lid to open the sipping port. Although the Byron passed both of our leak tests and is supposed to be leakproof, we would be concerned about putting the mug in a bag with our valuables, because the tab doesn't lock closed, and a stray bump could nudge the SnapSeal lid open. Our top picks, on the other hand, have two lines of defense against water coming out and anything else getting in: the Zojirushi has a lid that closes over the sipping port and locks, and the Transit has a cover that slides over the sipping port and an automatic seal to prevent spills.
The Byron's lid is one of the easiest to clean from the mugs we tested, because it's only one piece. I found that the lid itself, however, is more difficult to screw on and off than the lid on the Transit, but this is a minor issue. The Byron did dent more than the Transit in our drop tests, but again, the asphalt dented or scuffed all of the mugs. We also saw some Amazon reviewers noting that the mug dented, and the grippy rubber middle was slightly off-kilter, but the Byron still has high ratings overall. Contigo offers a limited lifetime warranty (which doesn't cover drops) and sells replacement lids if yours wears out.
Like the Transit, the Byron is wider than the Zojirushi SM-SA, and has a rubbery middle for easy gripping. The Byron is compatible with pour-over drippers, the medium size of our tea steeper pick, and Aeropresses. At 7.2 inches tall, it will likely fit under a single-serve coffee maker, but you should measure to make sure this mug will work with your machine. In the 16-ounce version, the Byron comes in a silver and pink color. It also comes in a 20-ounce size in jade, blue, and pink, and in a 24-ounce size in blue and matte black.
Care and maintenance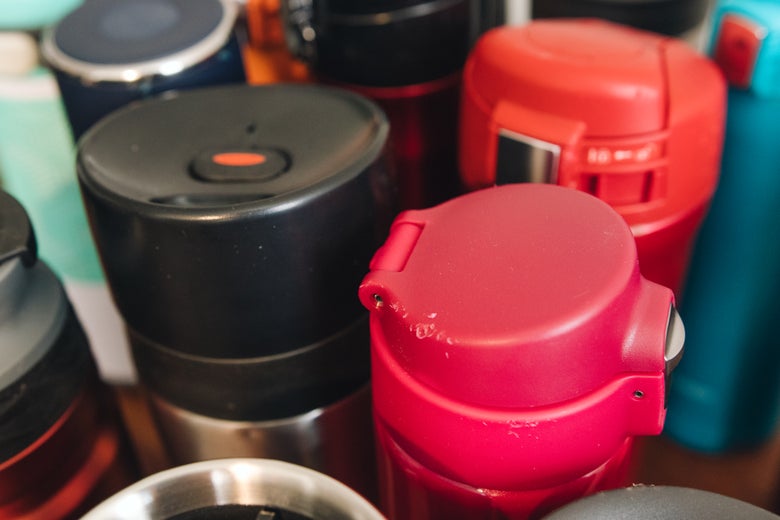 Also great: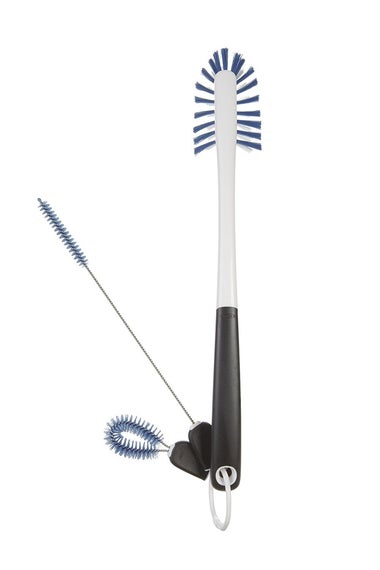 The OXO bottle-cleaning set has a skinny straw brush and a looped detail-cleaning brush, which are all you need to keep your travel mug squeaky clean.
You should check a mug's manual to see if it is dishwasher-safe. According to a Zojirushi representative, dishwashers can damage a mug's vacuum seal, which can potentially degrade the mug's ability to retain heat over time. Dishwashers can also scratch or wear away a mug's finish.
When you're hand-washing your mug, most of the time dish soap and water will do the trick. Regardless of the mug design, you may need a few sizes of bottle brushes to clean in and around the lid mechanism, the spout, and deep into the vacuum bottle itself.
If your mug comes with silicone seals, like the ones on our Zojirushi pick, you'll likely notice that over time they'll take on the smells of what you drink from your mug. To remove the stink from your seals, you can bury them in fresh baking soda for two days. Zojirushi also recommends checking the rings once a year to make sure they're still sealing your mug.
We found that the best bottle-cleaning set out there is the OXO Good Grips Water Bottle Cleaning Set. It comes with a large bottle brush, a skinny straw brush, and a looped detail-cleaning brush, all kept together by a handy ring so you won't lose any of the parts. The set is dishwasher safe, and it barely has any one-star reviews on Amazon, so it's a pretty good bet for anyone looking to get gunk out of their hard-to-clean items.
The competition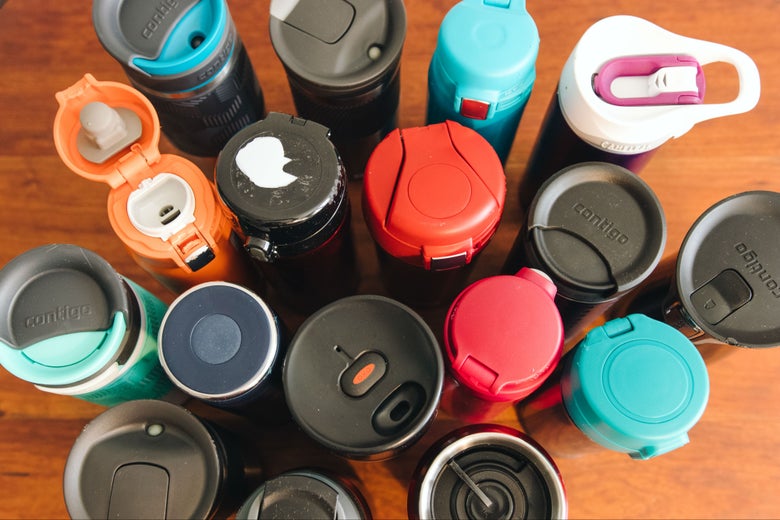 Again, we'll mention that the Zojirushi SM-SC is identical to the SM-SA; the SM-SC just comes in newer, different colors including turquoise, coral, and slate gray. The Amazon link for both of the SM-SA and SM-SC is the same.
If you can't find the Zojirushi SM-SA, or if you prefer to drink from a mug that has an electro-polished stainless steel interior instead of a non-stick coating, get the Zojirushi SM-KHE. The KHE was our original pick for this guide. It costs about the same as the SM-SA and will keep your drinks just as hot. However, it weighs a little more than our main pick, has a bulkier lid that's not as pleasant to drink from, and only comes in a 12- or 16-ounce size, whereas the SM-SA also comes in a 20-ounce size.
We also considered several other Zojirushi models for this update, after going through every offering on the company's site to compare them. Here's a breakdown:
• Zojirushi SM-LA48: This is a wide-mouth, screw-top mug; you can't open the lid one-handed. While it performed well in our temperature tests, coming in just one degree cooler than our top pick, we dismissed the SM-LA since it's more difficult to drink from.
• Zojirushi SM-YAE Travel Mug: This 16-ounce mug costs a little more than our main pick and runner-up. It comes with an electro-polished interior, like the Zojirushi SM-KHE, with a shape that's stouter than other Zojirushi mugs and short enough to fit under the spout of a single-cup brewing machine. Its insulating performance is worse than that of our pick, however: After 8 hours, the water temperature had dropped to 100 °F, ending up 42 degrees cooler than our main pick.
• Zojirushi SM-SHE: We were reluctant to test this mug due to persistent stock issues and the fact that it comes in only 16- and 20-ounce sizes and two colors (orange and black). Zojirushi sent us one to try out anyway, but it broke during our drop test. After having many Zojirushi mugs survive multiple years of drops, we think this was an anomaly, but decided to dismiss the SM-SHE for all the aforementioned reasons.
• Zojirushi SM-KC: This mug has the same body as the KHE, but comes with a nonstick interior instead of a stainless steel one. Since we previously dismissed the KHE, we opted not to test the KC.
• Zojirushi SM-PB: This mug only comes in 10- and 11- ounce versions.
• Zojirushi SM-JHE: We opted not to test this mug with a wide-mouth, screw-off lid in favor of the SM-LA, which comes in more size options.
• Zojirushi Stainless Mug with Tea Leaf Filter SM-JTE: The SM-JTE comes with a tea filter, but only in 11- and 16-ounce versions.
• Zojirushi SM-JD: Since this mug had a screw-off lid, we dismissed it in favor of the SM-LA.
• Zojirushi SM-EC: This mug only comes in 10- and 11-ounce sizes.
The Tiger MMJ-A048 mug looks and feels similar to the Zojirushi mugs, and we wanted to see how they compared in our tests. The MMJ has a similar pop-top lid and locking mechanism to our pick, but it's more difficult to take apart to clean. The Tiger mug also didn't do as well in our temperature tests, and its contents were 10 degrees cooler than those of our top pick after 8 hours. At the time of writing, the Tiger was also about $5 more expensive than our pick.
The Contigo Autoseal West Loop Travel Mug was our previous runner-up, and it has a tab similar to the Contigo Byron that you press to open the sipping port. Like the Contigo Transit, it also has a button you need to push before drinking. The West Loop didn't hold up as well in our drop tests as the Transit, and we found its vertical push-button harder to use than the one on the Transit.
We decided to retest the OXO Good Grips Double Wall Travel Mug, which has been updated since our previous version of this guide. The OXO comes in 18- and 22-ounce versions, giving it a larger capacity than most of the mugs we tested. This makes it more unwieldy to hold, however, and the mug doesn't have a locking mechanism to prevent leaks like our picks.
Contigo's Thermalock TwistSeal Eclipse Travel Mug uses a twist top to cover the sipping port and prevent leaks. Although it held up well in our leak and drop tests, it only has one leak-proofing mechanism, unlike our picks.
After reading Your Best Digs's review on travel mugs, which names the Camelbak Forge as their winner, we retested this mug. We found it awkward to use and drink from; it uses a push-button mechanism that's stiff, and has a very small sipping port. You can pop the lever to widen the sipping port, but this is also challenging to figure out. The Forge isn't an easy mug to use, especially before coffee.
We retested the Thermos Commuter Bottle based on good user reviews, but still found its secondary locking mechanism, a metal loop fitting over the front of the lid, to be finicky to use. The Commuter Bottle leaked during our shake tests, and the latching device that secures the lid broke during our drop tests.
We wanted to test the Thermos Stainless King mug based on its positive reviews, but the Stainless King leaked in our overnight tests, our bag tests, and upon impact during our drop tests.
Based on a reader comment, we called in the Avex ReCharge AutoSeal Tumbler but found it difficult to use due to a tiny metal bar that locks and unlocks the mug for drinking. This mug also fared the worst in our temperature tests, coming in at 44 °F after 8 hours.
We considered testing the Joeveo Temperfect mug, which purportedly uses a special insulating material to capture excess heat energy and then release it over time, keeping your beverage at an optimal drinking temperature. But it's expensive: $40 at the time of writing, with a newer version that costs $280 (wow).
We opted to test the Byron over other budget mugs from Ozark Trail and Mossy Oak because these mugs were explicitly not leak proof, or had more complaints of leaking.
Previously dismissed
The Klean Kanteen Insulated Wide was our top insulated water bottle pick for most of 2016 and early 2017, and was a runner-up in this guide. Originally this bottle had a café-style lid that tended to leak, disqualifying it as a travel thermos. Klean Kanteen updated the lid in 2016, but in testing for our guide to water bottles, we found that the lid occasionally leaks if left overnight and can also limit the flow of your drink.
The Timolino Icon Vacuum Travel Tumbler (PCT-46KM) is the Consumer Reports top pick from 2014, and we tested it in 2015. It's a 16-ounce tumbler-style travel mug with a flip-up lid and an electro-polished interior. We liked the look and feel of the Icon, but every time we flipped the lid open to drink from it, a small amount of liquid splashed out of the opening and off the spout's rubber stopper. Plus, it failed to keep beverages as hot as any of our picks in previous tests.
We love the look of the 16-ounce Stanley Classic One-Hand Vacuum Mug, which we tested in 2015. It resembles an old-school vacuum bottle but has a modern button-activated lid that makes it easy to drink from one-handed. But it was unable to keep beverages as hot as our main pick did, and we saw multiple complaints about the button failing.
We previously tested the Thermos Vacuum Insulated Travel Mug (with tea hook). While we liked the look of it, the heat retention was just so-so and we found the tea hook to be unnecessary. This Thermos mug also has a push-button interface: You press the button on top when you want to drink and press again to seal it when you're done. But it can be confusing to determine whether the button is in the up or down position just by looking at it, so you may find yourself pressing it multiple times to figure out whether it's open or closed.
Bodum makes a combination French press and travel mug that sounds appealing: You can literally brew your coffee inside the mug as you take it with you. In reality, though, the process is not much different from brewing the coffee first and pouring it into the mug—in fact, it might be worse, because the Bodum will keep your coffee grounds in contact with the hot water for much longer, making the drink more bitter and acidic.
We got some requests to look at the Hydro Flask, so we did. This model is not as good as the other mugs we saw, let alone our top pick. It maintains heat at a drinkable level for only a handful of hours (four or less), and the drinking lid can't lock, so it's at risk of flipping open, potentially spilling everywhere—a fact that the company's own website points out.
Footnotes
1. The instructions for the Avex or Contigo mugs say not to freeze them (which I learned, of course, after freezing them). But I reached out to both companies and learned that this is because liquids can expand in the freezer and cause the mug to explode; freezing won't affect insulation. Jump back.
2. Teflon, aka PTFE, aka polytetrafluoroethylene, is what makes some cups and pans nonstick. PTFE is inert, stable up to 500 °F, and if you ingest any, it will pass through your body intact. PFOA, perfluorooctanoic acid, is a compound that companies used to use to make PTFE. It's a carcinogen and has been in the news lately because it's a persistent environmental pollutant and can causebirth defects in people who drink contaminated water. DuPont, the company that makes Teflon, stopped using PFOA for nonstick pans in 2012, and several companies stopped producing PFOA for any purpose at the end of 2015. Even if you have an older Teflon pan or cup, the amount of PFOA that might come out is vanishingly small and is not a danger. Jump back.
Sources
1. Dr. Hongbin Bill Ma, director,, Center of Thermal Management at the University of Missouri, phone interview, September 22, 2017
2. Dr. Michael Dickey,, professor of chemical engineering at North Carolina State University, phone interview, September 26, 2017
3. Rachel Sandstrom Morrison, digital editor of Fresh Cup Magazine, email interview, September 28, 2017
4. Michael Ryan, Director of Coffee and Licensed Q Grader, Dapper & Wise Roasters, email interview, September 28, 2017
5. Amy Barnum, Zojirushi, phone interview, September 25, 2017
Read the original article on The Best Travel Mug.
---