It's everyone's favorite time of the year. Not Thanksgiving or the fast-approaching season where it's deemed acceptable to listen to Mariah Carey's "All I Want For Christmas is You" on repeat. No, I mean the always eagerly anticipated reveal of GQ's "Men of the Year." 2018's coveted covers went to Jonah Hill, Henry Golding, Michael B. Jordan and, keeping with their 15-year tradition of having an accompanying woman of the year, Serena Williams.
This altogether uncontroversial and mostly hot roster of stars should have dominated a single news cycle, but instead, the annual stunt has gone down in blaze of outrage because of a poorly thought-out pair of quotation marks. Serena Williams' cover, which features her looking truly flawless in gravity-defying curls and a black turtleneck bodysuit, also include, according to some defensive-sounding promo copy from GQ,  "a special surprise cover collaboration with Virgil Abloh—the Off-White designer behind her coolest on-court looks in 2018—featuring his signature quotation marks in his own handwriting." In case you missed them, those signature quotation marks neatly frame the word woman in "Woman of the Year."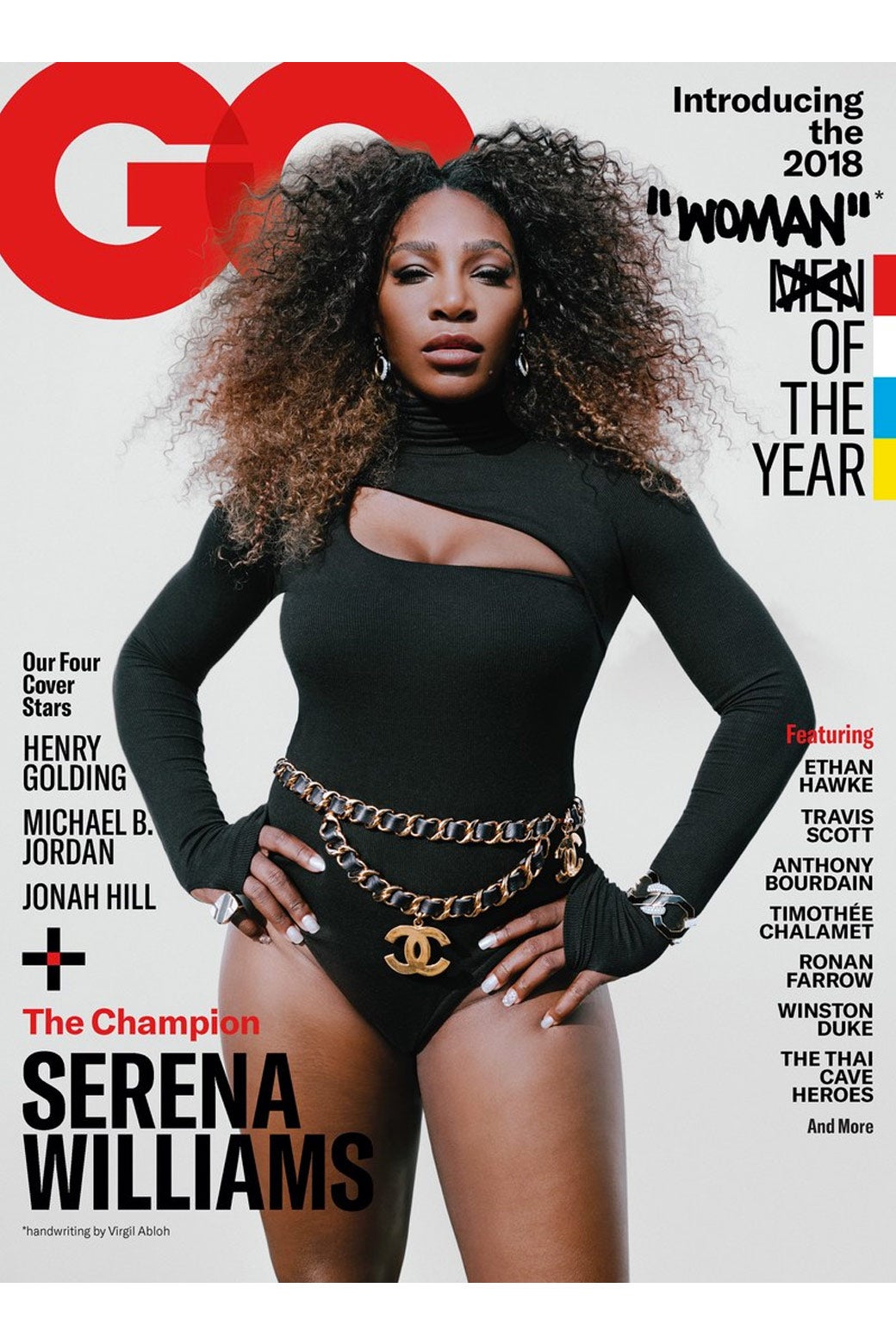 Critics of this move wasted no time in pointing out that, given the constant questioning of her femininity that Williams' has faced throughout her career, the quotations read as both disrespectful and offensive. As one commentator noted, "I can't believe no one at GQ thought perhaps with misogynistic and violent [anti-]trans insults that Serena (and Venus) have dealt with for the last almost 20 years, to not put woman in quotation marks." Vulture staff writer and expert interviewer E. Alex Jung simply posted Williams' cover alongside Gal Gadot's Woman of the Year cover from last year, sans quotation marks, with the caption "hmm."
Now, to be fair, Williams' herself has a collaboration with Nike and Abloh that features words like logo, queen, and her name in the designer's quotes on clothing, so this is not totally out of the blue. And Abloh's intentions seem fine, if a little just-read-"Notes-on-Camp" basic. As Thom Bettridge wrote in an interview with Abloh for the magazine 032c, "by presenting words as citations, Abloh is taking them out of context, and questioning their seriousness. When he puts 'Sculpture' on the side of a handbag, he's provoking the viewer." Abloh himself said, in the ironically prescient interview, "You can use typography and wording to completely change the perception of a thing without changing anything about it. If I take a men's sweatshirt and write 'woman' on its back, that's art."
So there's plenty of context out there for this particular typographical choice—but, as most things in the high-fashion realm, that context isn't common knowledge. That is where GQ made their error. It's important to say that Williams herself may not have an issue with the cover since she's clearly familiar with Abloh's aesthetic vocabulary. Still, there's really no way of knowing until she publicly comments on the situation, a situation that GQ could have avoided if they had given a few seconds of thought to the very real disconnect between the aesthete culture Abloh—and presumably GQ editors—inhabit and the real world.
The average reader glancing at the cover as it passes on their Twitter timeline or paging through the magazine as they wait to check out at Jewel-Osco most likely is not familiar with Abloh's oeuvre or his conceptual design choices. What they probably are familiar with are the various ways in which Williams has been dehumanized over the course of her career, the racist terms in which her body has been discussed and the continued discrimination she gracefully endures time and time again. That is the context in which a significant portion of people are viewing those quotation marks. It's frankly disappointing that in the many rounds of back and forth it takes to finalize a magazine cover, no one realized that putting ironic quotes around queen is entirely different from putting them around woman. As it stands, though, this was one "special surprise collaboration" too many.