Melania Trump unveiled this year's White House Christmas decorations on Monday morning, offering Americans their annual glimpse inside the psyche of the reticent, reluctant first lady. Those who worried she couldn't top 2017's icy wonderland of lifeless foliage can breathe easily now that we've been graced with the image of Trump fondling ornaments with arms characteristically unmoored from her sleeves:
Last year, Trump marked her first Christmas in Washington with dancers performing a piece from The Nutcracker, a ballet in which a creepy entertainer grows to a terrifying size, relies on white women to win him a major battle, and orchestrates a rather xenophobic display of the world's cultures. The internet quickly seized on one of the White House's holiday spectacles—a dimly lit hallway packed with vases full of dead branches painted white, casting menacing shadows on the ceiling and walls—as a metaphor for Trump's own lack of warmth and lack of interest in leading the country in any productive direction.
She must have taken that criticism to heart, because that same hallway is now full of light. However, it is also lined with towering blood-red cones, a macabre take on "trees" that taints what might have been a bounty of winter fruit with the flavor of death. Dwarfing any human that dares tread their unholy ground, the installations resemble piles of human entrails, or perhaps cranberry boughs. Either way, they reek of the threat of execution, recalling both a row of handmaids lined up for a hanging and a rose garden painted red for the pleasure of a bitter queen. Merry Christmas!
Decorating the People's House for the holidays is one of the presidential spouse's many domestic duties, along with choosing a china pattern and playing hostess when dignitaries come calling. I do not envy Trump's position, by which she's compelled to decorate a house she never wanted to inhabit in the first place. Still, she could have easily done a better job adhering to the messaging of her own administration. There's a jarring contrast between the president who won't stop talking about how he's bringing back traditional Christmas—none of this "Happy Holidays" crap—and the forests of bizarre, nontraditional trees the White House keeps bringing into the mix, openly perverting the joy and Jesus-centrism that's supposed to be the reason for the season.
Elsewhere, Trump has decorated mirrors and green (phew) trees with cutouts of the skylines of great U.S. cities, including Seattle, San Francisco, and New York—plus St. Louis, lest viewers associate the celebration of urban America with an endorsement of the coastal elite. To give equal props to the farmland, she's filled glass goblets with fake strawberries, figs, tomatoes, and artichokes, the ingredients in a traditional American Christmas salad that no one has ever eaten.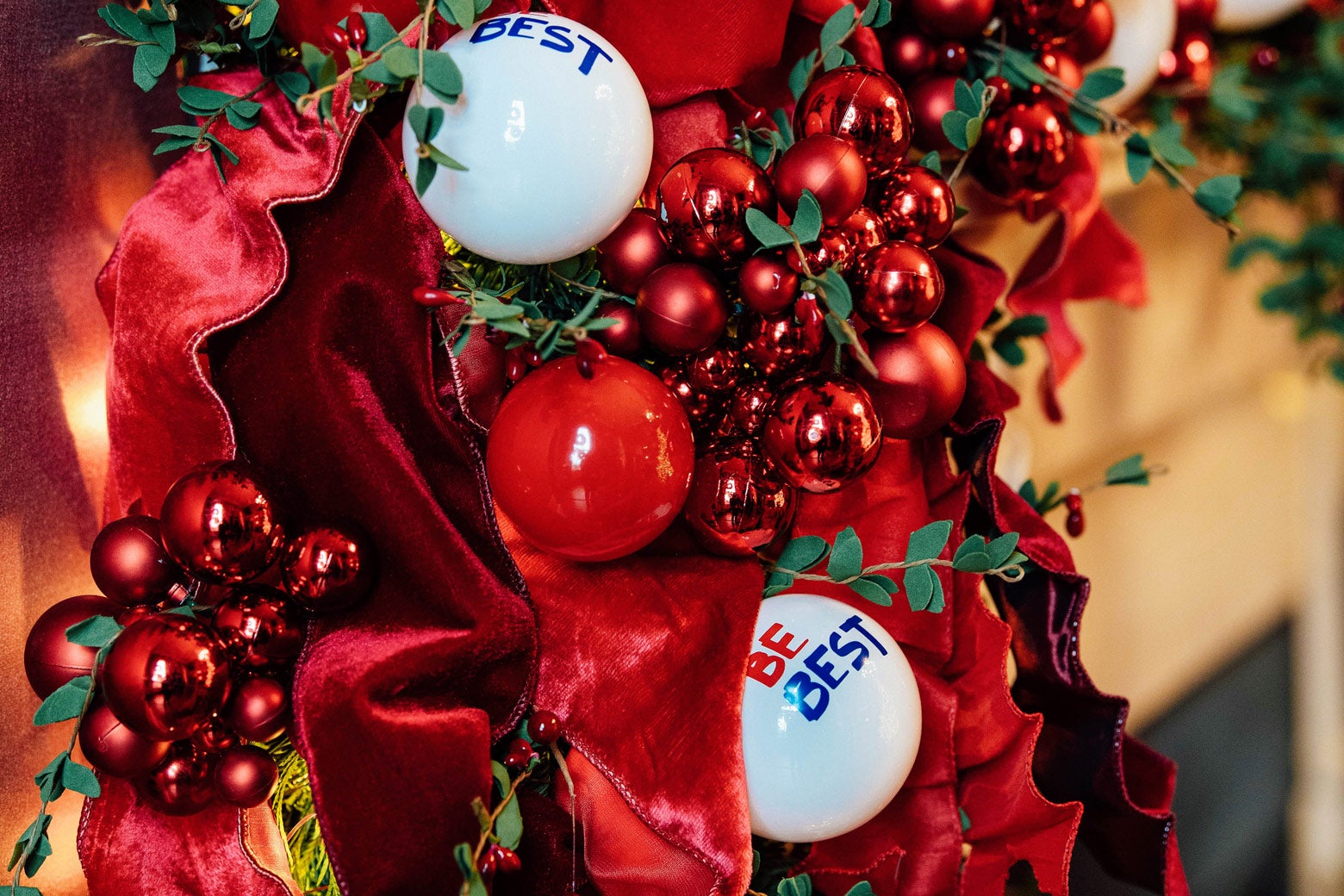 Because no honest celebration of American Christmas would be complete without a nod to useless tchotchkes, Trump has dedicated another room to her anti-bullying initiative, with Be Best ornaments on a tree and a wreath made from Be Best pencils, their points converging at the center like a huddle of cruel schoolyard gossips. (How long until those knickknacks are on sale at the Trump store alongside the MAGA hat ornaments?) The Be Best decorations happen to be just down the hall from a gold star family tree honoring people who've lost loved ones to military service, several of whom Trump has bullied. Perhaps this is all part of a clever conceit, a conceptual representation of Christmas as a story of contradictions: a pregnant virgin, a king born in a stable, and a vengeful adulterer casting himself as the savior of a holiday celebrating the Messiah's birth.