Making the Slow Burn podcast has been a research-intensive process. Much of that research comes in the form of interviews—but the first step is always to read. Below, we've compiled a (nonexhaustive) list of books we relied on as we put together our account of Bill Clinton's impeachment. Some of these are omnibus volumes you should read if you want to take in the whole saga, while others function more like keyholes that offer a narrow glimpse at one specific corner of the story.
by George Stephanopoulos
George Stephanopoulos' memoir recounts the glory days of the '92 campaign, the chaos of the new administration, and the exasperation of Clinton aides as they tried desperately to right the ship.
by Ken Gormley
In one of the most exhaustive accounts of the Clinton-Starr saga, Gormley narrates the Whitewater investigation, the Paula Jones case, and Clinton's legal strategy, among dozens of other related stories.
by Webb Hubbell
In this memoir, Webb Hubbell recalls his years of friendship with law partners Hillary Clinton and Vince Foster, his tenure at the Justice Department, and his eventual downfall at the hands of the independent counsel—which eventually became the link between Whitewater and Monica Lewinsky.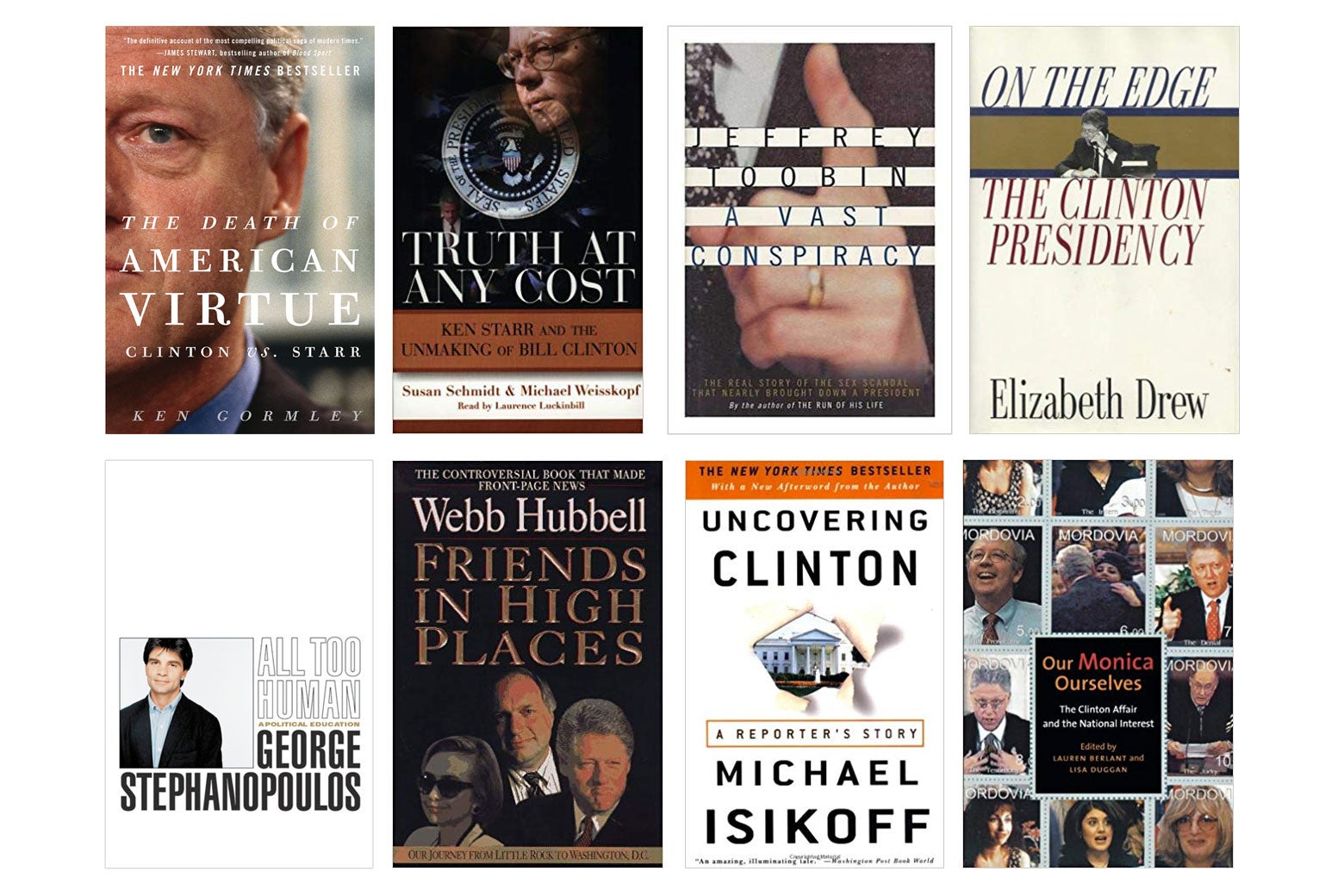 by Elizabeth Drew
The best way to understand Travelgate (and a whole host of other forgotten scandals) is to read On the Edge, Drew's detailed account of the early days of the Clinton administration.
edited by Lauren Berlant and Lisa Duggan
Wide-ranging, well-researched, and sometimes weird, Our Monica Ourselves is a collection of essays about America's obsession with Monica Lewinsky, including analyses of topics like television coverage and Lewinsky's Jewish identity.
by Susan Schmidt and Michael Weisskopf
One of the most comprehensive sources on the inner workings of the Office of the Independent Counsel, Truth at Any Cost is full of great details about Ken Starr's life as a prosecutor and a public figure.
by Michael Isikoff
Uncovering Clinton is Isikoff's behind-the-scenes memoir of his years as a reporter on the Clinton beat, from meeting Paula Jones after the 1994 Conservative Political Action Conference to tracking down Linda Tripp at the Pentagon.
by Jeffrey Toobin
Opening with a call from Paula Jones' friend to an Arkansas lawyer and closing in the aftermath of the impeachment trial, Toobin's book is one of the most complete accounts of how and why Clinton's personal legal troubles metastasized into a national crisis.
Slate has relationships with various online retailers. If you buy something through our links, Slate may earn an affiliate commission. We update links when possible, but note that deals can expire and all prices are subject to change.