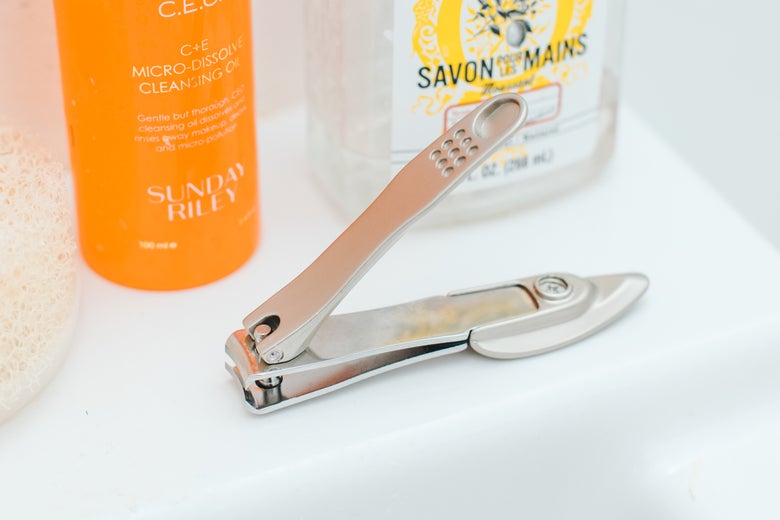 After interviewing a podiatrist and testing a total of 10 nail clippers over the past five years—most recently with the help of a nail technician with a decade of experience (who happens to be the mother of one of our reporters)—we're certain that the Green Bell G-1008 clippers are the best ones. They have sharp blades that cut cleanly through toenails and fingernails alike, and excellent build quality as indicated by their pleasantly surprising heft.
Our pick: Green Bell G-1008
The Green Bell G-1008 clippers cut so cleanly that you may not even need to file off the edges when you're done—though they do have a built-in file if you want to anyway. They also have a sturdier, more ergonomically sculpted body than the other clippers we tried. They're usually less expensive than the next-sharpest clippers we've tested and feel better in hand. "They had a good weight," the former nail tech tester said about the Green Bell clippers. "I had good control, and I didn't have to tip around at an angle to get a clean cut."
BUY: Green Bell G-1008
$15, Amazon
Runner-up: Seki Edge SS-106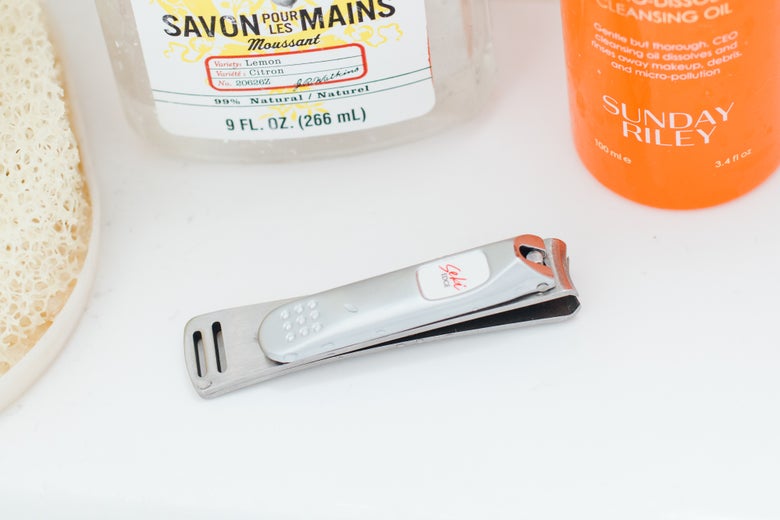 Should the Green Bell clippers be unavailable or jump drastically in price, the Seki Edge SS-106 clippers represent a good backup option, proving to be as sharp and comfortable to use—they're even made by the same parent company. The Seki clippers typically cost a bit more than our main pick and aren't as sleekly designed; they also lack a built-in file. They required a tad more pressure when cutting through a plastic hotel key card. But overall, they cut cleanly through both finger- and toenails without much force and also have a nice heft.
BUY: Seki Edge SS-106
$14, Amazon
Budget pick: Muji Silver Nail Clippers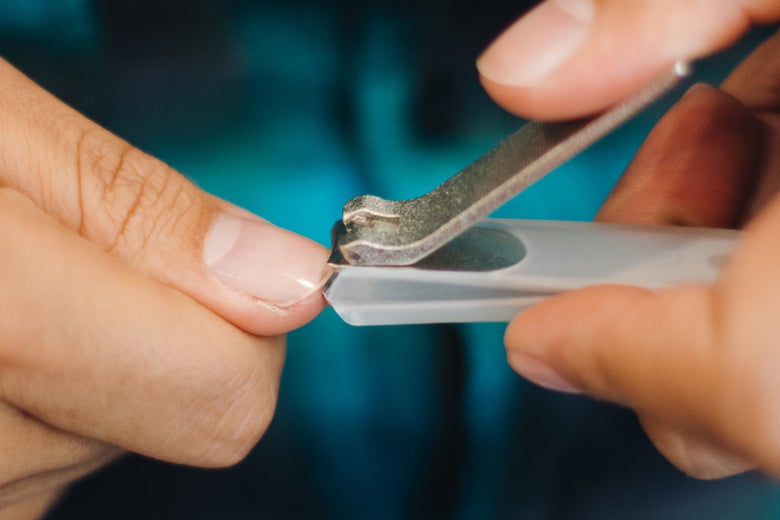 Muji's Silver Nail Clippers come in two sizes, small and large. We tested the small only and found they were adequate for both men's and women's fingernails and toenails. These clippers used to be our top pick, and we still think they're a good inexpensive option compared with drugstore clippers, but after extended testing we've found them inferior to the Green Bell and Seki options when considering sharpness and overall performance. Michael Zhao, deputy editor at Wirecutter, has owned these clippers for three years and reports that they're "still not as dull as brand-new drugstore ones."
BUY: Muji's Silver Nail Clippers
$8, Amazon
Also great: Harperton Nail Clipper Set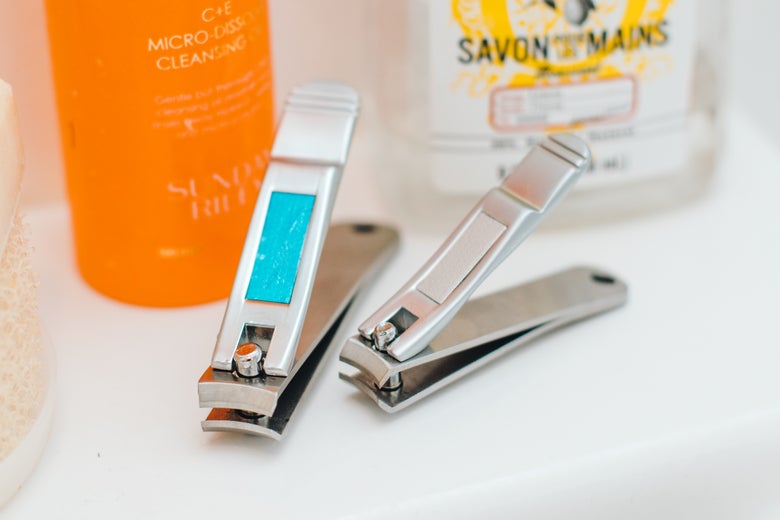 Experts we interviewed indicated that you don't need different sizes of clippers for fingernails and toenails, and our testing backed this up. But if you prefer to have dedicated clippers for your fingernails and toenails, or want a backup travel pair, the Harperton Nail Clipper Set contains two solid clippers for about the price of one of our other picks. These small and large clippers don't feel as sturdy as the Green Bell and the Seki clippers, but they're still substantial and cleanly trim nails without leaving jagged edges. "I like the idea of a pack of two because you can simply switch" between them, a female tester said. "And they both felt good in [my] hands."
BUY: Harperton Nail Clipper Set
$12, Amazon
Why you should trust us
To learn all we could about clipping nails at home, we spoke to podiatrists and grooming experts who explained what makes a good pair of nail clippers, plus how to use them properly. We supplemented this professional advice by examining published research on nail clipping and reading hundreds of customer reviews on top-rated, best-selling models.
Who this is for
If you think you might appreciate nail clippers that work better than cheap drugstore models, then this guide is for you. Likewise if you've just been uncertain about the best tools to trim your nails.
At the drugstore, you'll see two types of clippers—standard thumb-sized ones with a fold-up handle (lever style) and plierlike nippers with longer handles. "People need to be careful with these 'medical grade' clippers. One little slipup and they could do quite a bit more damage if some extra skin were to get caught up," said Wirecutter contributor Jim McDannald, a writer and distance running coach with a background in podiatry. Most folks should stick with the standard lever style.
Most people can snip both their fingernails and toenails with the same pair of clippers. However, if you have particularly thick toenails, it might be worth investing in a larger pair with more leverage. A dedicated pair of clippers may also be useful should you have a fungal infection. "As people age, their toenails tend to dry out, thicken, and become more prone to developing fungal infections," McDannald told us. "Having a separate strong clipper for the toenails can make the job easier and avoid potential contamination of the fingernails with a clipper that might be carrying some fungal spores from the toenails."
How we picked and tested
Based on our expert interviews and our own collective experience with a lifetime of nail trimming, we concluded that quality nail clippers:
•have blades that are sharp and line up evenly
•work without sending nails flying every which way
•may or may not include a nail file (though we prefer standalone emery boards for larger jobs)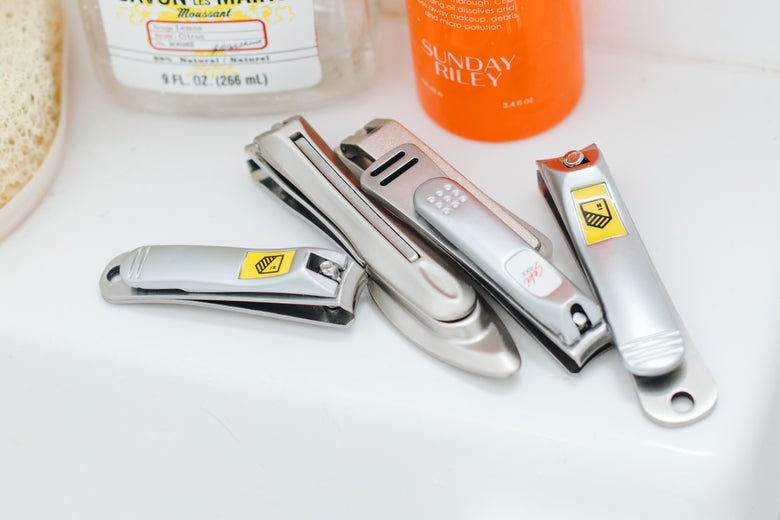 Some pairs of clippers are equipped with a nail catcher—strips of plastic that line the arms—which we found unnecessary. During testing, we removed any included nail catchers and clipped our nails over a trash can.
Over the past five years, we've tested 10 of the most popular and acclaimed nail clippers to gauge cutting performance and ergonomics.
In 2014, we had one female tester use five different clippers—the Tweezerman Deluxe, Seki Edge, Feather PaRaDa, Kai 0718, and Mehaz 660—twice each on her fingernails and toenails, watching for the ease with which they cut, whether nail clippings flew off, and how nails felt once trimmed. We then had a male tester repeat the same process. To get a sense of the sharpness of the blades, we compared how all five pairs cut into a plastic hotel room key card, watching for spidering near the edges. We later repeated the same process with the same male and female testers, pitting the Mehaz 660 against the Muji Silver Nail Clippers, Clyppi Stainless Steel, and KlipPro.
In 2018, we ordered two additional models we hadn't previously tried, the Green Bell G-1008 and the Harperton Nail Clipper Set, and tested them against the Mehaz, Muji, and Seki models that we liked best in 2014. One writer tried each of the five pairs two times on her finger- and toenails, then requested the feedback of another female tester, her mother, who had been a licensed nail technician for 10 years.
We'll be long-term testing all of our picks to keep an eye on rust and other signs of wear.
Our pick: Green Bell G-1008 Nail Clippers
Testers preferred the Green Bell G-1008 Nail Clippers to the four other finalists we tested them against in 2018 because they consistently clipped fingernails and toenails the most cleanly without requiring much force. They also easily cut through a hotel key card without producing any spidering around the edges—a more controlled measure of sharpness. We like that they're solidly constructed and feel satisfyingly heavy.
Both our male and female testers liked the way the Green Bell clippers left finger- and toenails without jagged edges and without clippings flying every which way. This has benefits beyond quick cuts. I typically file my nails after clipping them to smooth out the edges, but I found this unnecessary given how cleanly they cut.
Compared with the rest of our field, the Green Bell clippers are also the most interesting design wise, with their ergonomic shape, smooth feel, and thin filing strip down the center of one handle's interior. They're bigger than our other picks, but they can still easily fit into even the smallest toiletry bag.
Runner-up: Seki Edge SS-106
If our top pick is unavailable, consider Seki's Edge SS-106 clippers, which are made by the same parent company as our Green Bell pick and performed nearly as well in our panel and hotel key card testing. In both 2014 and 2018, we found that their blades were sharp enough to cleanly trim finger- and toenails with single snips. While the Seki Edge clippers have a nice heft to them and are easy to grip, we ultimately preferred the feel of the Green Bell clippers, which also typically cost less.
Unlike all our other picks, the Seki clippers do not have an onboard nail file. We didn't find this to be a flaw, however, because our panelists preferred filing their nails with a separate tool.
Budget pick: Muji Silver Nail Clippers
The small, solidly constructed Muji Silver Nail Clippers used to be our top pick for their ability to snip cleanly without much force, but after broadening our testing pool to include options that cost more, we found that they're inferior to both the Green Bell and Seki clippers. Still, these are quality clippers that can be had for a notch above the price of the drugstore variety.
If you want basic, no-frills clippers, these will suit you just fine. But we think spending a few more dollars for our top pick is worthwhile. Some Amazon reviewers and a Wirecutter staffer have reported that the Muji clippers they own have rusted after a short while. Yet another Wirecutter staffer, who has owned the clippers for five years, reported no signs of rust. We recommend storing these only in dry environments, if possible.
Like the Green Bell and Harperton clippers, the Muji ones have an onboard filing strip for use in a pinch. The former nail care professional said she wouldn't use these clippers again at all, but a male tester liked their simple rectangular shape, which he said felt comfortable in both his dominant and nondominant hands.
Also great: Harperton Nail Clipper Set
Our testers found that the Green Bell clippers cleanly trimmed both finger- and toenails, but if you prefer to have two different sizes, live with someone who likes to use a larger or smaller pair than you do, or just want a smaller pair to travel with, this two-clipper set from Harperton is a good choice.
Like the Green Bell and Seki clippers, both the large and small Harperton clippers are sharp and cut nails cleanly, without sending clippings flying all over the place. Also like our Green Bell pick, the Harperton clippers have an onboard file.
Use, care, and maintenance
Dermatologist Chris Adigun told us that tools aren't usually the issue when an ingrowth leaves a patient hobbling. "Problems I encounter with my patients do not tend to stem from the type of nail clippers they are using, but rather how they are clipping their nails," she said. Even if you have the best clippers, take care to use them correctly.
For one, don't clip your cuticles. "Clipping cuticles, as a rule, is bad for the health of the nail unit," Adigun said. "Cuticles provide necessary protection from infection and insulation from water loss."
When trimming your toenails, Wirecutter contributor Jim McDannald said: "Cut them short and straight across. Clipping the nails with a small taper in the corners is okay, but if you take too much off the corners or dig into the sides, there is an opportunity for the skin to impede on the space and the potential for an ingrown toenail to develop."
Be especially careful not to cut your nails too short. It's one of the most common issues Adigun has seen in her practice. "Clippers that clip only the nail and not the surrounding skin or cuticle, and clip in a predictable way, are ones that I prefer," she said. "That means fewer accidents, such as the common, 'I had no idea I was cutting that short.'"
Do you need to file your nails? When using a quality pair of clippers, probably not. If you have exceptionally thick nails and worry about them snagging on socks or stockings, go ahead and file.
Finally, take care of your clippers. Dropping them or letting them bang around in a toiletry bag can throw off the factory alignment and the friction can dull the blades. Make sure they're stored securely. If you have a nail infection, it's good practice to disinfect your clippers after use; that is especially true with toenail clippers. A rinse or dunk in alcohol or hydrogen peroxide will work.
What to look forward to
Previously we had recommended Tweezerman's plier-style Barrel Spring Toenail Nipper for use on thick or fungal nails. Given the brand's long-standing reputation for quality grooming products and its free sharpening policy, we still think it's a solid choice if you prefer this type of clipper. Still, in the time since our initial recommendation was published, several promising competitors have become available. In a future round of testing, we'll be comparing the Tweezerman model against other top-rated, best-selling nippers.
The competition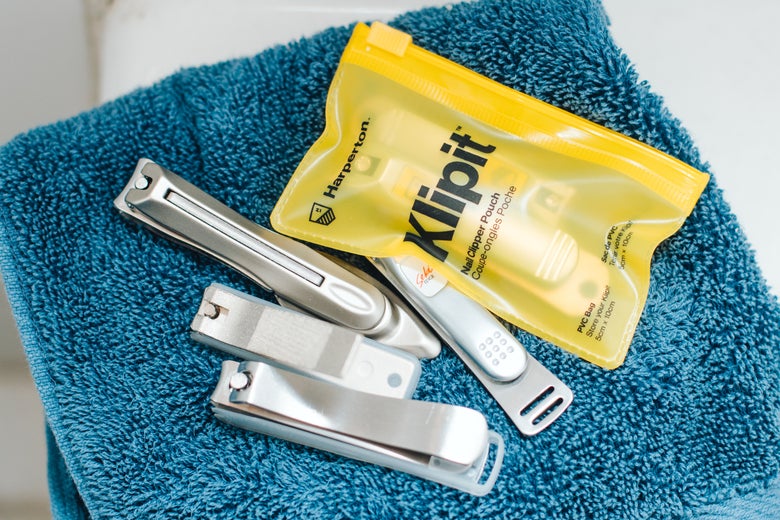 The Mehaz 660 Professional Nail Clippers used to be our runner-up pick, but they couldn't beat the models we tested in 2018. We liked the extra-curved handle that offers better leverage for cutting particularly thick nails, but overall the clippers felt flimsy compared with others we've tested, and consistent availability has been an issue.
A former top pick, the Tweezerman Deluxe Nail Clipper Set, seems to have suffered occasional quality-control issues. While the pairs we first tested in 2014 have continued to perform well, other editors and readers who've bought them since have noted that they weren't sharp enough out of the package or had misaligned blades. Compared with more-expensive clippers we've tested more recently, these clippers felt lighter and cheaper, and their handle was harder to turn, making a scraping noise every time we opened it. And when it came to the hotel key card test, these clippers literally didn't cut it. We chose not to retest them in 2018.
In 2014, we tried the Khlip, a nearly $80 tool that, as the company explains, gives you total control by placing the leverage point at the front of the clipper, right over the blades. That way, you can set the blades exactly where you want them to cut. We don't think these are worth the price, which as Gizmodo put it, is a bit ridiculous: "It's definitely an improvement [over regular clippers] in some ways, but until they get the price down to, say, $25, it's a luxury item." Still, the Khlip clippers are impressive. The textured grip for your thumb, the sharp blades, and the carrying case all amount to probably the best home nail-clipping experience we've had. Is that experience $65 better than our pick? We don't think so, but if you're looking to assemble the finest toiletry kit possible, throw these in there.
Another primo option is the Zwilling J.A. Henckels Pour Homme clipper from the venerable German knifemaker. We tried and liked them in 2014, but found that many of the less expensive models we tested produced cleaner cuts.
Readers requested we give the Feather PaRaDa (Medium) a whirl. In 2014, we found that these clippers feel a lot more expensive than they are. They're built quite solidly and come with a built-in nail catcher that actually works: It's made of stainless steel and isn't removable, but slides back nicely when you need to empty it. These clippers also handily passed our plastic key card test and have an onboard nail file. However, these cost more than our top pick, and one male tester indicated that the opening might not be large enough to easily clip thicker toenails.
Readers also asked about the Clyppi. In a 2014 test, these clippers performed nearly as well as the Mehaz 660, but were not as comfortable to work with because of their shorter lever. They did a good job of clipping cleanly and smoothly on fingernails, but our male tester found them less effective on toenails.
Kai clippers are made by the same company as Mehaz ones. We tried the 0718 model clippers in 2014. These were identical in almost every way to our former Mehaz runner-up pick, except much larger. The Kai blades were just as sharp, and the clipper's overall size means an even longer handle and thus even more leverage. But this pair is a tad more cumbersome and probably bigger than most people will need.
What about drugstore clippers?
Most big-name cosmetics brands sell lever-style clippers similar to this Revlon model you'll likely encounter in drugstores. We haven't found any evidence to suggest that these bargain clippers can compete with our picks. While we chose not to test bargain nail clippers, Wirecutter staffers who have tried Revlon models or their ilk as well as our previous or current picks spoke to the shortcomings (namely, dull blades) of bargain pairs. "I'm on year two with Tweezerman, and they have held up super well," remaining sharp over time, said lead dev-ops engineer Courtney Willburn. "I used to have to gift myself the cheapies every year."
Lead editor Winnie Yang, who owns our runner-up pick, the Seki Edge SS-106, said that "while cheap nail clippers have a slight edge over chewing your nails to the right length, a high-quality pair … cuts through the nail more smoothly and precisely, won't leave you with ragged edges, and is less likely to fling bits of nail all over the place."
Read the original article on The Best Nail Clippers.
---