The Seward Park Library on the Lower East Side of Manhattan is where I met Andrew Fairweather, a librarian whose impassioned plea on behalf of libraries gave me the title for my book about social infrastructure. "There's a term you don't hear these days," Fairweather told me, "one you used to hear all the time when the Carnegie branches opened: 'palaces for the people.' The library really is a palace. It bestows nobility on people who can't otherwise afford a shred of it."
Seward Park was just one of the libraries I visited while writing my book Palaces for the People: How Social Infrastructure Can Help Fight Inequality, Polarization, and the Decline of Civic Life, which includes a section on the many roles that libraries play in American society. These photos were taken by Joey O'Loughlin at the library between Aug. 30 and Sept. 7, 2018.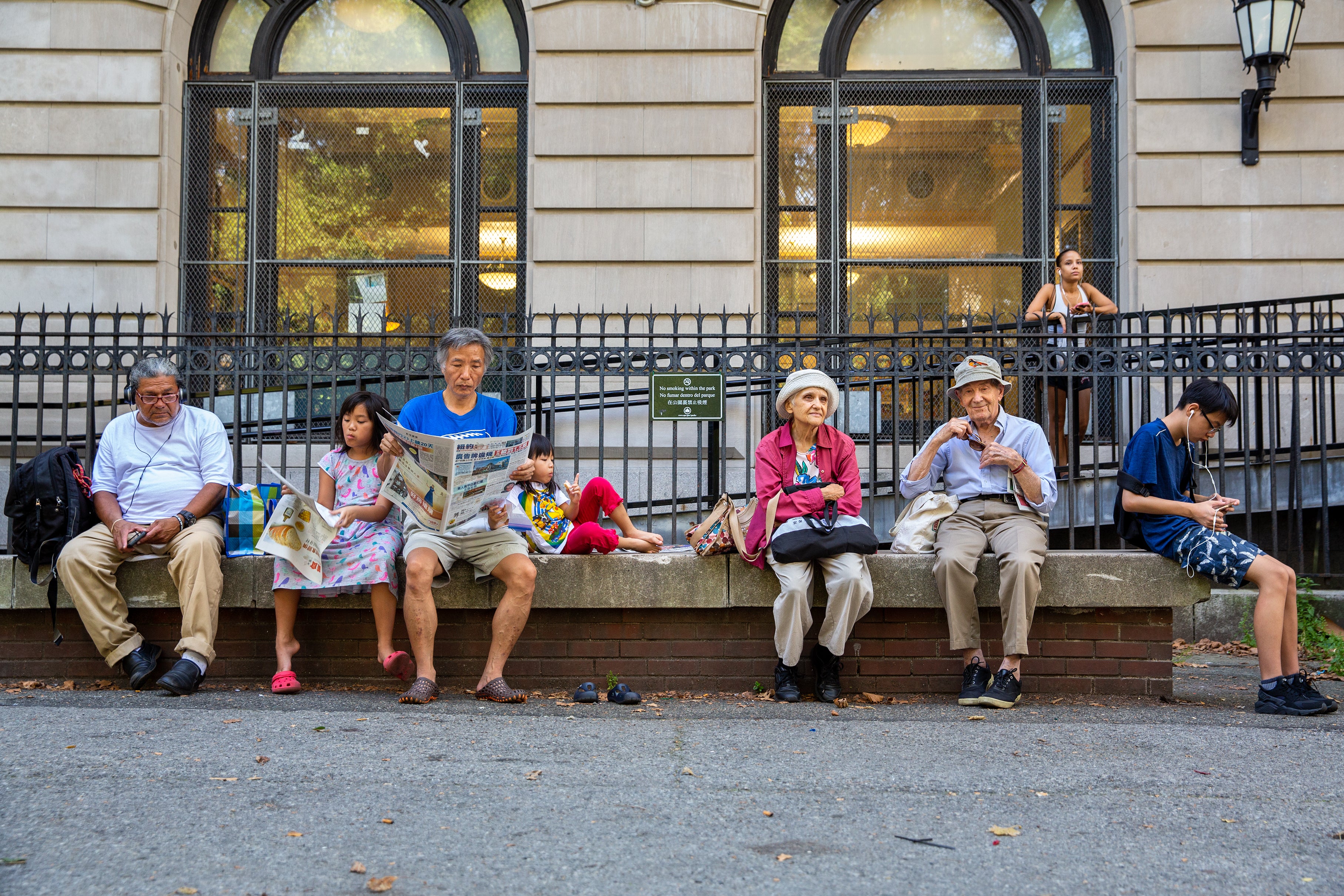 Morning Routine
Neighbors start to gather on this bench an hour or more before the Seward Park Library's 10 a.m. opening. Some come early to take advantage of the free Wi-Fi, which they can access if they're close to the building. Others are there to get first dibs on foreign language newspapers, to get heat or air conditioning, or to use the restroom.
Peter Chen and his daughters, Nora, 9, and Angela, 5, wait patiently, reading the papers and snacking. Peter is a teacher who currently lives in Taiwan, while the girls stay in New York City with their mother. When Peter visits, he spends hours at the library, tutoring the girls to make sure their skills are to his standards.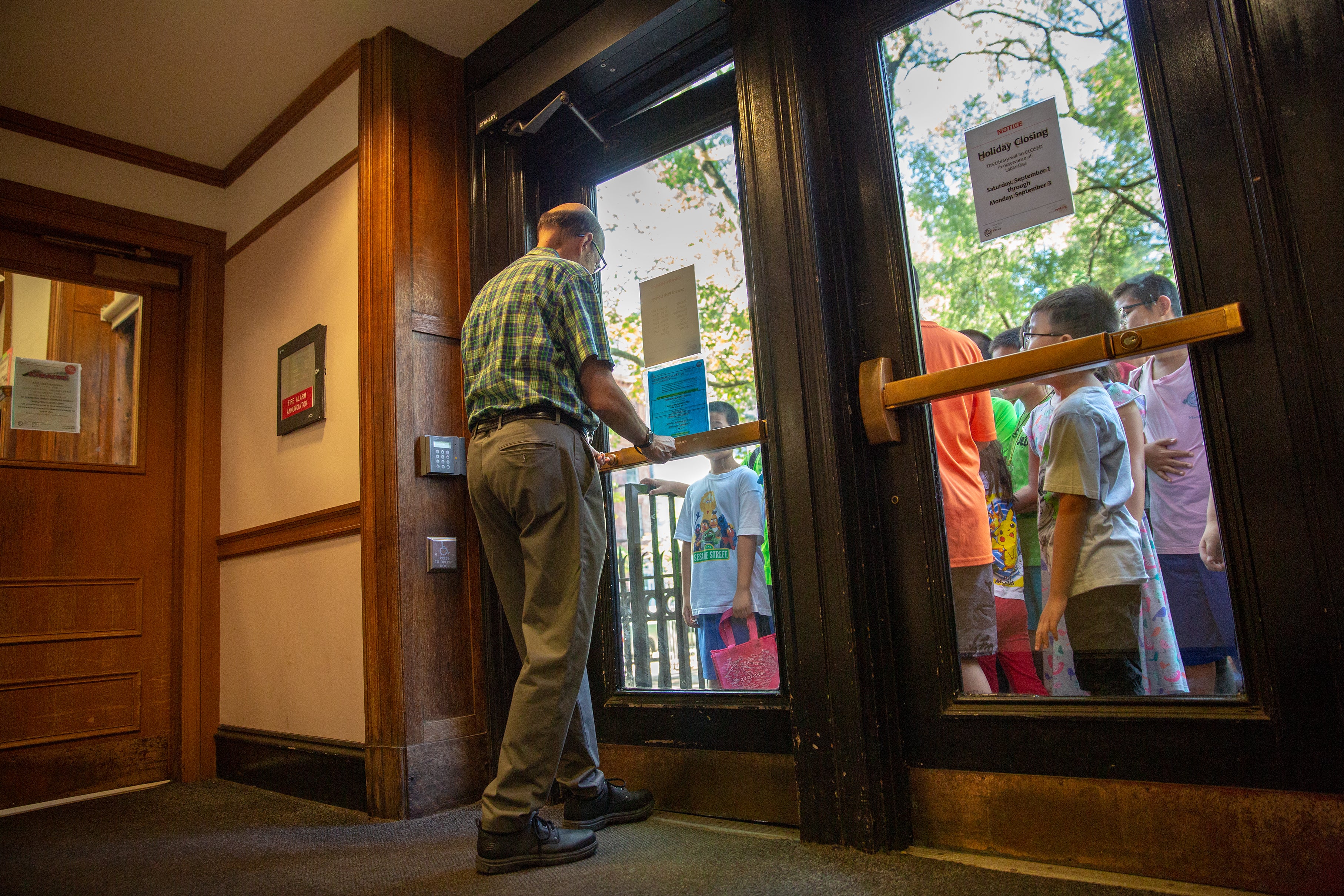 Opening

Librarian Michael Messina unlocks the door and welcomes the first patrons. Libraries are open to everyone, regardless of age, ability, or citizenship status. While other local establishments, such as cafes and diners, ask people to pay for access to a shared gathering place, libraries are "free for all." They're founded on a principle that's out of sync with our contemporary ethos: that everyone, by virtue of their humanity, deserves access to our shared cultural heritage.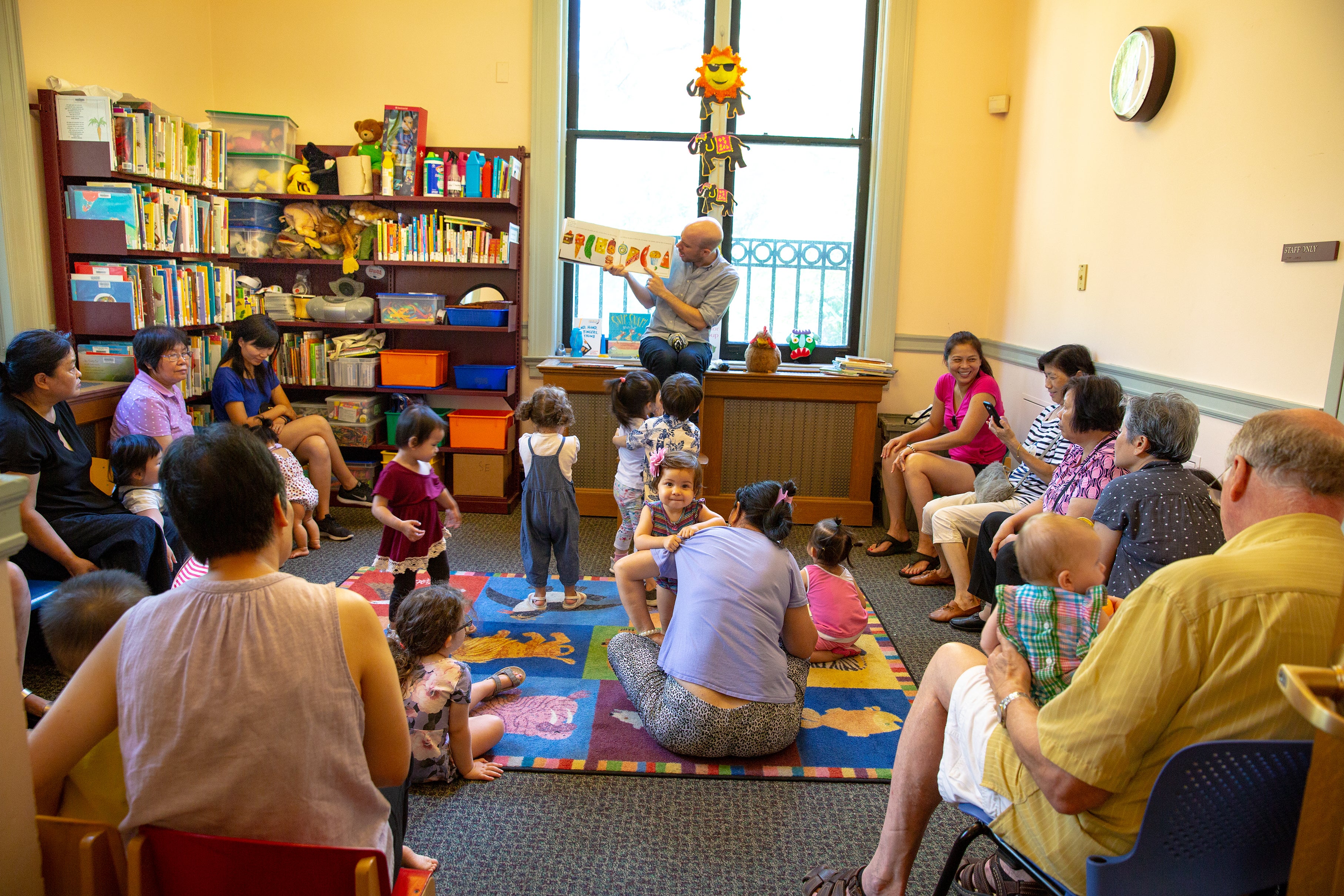 Story Time

For children, morning classes in the library involve singing, dancing, and storytelling in three languages: English, Mandarin, and Spanish. The classes give children and caretakers with different backgrounds a regular occasion to spend time together. When they end, small groups of friends often continue their play in the main children's area or on the playground outside.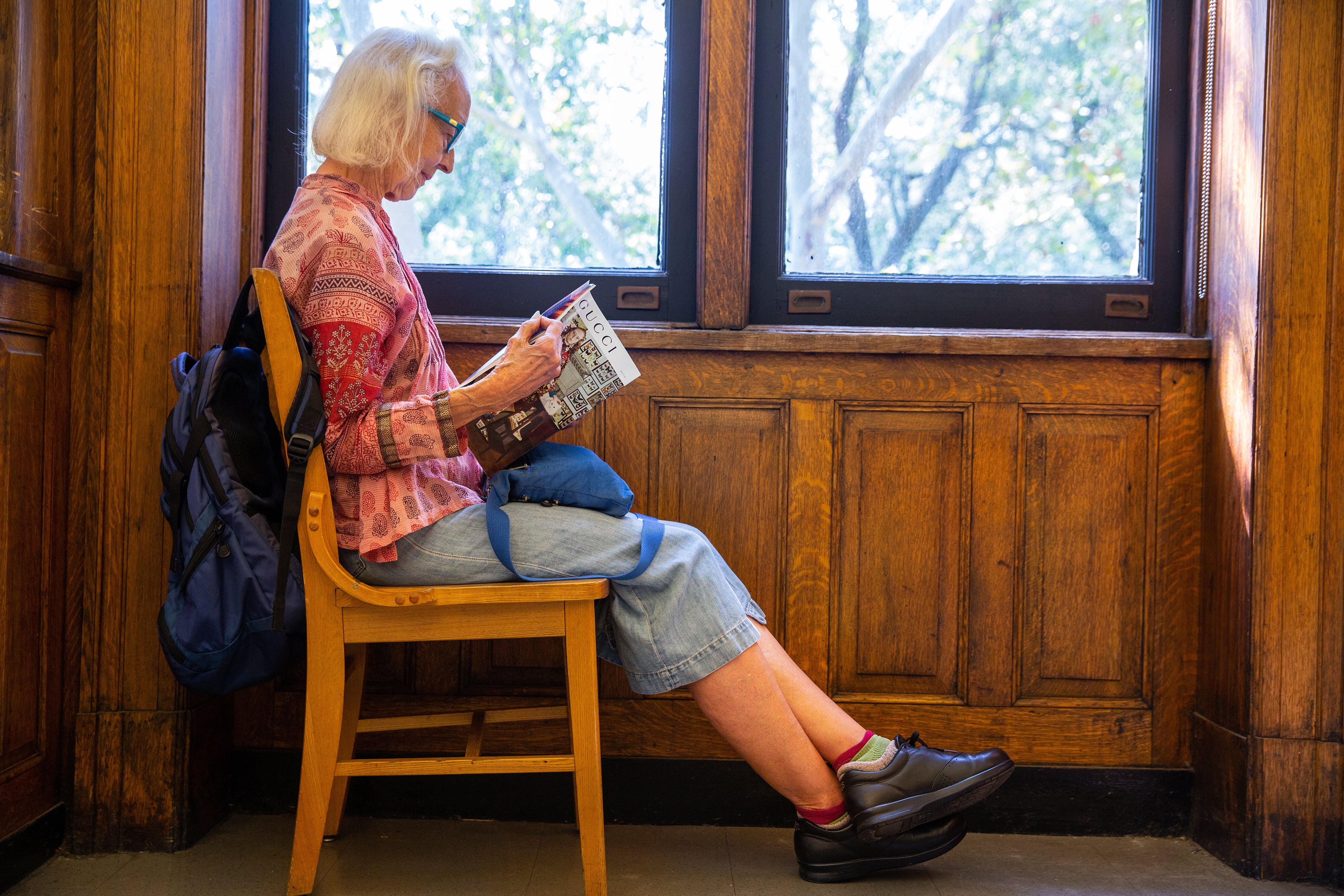 Window Seat

The window seats are always occupied. Susan Raggio reads the latest New Yorker magazine. She lives in the neighborhood and is a regular visitor, as are dozens of older people who, were it not for the library, might well wind up staying home alone.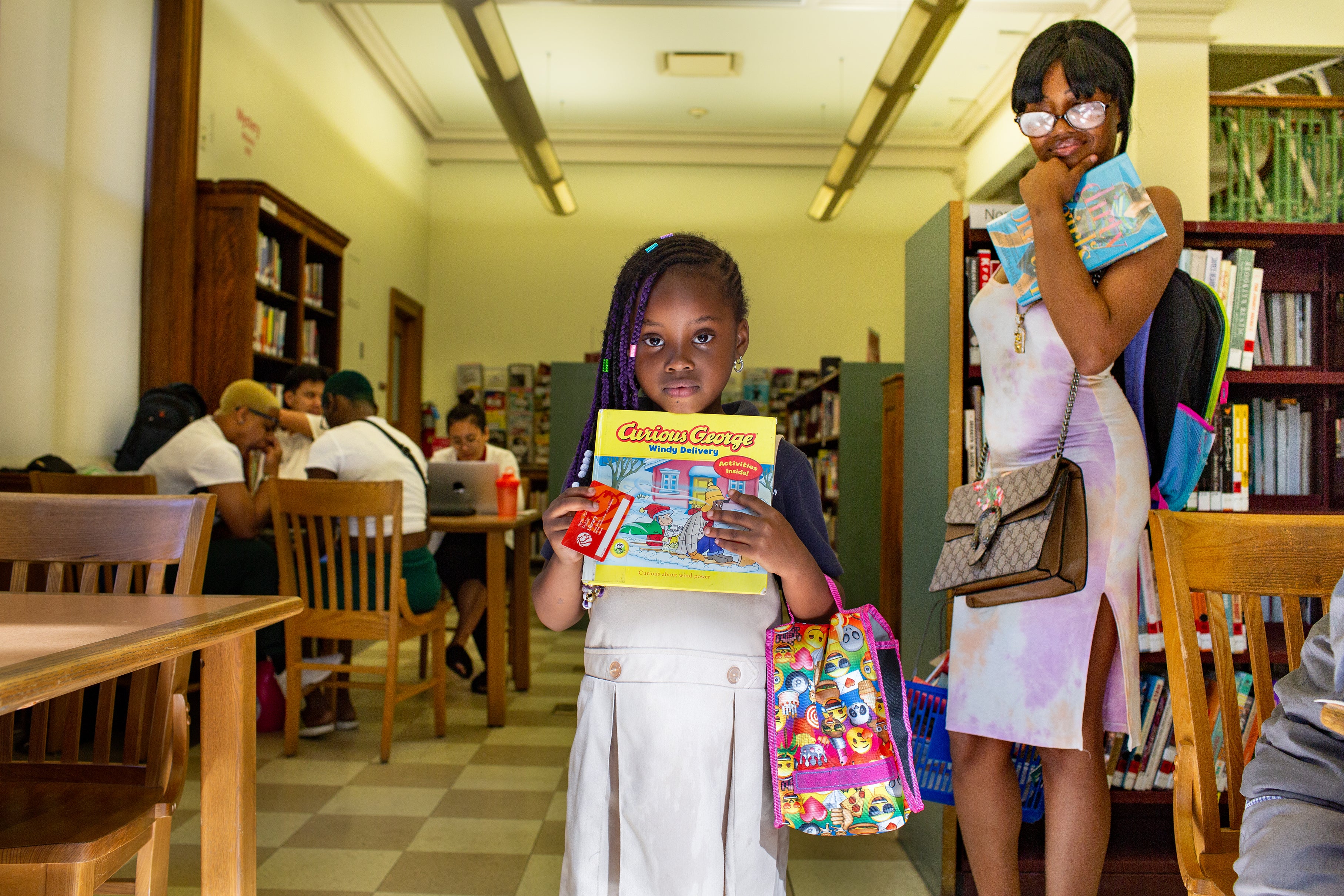 First Library Card
Samiyah Pointer, first-grader at Manhattan Charter School, just got her first library card. For Samiyah and countless other children, the library card is the first badge of responsibility and step toward independence. Starting on this day, she'll choose which books to bring home, and she'll soon learn that being part of a community means returning them in good condition so that other children can read them too.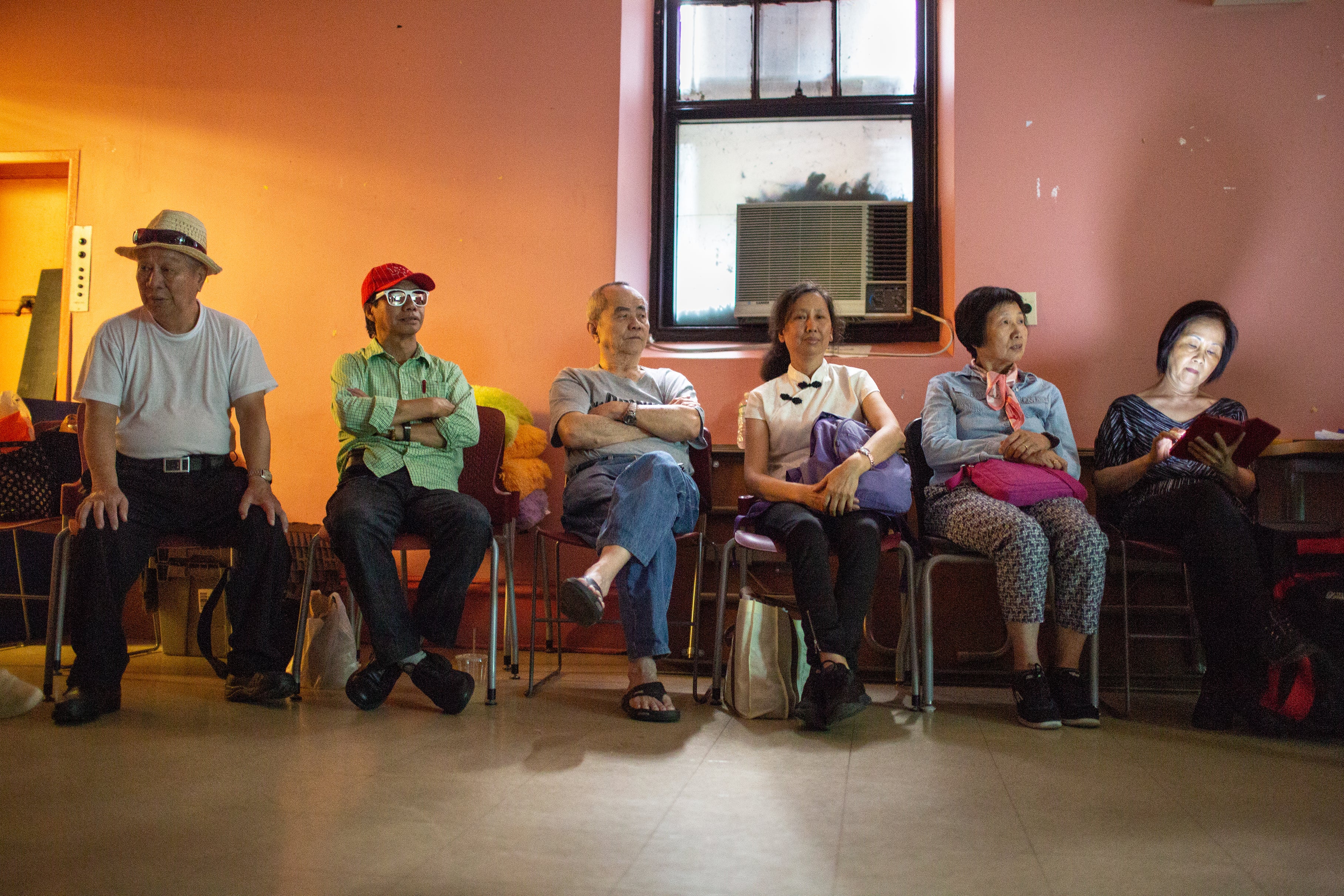 Karaoke

Seward Park is one of many New York Public Library branches that offer karaoke sessions. They are especially popular with older Asian and Asian American patrons, some of whom travel together from branch to branch to sing as often as possible. Here some regular participants wait for their turn to perform.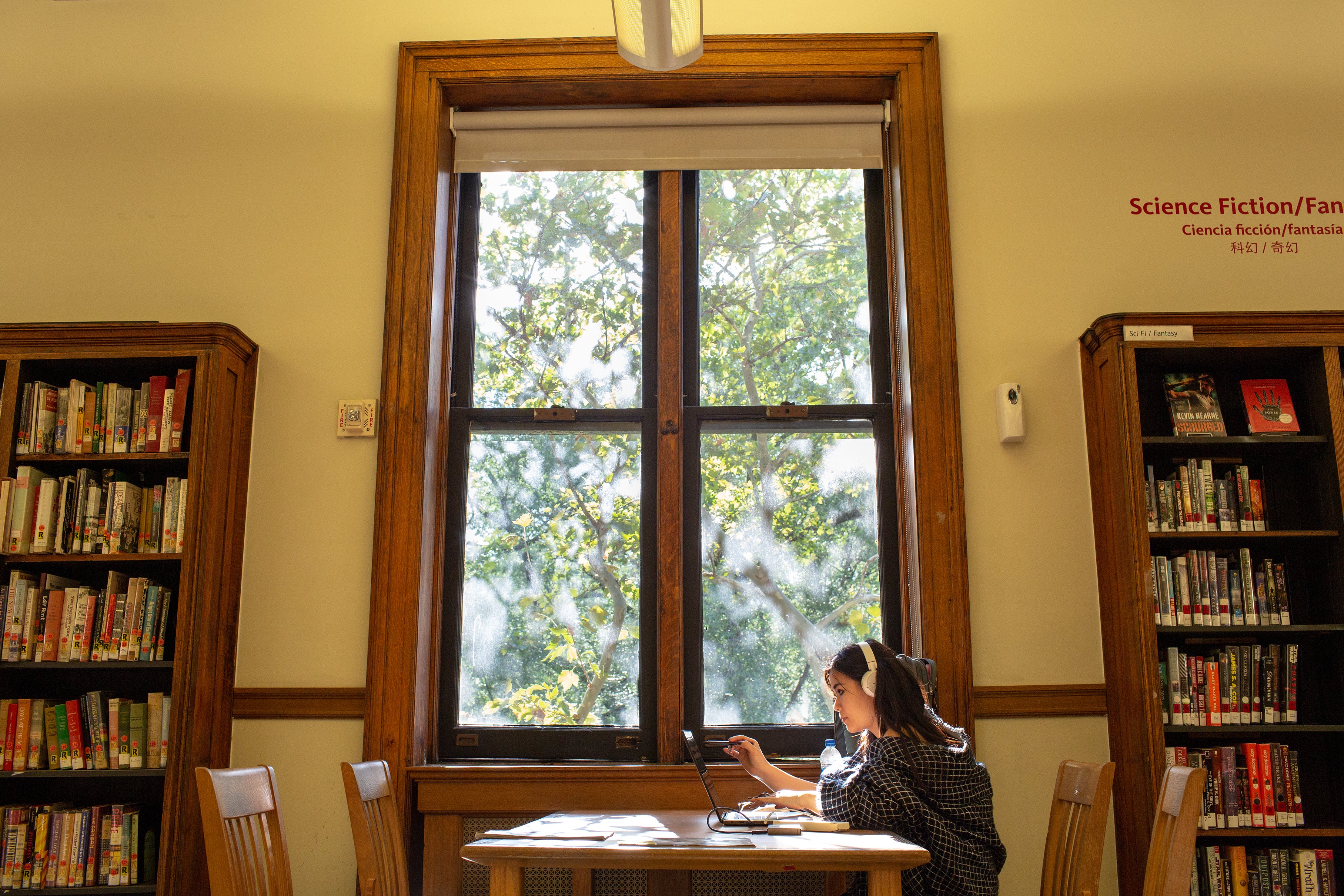 Sanctuary

Not everyone goes to the library for social connection. Nicole Cheung, 30 years old, lives with roommates in the crowded Lower East Side. She goes to the library for the reasons Andrew Carnegie, who funded construction of the Seward Park Library and 2,800 other libraries around the world, originally supported them: to enjoy a quiet space, privacy, and time to read and reflect. The soaring windows in the Carnegie-era building provide ample light and bring the magnificent trees of Seward Park into the reading rooms.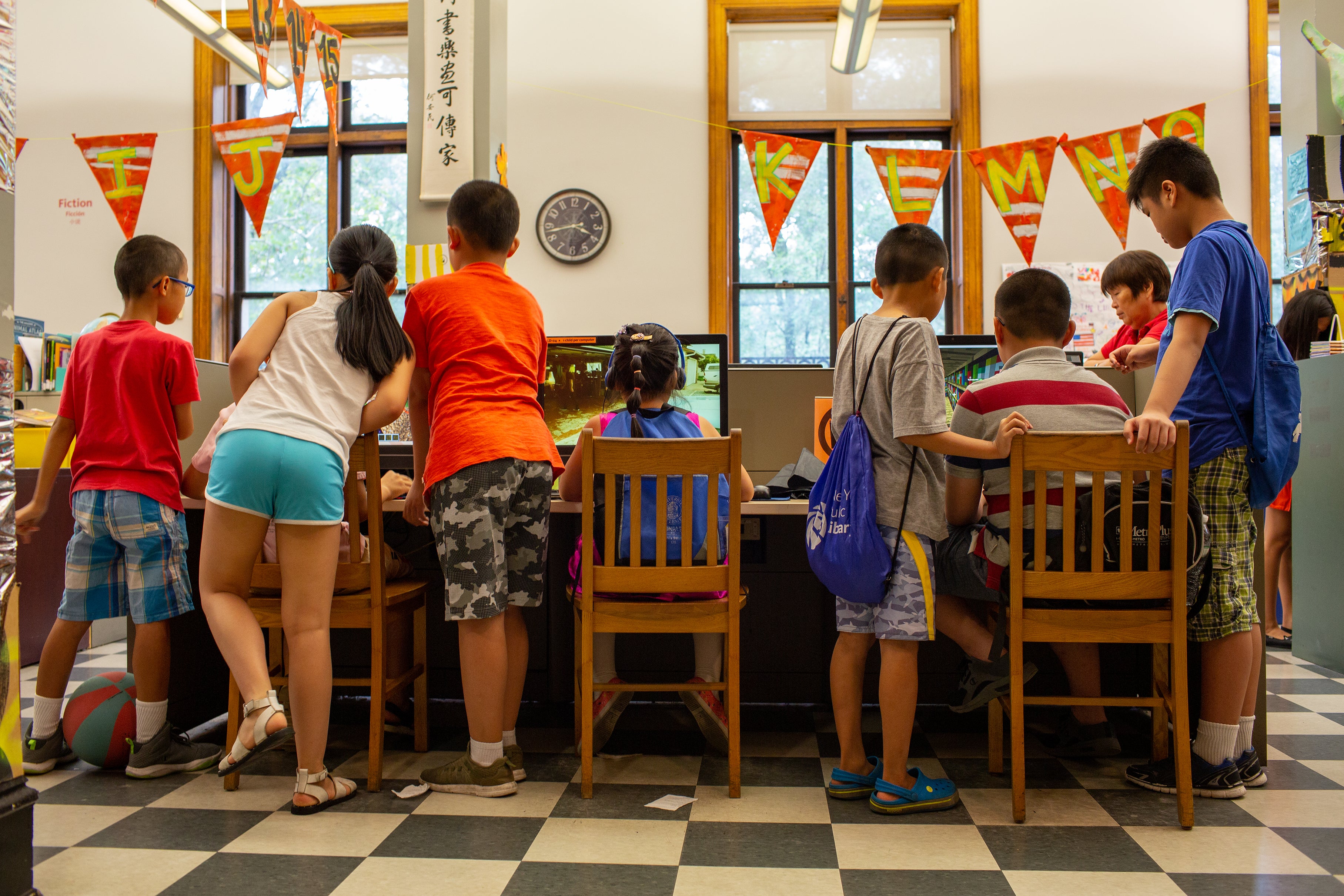 Social Life With Screens
Dozens of kids spend their summer days at the library while their parents work. They read, play board games, do crafts, and play on computers. Parents and grandparents check in and out through the day, sometimes in person, sometimes by phone. The kids at Seward Park are remarkably well-behaved, but some librarians worry they need supervision that the library cannot provide.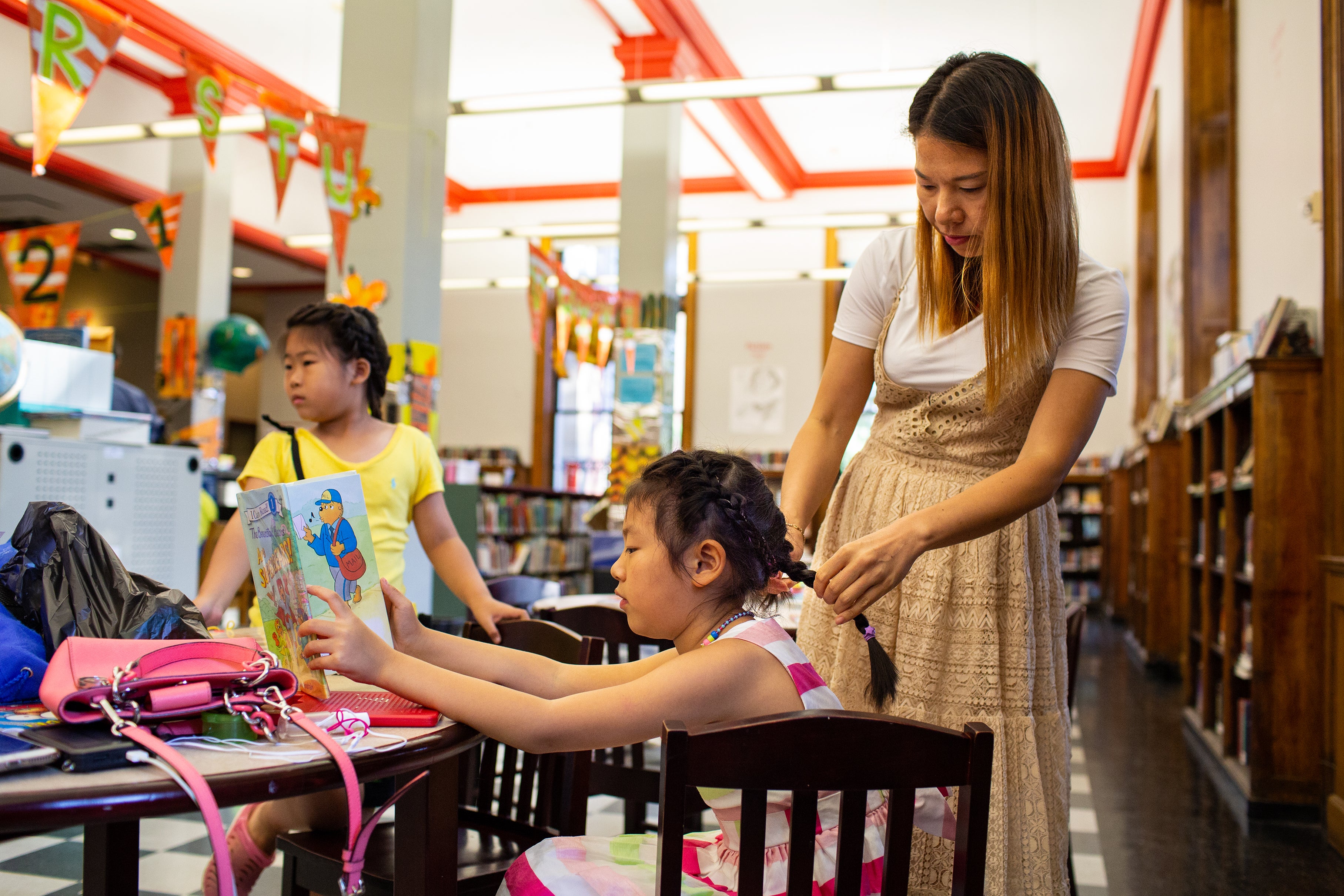 Braiding

Li Quin Li has just learned how to do sophisticated braiding, and she's practicing on her daughter, Xiao Xiao Chan, and her daughter's friend, Xinping Xu, while they read and play. The girls, both 7, spend many summer hours together at the library. Their mothers and grandparents share caregiving responsibilities.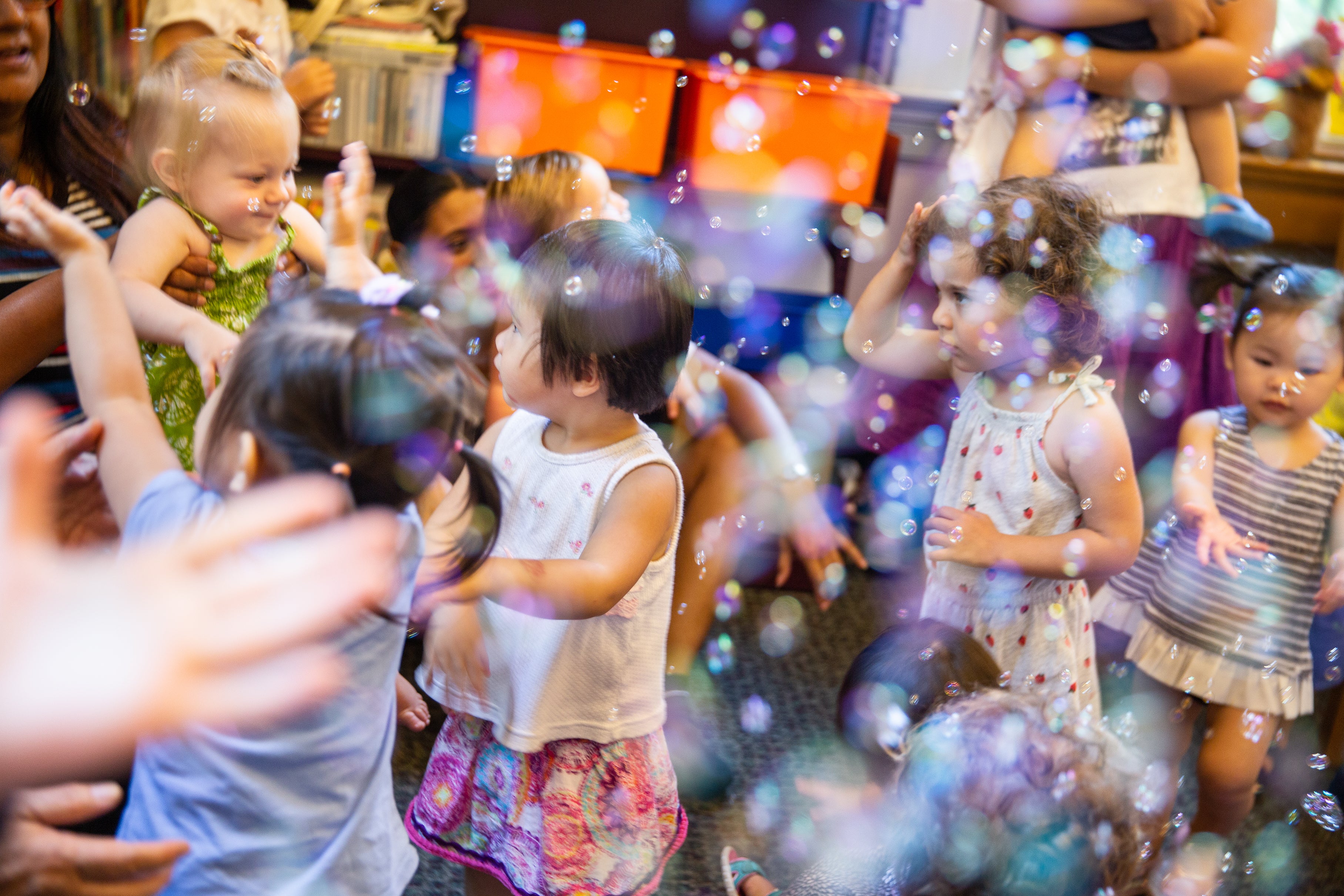 Bubbles

Some feel that bubbles at Story Time inspire lifelong devotion to libraries.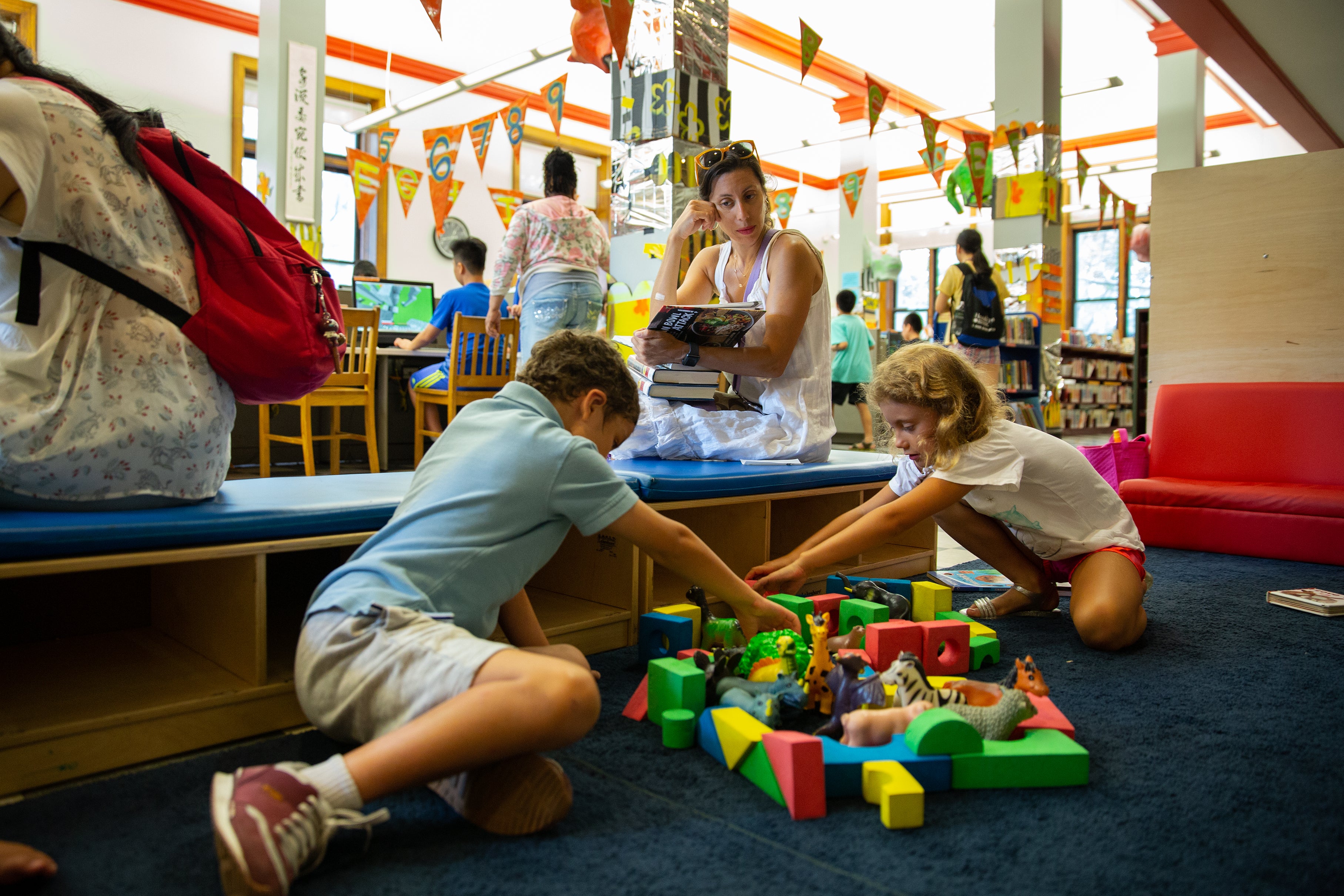 Respite

Melanie Berrios Billilo browses cookbooks while her kids Francesca and Zachary manage the livestock. Melanie, a freelance tech designer for the fashion industry, has been bringing her children here since they were small. It's more occasional now, as a stop along the way after school pickup or, on a day like today, when the library offers a cool, peaceful place in unbearably hot weather.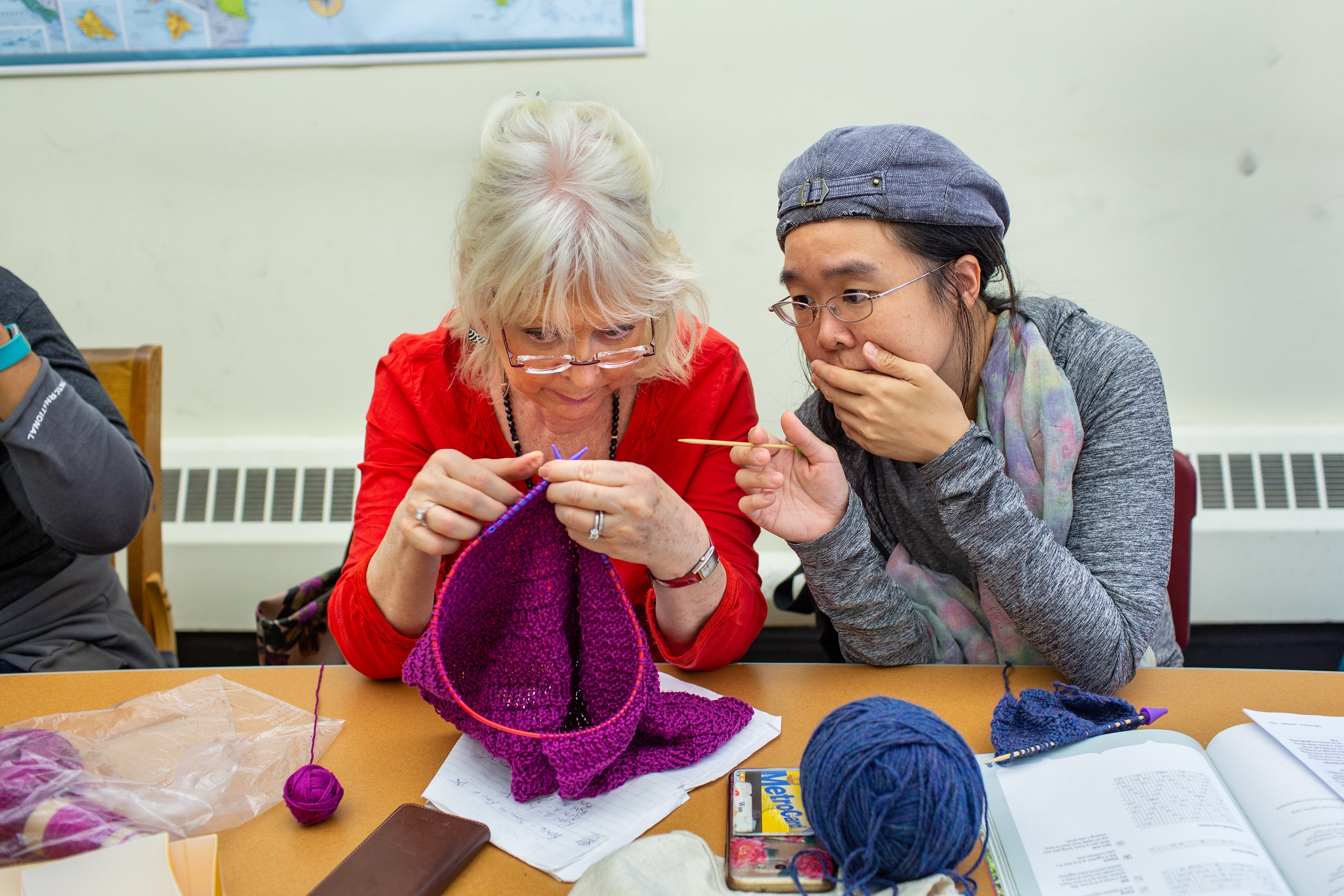 Knitting

The knitters gather every Friday afternoon. All are welcome, even those who crochet. The more experienced teach the newcomers; younger and older participants collaborate with humor and grace. Here, Ellen Chen (in a cap) offers Joan Frier (with gray hair) some friendly advice.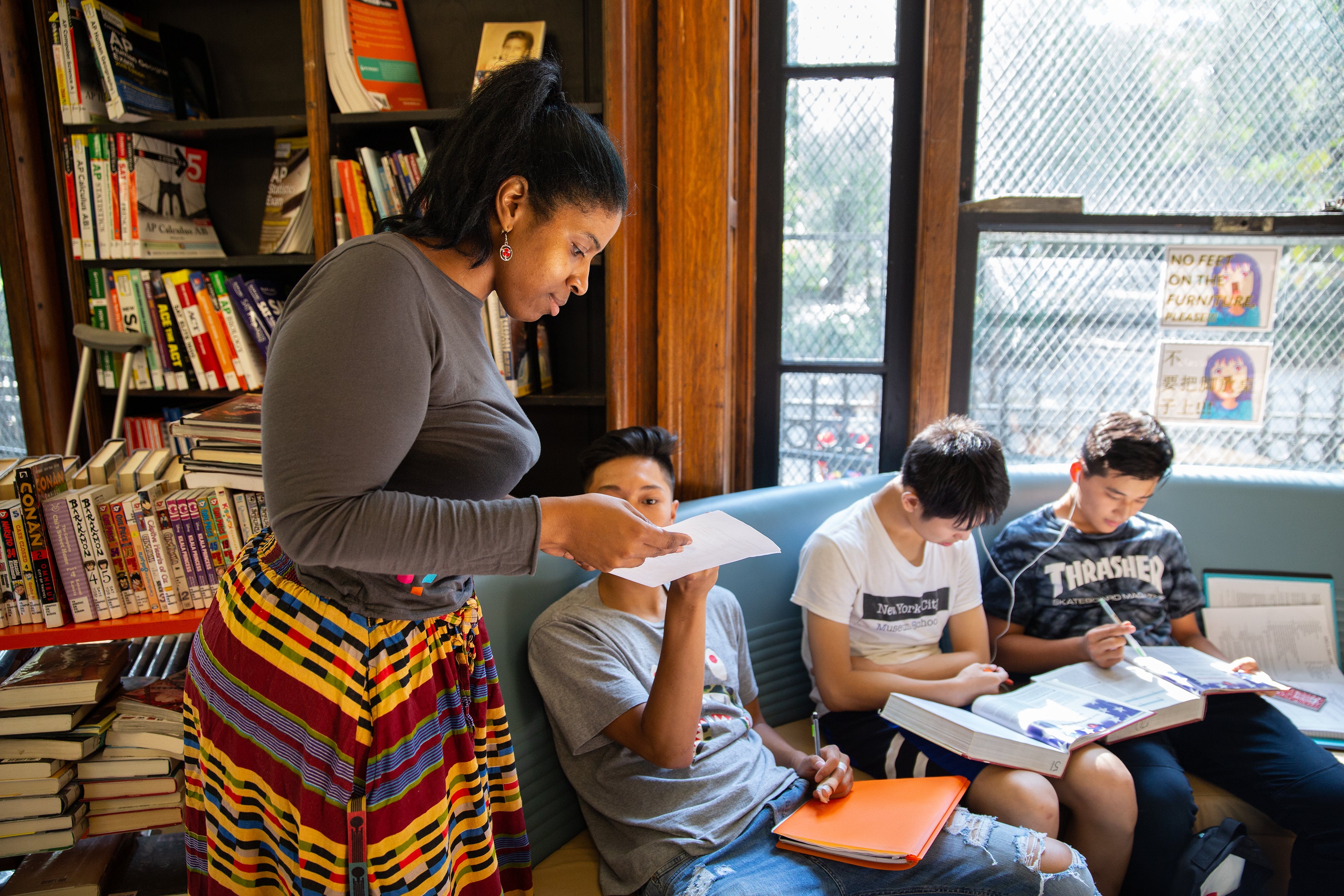 Teen Time

Officially, librarian Samantha Jackson is the young adult information specialist. More than that, she offers thoughtful attention to hundreds of teens who spend long hours in the branch. Samantha has developed strong relationships with teenagers who seek her out for book recommendations and other advice. She's also the resident manga and anime aficionado.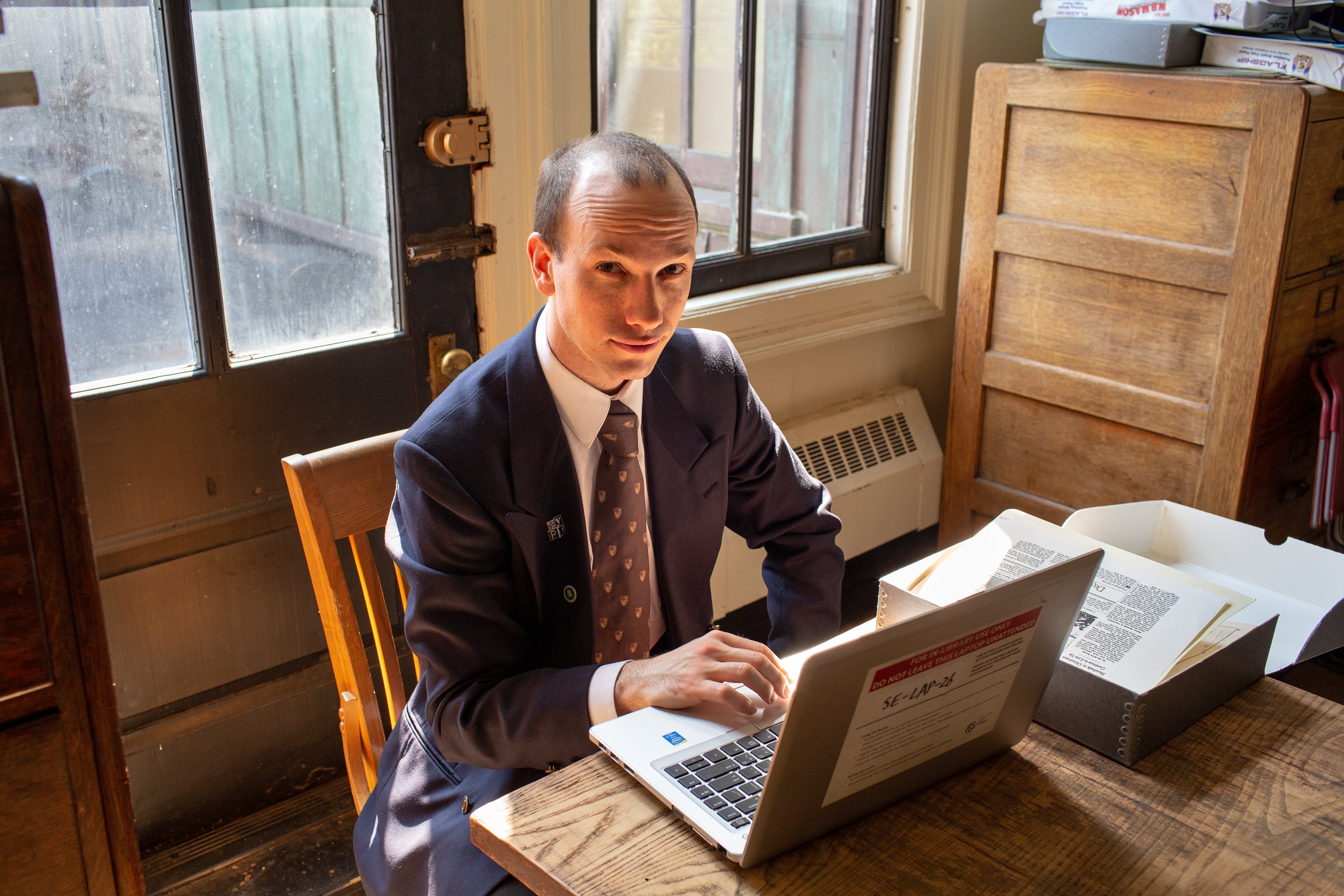 Making Memories

Librarian Andrew Fairweather is in charge of building an archive of neighborhood history and culture to preserve memories in one of the fastest-changing neighborhoods in New York. He also organizes other activities at the library, including a regular Tea Time. "Tea Time is one of the best ways that the library can express faith in people," Fairweather told me. "People need to have nobility and dignity in their lives. And you know, they need other people to recognize it in them too. Serving tea doesn't seem like that big a deal, but the truth is it's one of the most important things I do."