The Emmys gold carpet looked ready for fall on Monday night, as attendees pranced by in long sleeves and high-drama garments that covered more than they revealed. Tulle and square necklines enjoyed top billing, too, in hyperfeminine gowns with showy details.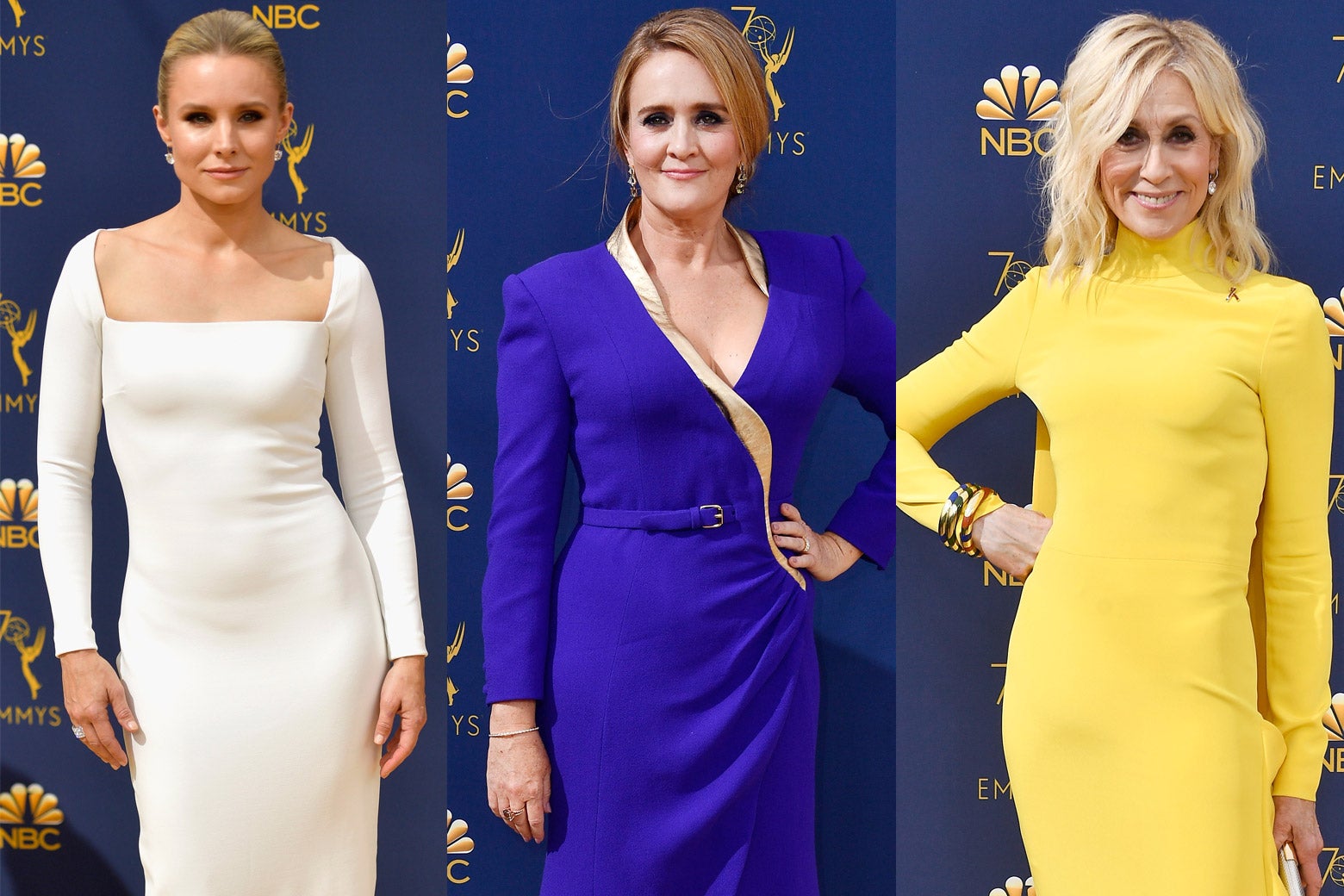 Kristen Bell and Judith Light went for simple silhouettes and solid colors, letting their well-cut dresses speak for themselves. Samantha Bee did her usual thing—shoulder pads—in a blazer-turned–wrap with a single, eel-like gold lapel.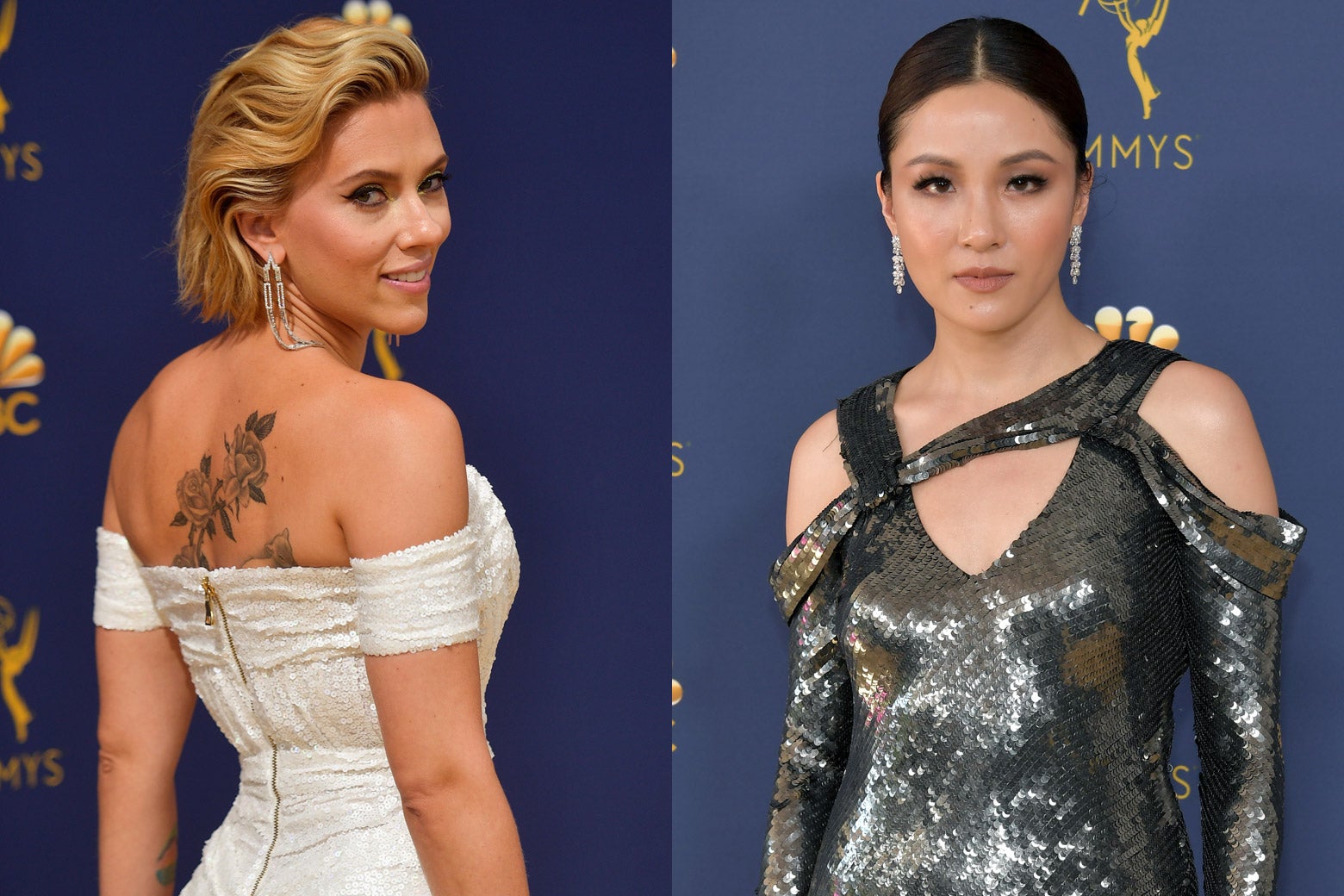 The long-sleeve memo also made it to Constance Wu, who showed up in gunmetal-gray sequins with a subtle asymmetrical neckline. The fabric looked liquid, shining like mercury; Wu looked almost cozy. Scarlett Johansson offered another take on sequins in a more serious, angular dress that used the discs for their texture, not their shine.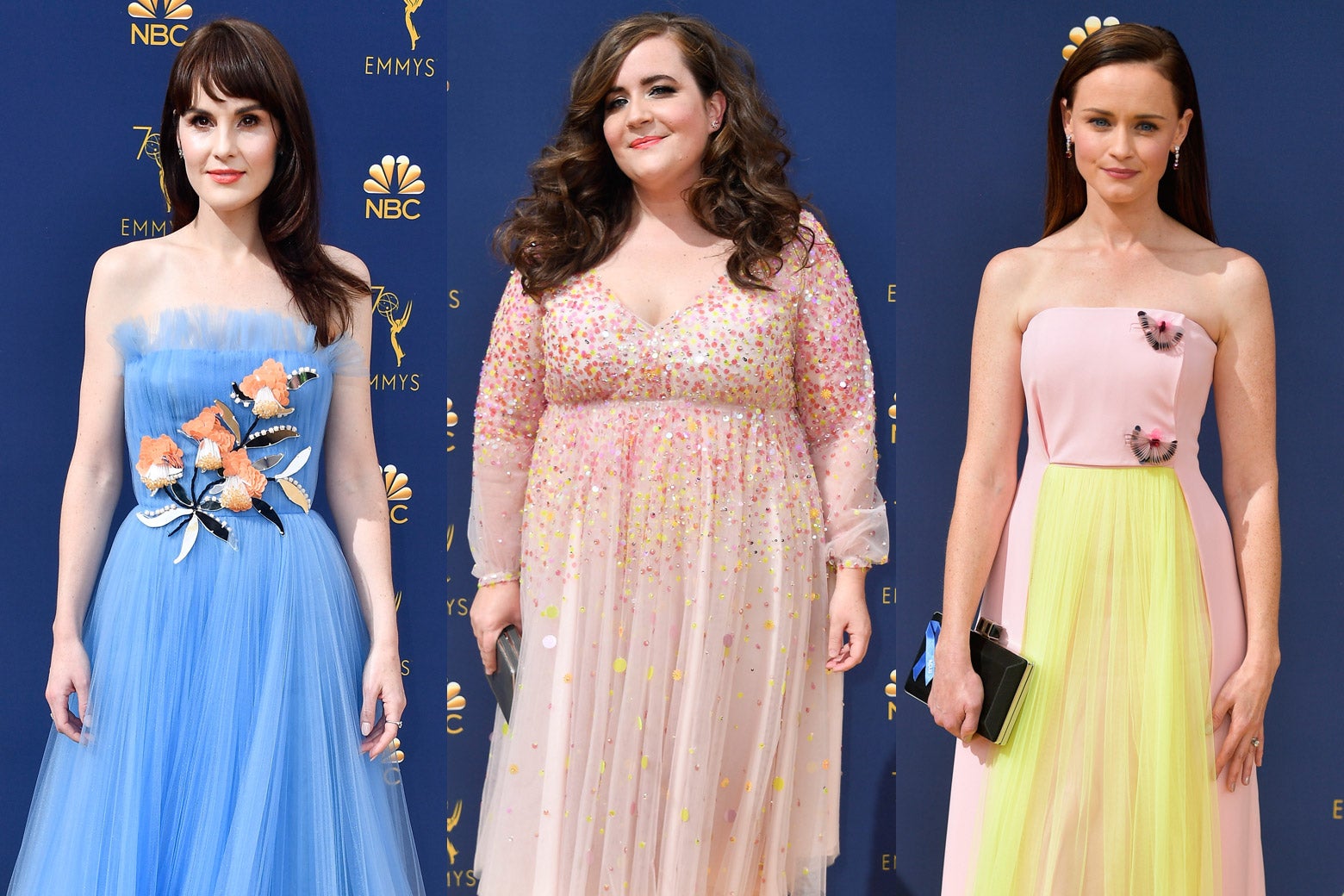 After sequins, the preferred texture of the 2018 Emmys was embellished tulle: In structured sky blue on Godless's Michelle Dockery; in sorbet tones covered in paillettes on Aidy Bryant; and as an understated front panel with a couple of doodads on Alexis Bledel.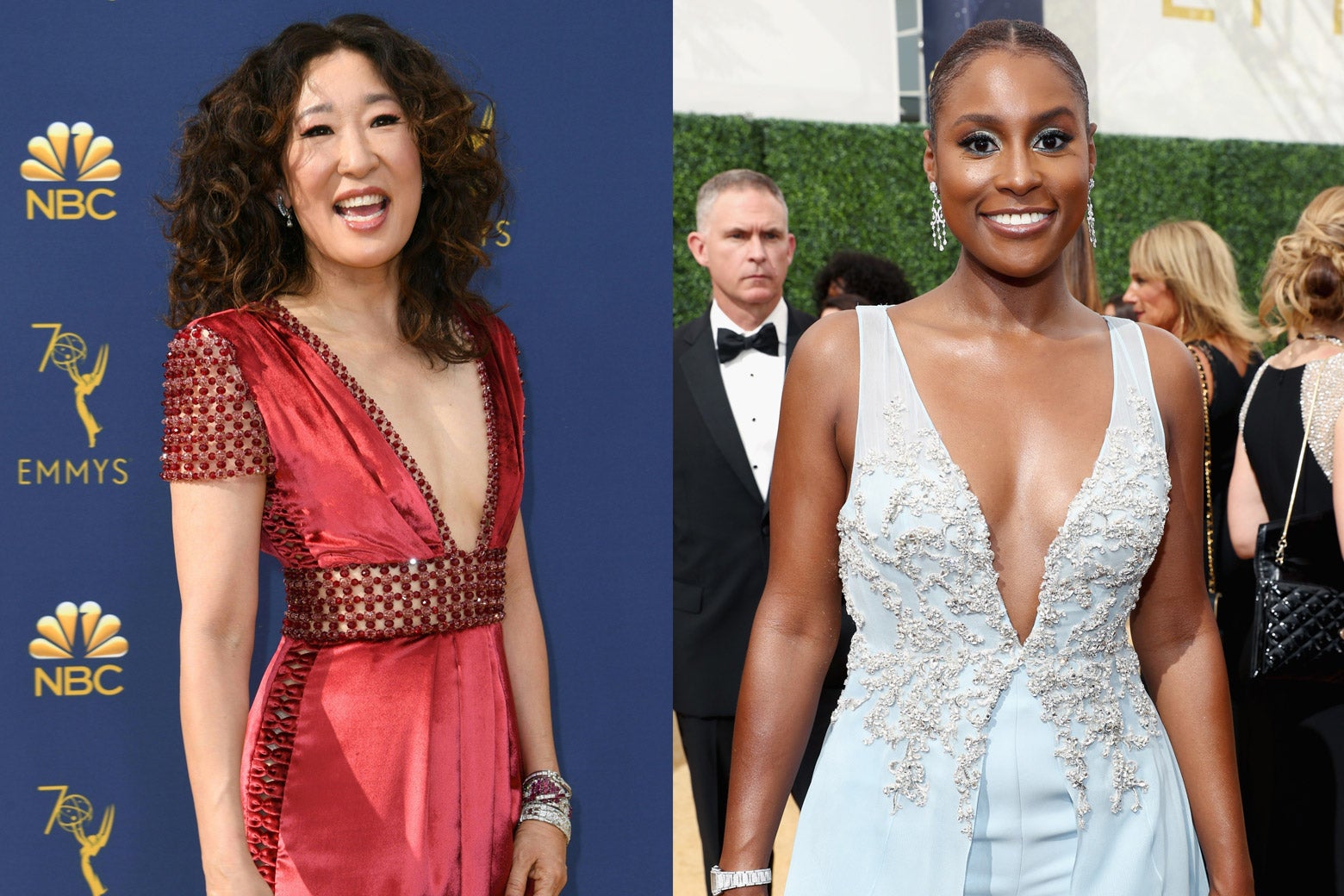 Both Sandra Oh and Issa Rae wore head-turning jumpsuits with glitzy details. Oh's was refreshingly laidback, a short-sleeved rumpled satin number trimmed with exquisite open-weave beading. In Vera Wang, Rae was encrusted in jewels and trailed by a butt cape, a fresh take on the faux capes attached to one in every dozen gowns these days.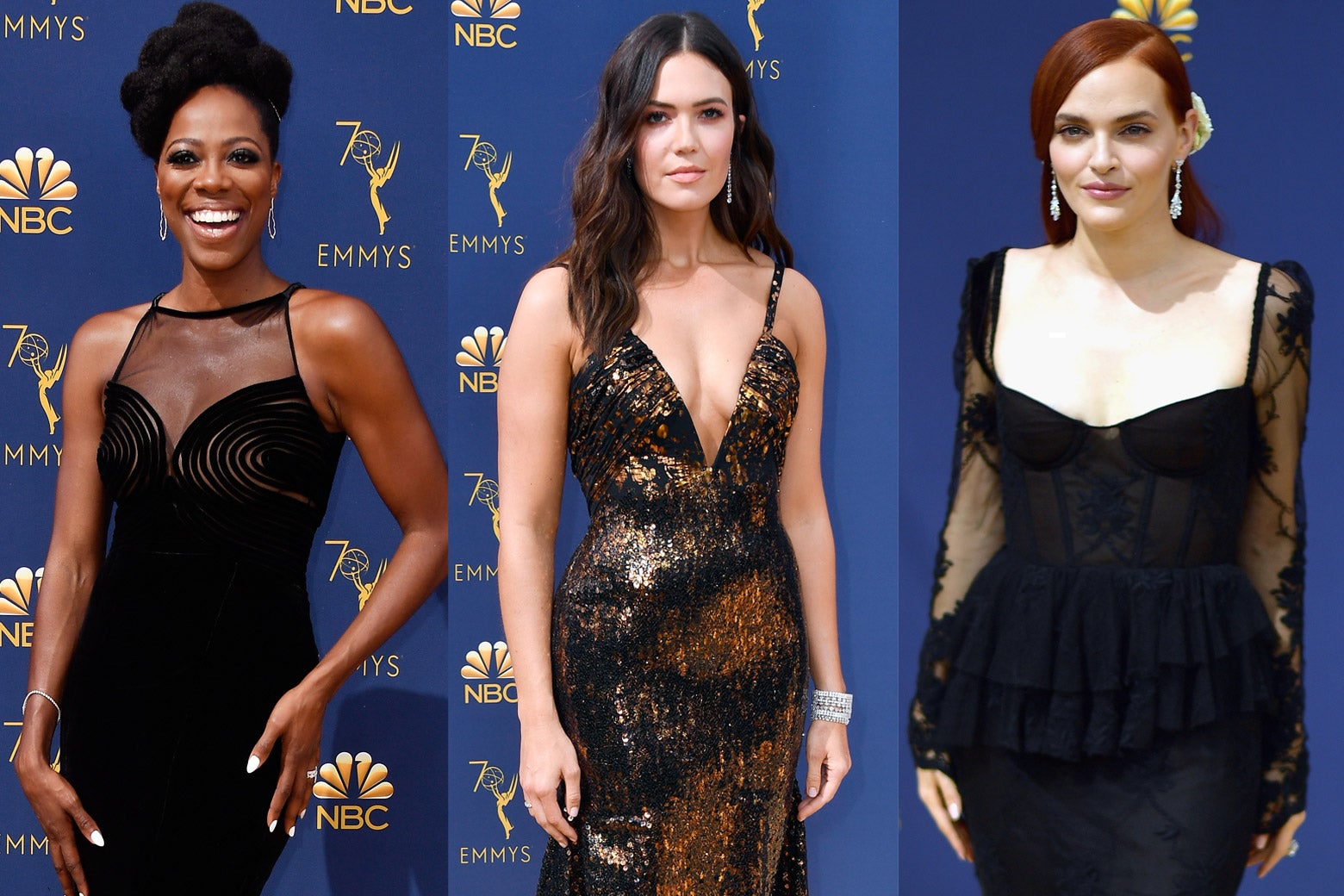 Black and gold will always be the base of the awards-show food pyramid, and Monday night's offerings were extremely nourishing. Yvonne Orji was a stunner in Madonna-esque breast spirals, balanced by a classic statuesque silhouette. Mandy Moore's Rodarte gown mixed print and texture with shiny paint and sequins. In sheer black lace and a corset cut, The Handmaid's Tale's Madeline Brewer looked as glamorous as goth can get.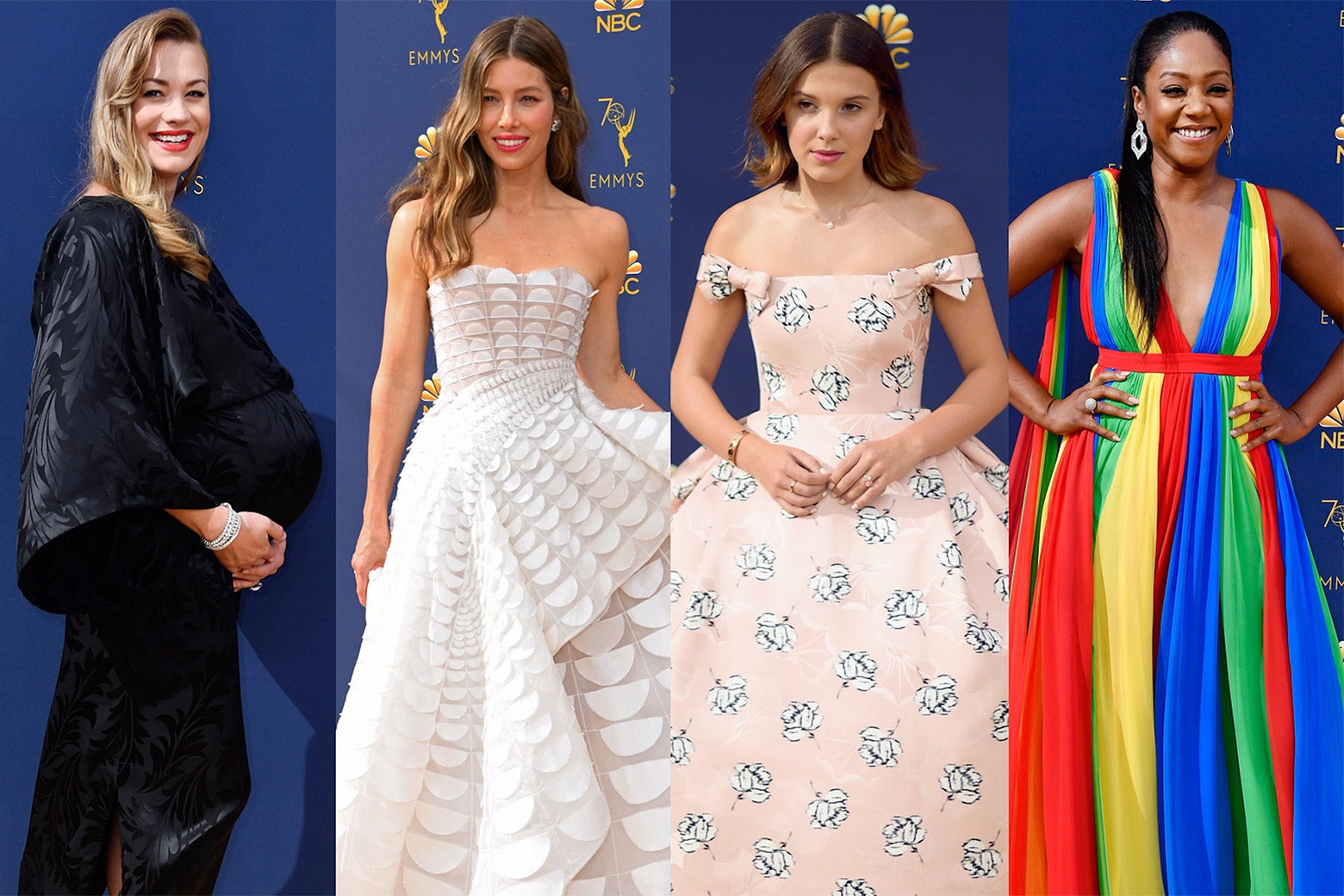 The prints on the gold carpet ranged from the playful (Tiffany Haddish's parachute-colored Prabal Gurung) to the elegant and adult (Yvonne Strahovski's delicious black silk, draped perfectly around her nine-months-pregnant shape). In between were Millie Bobby Brown, in comic-book Calvin Klein roses, and Jessica Biel, in an inspired Ralph & Russo Couture gown covered with semi-sheer semicircles.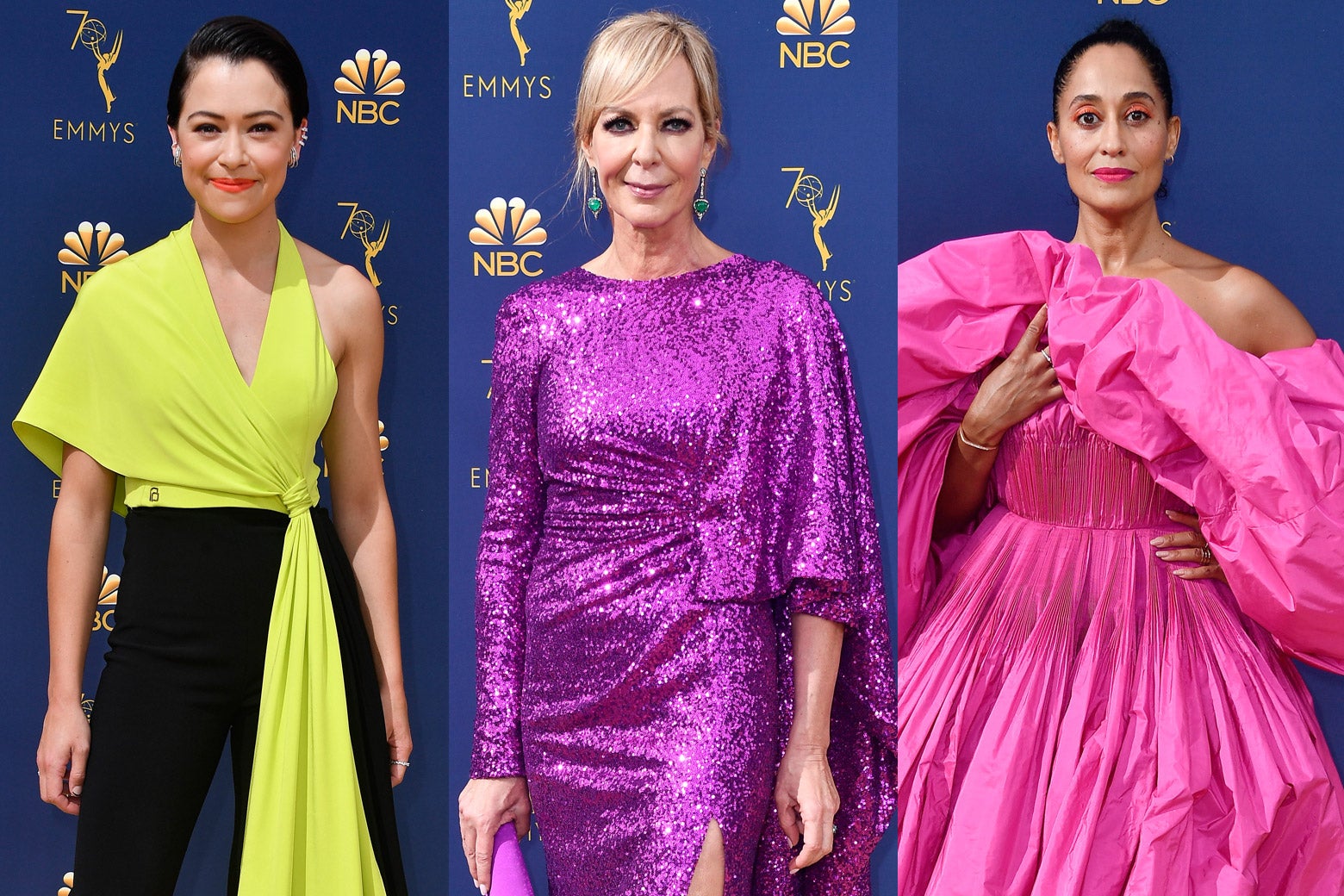 The most dramatic looks of the evening had volume and asymmetry, starting with Tatiana Maslany in a chartreuse-and-black jumpsuit whose asymmetrical knot and long, flowing ties forced her to pose in a wide stance on the carpet. The awkwardness was worth it, Tatiana! Allison Janney glowed in fuchsia sequins with a long sleeve on one side and a big-time flow on the other. I audibly gasped when I saw Tracee Ellis Ross, who wore a ballooning bubblegum-pink Valentino number that looked like a crinkly, overstuffed window treatment in the absolute best possible way.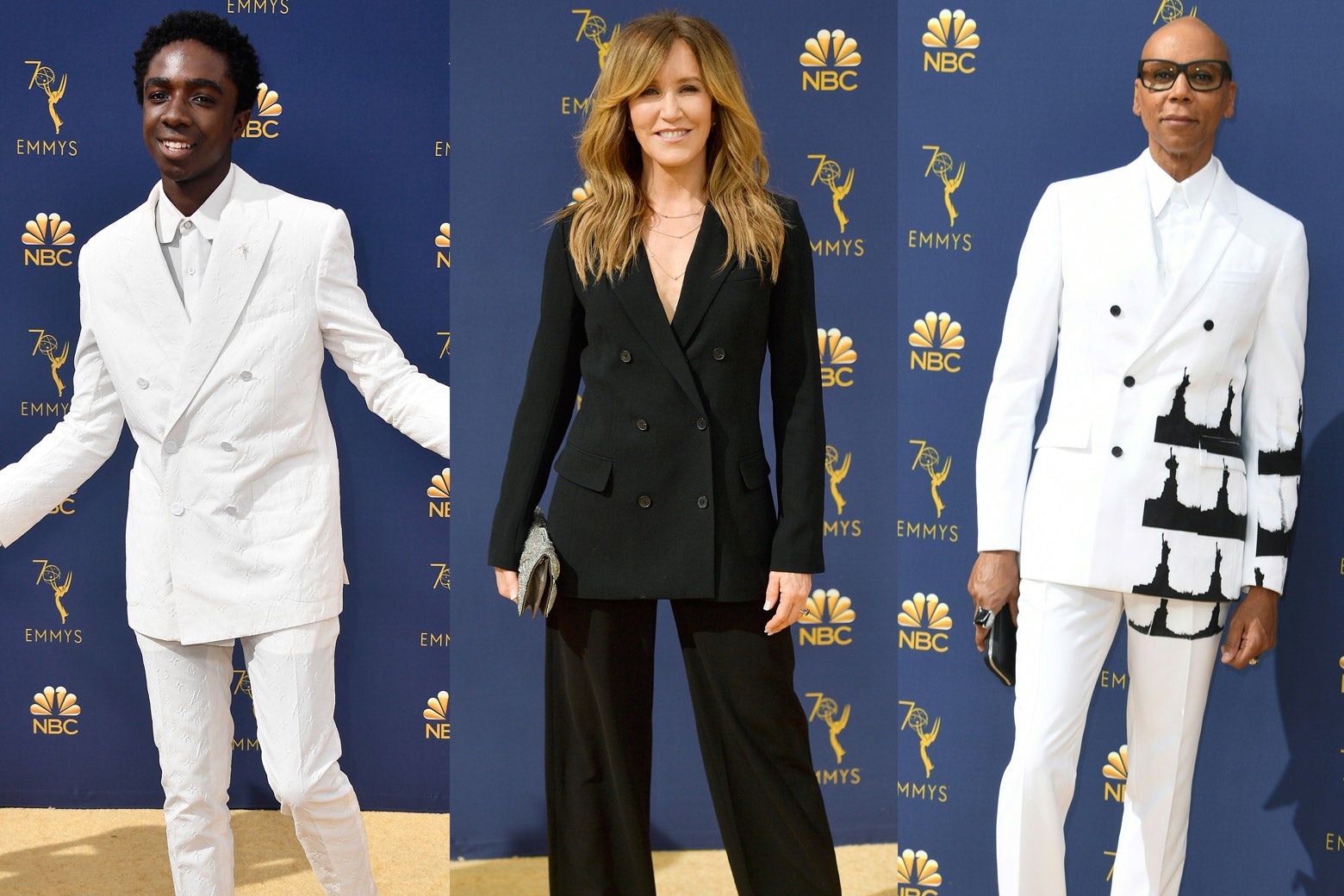 As far as blazers go, the double-breasted ones were the cutest—including Felicity Huffman's oversized black one and RuPaul's white one with a partial print of tiny Statues of Liberty. Stranger Things' Caleb McLaughlin had an even better white suit with a textured print, which he paired with trendy pointy-toed dress sneakers.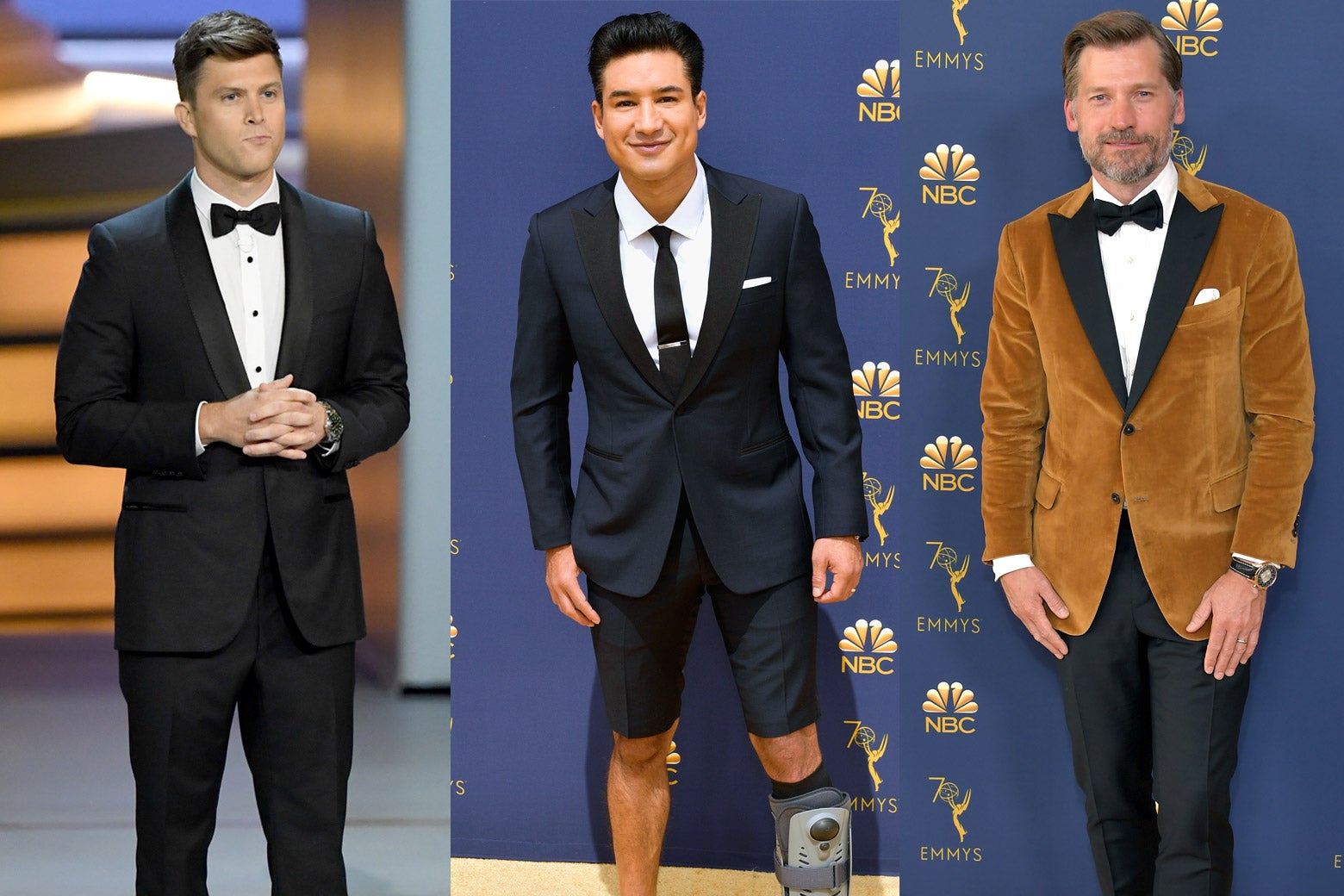 Men embraced autumnal tones in their suits and tuxes, led by Emmys host Colin Jost in a marvelous deep plum. Mario Lopez, poor thing, had to wear a medical boot, so he opted for blue-gray shorts, loafers, and a cane—a fetching look in the end-of-summer weather. Jaime Lannister, aka Nikolaj Coster-Waldau, brought to life a rust-brown velvet jacket that might have looked revolting on the rack, but looked dashing and festive on him.
The loudest statement of the night came from Black-ish's Jenifer Lewis, who wore a custom Nike sweatshirt with a jeweled swoosh in support of the company's new ad campaign starring Colin Kaepernick. (Don't worry—she still wore a few ounces of diamonds on her wrists and ears.) "Thank you for leading the resistance," she said to the company in an interview with Variety on the gold carpet. "I am wearing Nike to applaud them for supporting Colin Kaepernick and his protest against racial injustice and police brutality." On a carpet full of couture from high-fashion designers, it turned out that a sportswear company got the best bit of free advertising.