On Monday night, during RuPaul Charles' Emmy acceptance speech on behalf of RuPaul's Drag Race,  you might have heard an unfamiliar name: Dick Richards. "I'd love to thank Dick Richards," RuPaul began his personal gratitude list, "who introduced me to Randy Barbato and Fenton Bailey…" While Richards might have sounded like just another producer type, a cog in the system who helped RuPaul out in Hollywood, he was much more than that. Richards, a gay man himself, was the first person to ever put RuPaul on TV, back in a 1980s Atlanta public access television program called The American Music Show. Richards planted and nourished the seed of RuPaul's career, and in RuPaul's autobiography Lettin It All Hang Out, he devotes an entire chapter to Richards and credits TAMS as setting him on the path for now Emmys-level success.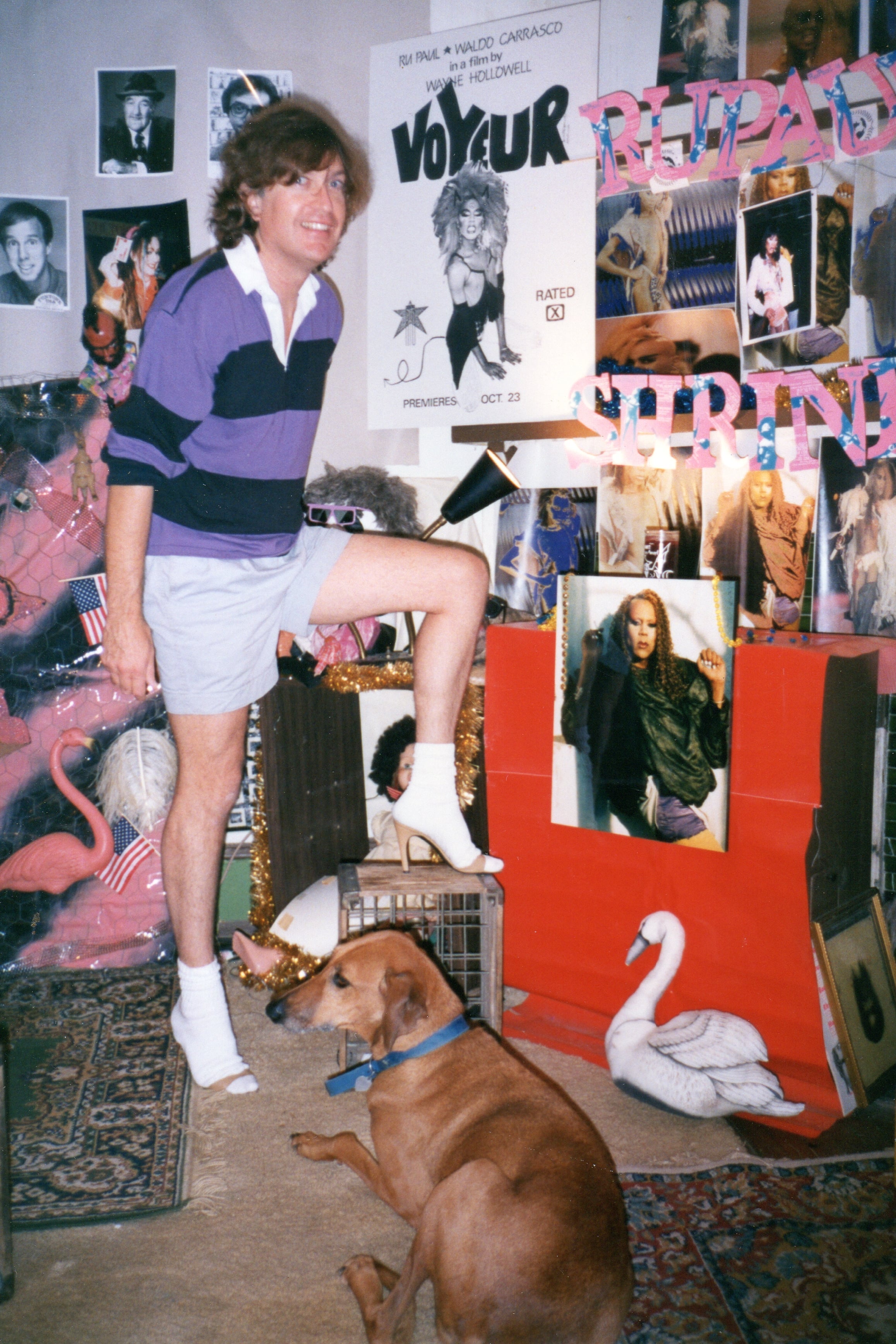 While he didn't mention this onstage, one of the reasons RuPaul presumably thanked Richards first was that he had died just days before the ceremony at age 71, after battling leukemia for more than a decade. This loss was certainly on the minds of all the producers at World of Wonder, the company that produces RuPaul's Drag Race. WOW was the first source to break the news of Richards' passing, expressing in a press release that he was a mentor and inspiration to the entire company.
Indeed, many contemporary queer media and entertainment personalities owe their success to Richards and his "Funtone USA" alternative media company. Like RuPaul, Lady Bunny had her first TV appearances on TAMS. The DJ Larry Tee—known for coining the term "electroclash" and jump-starting the careers of Scissor Sisters, Peaches, and Fischerspooner—got his start through Funtone Records, Richards' music label. The current producers of RuPaul's Drag Race (Randy Barbato and Fenton Bailey) started out as a band called "The Fabulous Pop Tarts," for which Richards recorded, distributed, and made music videos. You can see hours of footage of young RuPaul in the Funtone USA online archives, including a series of low-budget action flicks called "Starrbooty" in which RuPaul is a supermodel/crime fighter—of course.
Richards' influence and legacy in queer life are quite profound, even though his name is unfamiliar to most. TAMS ran on Atlanta public access television from 1981 to 2005. At the time, local public access television was well-known as a bastion for new, experimental, and wide-ranging voices (kind of making it the YouTube of the '80s and '90s), and TAMS showcased alt-Atlanta in a way it had never been portrayed. This show, which Richards produced on a weekly budget of $5 (the cost of the tape to record it on), took viewers into underground drag performances, on tours of gay cruising trails in public areas, to tacky psychedelic trailer parks with bizarre singing sisters, and to rural Georgia, where a 24-year-old RuPaul protested the real-life KKK. TAMS is a look at queer life that was not written about in the newspapers. Richards featured faces who would never make it onto conventional local news. But these people and their stories were a very real part of their community, and they were dedicated to having their voices heard. Public access television made this sort of democratic representation possible.
In addition to producing his own archive of Atlanta-centric queer video footage, Richards ensured the preservation of a similar archive in New York City. By coincidence, Richards grew up next door to another little gay boy in South Carolina named Nelson Sullivan. They remained lifelong friends. Sullivan eventually moved to New York City and became entrenched in the 1980s underground gay scene there. What makes this relationship so interesting is that Sullivan almost always carried a video camera with him (bulky and expensive consumer video cameras had just hit the market), documenting a highly detailed portrait of a pivotal time in queer history. He captured the rise and demise of many influential queer artists including John Sex, Keith Haring, Tom Rubnitz, and Michael Alig. When Sullivan died of a heart attack at age 41 in 1989 (he had just quit his full-time job three days before to start a public access show with his recordings), Richards drove up from Atlanta and saved all of the video tapes. In collaboration with New York University, Richards made sure these tapes were properly preserved, and they are now available on YouTube through the 5 Ninth Avenue Project.
Taken as a whole, what makes Richards' work so astounding is that he was publicly celebrating queer culture at a time when that could get you arrested, fired, or attacked. And he did this work nonstop for more than two decades. TAMS is an incredibly deep look into queer life and culture, and Richards showed countless people in the South (and beyond, as the show was picked up nationwide on various public access networks) that it was OK—and fun—to be gay. He operated with the motto: "If it's not fun, don't do it," and by making and preserving art with such joy and exuberance, he inspired countless others to pursue their own work and be exactly who they were proudly, in public.
I am one of those people. As a young, Southern gay artist, I was instantly fascinated by TAMS when I first stumbled upon it many years ago. Watching this show, I realized how important it is for someone to step up and be the documentarian. Richards inspired me to showcase my queer community through my artistic mediums—writing and photography—and help lift it up. He showed me that this work is important because if we don't preserve our own queer history, it will be forgotten. Last year, I did two art projects where I used footage from TAMS. One of them was a feature-length documentary about the show itself (made for Out on Film), made up solely of clips from the original public access episodes. Richards and I spoke many times during the project, and I was so proud when he told me I was part of the Funtone Family.
Dick Richards proved that you don't have to be the one in the spotlight to make art that will change the world—you simply have make the art with dedication and use your talents to benefit your community. For that lesson and so many others, he will be greatly missed.
This piece is adapted from one that originally appeared in ArtsATL.
Want more Outward? Queer your ears with our monthly podcast, available via Apple, Google, and most other platforms.