In this series, kids (and not-exactly-kids-anymore) review how well their parents balance life and work. To nominate a potential subject, ideally between the ages of 5 and 17, email humaninterest@slate.com.
Zonnique Pullins is 22 years old and lives in Atlanta. Her mother is Tameka "Tiny" Harris, and her stepfather is T.I. 
Rachelle Hampton: Can you tell me a little bit about your relationship with your parents right now?
Zonnique Pullins: My mom has always been my best friend and my mother all at the same time. With my stepdad, I've obviously been around him my whole life, pretty much since I was 5. But I think now that I'm older and we can have those talks, we're just really comfortable now that I'm grown. I just love my relationship with my parents, period.
How did your parents meet?
I can't remember how they met, but I want to say it was in the studio or something, somewhere where he was just starting off rapping, and my mom, she saw him and they kind of liked each other but she just wasn't sure. She was like, "Oh, he's so young," or something like that, some crazy story that ended up happily ever after.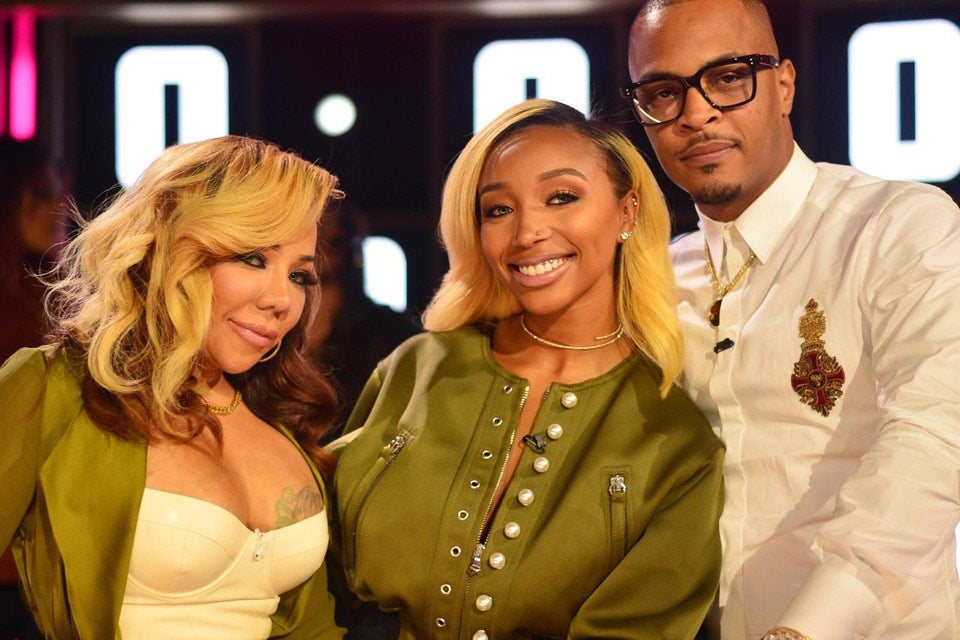 Did you realize when you were growing up that your parents' jobs were different than your friends' parents' jobs?
Yeah. I remember in second grade, my mom had the best cars, and she had the Hummer black truck back when Hummers were cool. And I acted sick to get picked up early, and we were on the playground and I remember my mom pulled up and she had my little puppy in the car, and I was just acting like, Oh, I'm a celebrity, you see how my mom's pulling up, see y'all later! I've always lived in this little fantasy, like I always used to feel like my life was a movie, so I definitely knew from a young age that my parents were popping. [laughs]
That's incredible. When did you first get a sense of what your parents did for work?
For my mom, I always knew that she had something spectacular going on because my grandparents—and that's who I pretty much stayed with and was raised by when my mom was out on the road—were just so infatuated with my mom. My grandfather, he was in a music group as well, so he would always on the way to school be like, "Have you heard this song your mom recorded?" and we'd have to listen to it the whole ride to school. I did music too, so I just wanted my grandpa to notice me, but he was always talking about my mom, so I was like, she gotta be famous.
And then when we became a big family, I feel like when I noticed [my stepdad] was like famous famous—he would call me and be like, "I have someone who wants to talk to you," and people who I would have a crush on, he'd have them on the other line. So I was like, OK, he's popular.
Oh, my God, can you tell me more about that?
I think when you're the stepchild and it's your mom, you're always like, Oh, I don't know. You're always a little mean. I was definitely that child. So he felt like he had to win me over. So he would just randomly call me, and I remember one time it was Chris Brown and I was thinking, Oh, I'm about to get with Chris Brown. And the next time it was Nick Jonas, and I was just in love with the Jonas Brothers and stuff.
Did your friends at school know who your parents are, or were you a little hush-hush?
Well, I went to this Christian school from kindergarten all the way to seventh grade, so with my friends from there it was pretty normal, who my parents were, because we all grew up together. Then when I started going to public school and I started going to school downtown, it was definitely like, That's T.I.'s and Tiny's daughter. In high school when my pops took me up there to enroll me, it was so many people following us down the hallways.
Did people recognize them in public a lot?
Yeah, when I was younger, I felt more like, This is our family time. Do you really have to ask for pictures? But now I really understand it. People are really going to ask for pictures no matter what you're doing, even if you have pizza halfway in your mouth. In the beginning, I definitely had a problem with feeling like I was sharing my parents with the world. Now it's like normal.
My pops' favorite line is "I'm with my family right now. I can't take pictures."
When you were growing up, what kind of stories did they tell you about their careers?
Anytime Pops tells me old stories, it's all his struggle stories and what he had to do to get to where he is and how he started in the 'hood and stuff. It's always really crazy, like yeah and I went to jail and stuff like that.
My mom tells me things like when she was on tour with R. Kelly and Xscape, how they couldn't be in the hallway when R. Kelly would come out, where it's like, oh, wow, it's crazy that you were around for that time. She also has Tupac stories and stuff like that.
What was your parents' work-life balance like when you were growing up?
Working too much. Really when I was younger, it wasn't so much my mom, it was more my stepdad, but because it was the beginning of his career and the beginning of their relationship, my mom was with him all the time. So they used to be on the road all the time. In my diary I would write, I wish they would come home.
Has that changed as they've gotten older?
Yeah, I think they've found a better way to be home for us, especially for graduations and things that are really big, they're always there.
What are your parents' daily lives like, and has that changed as you've gotten older?
My mom is on her phone 24/7, so there's always something going on. I hate riding in the car with her because she talks on the phone the whole drive. And Pops, I feel like he's in five different cities every day. Every time I talk to him, he's like, "I'm actually in Miami, I'll be home tomorrow," and then he's home for a second. I feel like now it's even busier than they were when I was younger. But they always find time when it's like, OK, everyone's off of school and everyone's got a break, time to take a family vacation, and that's my favorite phone call to get.
What do you think stresses your parents out the most about their jobs?
They don't really show that to me. Honestly, I feel like both of them are really happy when they're working. Even when I'm in New York with my mom and we have to do press stuff, she's never giving that vibe like "Oh, I just want to go back to the hotel. I'm tired of taking pictures." She never really complains, and same for my pops. I know they both love money, so they don't really stress when it comes to working. [laughs]
Were your parents ever hesitant about you being in the industry? 
They both have been really supportive of whatever it is I want to do. I think that my grandma and my biological dad are people who can sometimes get more worried about me. Still to this day, if I called my grandma and said, "I want to go to college," she would be so happy for me because she still wants me to go to school. My dad is the same way.
Since your parents have extremely public-facing careers, were there any restrictions on social media when you were growing up?
My parents had it so easy with me, and I feel like they'll say it themselves. I don't know if it's because I went to Christian school for most of my life, but I was always really chill. One time I remember I took pictures on my bed thinking they were just really cute, and then I ended up being on Media Take Out and they was like, Oh, she's trying to be grown and sexy. I was like 12 or 11, and I think that's when they told me, "I know you didn't do anything wrong," but they kind of taught me that people can take stuff wrong all the time. They didn't really put any restrictions on what I was doing on the internet, but they definitely taught me from a young age that people are gonna talk good or bad. They also taught me that it was okay, good and bad—it's all good as long as they talking.