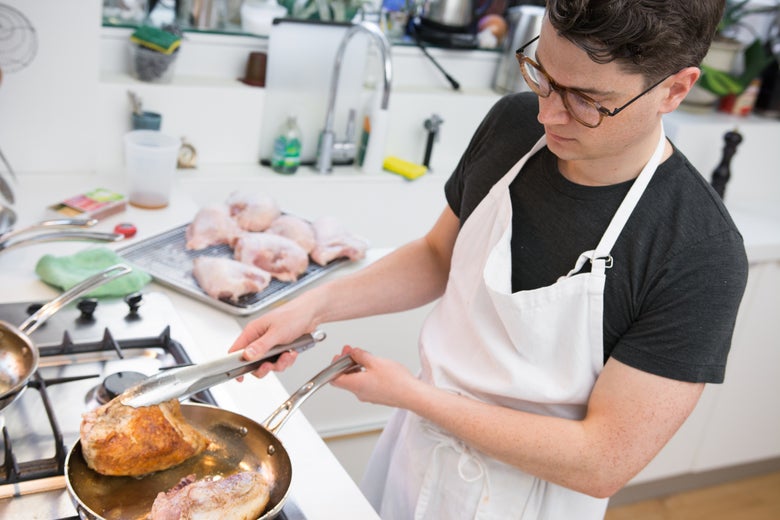 This post was published in partnership with Wirecutter, the site devoted to finding the best gear and gadgets. Every product is independently selected by the Wirecutter team. We update links when possible, but note that deals may expire and are subject to change. If you buy something through our links, Slate and Wirecutter may earn an affiliate commission.
Here at Wirecutter, some of us spend a lot of time in the kitchen. We go to work and chop mountains of produce or sauté batch after batch of chicken pieces, and then we go home and cook dinner. In all that time (as well as in our past lives working in restaurants and test kitchens), we've found a handful of small, simple tools that help our kitchens run more smoothly. These are the unexpected essentials we rely on to help us stay organized, cook efficiently, and clean up fast on a daily basis.
An Out-of-the-Way Rack for Pot Lids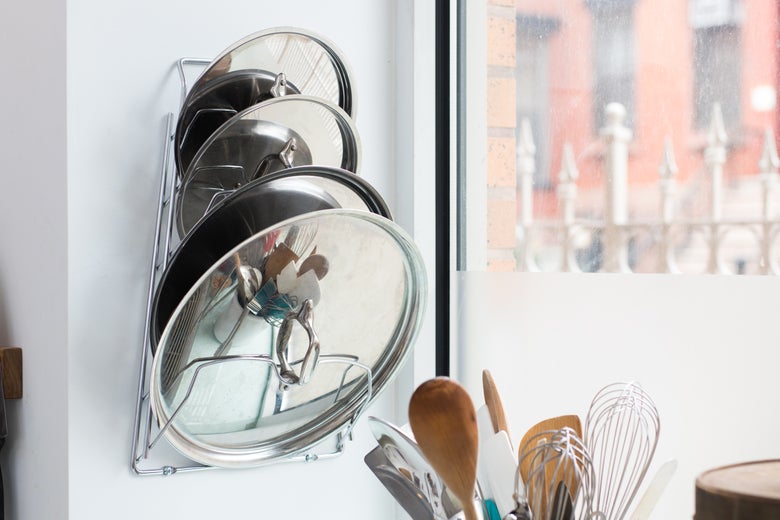 Some of the most frustrating items to store in any kitchen are pot lids. They're unstackable by design, and usually end up as a scattered mess in cabinets and drawers. The best solution I've found is the Organize It All Cabinet Door Lid Rack. This lightweight but sturdy rack easily mounts to a wall or cabinet door and keeps all my lids organized and accessible. The graduated slots hold every size of lid, from a diminutive 6-inch lid to an absurdly large 14-inch topper. Of all the tweaks and modifications I've done to make my small Brooklyn kitchen more workable, this little rack has had the biggest impact. —Lesley Stockton, kitchen writer
BUY: Organize It All Cabinet Door Lid Rack
$16, Amazon
The Easiest Way to Label Leftovers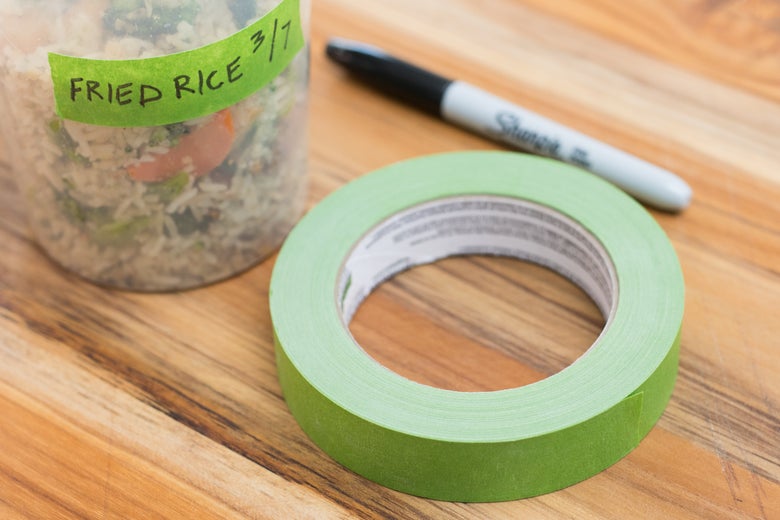 If you're tired of trying to figure out what those mystery concoctions are in the bags at the back of your freezer, invest in some low-tack tape and a Sharpie. Keep both in a kitchen drawer, and use them to tag leftovers with a name and date before you sock them away. A painter's tape like green FrogTape (it's good enough for Thomas Keller) is a far better surface to write on than a freezer bag, and more visible than white freezer tapes. Unlike some other masking tapes, FrogTape stays on when wet. It can also work on jars and other reusable containers, because it doesn't leave a bunch of sticky residue for you to scrub off. —Michael Berk, assigning editor
BUY: FrogTape Multi-Surface Painter's Tape
$8, Amazon
Super-Versatile Storage Containers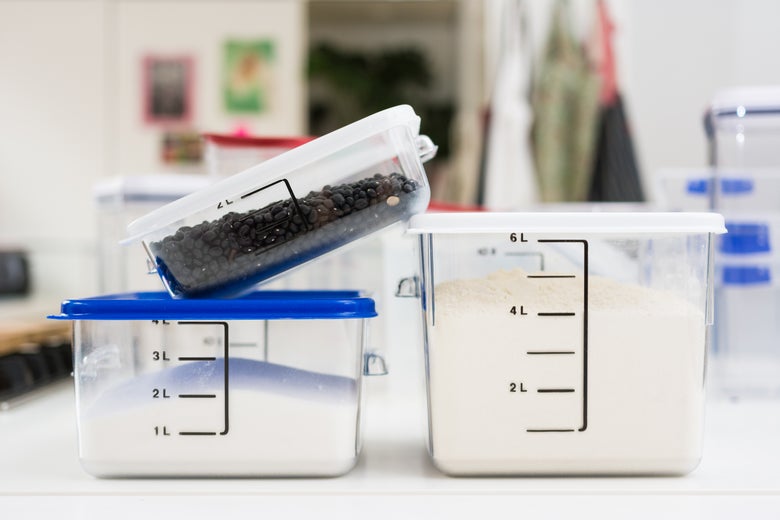 Large, stackable, and clear storage containers (usually called Cambros, after the main manufacturer) are the best-kept secret of any commercial kitchen. After testing them out for our guide to dry storage containers, I like Rubbermaid Commercial square storage containers better than actual Cambro models because they seal tighter and come with handles. In the year I've had them, I've found tons of uses for the 2-, 4-, and 6-quart containers.
Besides storing dry goods, they're also good for keeping odds and ends organized in your pantry (I put all my cake-decorating supplies in one). They're perfect for dry brining or marinating big pieces of meat in the fridge. You can proof bread dough in them, and the measurements marked on the side make it easy to see when the dough has doubled in size. The smaller sizes make a sturdier alternative to a cake box for transporting baked goods, and I've used the larger sizes in the sink to soak dirty dishes or even hand-wash clothes. —Marguerite Preston, kitchen editor
BUY: Rubbermaid Commercial Space-Saving Square Storage Containers
$12, Amazon
Mason Jar Lids That Don't Suck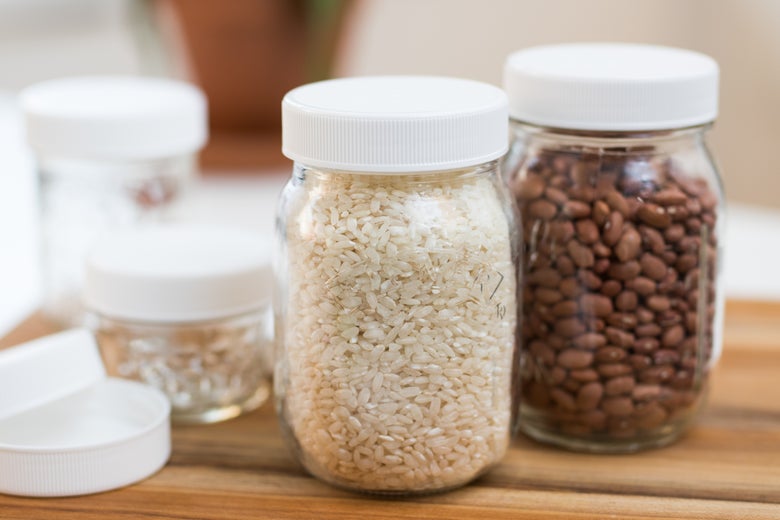 What to do with your empty mason jars? They make decent drinking glasses, of course, but one-piece lids like the Cornucopia Brands plastic mason jar lids turn them into handy storage containers. (To be clear: Plastic lids like these are for storage, not for canning and preserving food.) They are much easier to open and close than the two-piece canning lids the jars come with, and they're easier to find in a drawer. I use my extra jars to store spices, dried herbs, and acidic foods, and to make individual servings of overnight oats that I can bring to work. I find the lidded jars useful outside the kitchen, too, for keeping fiddly bits of hardware organized and for storing solvents to degrease small parts when I'm working on my bike. I'm sure they'd be handy for arts-and-crafts supplies, as well. Just be aware that they're not always 100 percent leakproof (some people add silicone seals for peace of mind), so use common sense when transporting stuff. My oatmeal has never spilled inside my bag, but I wouldn't risk carrying coffee. —Tim Heffernan, home editor
BUY: Cornucopia Brands White Plastic Standard Mason Jar Lids
$11, Amazon
A Sturdy, Adjustable Bakeware Rack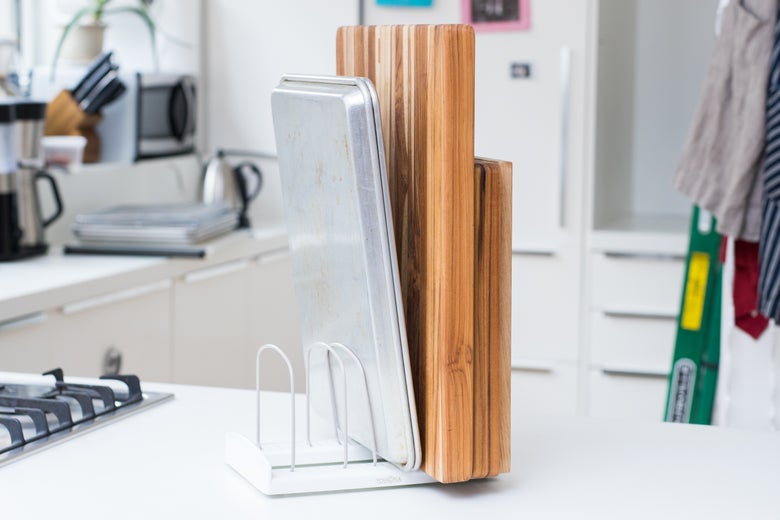 A bakeware rack keeps sheet pans and cutting boards from falling over or getting jammed together haphazardly in your cupboard, so they stay organized and easy to retrieve. I like the YouCopia bakeware rack because it has seven adjustable dividers that allow you to customize the space between equipment. The rack is heavy enough that it won't tip over while holding large items like a wood cutting board or pizza stone, and the vinyl feet on the bottom prevent it from sliding around. Measuring just 7¼ by 11½ inches, the YouCopia bakeware rack is small enough to fit the width of most cupboards. The rack is also a great way to store casserole dishes—which would be cumbersome to lift and move if stacked—on their side. —Michael Sullivan, kitchen writer
BUY: YouCopia Storemore Adjustable Bakeware Rack
$18, Amazon
A Better Spoon Rest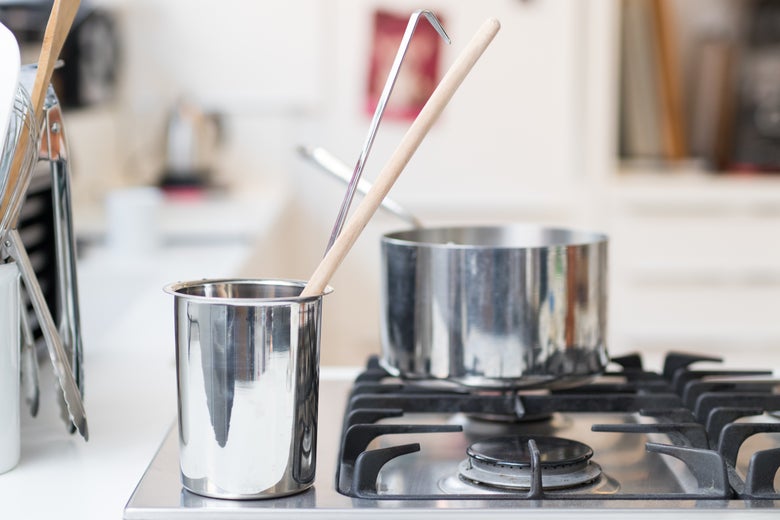 A small, inexpensive bain-marie, like this Browne 1¼-quart stainless steel pot, is a staple in many restaurant kitchens. When filled halfway with water, it makes the perfect receptacle for holding spoons or other utensils near my stove while I'm cooking. Unlike a spoon rest, a bain-marie keeps the utensils submerged in water so I don't end up with dried-out food stuck to their sides. A bain-marie also doubles as a storage container for extra utensils, or it can work to keep sauces—like hollandaise, béarnaise, or your Thanksgiving gravy—warm until you're ready to serve them. I like to pour the finished sauce into the bain-marie, cover it with plastic wrap, and place it in a saucepan filled halfway with barely simmering water until I need it. —MS
BUY: Browne BMP1 Bain-Marie Pot
$10, Amazon
A Set of Tough, Versatile Dish Brushes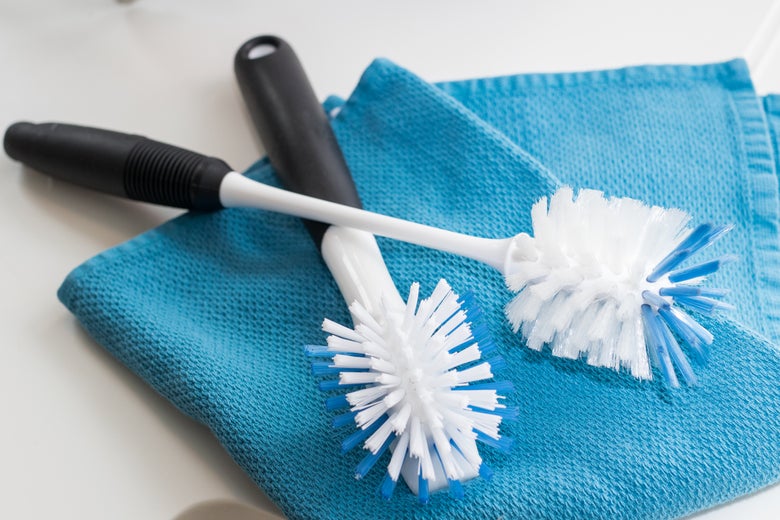 Dish duty isn't glamorous or fun, but a well-stocked arsenal of sponges and scrubbers makes washing up easier so you can get on to other things. I'm devoted to my favorite scour sponges (both heavy-duty and light-duty), but I recently added the OXO flat-head dish brush and bottle brush to the mix. The flat-head brush is ideal for working away caked-on messes from casserole dishes and dutch ovens as they soak in scalding hot water, saving my hands in the process. A bottle brush is essential for scrubbing the bottom of narrow-mouthed carafes and travel mugs. And I personally prefer using bottle brushes to wash fragile wine glasses, because the thought of glass shattering as I plunge a sponge (and my hand) into the globe is too much for my nerves. —LS
BUY: OXO Good Grips Dish Brush
$5, Amazon
BUY: OXO Good Grips Bottle Brush
$5, Amazon
A Tiny Broom for Countertop Messes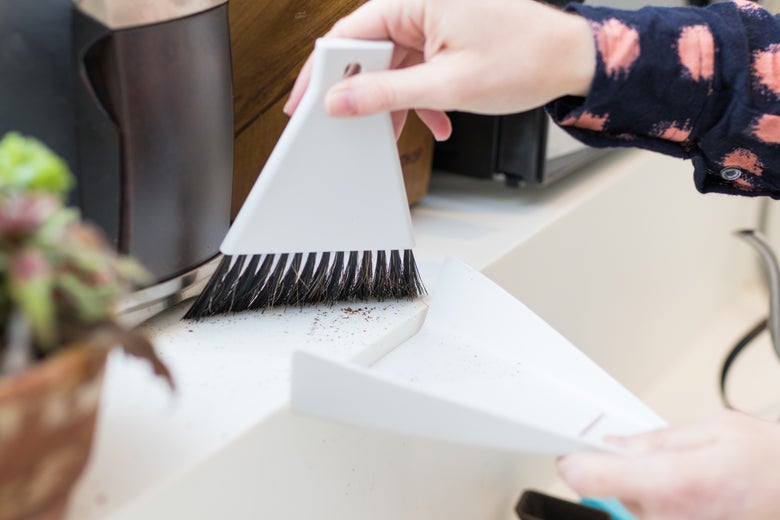 I make coffee every morning, and I inevitably spill a few coffee grounds between the grinder and the coffee maker. Instead of having to sweep grit off the counter with my hands, I grab this mini dustpan and broom from Muji (if you're not near a Muji store, this OXO mini dustpan and broom set looks nearly identical). I keep this set hanging from a magnetic hook on the side of my refrigerator, and I use it all the time for crumbs and smaller dry spills I don't want to waste a paper towel on. —Ganda Suthivarakom, strategy editor
BUY: Muji Desk Broom Set with Dustpan
$14, Amazon
An Easy Alternative to the Food Processor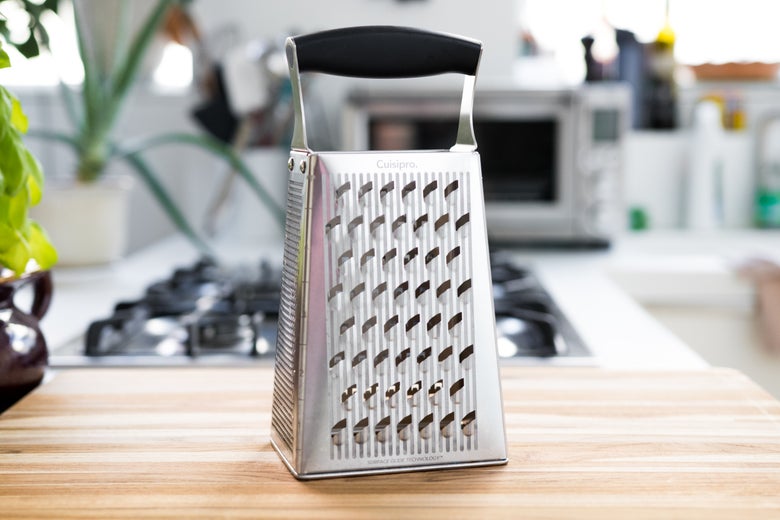 For shredding and slicing, nothing is faster than a food processor, but with all those moving parts, nothing is more irritating to clean up afterward. Three years ago I bought the top pick from our guide to graters, a four-sided model from Cuisipro, and it has completely replaced my food processor for all but the biggest jobs. Its razor-sharp etched blades quickly turn root vegetables, cheeses, citrus rind, and fruit to coarse or fine shreds, wafer-thin slices, or paste. In the summer, I use it to pulp tomatoes and garlic for soup and sauce; in the winter, I slice beets and carrots for pickling. It cleans up with a quick rinse and wipe under the faucet—the only time it ever leaves my counter. —TH
BUY: Cuisipro Surface Glide Technology 4-Sided Box Grater
$30, Amazon
A Foam Pad to Keep Cutting Boards Stable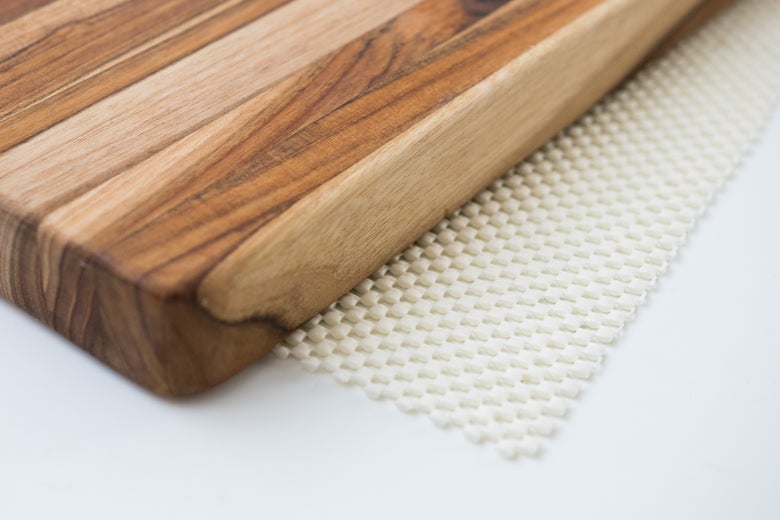 I like placing a grippy, cushioned foam pad underneath unruly cutting boards to prevent them from sliding around my counter while I'm chopping. I find that the reusable pads are a better alternative to dirtying a kitchen towel or using wet paper towels under my board. The pads also clean up quickly with a little dish soap and warm water, or they can go in the top rack of a dishwasher. When folded, they take up very little space in a kitchen drawer. I get the smallest pad, meant for 2-by-4-foot rugs (it actually measures 22 by 44 inches), and cut it into smaller pieces to accommodate various-size boards. I keep any extra cut pads on hand so they're always at the ready. —MS
BUY: DoubleCheck Non Slip Area Rug Pad, 2' x 4'
$10, Amazon
Read the original article on 10 Cheap, Unexpected Kitchen Essentials We Rely On.
---