Over the past few years, young people have gotten really into growing stuff indoors: The most recent National Gardening Survey noted a "big comeback" of indoor gardening, including in cities where people do said gardening in cramped apartments and on tiny terraces. For urban dwellers, growing fresh greenery feels like a whimsical fantasy: rooftops, gardens, or balconies are usually a luxury, not a given. Luckily, the variety and quality of indoor gardening and grow kits are better than they've ever been before.
That said, experts guided us away from overly complicated kits. "The best indoor gardens are the ones you can keep by your windowsill and water less than once a week," says Krissie Nagy, owner of gardening company BK Bumpkin. As for the actual plants: "Know the lighting requirements of the different plant or plants you're trying to grow, since they all require varying degrees of light." For areas that get at least four hours of direct light daily, Nagy suggests cacti, succulents, miniature citrus trees, and herbs. For full-exposure sunny windowsills, she suggests growing basil, peppermint, chives, and shiso. Ahead, gardening experts—from a landscaper to a microgreens expert to a produce-centric chef—share their favorite tools and kits for indoor gardening.
Best Garden Kits for Herbs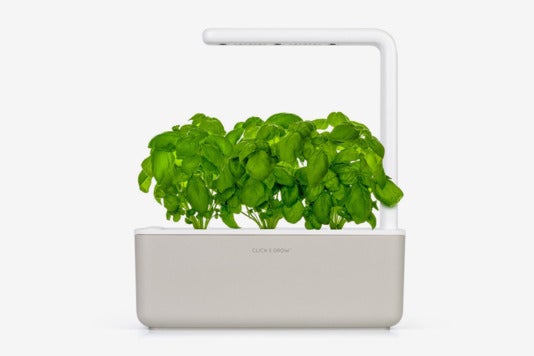 "My clients often want a year-round herb garden in their kitchen for cooking and making fun cocktails," says Sera Rogue, owner of Brooklyn gardening company Red Fern. "Unfortunately, this can be a challenge: Generally, city kitchens do not have the full sun required to keep herbs alive. Also, the roots of herbs are somewhat simplistic. They require daily watering." Her top pick for a kit that solves issues with watering and sunlight snafus is this Click & Grow style: It's a self-watering planter with a built-in grow light, as well as "cool Keurig-style plant pods featuring 'NASA-inspired smart soil,' so you can watch your specimens grow from seeds," Rogue says. She recommends watching the brand's "helpful, straightforward" videos on how to put the system together.
BUY: The Smart Garden 3
$100, Amazon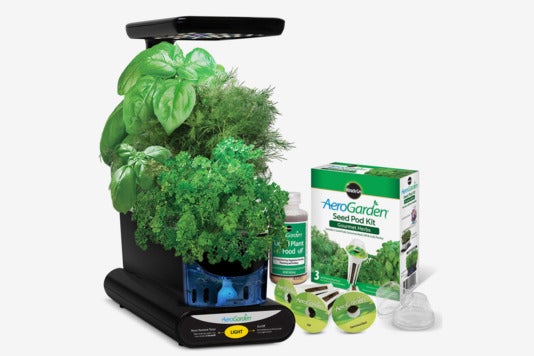 Here's a reliable, albeit less stylized, option that comes with a built-in LED light. It comes with Genovese basil, curly parsley, and dill-seed pods, with other herbs and vegetables sold separately.
BUY: AeroGarden Sprout LED With Gourmet Herb Seed Pod Kit
$50, Amazon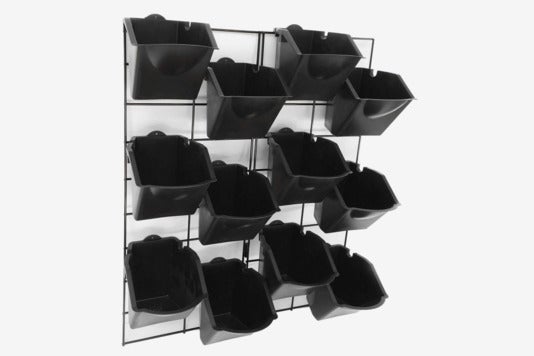 Vertical or pocket gardens are another great choice for growing herbs (as well as tropical plants and succulents). "These are visually amazing because they 'grow' on the wall," says Gennaro Brooks-Church, director of landscaping firm Eco Brooklyn Living Walls.
Just be sure to be ultradiligent with watering. "The one drawback is that these systems dry out fast," he says.
BUY: Stratco Vertical Wall Garden in Black
$70, Amazon
Best Garden Kits for Microgreens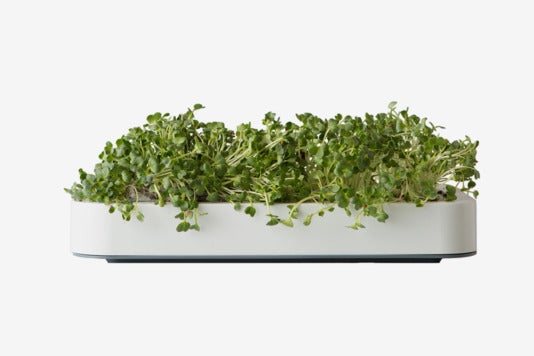 In addition to herbs, consider diminutively proportioned plants. "Microgreens come in so many flavors, and they're extremely healthy and fast to grow," explains Nicolas Mazard, U.S. general manager of microgreens company Koppert Cress. Those who like spicy foods should opt for micro-radish and micro-mustard microgreens. While miniature versions of greens will bloom more quickly than their full-size counterparts, patience is still necessary for micro-basil, which takes 21 days to grow. For something a bit speedier, try micro-radish, micro–pea shoots, micro-broccoli, and micro-arugula, all of which take one week to grow. This sleek, compact set comes with soil, non-GMO, organic heirloom seeds from Seattle Seeds, and detailed instructions specifically tailored to each type of plant.
BUY: Chef'n Microgreens Garden
$30, Amazon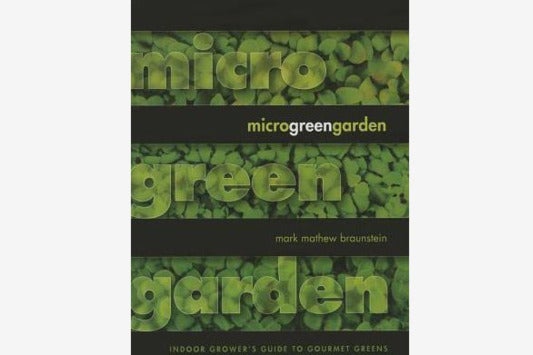 Wade Moises, executive chef at Rosemary's, a New York restaurant with its own rooftop garden, says he's had success growing microgreens indoors with his wife, Xan. "Microgreens are great as an easy add for presentation and nutrition," Moises says. He says a kit isn't even necessary—Moises uses double-layered fish bins and empty strawberry quarts combined with office fluorescent lights—but does recommend consulting a copy of Microgreen Garden when getting started.
BUY: Microgreen Garden: Indoor Grower's Guide to Gourmet Greens
$12, Amazon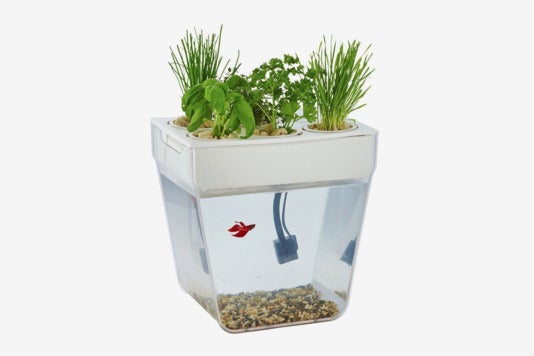 This garden–fish tank hybrid comes with a three-month supply of microgreens and wheatgrass. "If you Google 'aquaponics,' you will see a world of gear that can be intimidating," Rogue says. This kit is more straightforward: It has a single Beta fish that provides nutrients for your plants in a fish-fertilizing, self-cleaning system." This could work for microgreens or for herbs.
BUY: Back to the Roots Water Garden
$100, Amazon
Best Garden Kits for Vegetables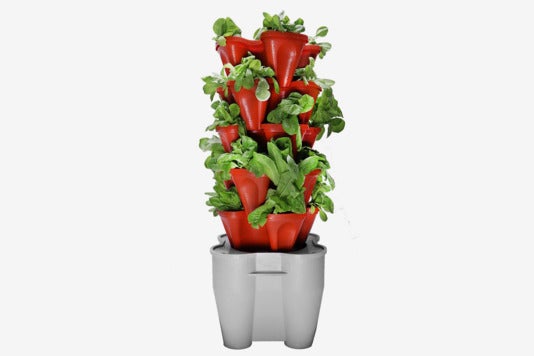 The tower garden is a vertical aeroponic garden that comes with non-GMO seeds (beefsteak tomato, bell pepper, cherry tomato, cucumber, eggplant, lettuce, and basil) and accessories for planting (i.e., germination kit) and tending to (pH test kit, plant food, etc.) your new greens. "Many of the schools we work with in New York and Chicago use our donated seedlings in their classrooms with tower gardens," says Nicole Baum, director of marketing and partnerships at Gotham Greens. This one is self-watering.
BUY: Mr. Stacky Smart Farm
$200, Amazon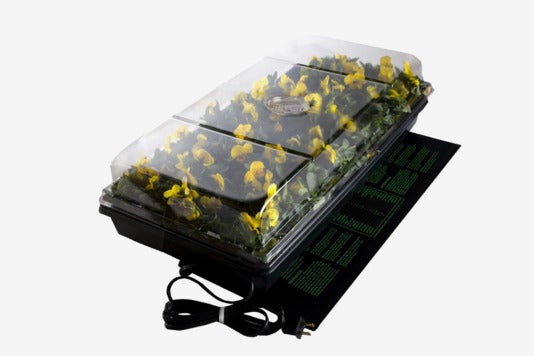 For a scrappier, DIY approach: "If you're trying to start seeds indoors or supplement your ambient lighting, a basic grow kit and a high-quality grow light are all you need," Nagy says. She suggests Hydrofarm's Jump Start Germination Station, when paired with lighting kits from Hydrofarm's Agrobrite brand. Nagy suggests growing heirloom tomato and pepper seedlings with this combo.
BUY: Hydrofarm Jump Start
$32, Amazon
Best Garden Kit for Fungi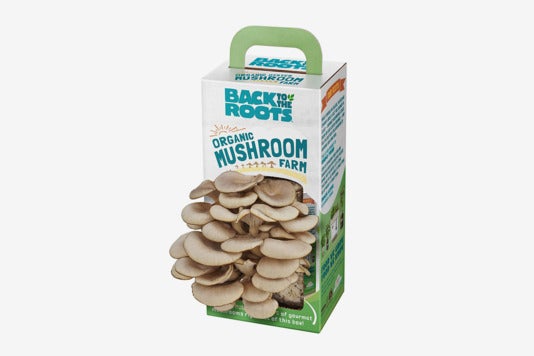 A fun grow-at-home option is a mushroom kit. "It brings almost-instant gratification" Rogue says. Just mist the organic, plant-based soil infused with mushroom spawn, and you'll have your own umami-packed caps and stems in a few days. As an added bonus: You can use the same kit for more than one mini-crop of mushrooms.
BUY: Back to the Roots Organic Mushroom Growing Kit
$16, Amazon
Best Garden Kit for Your Patio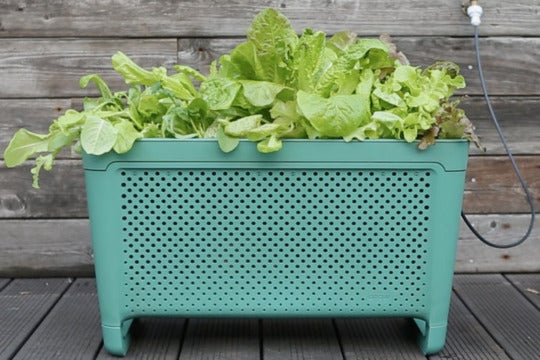 If you're fortunate enough to have outdoor space—even a terrace or a small patch of backyard—Irving Fain, CEO and co-founder of indoor farming company Bowery, suggests this planter. "Grow gives people an opportunity to harvest fresh, organic produce from their own backyards," Fain says of the self-watering smart planter. "It's great for beginner gardeners because it removes a lot of the guesswork that comes with gardening, and uses technology to make the growing process easy and efficient."