There's a common refrain women toss around whenever a blandly-dressed man questions the rationale behind an outlandish bit of fashion: Women don't dress up for men; they dress up for other women.
The latter half of that theory was borne out at Friday's funeral service for Aretha Franklin, held at a church in Detroit. In the audience and onstage, there were plenty of somber black suits and modest dresses on dignitaries in attendance. But many other women donned their flashiest and finest ensembles for the occasion, breaking out spangled shoulder pads, jewel-toned caftans, and sightline-obstructing hats. They dressed up for the cameras, maybe, and for each other. More than anything, though, they dressed up for Franklin herself.
At some funerals, making an appearance in a head-turning outfit more ostentatious than the one worn by the deceased would be considered gauche. No one wants to upstage the guest of honor. Franklin's funeral was different. For one thing, the queen of soul is impossible to upstage, even in death. (Did you see the four outfits she wore during her week of open-casket events?) And it's easy to imagine that a church full of gorgeously, flamboyantly dressed women, with even more lined up on the streets outside, would have been exactly what Franklin would have wanted for her farewell number.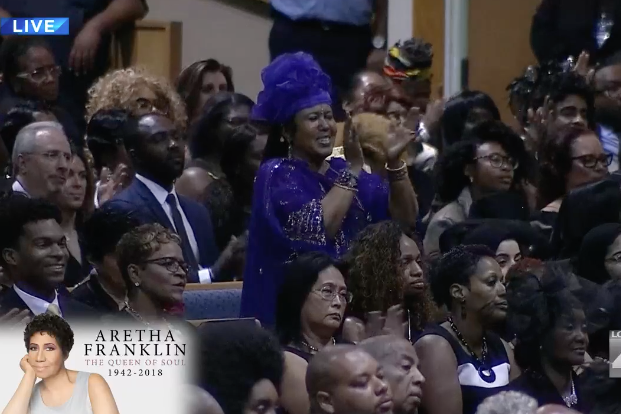 A notable part of Franklin's legendary stage presence was her more-is-more aesthetic—recall the colossal crystal-encrusted bow she wore on her head when she sang the national anthem at Obama's inauguration, or her habit of bringing a fur coat and purse onstage during a performance, only to drop them with a flourish mid-song. In her obituary for Franklin, Washington Post fashion writer Robin Givhan remembered the political salience of Franklin's sartorial pomp and body positivity: "She was a woman who used clothes to define her public persona, to delight her eyes, to bolster her confidence and to announce to the world that, of one thing she was certain: She was worthy." Many of the garments worn at Franklin's funeral made for an eloquent tribute to a woman for whom fancy clothes were sources of joy, objects of pride, and symbols of defiance.
Hats, a favorite accessory of the deceased and a hallmark of the black church tradition, made the biggest impact at Friday's service. Actress Cicely Tyson wore a black one with a wide, curving brim that trailed behind her like the train of a gown and framed her face like a lion's mane. In the audience, there was headwear made with violet ruffles, sparkling tulle, beaded scarves, and a few riffs on Franklin's famous inauguration bow. Outside the venue, fans paid their respects in towering, elaborately textured hats and jewelry to match. It was a funeral that made space for personal expressions of not just grief, but also the sort of brimming-over embrace of life Franklin's music inspired.
"Funeral" doesn't even seem like the right word for the spectacle Detroit staged on Friday. More than 100 pink Cadillacs, a nod to her 1985 song "Freeway of Love," lined the streets around the church, ready to parade along with the procession. A literal red carpet was rolled out to greet her coffin and VIP invitees. In the pews during the service, while A-list musical guests performed their favorite Franklin numbers, people clapped and bounced along in their seats, singing with their eyes closed, looks of ecstasy on their faces. Everyone likes to say that funerals celebrate their loved ones' lives, rather than simply mourn their deaths. After Franklin's event, the bar for funerary celebration is a whole lot higher.