Trumpstagram is Slate's pop-up blog that close-reads Instagram accounts in the Trump orbit.
Donald Trump Jr. spends most of his time on Twitter liking conservative-meme pages and conspiracy theories. But on Instagram, he casts an even wider net. He likes hunting—the tools, mostly. He likes running—the shoes, mostly. He likes nearly every photo he's tagged in. After his wife, Vanessa Trump, filed for divorce in March, he unfollowed her on Instagram and spent nearly a month liking every single one of Tomi Lahren's posts before announcing he was dating Fox News host Kimberly Guilfoyle and then refollowing Vanessa. He sometimes even likes when the Onion makes fun of him.
Of the more than 3,600 accounts that Don Jr. follows on Instagram, he follows 73 about spearfishing, 47 about rifles, two pages that each call themselves the "#1" purveyor of right-wing memes, and one Milo Yiannopoulos, the disgraced former Breitbart staffer and alt-right darling who's so bad at trolling he got kicked off every social media platform except Facebook and Instagram. But Don Jr. doesn't see all these posts in his own feed. He mostly sees hunting gear, fish, guns, women in swimsuits posing in front of cars, knives, and ads for joining U.S. Customs and Border Protection.
I know all this because I set up an account that tracks and follows almost everything Don does. What he likes, I like. What he follows, I follow. Because Instagram mostly uses in-app activity to organize the user's feed, from the order of posts to the ads you see, it's been strikingly easy for me to create an approximation of Don Jr.'s feed.
One afternoon last week, the top of my Don Jr. "mirror" feed showed two posts by @hawkins_precision showing photos of Trump Jr. and Guilfoyle, and one post by @axelsontactical. By 10 p.m., Don had liked all three.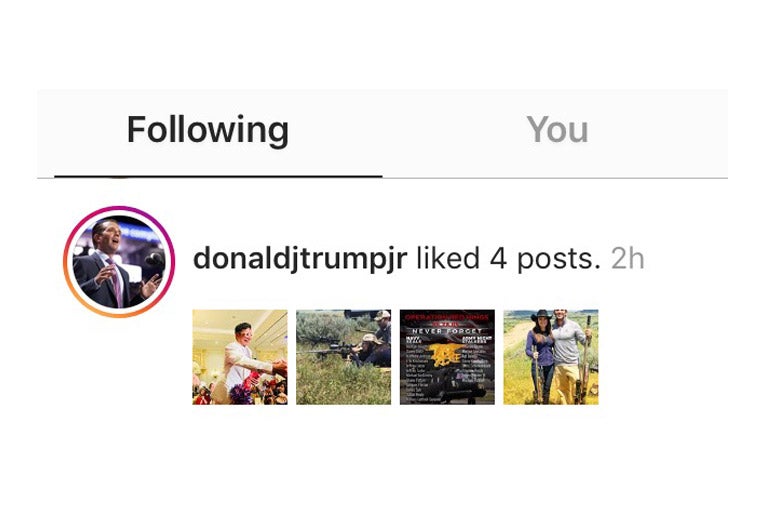 This was typical. Frequently, I would find that at least 5 of the first 10 posts in my "mirror" feed were already liked by Don Jr. It turns out that what he sees when he opens his app is pretty much the earnest equivalent of a Tinder parody blog—just absolutely full of people holding fish. Also a few far-right conspiracies. While this tactic isn't a surefire prediction, it gives a level of confidence into what the president's son is likely to see, and what he's likely to interact with.
One of the biggest differences between the elder Trump and his oldest son is the way they consume media. Senior—though he has said he detests the suffix—lives and writhes by the remote. He wakes at dawn to Fox & Friends, calls into Hannity, and every weekend apparently "watches 90 minutes of sketch comedy without laughing." The president tweets about 12 times per day, but it's the younger Don, for all his outdoor energy, who truly exists online. For all of Trump Sr.'s tweets, he's not much a fan of the social part of social media. He rarely likes posts, doesn't use a computer, and hasn't been known to author posts on any platform other than Twitter. But Junior spends his day liking posts. He quote tweets. He slides into DMs. He replies to comments on Instagram, shares memes, and feeds the social media feedback loop. He likes videos on Facebook that refer to his father's Access Hollywood tape as "TALKING LIKE ALL MEN DO." In other words, while the president uses Twitter and Instagram, Don Jr. is a true user of them: constantly online, immersed, and most important, vulnerable to all the platforms' problems.
Instagram recently let users see their "Ads interests," the long list of keywords, often nonsense or without context, attached to a user's profile that the company uses to serve advertisements, similar to Facebook's ads preferences. Your activity on Instagram populates the list. If you follow Maria Sharapova, Facebook will guess and say you're interested in "tennis (sport)" and add that keyword to your list. It's not an exact science, and it'll often guess wrong. You could like a post from the account @besttennismemes and Instagram might add "Tennis (music)" to your keywords instead and serve you ads about the band's most recent album. Where these keywords come from isn't clear either. It's possible you have "birds" as one of your ad interests because you followed Taylor Swift and once she wrote the word fly in a post—and other times, the origins are entirely ambiguous.
So after a few weeks of following Donald Trump Jr.'s public activity, I was able to download 1,830 of the "ads interests" that Instagram partly uses to target him based on his activity. A sampling of some of Don Jr.'s very likely keywords, as of Thursday, are below. The full list can be found here.
• Meat
• Allentown, Pennsylvania
• Backpacking (wilderness)
• Off-roading
• Romantic comedies
• Germany's Next Topmodel
• Bodybuilding.com
• Bon Jovi
• Crossfit Training
• United States Armed Forces
• The World's 50 Best Restaurants
• Bikini
• Deer
• Luxury yacht
• Smoked meat
• Concealed carry in the United States
• God
• Kim Jong-un
• Gun Owners of America
• Saturday Night Live
• Deadpool (film)
• Gold's Gym
An Instagram spokesperson confirmed to me that this list isn't influenced by outside third-party data in the way Facebook targeting is. They also stressed, though, that the ads served aren't entirely reliant on this list of keywords and can be influenced by a user's Facebook ad profile. So, for example, targeting an ad using "meat" or "Crossfit Training" surely won't guarantee that he sees it, but targeting using those 1,830 keywords and other information based on signals he sends might.
Of course, my list doesn't include keywords that were generated before I created the mirror account, nor keywords that may be generated from the 185 private accounts Don follows who didn't accept my follow request. It also doesn't contain keywords that were generated from actions that don't show up in the Following tab, like link clicks and interactions in Instagram stories. And it doesn't contain keywords generated from Facebook's ad preferences. So from these keywords alone, it would be difficult to figure out exactly what someone would need to do to get a targeted post directly in front of one of the president's most high-profile surrogates. Which is why it's helpful that Don Jr. occasionally likes the ads he's shown, too.
Last November, Don liked a Black Friday deal for Rambo Bikes. In March, he liked an ad for KiwiCo, a company that ships engineering projects and puzzles designed for kids. In the past four weeks alone, he liked seven ads: one for a pair of green camo Nike shoes, another for KiwiCo, one for a company called Nectar Sleep, one for chemistry-set subscription service MEL Science, one for a pair of Mack Weldon–brand underwear, one for fishing tool New Zealand Strike Indicator, and one for Merrell-brand hiking shoes. Credit to Instagram for cleanly integrating ads into the feed, and to Don Jr. for filling in the gaps in his targeted-ad profile.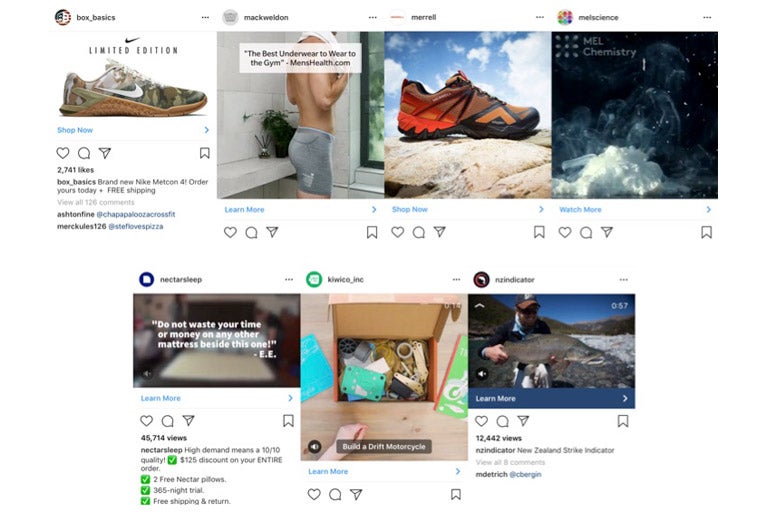 Though the list of targeting keywords is one piece of the puzzle when it comes to understanding how information (and misinformation) spreads online, without a list of the ads themselves, who is targeting whom is almost unknowable. ProPublica has been collecting and documenting political ads on Facebook since last year, but still needs users to opt in to share what they see.
We've already seen how, just as ads on social media platforms can be used to sell weight-loss products to emotionally vulnerable teenagers, they can be used to sow misinformation and political influence. The Trumps, of course, are known for being uniquely suggestible to all media that's thrust in front of them—for regurgitating things they see, regardless of accuracy. But even compared to his dad, Don Jr. is remarkable in the clumsiness of his online transparency. Maybe he doesn't know that more than 1 million people can see what he does, when he unfollows and then refollows his wife (and then refollows her again), when he likes conspiracy theories, or when he sees @american_exceptionalism share a meme and then reshares it a few days later without credit. But if I can learn all this simply by shadowing his clicks on fishing poles and former Pussycat Dolls singers, just imagine how easy it is for others to expressly target him too.
Read more Trumpstagram.