This post is part of Outward, Slate's home for coverage of LGBTQ life, thought, and culture. Read more here.
Thursday night The Boys in The Band had its gala New York opening—this time, for the first time, on Broadway, with a glittering cast of openly gay stars, including Jim Parsons, Matt Bomer, Andrew Rannells, and Zachary Quinto.
It was 50 years ago that Boys first took hip New York by storm. In 1968 this brittle comedy by Mississippi native Mart Crowley did what no other play had ever done: It gave audiences their first genuine experience of the way gay men talked, walked, danced, and thought.
A few blocks away from its off-Broadway home, theatergoers were startled (and thrilled) that same year by the first full-frontal nudity ever seen in a Broadway theater, just before the curtain fell on the first act of the tribal-love-rock-musical Hair. But what Boys offered was even more shocking: eight avowedly gay men with clothes, but no camouflage.
Over the next five decades, the play's reputation went from hip to dated to despised to fashionable again—until now, when its characters can finally be recognized for who they really are: the emotional fathers of the gay liberation movement.
If you're not old enough to have a vivid memory of Bobby Kennedy's assassination, you cannot really imagine what America was like on this subject, one year before the Stonewall riots. Apart from James Baldwin and Allen Ginsberg, there were practically no publicly out gay men in the United States, and absolutely no gay characters on any television show. If a gay person did manage to sneak past the censors into a movie or a play, he was destined to meet a dire fate. That was one of the things Crowley was most eager to change: "Life is not like that," he said shortly after his play opened. "Not all faggots bump themselves off at the end of the play."
Just two years before Boys opened, Stanley Kauffmann had written in the New York Times that because three of the "most successful playwrights of the last twenty years are (reputed) homosexuals, post war American drama presents a badly distorted picture of American women, marriage and society." Kauffmann didn't out them by name, but every knowledgeable theater queen deduced that he was talking about Edward Albee, Tennessee Williams, and William Inge.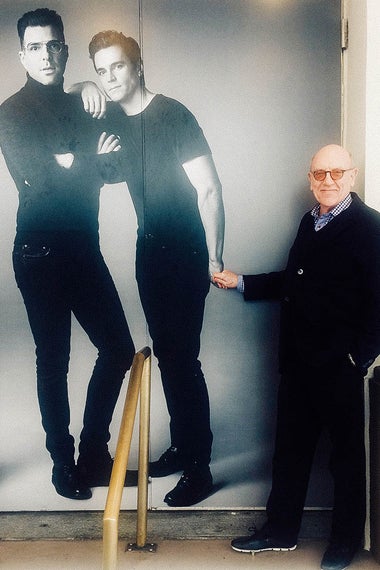 Kaufmann's thesis that gay men had to be misogynists, and therefore incapable of writing real women, was ignorant and offensive. As the famed director and playwright Arthur Laurents pointed out to me, "gays write women very well, and they are apt to have trouble writing men—what many write instead are studs and hunks." But there was an unexpected dividend from Kauffmann's diatribe. When he said the "problem" of the gay playwright could be solved by giving him the freedom "to write truthfully of what he knows, rather than try to transform it to a life he does not know," a 28-year-old Mart Crowley had an epiphany: "I can do that!"
Crowley had gotten his first master class in dramaturgy when he was home in Mississippi during college in 1955. He heard that Elia Kazan was shooting Baby Doll an hour's drive from his home. Then he tracked down the whole crew eating lunch at Doe's Eat Place in Greenville, Mississippi. He threw himself at Kazan and talked his way on to the set for the rest of his Christmas vacation. Later he worked on Butterfield 8 and The Fugitive Kind—and eventually became a close friend of Natalie Wood's and Dominick Dunne's.
When Kaufmann's piece appeared, Crowley was "broke and depressed." He decided he really had nothing left to lose by writing something that he realized would shock everyone he knew. And, indeed, his agent was horrified when he first showed it to her: "I can't send this out with my name on it!" she cried. "Why, it's like a weekend on Fire Island!"
But the agent hadn't picked up the rumblings of the coming earthquake, caused by all the previous eruptions of the '60s. Crowley, on the other hand, had absorbed all of them with his heart, body, mind, and soul. And he realized that this was the perfect moment for a brutally honest play about a still-taboo subject. Twenty-four hours after leaving his agent's office, Crowley was in Richard Barr's apartment, and Barr and Charles Woodward Jr. agreed to produce his new play on the spot.
The word of mouth was amazing—even before the first public performance. Stephen Sondheim saw Boys during the opening week and thought it was "the shot heard round the world." And that was exactly what it was. From the West End of London (where I first saw it a year later) to Tokyo, Paris, Buenos Aires, Melbourne, Las Vegas, Rome, Amsterdam, and even Tel Aviv, it astonished and enthralled straight and gay audiences alike.
It had fully redeemed what his director-friend Bob Moore had said when a jittery Crowley had asked him on opening night whether he thought there would be any laughs.
"Mart, they've been laughing at fags since Aristophanes! They're not going to stop tonight."
Sondheim told me, "I thought, boy, if this could only become popular, it will do so much to educate people who have no idea about homosexuality, gay life, gay subculture. And, in fact, it did."
But what seemed revolutionary to everyone in 1968 already felt a little retrograde when William Friedkin's movie version came out in 1970—at least in places like San Francisco and New York. Young revolutionaries were striving for a more cheerful new gay identity. A year after the Stonewall riots of 1969 (which actually took place just as the film of the play was being shot a few blocks away), newly minted gay activists attacked Boys for its nastiness and its self-hating characters. But as the roars of the crowd every night at the new production still prove, what is truly enduring about Boys is its humor and its humanity. (In its first week in previews it outgrossed Angels in America, playing just a few blocks away.)
Despite the play's fluctuating reputation over the past 50 years, it now seems clear that it conveyed messages profoundly important to the about-to-be gay leaders in those original audiences. The lead character Michael initiates a vicious telephone game, demanding that each guest call the one he really loves. Math teacher Hank, who has lived with his wife until he realizes he's gay, calls the answering service that he now shares with his new lover, Larry.
He tells the operator he has a message for his "roommate."
"Just say that I called and said … I love you."
"Oh Hank! Why did you do that?" asks Alan, Michael's ostensibly straight college roommate, who has crashed the party.
"Because I do love him," Hank replies. "And I don't care who knows it." And in that simple moment Hank became the first gay stage character with the courage to declare his true nature to a perfect stranger.
There is also the first slow dance between men, and the first confrontation between a "nelly queen," Emory, and the "straight" Alan.
"That kind of presaged the drag queens being the ones who fought back at Stonewall," Crowley told me, when I interviewed him last week in the orchestra of the Booth Theatre, where the new production is playing.
Paradoxically, even the play's viciousness had a positive effect. As the gay liberation movement took off, it quickly became a standard of bad behavior for every enlightened gay person to avoid.
The most liberating message of all was actually just beneath the surface of the most ferocious speech delivered by Harold—"the birthday boy" of the play—to Michael, his host.
"You're a homosexual and you don't want to be," Harold tells Michael at the end of the final act. "But there is nothing you can do to change it—not all your prayers to your god, not all the analysis you can buy in all the years you've got to live. You may very well one day be able to know a heterosexual life if you want it desperately enough—if you pursue it with all the fervor with which you annihilate—but you will always be homosexual as well. Always, Michael. Always. Until the day you die."
Harold's speech can now be read as an attack on the massive medical malpractice of the psychiatric profession, as well as the many centuries of prejudice that had been fostered by Jews and Christians alike. But what made it truly revolutionary was its declaration that homosexuality is immutable. Until gay people could convince themselves and everyone else of that truth, it was impossible to wage a war for gay liberation. Without that knowledge, the prevailing view of the New York Times and the rest of the liberal establishment—that the only good homosexual was the one striving to be straight—could have prevailed forever.
And although there were no '60s militants among the play's characters, there were hundreds of them in those early audiences. Barely a year and half after the play's first performance, some of those very same audience members would finally find the courage to fight back—and raise the first fists of the new revolution in the Stonewall riots in Greenwich Village.