RESTON, Virginia—Waleed Sanu has faced a painful dilemma this Ramadan. The question before the curly-haired teenager: Should he partake in the traditional predawn expedition from his mosque to a restaurant before fasting, or remain safely inside? Last year's venture ended in unspeakable tragedy when his friend Nabra Hassanen was abducted from among a group of friends, raped, and murdered.
Sanu, 16, has opted for safety.
"We've learned from our mistakes," he said, having walked in a group behind Nabra's that night. "For me, I'm just going to stay inside."
Early on June 18 of last year, Nabra, a high school sophomore, had just finished the prefast meal known as suhur at a nearby McDonald's and was walking with 15 of her friends to the All Dulles Area Muslim Society (ADAMS) Center mosque in Northern Virginia for Ramadan prayers. The man charged with her death, Darwin Martinez Torres, an undocumented immigrant from El Salvador, is believed to have been driving by at about 3:40 a.m. when he got into an argument with one of the boys on a bicycle. After pursuing the group in his car, Torres parked and then chased them on foot, a metal baseball bat in his hand. Torres, who is accused of beating Nabra with the bat and then driving her to a nearby pond and raping her, now faces a possible death penalty. Hours after the killing, according to a police warrant, Torres was apprehended by police, admitted to the attack, and led them to her body.
When Torres chased the teens, Nabra had been at the back of the pack. Likely making matters worse, she was wearing a hijab and her mother's blue abaya, a long Muslim dress, making it difficult for her to run—which friends said she disliked to do in the first place.
Nabra's murder prompted vigils across the country and has become a point of simmering dispute—particularly about what actually triggered the attack. Over the past year, nearly 75,000 people have signed an online petition calling for the case to be investigated as a hate crime, which will be presented to the Virginia attorney general's office and the U.S. Department of Justice around the anniversary of Nabra's death. The day after Nabra's killing, Fairfax County police attributed the incident to "road rage" and have said that they have found no evidence that she was targeted because she was Muslim.
But as the anniversary of Nabra's killing approaches, the dilemma facing Sanu and other Muslim teenagers in Virginia is a microcosm of what confronts Muslims nationwide as incidents of Islamophobia continue to rise. When does taking steps to ensure one's safety cross over into leading a life dictated by fear? While parents and mosque leaders are urging caution, many young Muslims insist that giving in to the threat is not the answer. The uniquely horrifying aspects of Nabra's death, how she was torn from her friends during the most sacred time of the year, have only made the debate that much more fraught.
"This Ramadan, me and my siblings are not going to stop. We are going to go out like we always do," said Omar Gorashi, whose sister was one of the teenagers with Nabra when she was killed. "It doesn't help to have Muslims cowering inside. We need to practice our faith and be a part of society. I want parents to have a change of heart and let their kids go out."
For parents in a community still gripped by mourning, the question of what to do about suhur, especially during the final 10 days of Ramadan—when youths often sleep at the mosque—has been inextricably connected to the question of whether Nabra was targeted for her religion. Some have told me they agree with police that Nabra's death was not anti-Muslim and patiently await the outcome of the legal case. The mosque's leadership has said little in recent months, but one member who asked not to be identified said, "We feel the police did a wonderful job and now we trust the judicial process. People who say otherwise, I suspect are just trying to rationalize what happened."
One parent who disagrees is Nabra's father, Mohmod Hassanen, who moved his family to the leafy Reston suburbs a decade ago in large part because of its reputation for safety. He believes there is no question that his daughter's killing was a hate crime.
"Why did he go after her?" he said in his Reston apartment this spring. "All the girls were wearing Muslim clothing, that's what caught his eye. The police can say whatever they want, but I believe with all my heart that it is a hate crime." So far, prosecutors have also given no indication they have additional evidence pointing to a hate crime. But lawyers advising the Hassanens say that the case can still be reclassified as long as the discovery phase remains open.
Even for those who are undecided, one detail of the case stands out: that the confrontation was initially between Torres and one of the boys. If that was so, then why did Torres assault Nabra? "It was not Nabra who did the thing to him. It was one of the boys, so why didn't he go after the boys?" said Mohamed Yousif Wardi, a close friend of the family's. "The police can say it was just road rage. He can say it was road rage. But how does anyone know what was really in his mind?"
In April, a large gathering of Nabra's family and friends came together at the Reston Community Center to watch a documentary about a mosque in Mali established in her name by Pious Projects of America, a nonprofit in Illinois that sponsors humanitarian projects around the world. As photographs of Nabra's grinning face flashed on the screen, many of her friends wept openly and hugged one another.
For them, the past year has been a difficult one. As one friend who did not want to be identified for this piece explained it, "I think there is some feeling of blame on us for what happened." Many of Nabra's friends can't help but wonder whether they might have been able to help her—if there was more they could have done. According to the police affidavit for a search warrant, the confrontation began with Torres chasing the group with his car. Two of Nabra's friends told me the boy on the bicycle threw something—a smoothie, one said—at Torres' car when it came too close. As the group fled toward their mosque, one of the teenagers looked back and saw Nabra "lying on the sidewalk with a Hispanic male standing over her with a baseball bat." (Neither the police nor Nabra's friends would say who the teen was.)
"It was only when they made it to the ADAMS center that they realized they were missing one of them, and that another one of them had seen what was happening," said Joshua Salaam, ADAMS' chaplain at the time and the mosque's former youth director. Salaam described the initial response as, "Why did you run? Why didn't you tell us someone was left behind? Initially, there was a lot of blaming going on about how to manage their guilt and anger." The teens I spoke to described a chaotic scene as they ran, terrified, back to the mosque without realizing what had happened behind them, or that one of them had briefly seen Nabra on the ground.
Nabra's larger group of friends still talk about what happened that night. Police confirm that Torres got into an argument with one of the teenagers, but have not said what it was about. Jammel Chinas, one of Nabra's close friends, was not with the group that night but has talked with many who were. She said, "There was one guy there that night who provoked (Torres). He feels really bad. Look, anyone there that night would blame themselves."
In the months after Nabra's death, Salaam participated in a broad community effort to help the teenagers process their grief. Nabra, who was the oldest of four, and a number of her friends lived in the same Reston apartment complex, Cedar Ridge, which is home to a diverse population of Somalis and Nubians. When the school bus pulls up in the afternoon, many of the girls who step out are dressed in colorful hijabs, as are their waiting mothers.
Like the Hassanens, many Muslim families moved here precisely because of Reston's reputation for safety as well as its quality schools. Established in 1964 as a planned community, the town of 60,000 was designed to harmonize green space and building development. Although the community, a half-hour's drive from Washington, D.C., is predominantly white and affluent, the Muslim families I interviewed consider it to be relatively tolerant. While several families noted that neighborhoods tend to be segregated, none reported any incidents of harassment. Reston is just a few miles from the ADAMS Center, which serves several thousand Muslim families in Northern Virginia and is one of the largest mosques in the country.
In the chaotic days after Nabra's murder, a community room in the Cedar Ridge complex was devoted to helping families process their grief. Volunteer counselors and therapists ran workshops attended by some of Nabra's friends. As Salaam described it, "Some of them couldn't sleep, or they didn't want to tell their families what they were going through." But in time, Salaam added, "people stopped showing up. It all felt too foreign."
Part of the reason it didn't work out was that the groups were too big. Also, some in the Muslim community were just uneasy with the therapeutic process. In the immediate aftermath of the tragedy, when the media and other alarmed mosques began to ask questions of the Reston community, many of Nabra's friends decided not to talk publicly. To this day they remain guarded about the details of that night.
Waleed Sanu, who was at the McDonald's before Nabra's group headed back to the mosque, said that those who were with her "think it's easier to just talk among themselves and not with other people. You know, Nabra was ours."
Sanu attended school with Nabra and lives in Cedar Ridge. Often, Nabra would come over and talk fashion with his mother and try on some of her clothes. Her death has changed the way he sees things.
"I have learned that the tragic stories we hear could be any one of us," he said. "I have learned that we are not invincible. I just look at my life differently."
The Nabra her friends have described was a young woman who helped those in need, whether friends or strangers. During the holidays she helped pack boxes of food for the poor. At her weekend job at McDonald's, she bought food for a regular homeless visitor, and when walking in Reston would often pause to speak to or buy snacks for a homeless person. Her father recalled, "I'd go get into the car, and she'd still be there talking to the person, asking questions and listening." On what would have been Nabra's 18th birthday in April, dozens of her friends traveled to Washington and handed out water and food to the homeless. As her close friend Shahed Mohamed explained, "That's what Nabra would have wanted."
Nabra had decided to "cover" herself, or wear hijab, upon reaching puberty because she wanted to be more devout, as her friends describe it. But that didn't keep her from wearing bold colors and experimenting with looks and flashing tiny gold rings in her nose. She had recently begun knotting both her dark hair and her hijab in a stylish bun atop her head.
Her many Instagram photos capture a forthright confidence, her makeup applied to highlight a full mouth and bright eyes. She preens and beams into the camera through her large black glasses, a pink scarf tossed over her shoulder or a halo filter of artificial spring flowers framing her head. In some photos she stares solemnly; in others she hams it up with her friends.
"She always wore a different lipstick, sometimes black or purple," said Jammel Chinas. "Sometimes she wore black matte lipstick with sparkles on it. People were like, 'Wow!' Every week she had a new eye shadow palette."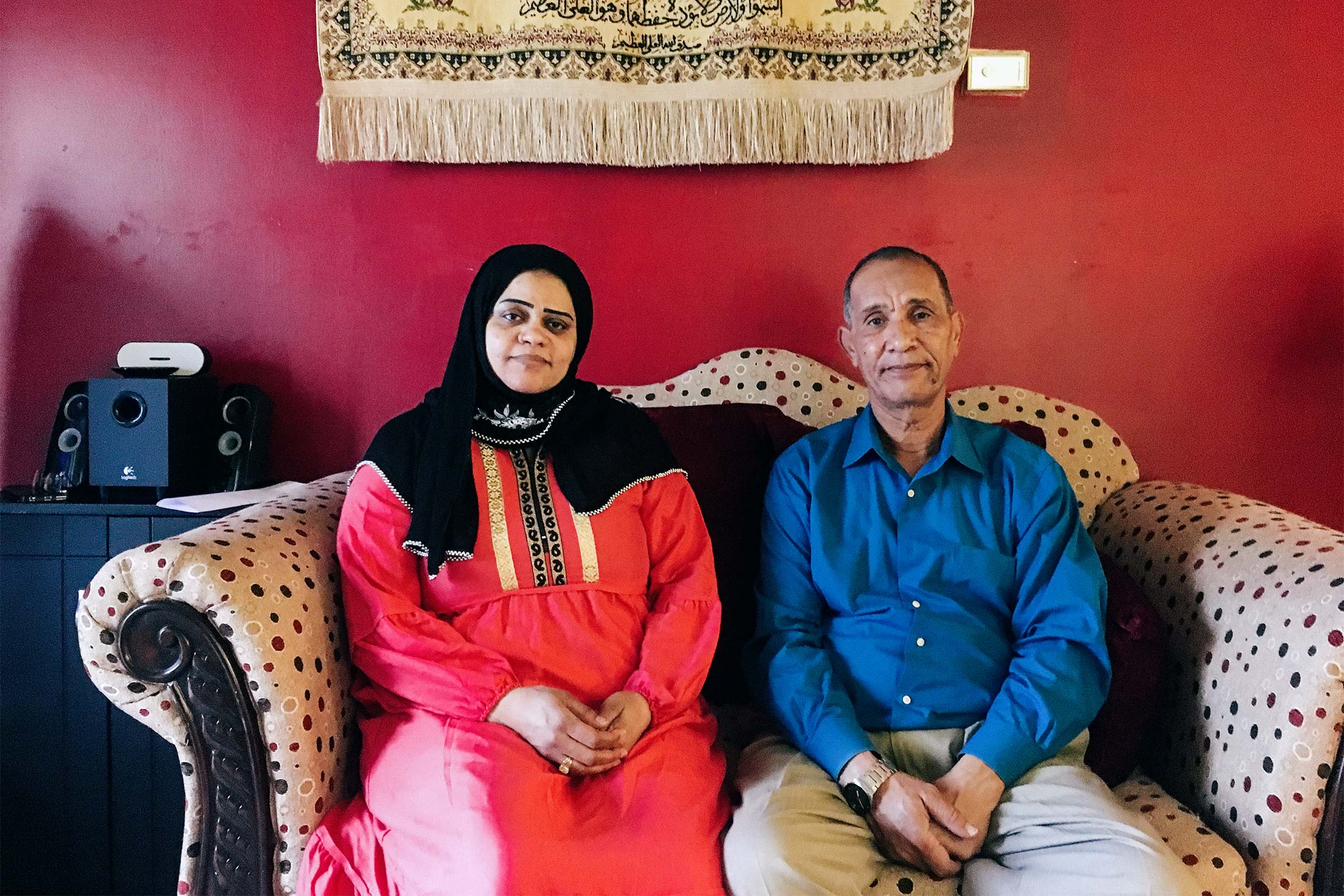 On the day I visited her home, her mother Sawsan Gazzar showed me boxes of Victoria's Secret perfume and Nabra's favorite MAC makeup stashed in a top closet shelf. A cluster of her purses, some black and others red, hung neatly on the back of the door.
Gazzar pulled an elegant aqua abaya out of the closet, explaining, "This was one of her favorites."
Her dream, her friends said, was to become a designer and to travel.
"I remember we were all walking to a shopping center last year talking about our future and Nabra said, 'I really want to go to college,' " recalled Chinas. "She said, 'I don't want to stay in Reston and I don't want to work at McDonald's. I just want to learn and see the world.' "
Little is known about Darwin Martinez Torres, the man accused of stuffing Nabra into his battered red Pontiac on a June dawn last year. Twenty-two at the time of the killing, the Salvadoran national had entered the U.S. illegally several years earlier. In the weeks after Nabra's death, it was rumored that he was a member of the international gang MS-13, but police have since said that he was not.
What he was known as was an installer of air conditioners. A compact man with a cap of dark hair, he lived in a Sterling apartment with the mother of his two children and has other family in the area. Immigration and Customs Enforcement officials say they have had no earlier contact with him.
Not a great deal more is known about him, nor has he uttered more than a few words in court. He did not react when at a court appearance last October Nabra's father shouted and lunged at him, and Nabra's mother threw her shoe. The facts of the case, as described by the police, are succinct: After he beat Nabra with his bat, Torres reportedly drove her nearby to his apartment and raped and murdered her before dumping her body in a nearby pond. Soon afterward, he returned to the scene of the abduction and was arrested by police. Police found a pair of eyeglasses and sandals on the sidewalk where Nabra had last been seen. Dressed only in his pants, Torres described the assault and led detectives to Nabra's body, according to the search warrant.
Now, his defense team is trying to learn more about him in hopes the information they unearth will provide some context to the horrific charges. With the court's approval, they've hired a "culturally competent mitigation specialist" to make several visits to El Salvador and learn about his background there. (Such specialists are routinely used in capital cases to ensure that a defendant receives a fair trial.) In May, a Fairfax County judge appointed experts to evaluate whether Torres might be intellectually disabled and therefore possibly barred from facing the death penalty. His lawyers maintain he may have been exposed to toxins from a gold mine that tainted food and groundwater near his childhood home in El Salvador.
Fairfax County Commonwealth's Attorney Raymond Morrogh, who issued the eight-count indictment against Torres last fall, has said little about the case. Casey Lingan, the county's deputy commonwealth's attorney, argued that it would be virtually impossible to ascertain what Torres had consumed over two decades ago. At the May hearing, he dismissed the defense move as "neuro-witchcraft."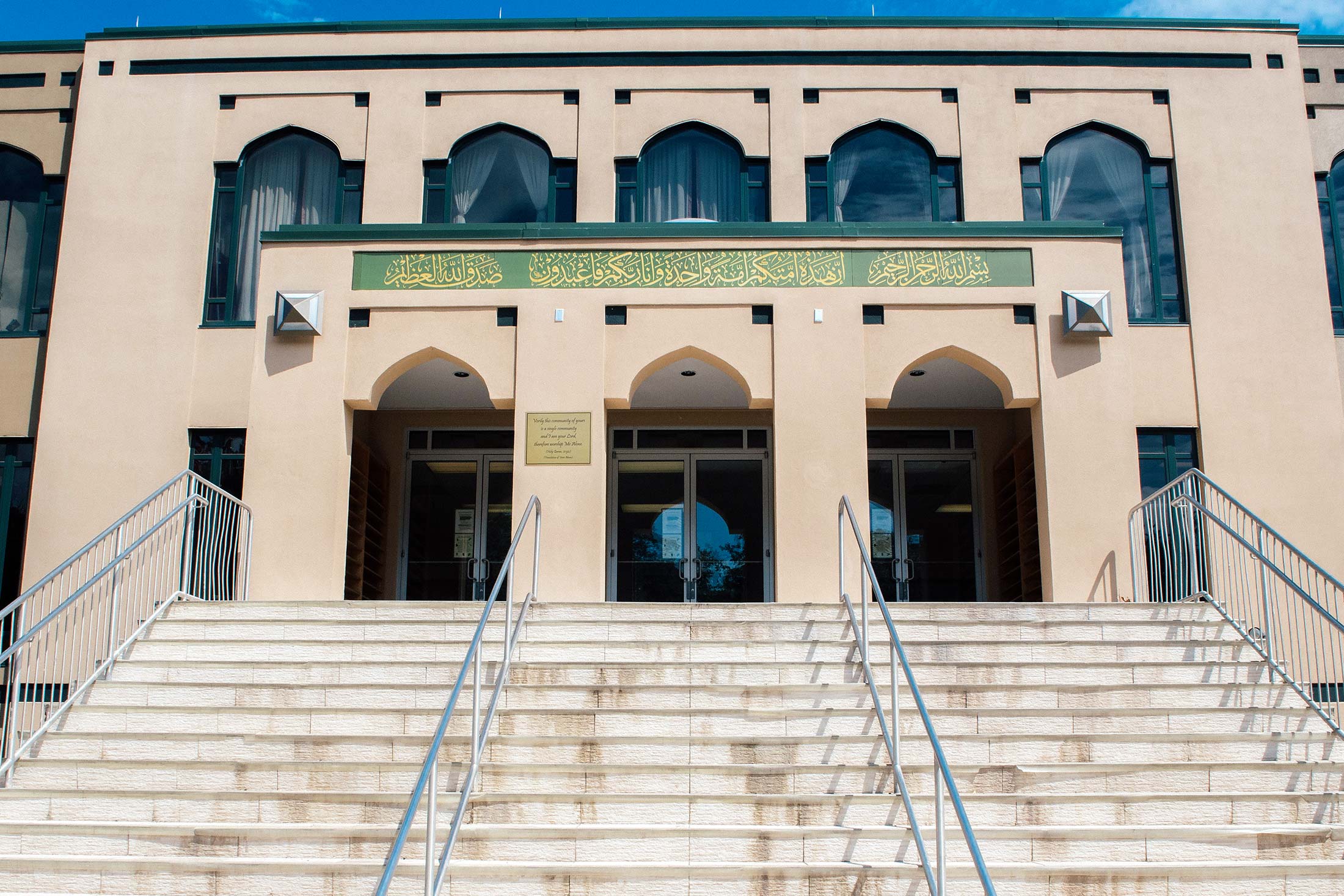 ADAMS was not the only Virginia mosque affected by Nabra's death. At the Dar Al-Hijrah Islamic Center in nearby Falls Church, there's also been talk among teenagers who attend there about what happened to Nabra and whether her killing was a "hate crime." The teenagers are divided. But they have also been asking the larger question: Does it matter?
"To be honest, it being a hate crime weighed a lot less," explained Ieasha Prime, the mosque's former youth coordinator and current director of women's programs. "If you did it because we are Muslim it is horrible, but the fact that you did it at all is beyond horrible."
The Dar Al-Hijrah teens have also debated whether staying inside the mosque on Ramadan nights amounts to a kind of cultural submission. Youth leaders have taken steps to keep kids out of harm's way. They established a "lock in" at the mosque during Ramadan that prohibits young people from leaving once they've come in during the evening, and posted a sign advising parents that they are responsible for their children on the premises. Just as important, they enhanced programming to be more attractive to young people and added pancakes to the suhur menu.
But no one fully expected that some kids wouldn't leave anyway.
"To be honest, the girls are way more cautious than the boys," said Prime. "You will not see a lot of girls going out. The boys, well, there are just some kids who feel we can't let those who don't wish us well prevent us from our routine, and especially during Ramadan."
A half-hour away, in Reston, some of Nabra's friends have also tired of talk about hate and grown weary of the assumption that when bad things that happen to Muslims, it is necessarily related to their faith. As these kids see it, that assumption its own kind of reductionist racism.
"When something happens to nonwhite people, people automatically think it's a hate crime. They don't see the other side, they are so quick to judge," said Chinas. "The public will only see what the media says, but we people who were close to Nabra know the truth. We know it was not a hate crime."
"The bigger point is there is a lot of hate in the world," Omar Gorashi agreed. "There's no way to tell if this was a hate crime or not. Saying that it is just divides us, it doesn't help us." Gorashi said that this past week, some of the older kids have still been leaving the mosque for suhur, while some younger kids have been kept home by their parents.
ADAMS Center leaders declined to respond to questions about whether security had been increased at the mosque or what the official policy is for leaving the building. The uncertainty had been frustrating for some parents, including Mohmod Hassanen, who said, "The mosque needs to be responsible." Joshua Salaam, who recently left his position at the mosque to become the chaplain at Duke University, said part of the reason for the mosque's silence is that staff there, too, have experienced a kind of trauma.
Gadeir Abbas, an attorney for the Council on American–Islamic Relations, which has provided legal advice to the Hassanen family, told me that the hope was for Muslim families to continue their customary Ramadan rituals despite acts of violence. As Abbas put it, "Trauma lingers but we hope Muslims don't stop being Muslims."
Going out to fast-food restaurants for suhur had been a kind of treasured coming-of-age ritual. Salah Shuaib, whose daughter was with Nabra the night that she died, said his daughter and her friends are not going out for suhur, even though he was undecided about whether Nabra's murder was a hate crime. Of his daughter he said, "If she goes to the mosque, I will go with her."
Shahed Mohamed, another of Nabra's close friends, said she would also stay in the mosque.
"I'll still be active in my religion, because that's what this month is for," Mohamed said via text message. "But after everything that happened, I know now to be careful and not to leave the mosque if we were to go … I know to be cautious."
Mohmod Hassanen said that he had no idea Nabra would even be going outside the mosque at night a year ago. If he had, he added sadly, "I would have made sure she had a phone. Hers was broken and I had just paid for a new one, but we did not have it yet."
As the final days of Ramadan approach, many of the Hassanens' questions about Nabra's murder have come no closer to being resolved. Some answers, presumably, will have to wait until the trial gets underway in January. In the meantime, the Hassanens are taking a different step to reach some kind of understanding.
Earlier this month, the Hassanens and their three daughters departed for Egypt, where they will stay for the rest of June and mark the anniversary of their eldest daughter's death with extended family. There, by the soothing waters of the life-giving river that Nabra loved, they hope they will find some resolution.
"Every night, I see her in my dreams," said Mohmod before they left. "It is so hard to sleep here. We must go and sit by the Nile with our family. I think Nabra will be there."
Additional reporting by Dawnthea Price.