Excerpted from The World As It Is: A Memoir of the Obama White House by Ben Rhodes, out now from Random House.
Anthony Bourdain was the one who hooked me on Laos. Over the previous year, I had slipped further into insomnia—the accumulated effect of Benghazi stress and a hungry newborn keeping me awake for long stretches of each night. I'd fill that time lying on my couch in a darkened liv­ing room plowing through every episode of Bourdain's various travel shows, over and over. I felt a sense of recognition in this guy wandering around the world, trying to find some temporary con­nection with other human beings living within their own histories.
I'd been vaguely familiar with the story of Laos. Hillary had visited in 2012, and I remembered that we cobbled together some money for UXO clearance—a few numbers on a budget sheet. But the Bourdain episode that showed human beings on a television screen in the middle of the night, struggling in a place that was still a war zone, forty years after a war that I'd never learned about in school, woke my interest. I added two items to the bucket list for my final year in the job: Get more money for Laos, and get Obama to tape an episode of Parts Unknown with Anthony Bourdain.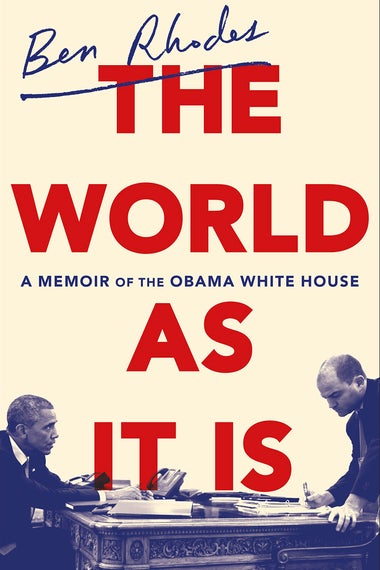 Obama was scheduled to visit Laos in the fall of 2016 for a sum­mit, so I had resolved to go myself, a year in advance, to create the basis to come back to Washington and find more money to clean up bombs. Now, here I was, in a hotel in Luang Prabang, having just seen one of those bombs with my own eyes.
They had tied a long wire to this cluster bomb – known as a bombie – and attached it to an orange device under our tent. I thought of the time and effort that went into finding and exploding this single bombie, with eighty million still buried out there in the vast country. They asked me to turn a handle several times to blow it up. I expected something akin to a large firecracker; instead, an enormous blast shook the ground underneath my feet, echoing across the river valley, sending a towering plume of smoke into the air. It was possible, in that moment, to envision the river valley filled with explosions, smoke covering the Mekong, planes overhead.
I lay in bed, replaying the day's events in my head. We'd boarded the boat for the ride back to the city, heading back down the river as the light drew down to near complete darkness, and I'd thought about what it'd be like to leave the world behind to run some small hotel on the riverbank, catering to backpackers and European tourists. At dinner that night with our Ambassador to Laos, Dan Clune, I had talked about how the longer I served in government, the more war of any kind made less sense to me, rife as it was with unintended consequences. We were in our fifteenth year of war in Afghanistan, and it was hard to see what positive difference we were making. A rounding error of the money we spent each year in Afghanistan could alter the trajec­tory of a country like Laos—feeding children, sending them to school, cleaning up the bombs that they stumbled upon.
"You know what that New York Times story got wrong?"
Obama was sitting opposite me in the Beast, staring down at his iPad. Three weeks had passed since a magazine profile about me had set off a firestorm, but the fire was still not out. We were in Vietnam, yet another trip, yet another piece of our effort to extend American influence in Asia and turn the page on the past. The motorcade was winding through the streets of Hanoi, and enormous crowds lined the streets, a powerful sight in a country where millions of people had been killed only two generations ago, something that lent a little perspective to my own predicament.
"That Iran section?" I said. It made me nervous that he was bringing up the story at all. Susan Rice shot a protective look my way.
"No, forget about that," Obama said. "That's just a pimple on the ass of progress." He flipped the cover of his iPad closed. "The notion that there's something wrong with storytelling—I mean, that's our job. To tell a really good story about who we are."
For a moment, we all just stared out the window at the crowds.
"I'm reading a good book now," Obama said. "It reminds you, the ability to tell stories about who we are is what makes us different from animals. We're just chimps without it." He described how all civilization, religion, nations were rooted in stories, which could be harnessed for good or bad. Obama's tendency to take the long view was getting even more pronounced in his last year in office. But in his own way, he was also telling me that everything was okay, that this was now just one more subject in our endless conversation about everything.
"What's the book?" I asked, looking for something to grab on to.
"It's called Sapiens. You should check it out." Perhaps sensing that this was sensitive terrain, he changed the subject. "Now, what's with this thing I'm doing tonight with Anthony Bourdain?"
That night, we'd arranged for Obama to have dinner with Bour­dain at a small local restaurant that wasn't getting advance notice, so it would be filled with whoever showed up there on a random week­night. "He's the guy who wrote that book, right?" he asked.
"Yeah, Kitchen Confidential." I explained to Obama about how much I'd come to like Bourdain's shows. "His philosophy isn't that different from yours. If people would just sit down and eat together, and understand something about each other, maybe they could fig­ure things out."
"So we're doing this for you?" He laughed.
At the restaurant that night, I sat with a small number of staff and Secret Service in a room adjacent to where Obama and Bourdain ate bowls of bun cha and spring rolls. I had headphones that allowed me to listen to their conversation.
Sitting in this tiny room with colleagues who'd become close friends, sipping broth, beer, and noodles, thousands of miles from home, I felt a sense of peace. It was an apt metaphor for my experience of the presidency itself—just offstage, eating the same things, hearing the words but not the principal participant.
When the meal was done, I met Bourdain. He looked a little shell-shocked, as if still trying to understand how his own life had led him to interview the president of the United States in this small noodle shop. I rushed through the story of my own experi­ence with Laos, beginning with his show. "You should know," I said to him, "that later this year we're going to Laos, and I think we're going to be able to get a hundred million dollars to clean up UXO." He looked at me as if I was crazy, a bemused grin on his face.
Support our independent journalism
Readers like you make our work possible. Help us continue to provide the reporting, commentary, and criticism you won't find anywhere else.
Join