The nonprofit arm of the world's largest business federation is sounding a stern warning: The skills gap feeding an unprecedented labor shortage will only worsen if companies don't directly provide child care solutions.
The need to educate the next generation of employees is growing exponentially as more parents enter the workforce, the U.S. Chamber of Commerce Foundation told executives during a yearlong road show across the U.S.—from Baton Rouge, Louisiana, to Grand Rapids, Michigan, to Austin, Texas. The nonprofit pointed to research that found the first 60 months of a child's life are critical for brain development: A toddler's vocabulary at age 3 predicts her third-grade reading achievement.
As much as companies might cringe at the thought of mixing business with early childhood education, mounting evidence shows that to stay competitive they must stop expecting cash-strapped state governments to fill day care gaps, said Abby Hills, director of communications for the foundation's Center for Education and Workforce.
"A lot of businesses don't see this as their quote-unquote 'problem'—that's the perspective we are trying to shift," Hills said.
"One of the biggest reasons employers see a return on early child care education is their employees can come to work and they don't have to worry about child care," she added. "That return on investment to the employer was a big eye opener."
Investment in quality early childhood instruction is also an effective economic development strategy, providing up to a $16 return for every $1 spent, according to a report by Arthur Rolnick, former senior vice president and director of research at the Federal Reserve Bank of Minneapolis.
Hills and her team wielded this figure, which includes fewer children needing special education, less use of assistance programs, and lower incarceration rates, in presentations that started in October.
The road show is part of an effort by the foundation to encourage businesses to take ownership of the nation's worsening day care shortage either by providing a center on site, or partnering with local governments and nonprofits to open new facilities. Half of the nation's residents lack access to quality child care options, with waiting lists growing so long that some families plan the birth of a child around an opening at a center.
The tour strives to educate companies about the link between education in a child's first five years and future workforce readiness. Raising awareness about this relationship is essential, Hills said, as the nation faces a projected skills gap of 6 million unfilled jobs by 2020.
"America today is a nation of people without jobs and jobs without people," said Thomas J. Donohue, president and CEO of the U.S. Chamber of Commerce, in a 2016 statement.
In making its case, the foundation also urged corporations to offer child care centers on site, or work with others in their community to fund a facility, to help recoup some of the $4.4 billion they lose each year when employees are absent or less productive due to day care issues.
Such facilities also make effective recruiting tools in a tight labor market where more than two-thirds of employers hiring full-time workers currently have open positions for which they cannot find qualified candidates.
Overall, 7 percent of employers offer child care at the work site or nearby, according to the 2016 Society for Human Resource Management's National Study of Employers. The report is based on surveys of a nationally representative sample of more than 900 employers. Companies including Google, Cisco, and Patagonia offer on-site care.
So does Home Depot, which relies in part on a 278-space Little Apron Academy at its corporate headquarters in Atlanta to recruit talent to join the 7,000 employees who work there. Job candidates often tour the 6-year-old facility during the interview process, said Don Buben, the company's director of benefits.
The facility, built in part with tax credits from the state, also boosts employee retention and productivity by giving them peace of mind that their children are close by and well-cared for, he said. Associates who work at Home Depot stores in the Atlanta area also have access to the academy.
"That's also a win for customers in the aisles, when they have engaged associates to work with them," Buben added.
Bright Horizons, which partners with more than 850 companies worldwide to provide child care, operates the facility for Home Depot—the world's largest home improvement retailer. The company's senior director of finance, Jilleen Trulove, spearheaded an effort to make a business case for the facility when she couldn't find space at a center for her twin boys.
"I had a nanny at the time and I wanted to get them into a center, but I couldn't get spots anywhere," Trulove recalled. "I had to come up with a solution for my husband and I to continue to work."
Trulove's superiors offered to help her get a meeting with human resource decision-makers if she "did the research and figured out how to overcome challenges" to making an on-site day care center work. She worked with Bright Horizons to benchmark how other companies in the region provided such benefits and put together a proposal.
"We had to overcome questions about costs and risks and fairness of benefits," she said. The plan was approved, and she turned to executing it, choosing a location and an architect. Trulove also ensured the center included amenities teachers said they needed most, such as more storage and an indoor play space.
Little Apron Academy opened by the time her sons turned 3. Her daughter, who is 4, is now at the facility. The center focuses on kids younger than 5 or so but also provides spots for parents who need care for older children during school vacations and holiday breaks.
Trulove said she and scores of other Home Depot employees are now better able to focus on their jobs knowing their kids are safe and receiving a quality early education. They also lose less work time when participating in school activities, she added.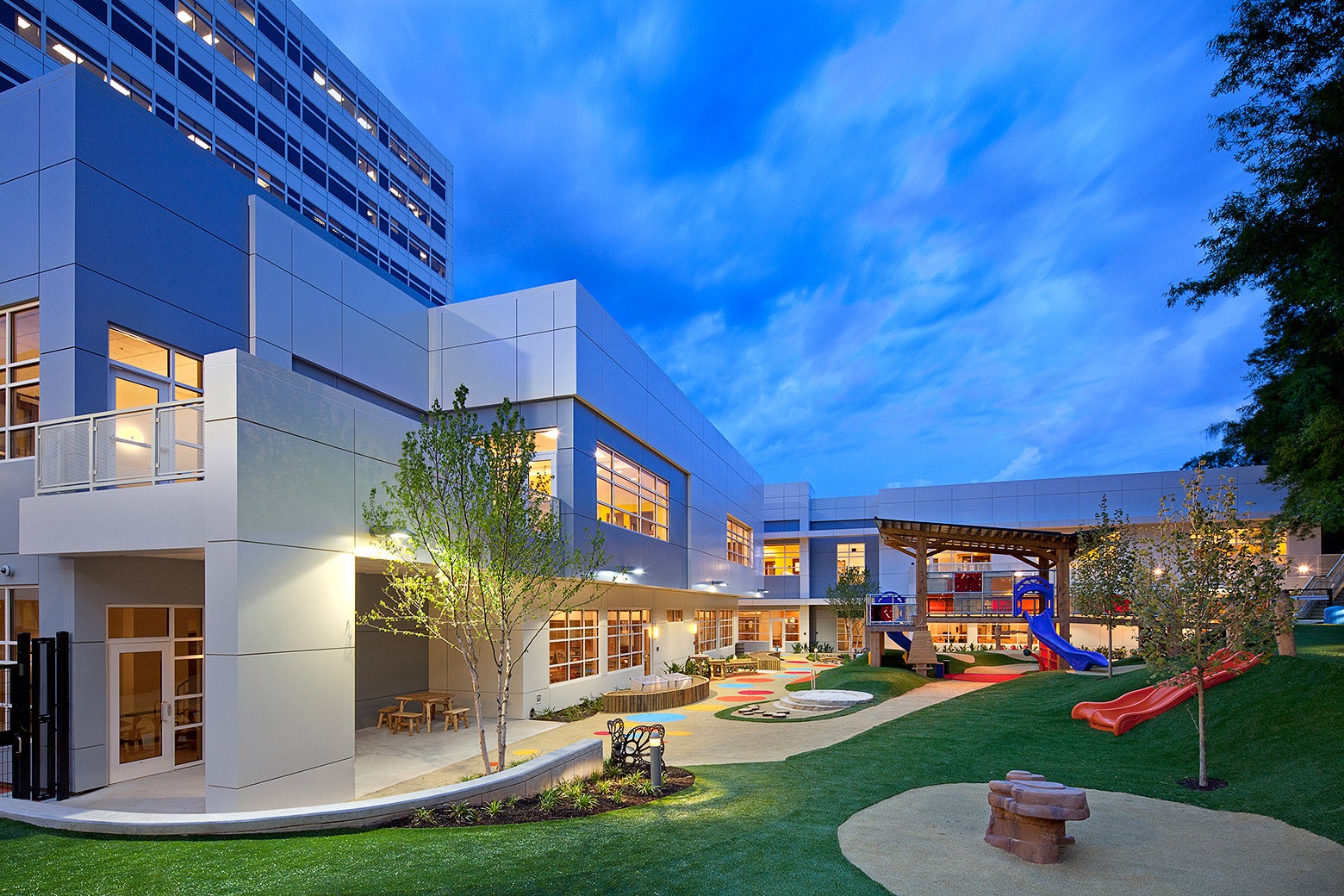 "It's such a time saver and great for flexibility with hours," Trulove said. "I don't have to stress and worry about traffic to pick up someone or try to participate in their events and the impact it would have on my work schedule."
The center also allowed Trulove to nurse her daughter—a finicky eater—throughout the day when she was an infant and to respond immediately when she had a seizure on the playground last fall.
Home Depot also provides backup care, last-minute child care when the usual child care plan falls through, for employees who've worked for the company for at least a year. During the hurricanes and wildfires in 2017, associates in Florida, Texas, and California could return to work using these benefits, which provided spots at any nearby Bright Horizons centers or reimbursement for other care, Buben said.
In 2018, the U.S. Chamber of Commerce Foundation is taking lessons from Home Depot's experience to cities including Las Vegas; Albuquerque, New Mexico; and Olympia, Washington. Throughout, the nonprofit is emphasizing the ability of quality early childhood education to help both current and future employees be more stable and productive.
"High-quality childcare, which enables adults to work while laying a foundation for children's success in school and beyond, is an under-recognized and promising strategy for addressing America's growing workforce crisis," reads a report developed by the foundation that kicked off the road show. "Done right, childcare provides a powerful two-generation approach to building the skilled workforce on which our country's continued prosperity depends."