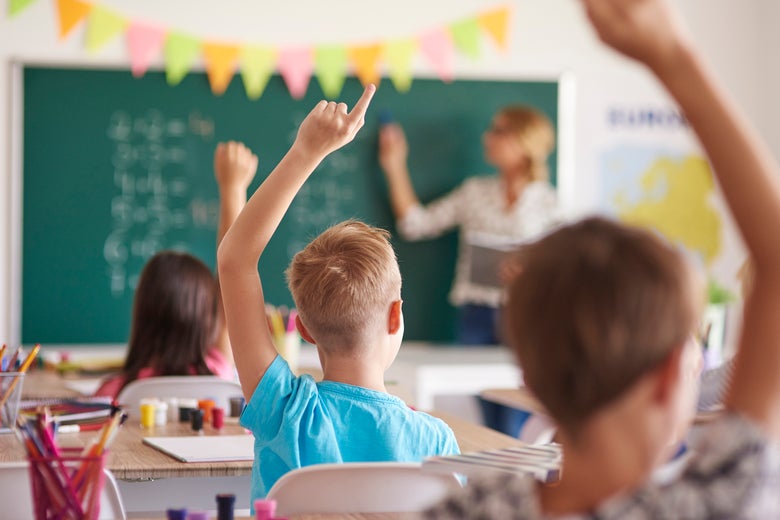 This post is part of Outward, Slate's home for coverage of LGBTQ life, thought, and culture. Read more here.
Last September, Mansfield Independent School District in North Texas put art teacher Stacy Bailey on administrative leave. The reason: Bailey showed her fourth-grade class a photograph of herself and her fiancée dressed up as characters from Finding Nemo. In introducing herself to students with a slide-show presentation about her life and family, Bailey was doing the same thing many other teachers at Charlotte Anderson Elementary School do at the start of school year. She alone was suspended for doing so.
The administrative reaction to Bailey's slide show was swift. Mansfield ISD's Associate Superintendent, Kimberly Cantu, told Bailey that a parent complained she had shown "sexually inappropriate" images in class. This parent accused Bailey of promoting a "homosexual agenda." Formally, the school district alleged that Bailey had violated guidelines requiring "controversial subjects be taught in an 'impartial and objective manner.'" In October, school officials asked Bailey to resign. When she refused, they reassigned her to teach at a local high school.
Bailey has worked at Charlotte Anderson Elementary since 2008. Since then, students voted her Teacher of the Year twice. Local parents and students have spoken out on Bailey's behalf and requested that the school district return her to the classroom, to no avail.
Despite recent gains in LGBTQ rights, most notably the 2015 U.S. Supreme Court ruling that legalized gay marriage nationwide, Bailey's case reveals how desperately all LGBTQ workers and LGBTQ teachers, in particular, need employment discrimination protection. On May 8, Bailey and her lawyer filed a lawsuit against Mansfield ISD in federal court in Dallas, accusing the school district of discrimination and demanding Bailey's reinstatement at the school. But Texas lacks statewide employment nondiscrimination policy for LGBTQ workers. As a result, Bailey's chances of winning her case and making it back to Charlotte Anderson Elementary are slim.
Bailey's story is part of a longer history of discrimination against gay and lesbian teachers in the United States. Over the past 60 years, anti-gay activists have argued that having a closeted or overtly homosexual teacher increases the likelihood that that a child will become gay. They have repeatedly used this argument to contest gays and lesbians' demands for full civil rights and social equality.
This history of discrimination stretches back to at least the 1950s, when an investigative committee of the Florida Legislature waged a campaign to purge its schools and universities of gay and lesbian teachers. In a widely read and controversial report, Florida's legislature claimed that homosexuals endangered students because of their "desire to recruit" and seduce young people. An untold number of teachers lost their positions and their state teaching credentials as a result of this attack.
In the late 1970s, a panic around gay and lesbian teachers re-emerged in former beauty queen Anita Bryant's Save Our Children campaign. Bryant's campaign began in 1977 as a local effort to repeal a nondiscrimination ordinance in Dade County, Florida, that protected people from discrimination in housing, public accommodations, and employment based on their "affectional or sexual" preference. Key to Bryant's campaign against this ordinance was the fact that it protected gay and lesbian school teachers, whom she alleged would seek to convert their students to homosexuality. According to Bryant, "homosexuals cannot reproduce—so they must recruit. And to freshen their ranks they must recruit the youth of America."
Save Our Children spurred attacks on gay rights in a number of cities across the country. In 1978, state legislator John Briggs succeeded in placing an initiative on California's ballot that, had it passed, would have prevented gay and lesbian teachers from teaching in the state schools.
Much has changed since the 1970s. The discrimination that Bailey confronts today differs from the discrimination that gay and lesbian teachers faced in the past. Mansfield ISD has not alleged that Bailey's lesbianism in and of itself disqualifies her from serving as a grade school teacher, as it would have in the 1950s. In fact, Mansfield ISD claims it has been an "inclusive, supportive environment for LGBTQ staff for decades," and that there has never been a problem before with Bailey's "open sexual orientation." Furthermore, no one has alleged that Bailey is out to "recruit" children to homosexuality.
The school district's concern in Bailey's case is that she talked with students about "her own sexual orientation, the sexual orientation of artists, and their relationships with other gay artists." In other words, Mansfield ISD is concerned that Bailey has discussed homosexuality as a normal facet of human sexuality and culture.
Despite this shift in the imagined threat LGBTQ teachers pose—from teachers' status as LGBTQ to their speech—the underlying concerns that motivate this discrimination have remained largely the same. That is, many parents continue to fear that exposure to LGBTQ teachers will put their children at greater "risk" of becoming LGBTQ themselves. Today this fear is less explicit than it once was. None of the parents of Bailey's former students have come forward to declare, as Anita Bryant once did, "I'd rather my child be dead than be a homosexual." But the anxiety that sparked parental complaints against Bailey is the same.
LGBTQ teachers have tended to respond to these fears by denying that we are any different than straight teachers. But the truth is, we are different, and we should positively affirm this. LGBTQ teachers belong in the classroom, not simply because we are "just as good" as straight teachers, but also because of the particular perspectives that we can bring, and the particular meanings that our presence can have. Openly LGBTQ teachers can show children and young adults that it is OK to be different, and that there is more than one way to live, to love, and to build a family—which, of course, is a realization that could be helpful, even life-saving, for those students in the room who are already queer. This embodiment of difference is what frightens those in favor of maintaining the status quo. It is also what makes us such potentially powerful forces of social change.
It is no accident that parents and administrators have targeted Bailey for attack when she is so beloved among her students. Mansfield ISD and the homophobic parent who complained about her find Bailey threatening precisely because she has proven herself to be an effective teacher and community advocate.
A month before her suspension, Bailey contacted the school district about adding protections for LGBTQ students and staff to existing anti-discrimination policies. Since then, others have continued her effort. In March they presented the local school board with a petition in favor of such a change. Today, that petition has nearly 5,000 signatures.
Bailey has already made a difference in her students' lives, and she has inspired change in her community. Whether or not she is reinstated at Charlotte Anderson Elementary, Bailey has already won.
---