Many Americans had probably never even heard of Princess Beatrice of York before the 2011 royal wedding, when her choice of headwear made her an international sensation, for better or worse. With Harry and Meghan's wedding on the way and the promise of even more outrageous hats and whimsical fascinators, we wondered: What makes a hat appropriate—or inappropriate—to wear to celebrate a royal union?
Slate spoke to Janie Lawson, a London-based milliner and creator of Glam Hatters, a company that teaches DIY accessory-making, about royal wedding hat etiquette and what trends to expect in headwear for the big event on May 19.
Marissa Martinelli: Let's start with the basics: What's the difference between a hat and a fascinator?

Janie Lawson: A hat has a brim, and a fascinator doesn't. A fascinator is usually created by using an 11-centimeter diameter round base and then adding feathers and fabric flowers and beading and veiling. You do often get fascinators that are like little percher hats, but basically a fascinator has a smaller base, doesn't have a brim, and tends to have bigger decorations than a hat.
Does wearing a fascinator make a different statement from wearing a hat?

A hat is more classic, and not everyone can get away with a hat. It's quite difficult for more petite people to wear a hat, because it can almost bring you down. You can be a bit squashed, when you're wearing them. A fascinator gives extra height, and it just kind of lifts the silhouette. Some people think that brimmed hats are more elegant. Personally, I like fascinators because you can really express your personality.
What are some ground rules for headwear during something like the royal wedding, which I assume is about as high class an event as it gets? Is one considered more formal than the other?

A brimmed hat is more traditional, and the queen will always wear a brimmed hat. But with the royal family right now, with Kate and her sister, they're really setting the trends, which is lovely to see happening, you know, that young freshness coming through. Kate wears much smaller hats, perchers, and fascinators. She's livened up the royal family's hat-wearing.
For a lot of Americans, I think the awareness of fascinators came from the last royal wedding, where Princess Beatrice's was probably the standout.

Princess Beatrice was perhaps ill-advised to wear, I think people called it, "the twiglet hat." [Beatrice and Eugenie] are young girls, and they were trying out different styles. We don't always get it right at that age, and I think we have to be kind. Beatrice auctioned off that hat and raised a lot of money for charity, which shows a lovely, kind-spirited girl, and maybe we could all learn from that.
When you say Beatrice was ill-advised, do you mean just as a fashion statement? Or is there an etiquette around hat-wearing that she somehow violated?

Well, if you looked at her outfit as a whole, there was a lot going on, and if you're going to wear a statement hat, you really need to keep it demure and simple and elegant with the rest of your outfit. Because you really can't have the hat screaming for attention, the outfit screaming for attention, and the bag and the shoes screaming for attention. If you're going to go for a statement piece like that—and Philip Treacy does amazing statement pieces like that one—you need to choose your outfit accordingly and go for something a bit more elegant.
OK, so Beatrice wasn't on the best-dressed list. What were some of your favorite hats from the last royal wedding?
My favorite hat at the wedding of Prince William and Kate was worn by Zara Phillips. It is a Philip Treacy saucer in black with sinamay swirls in a sculptural decoration, worn to the side of the head, and it is black with a metallic weave. It would still look modern today. She teamed it with a metallic dress in shades of gray. The reason this outfit works so well is the tonal blacks and grays work to complement each other and as the dress is so simple and tailored it doesn't fight the hat for attention.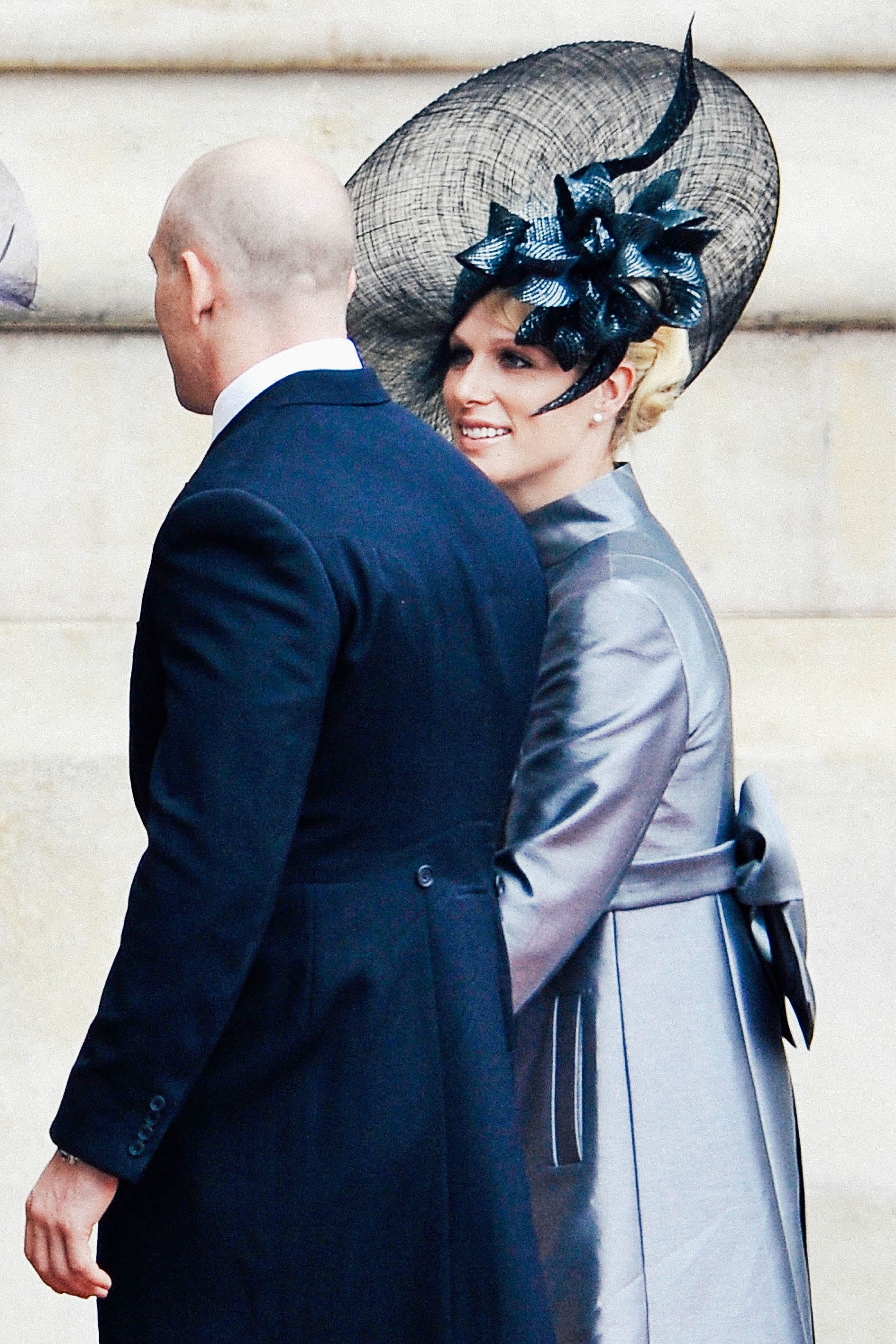 The late Tara Palmer-Tomkinson also wore a stunning Philip Treacy hat. Clearly a fan of royal blue, she decided to match her whole outfit to the color of the hat. Although this was a bit of a trend in 2011, I couldn't help feeling she looked like she'd been wallpapered.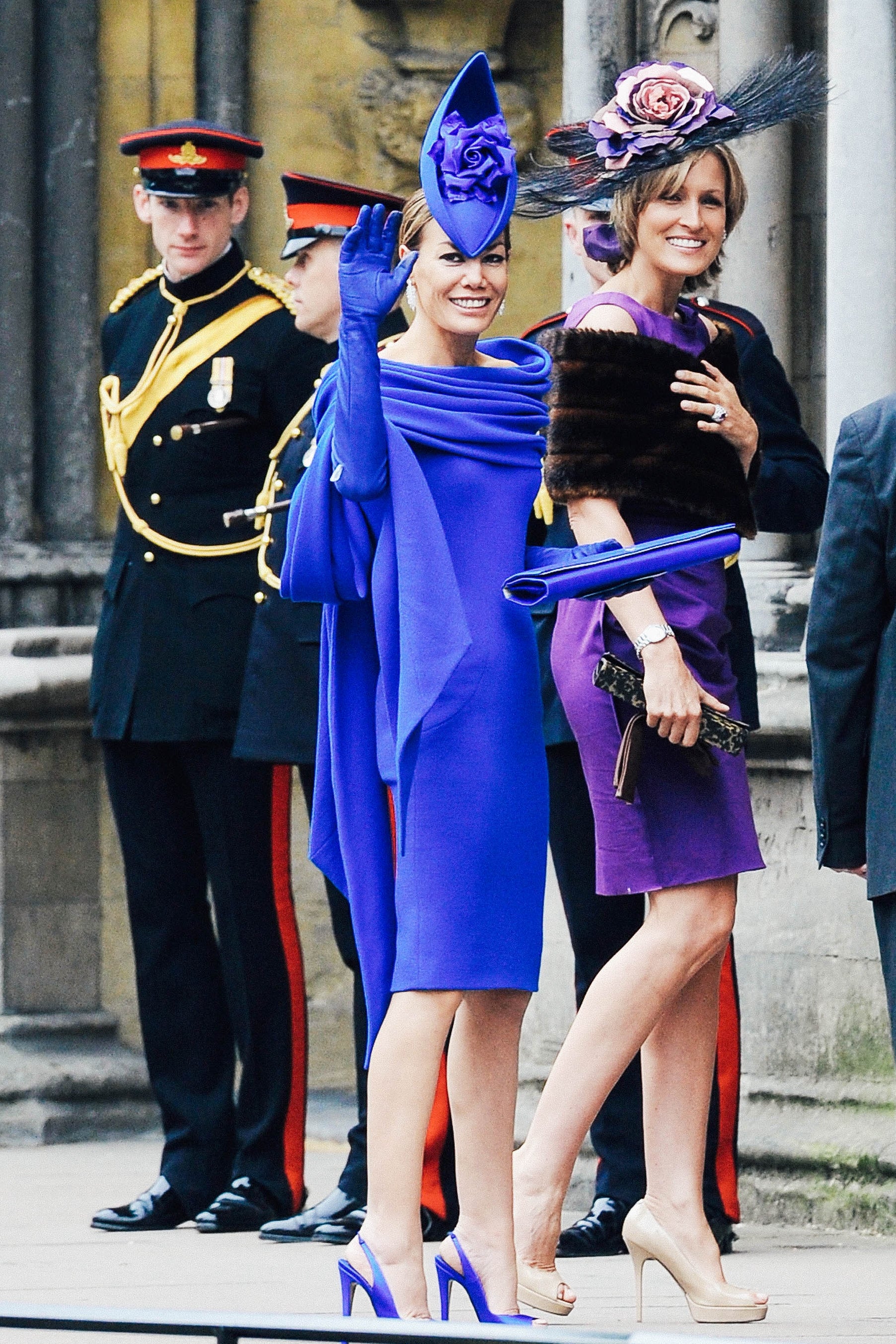 Should guests be worried about choosing a statement hat that risks upstaging the bride, or maybe someone higher up than they are in the hierarchy?
I don't think so, anymore. I think probably for a more traditional wedding, that might be the case, but these days people are used to seeing fascinators and statement pieces. If you look around Ascot [Racecourse], it's crazy. There are some really beautiful pieces, some bright, rainbow-color pieces. We've all just gotten a bit more used to seeing different styles with the millinery exhibitions we've had in London in recent years.
What are some trends we should look out for during the upcoming royal wedding?
Steer clear of feathers. Go big time on fabric flowers. Milliners I'll be watching out for at the royal wedding are Treacy, a favorite with the royals. I love his spring-summer '18 collection, featuring lots of little perchers, bird-cage veils, and silk flowers. And another royal favorite, Rachel Trevor Morgan. Again, this season she has focused on beautifully pretty hats featuring silk flowers and veiling. Tall hats with smaller bases should be popular, not big-brimmed hats, but going quite tall.
Let's say I'm attending the upcoming royal wedding. What sort of style advice would you give me for headwear? Let's assume I want my hat to be the focal point of my ensemble.

I would go for either Stephen Jones, Treacy, or Jane Taylor, and I would choose a really lovely, sculptural piece, and I would go for a really simple tailored outfit. I wouldn't have my hat color matching my outfit.
I try hats on people all the time, and everybody that comes in says, "Oh, hats don't really suit me." But it's just a matter of finding the right hat for that person. The nice thing about fascinators is that it's hard to find a person not suited to fascinators. They are quite petite, so it doesn't matter if you're petite or tall. It's important to try on a lot to see which one suits you. Everybody just smiles once they've got the right hat on.
How can you tell an expensive hat from a cheaper one?

I really like the classic look of having your bag match your shoes and having a color from the bag and shoes—it doesn't have to be the whole thing—brought into the hat. That's when you start to look really expensive, because you can tell the hat's been made for you for that outfit.
How much would these guidelines change if I were attending a different, lower-profile event, instead of the royal wedding?

Weddings and the races are quite similar to each other, but at the races you can go completely mad. You see people wearing hats made out of Smarties or something at the races and that's totally fine.
But you wouldn't recommend I wear a hat made out of Smarties to the royal wedding?
[Laughs.] Probably not.