There are a slew of new, flexible, shared office options in the marketplace, and a surprising number of them cater exclusively to women. Check out Hera Hub, Shecosystem, the Allbright, and Quilt. None has gotten more attention than a co-working and social club for women called the Wing, founded by CEO Audrey Gelman and her business partner Lauren Kassan. In just its first year and a half in business, the Wing has had over 20,000 women apply to be members in their New York City and Washington locations, and the company has plans to expand to Los Angeles; Chicago; San Francisco; Seattle; Williamsburg (Brooklyn), New York; London; and Toronto. What explains the demand for these spaces?
Gelman claims, "When my partner and I first came up with the idea for the Wing, we felt we could create an atmosphere and environment that was different from the rest of the world, by being women-only." But when they first explored creating the Wing a year and a half ago, they were not sure whether it was necessary to make it exclusive to women. They could have gone either way, but in the end, they followed the research: "We found in early focus groups that uniformly, women were significantly more likely to join an organization like the Wing if they knew it was women only. We were surprised."
Gelman and Kassan's decision to ultimately create a space and social club usable exclusively by "cisgender women, transwomen, and people who do not identify on the gender binary" has ruffled feathers for seemingly violating non-discrimination laws for private businesses.  But putting aside the future of these legal complaints and possible ways to address them, it's clear there is a strong business demand for resources and places for women to work and socialize without men.
One big business driver for places like the Wing is the vast number of women who are working flexibly today, and need a dedicated space to do it. According to a McKinsey study, over half of independent workers in the United States are women, and 39 percent of women overall engage in such work. Diane Mulcahy, author of The Gig Economy, says: "The gig economy offers [women] a third choice—in the traditional jobs economy, choices for women were all or nothing—either 'leaning in' or 'opting out' of full-time corporate life. The gig economy offers an option the middle—the chance to remain professionally engaged and active, while satisfying and balancing personal goals."
But it's not just flexibility that women crave. According to Gelman, "The social media and smartphone-driven world that we live in today means we are more globally connected, but more locally isolated. For millennials that are not going to a church, synagogue, or mosque on a regular basis, they need a place where people know their name. They are really looking for that community."
Lisa Rubin, a 41-year-old attorney from New York, had been working long hours at two different law firms. After many years of trying to make long hours work with a family to take care of, she became burned out and found the Wing a great place pull back from the rat race. "I'm not sure I would have joined any other kind of co-working space. I was looking for community and a place that would give me inspiration and fellowship while I tried to figure out my next steps and to reinvent my work-life," she said. "I wanted to be reabsorbed into a community of women, because I felt isolated. I was often the only woman in the room as a litigator."
This feeling of isolation in the workplace is a common theme, and may impact women in more than one way.  Rubin suggests, "In the workplace today, women can feel multiple levels of isolation.  There may only be a few women at their organization in the first place, they may be isolated from one another, or they may be working long hours and don't have time to build a community."
Roxanne Fequiere is a freelance writer in New York who recently left a corporate copy writing job with a Fortune 500 technology company.* She joined the Wing over a year ago to have a place to work outside of her home and be around other people—most of her work interaction with colleagues was remote via Skype. "I'm fairly shy. I didn't expect that I would meet a lot of people. Once I joined, the vibe was warm and welcoming, and people introduced themselves to me," she said. "I started to make connections. That has really driven my desire to stay. I've gotten some freelance writing work from other members, and women I have met at the Wing will be part of my upcoming wedding—one will be a bridesmaid, one a photographer, and another one will be doing my makeup." Fequiere didn't join the Wing for it's women-only policy, but now says she "couldn't see it any other way."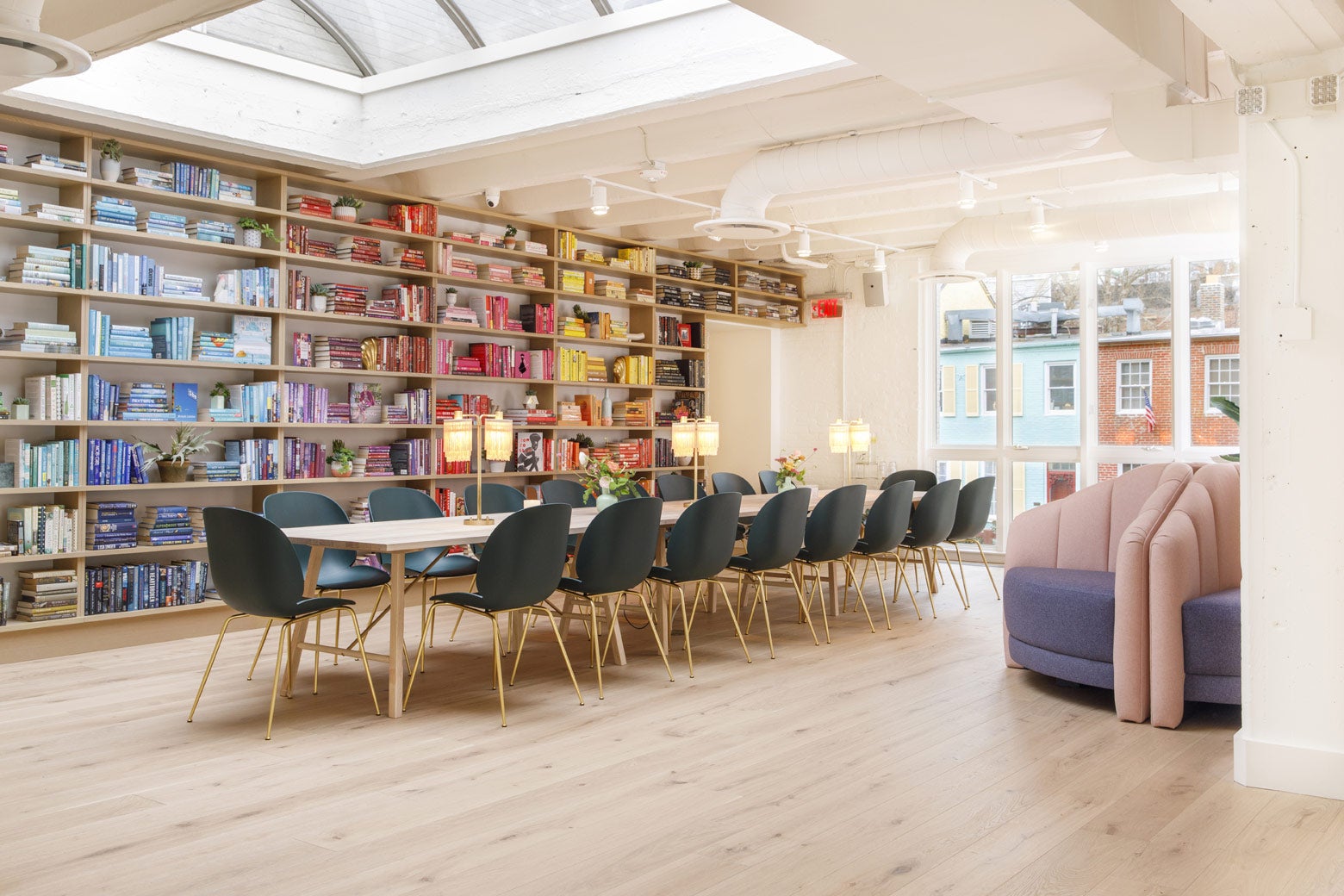 Soumeya Benghanem is the founder and CEO of Strategy in Action, a technology consulting firm. She has an office in a WeWork space with male and female colleagues in Washington, but joined the Wing for more social reasons. "I don't consider the Wing a pure co-working space … it's a lot more. It is a place where I go to have some 'white space,' and to focus on being creative and meeting other women. I consider them two very different spaces," she said. As a Muslim, Benghanem covers her head in the presence of men. Because the Wing is women-only, she can remove her hijab while she works.:"It's a space where I can be compliant with all of the rules of my religion and still take advantage of all of the amenities like the showers and the 'boudoir.' The most important thing for me is that women have a place that feels super safe. When I am surrounded by women I feel more comfortable, like myself. The space and ambiance create that vibe."
This "vibe" is more than just being in a place with good lighting, nice furniture, tasty food, and a functional lactation room. Rubin, Fequiere, and Benghanem describe the energy and inspiration they feel from being around a smart, diverse group of women who are redefining what success looks like. They each claim hanging out in a women-only space made this possible for them.
Still not convinced women need rooms of their own?
According to the National Coalition of Girls Schools, "Graduates of girls' schools are six times more likely to consider majoring in math, science and technology and three times more likely to consider engineering compared to girls who attended coed schools."  At these schools, girls occupy all of the spots in student government, on the math team and on the athletic field.  Without boys, educators argue that girls are more likely to take on and excel in traditionally male-dominated subjects and careers.  Once girls become women, they face even more psychological barriers in the workforce.  Why shouldn't we expect a single-sex work environment to be equally empowering?  Women in women-only co-working spaces are naturally surrounded by people who are building businesses, making connections for themselves, and trying new things.
There is also a safety argument for these spaces. The U.S. Equal Employment Opportunity Commission reports 1 in 4 women are impacted by sexual harassment at work, though rates could be much higher. The past year has shown us how common it is for powerful men to harass women they work with—so it's no surprise women might choose to avoid this situation.
Instead of asking whether a gender-segregated workspace is discriminatory or not, let's first ask what kind of society we're in that makes the demand for this space so high. Workplaces, policies, and norms today are clearly not fully supporting the needs of women. Because of this, women are seeking out communities to work and socialize that fill a void. Women owned co-working and social spaces may just be the "accelerators" needed to help women reach gender equality.
Correction, May 17, 2018: This post previously said that Roxanne Fequiere formerly worked in corporate copyright. She is a former corporate copy writer.