At the Oscars, presenters famously ask for "the envelope, please." The Louies, the so-called Oscars of the greeting card industry, may be the only award show where presenters are liable to linger over the envelopes themselves.
For 29 years now, the Greeting Card Association has hosted the awards—named for Louis Prang, the man widely credited with popularizing greeting cards in America—with categories ranging from Birthday General (split into Above $4 and Below $4 heats) to Christmas Humorous to Wedding Invitations Deluxe. Also as in Hollywood, major players like Hallmark vie against indies hoping to break through to the mainstream. Where the Oscars culminate in Best Picture, the Louies even have an equivalent: Card of the Year.
But if you're wondering what place an award show honoring arguably passé paper products could have in an age when 45 million people a day use Facebook to send birthday wishes, well, the Louies are way ahead of you there. Like the industry it honors, the Louies have lately faced a bit of an existential crisis—the question is, how to celebrate a medium beloved by grandparents in a way that doesn't make the business and the people in it seem so, um, old?
For most of their history, the Louies have been a formal event, held to coincide with the National Stationery Show's annual arrival to New York's Jacob K. Javits Center and complete with tuxedos, gowns, and table assignments. But interest had fallen off in recent years; it was starting to look like the paper naysayers were right. So this year, the Greeting Card Association took on the task of modernizing the awards for a new generation of card-makers—which is how a bunch of stationery nerds wound up, on a recent Sunday night, at Spin, the New York outpost of the ping-pong club founded by actress Susan Sarandon.
"This is a big change for us," Greeting Card Association executive director Peter Doherty said, surrounded by Spin staffers circulating the room collecting stray ping-pong balls with long-handled nets amid poster boards mounted with this year's finalist cards. Ticket prices for the event had been reduced (to a still-steep $140), and Doherty estimated attendance was up 10 to 15 percent. Gone was the sit-down dinner; in its place, a buffet and some hors d'oeuvres. Eschewing black tie, millennials wandered through the venue, many of them in jeans, a few in crop tops. No more formal awards presentation, either—instead, the Louies were accompanied by breezy PowerPoint slides, which they sped through, in order to leave more time for mingling. (That's right—no envelopes at all!)
"Part of us making this change was us recognizing that we need to stay relevant," said Christy Kaprosy, the organization's president, who also serves as chief commercial officer at American Greetings, the Cleveland-based card company. The changes in the makeup of the industry are mirrored in consumers: Millennials now are a key market, and the greeting card world has had to learn to cater to them. "I know our company, we had to do a significant amount of research to re-engineer our creative product development process to be able to appeal to that generation," Kaprosy said.
Paper people like to use words like tactile and tangible to talk about the pleasures of greeting cards. In a world where so much communication is digital and fleeting, the party line goes, cards have become all the more meaningful. "The tactile feel of the card seems much more important in the past few years, as people get into the natural, handmade kind of product that is so popular in so many areas of design right now," said Doherty. "There're so many college students that come in and will spend $5 or even $6 on a card because I think they grew up with so much technology that they put even more weight on something handwritten than we did growing up," added Lauren Gryniewski, a founder of the card line Old Tom Foolery who also owns Greater Goods, a card and gift store in Minneapolis.
Lindsey Roy, chief marketing officer of greetings at Hallmark, echoed these sentiments. "One of the things that's exciting is how we're all discovering the renewed interest, if you will, in paper and stationery and tactile experiences," she said. "Some people see it like other categories that have gone completely digital, like music, CDs, or newspapers. I'm always excited to say no, the greeting card category is not in that state. We're a stable industry."
Stable, of course, has not traditionally been a description investors thrill to. Market analyses expect the industry to contract by a few percentage points each year for the next five years. While the industry estimates that some 6.5 billion greeting cards are still sold in the U.S. annually and, more subjectively, stationery does seem to have gained an ineffable, but unmistakable, gleam of coolness lately, it's also true that for paper products, the golden era is probably behind us. That said, maybe there will always be a place for cards. "Here I am 10 years or more after we started asking this question, is there a future for greeting cards? And there clearly is," Ginger McCleskey, a longtime greeting card sales representative and consultant, told me, adding that in 2018, she's having her best sales-year ever.
And just as a subset of retro-loving millennial consumers have proved surprisingly loyal to cards, the Louies still hold a certain mystique for younger card-makers.
Michelle Secondi remembers when she first found out about the Louies. "Right when you walk into the Javits Center, there's a huge display for the Louie Awards, and I was so in awe," she said of visiting the National Stationery Show a few years before she founded her company, 417 Press. "I picked up a brochure with all the finalists and I took it home and I dreamed like, 'Oh, imagine, this is so amazing, look at all this talent.' But never in a million years did I think I would ever be there. It was a dream. It was way out there." Only a few years later, though, she made it. "It was really a gala, it was a phenomenal show, it was an elaborate sit-down dinner, with this amazing show with actors, and it did feel really special and there was a lot of excitement." There were even star sightings. "Everybody is supernice, superfriendly. I remember once I saw Kristen Ley from Thimblepress, she's like, 'Hi! What drink did you get? That looks so great!' I was like, 'Uh, hello, you're Kristen Ley from Thimblepress.' " (If you don't know who Ley is, just trust us, she's big in the card world.)
Secondi was a finalist again this year, for the Louies' vaunted Rising Star award, reserved to recognize companies that have been around less than three years. Her 417 Press specializes in sassy designs—"Look at You Giving Zero Fucks," one card reads. She has several aimed at women dealing with infertility. She called the move to make tickets to the ceremony cheaper "savvy"—it had been expensive for her to attend the awards as she was just starting out. Still, would anything compare to the gala?
Isabel Serna, founder of Black Lamb Studio, was another Rising Star finalist, for her brightly colored, trendily illustrated cards. It was her first Louies. "I have no idea what to expect," she said a few days before the awards. "I don't know how it's going to be. I don't even know how to dress, to be honest." She dreamed of meeting big names in the industry, like Anna Bond from Rifle Paper Co., or the buyers from Anthropologie.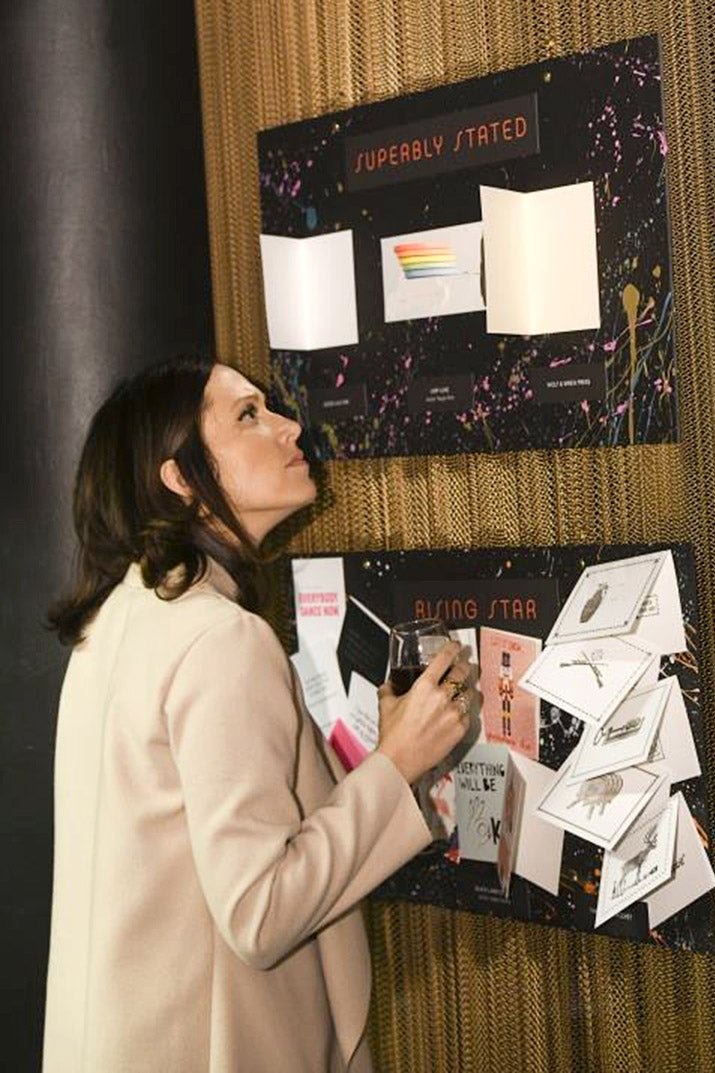 Rounding out the Rising Star finalists was the Paper Hatchet, the brainchild of Don Kingston, whose cards have a vintage, manly man aesthetic. "Sometimes a guy just needs to send his friend a card that is NOT covered with kittens or glitter," its website's about page reads. "Not just stationery but with a lot of things, there's a renaissance in some of the older or more traditional ways to do some things because they do impart connection," Kingston said. "Just like building something with your hands—that's one of my other hobbies, woodworking."
Lauren Gryniewski, of Old Tom Foolery, didn't attend this year's awards, but she said she looks back fondly on her first few Louies—relatively fondly, anyway. "Our first year, we were up for five and we didn't win any, and it was kind of brutal. … People I think were referring to us as like the Susan Lucci of that show." She and her husband still managed to enjoy themselves, though, because when else would they get to be among so many people obsessed with the exact same thing that she was? "You don't meet a lot of other people in your daily life who have greeting card companies."
Gryniewski praised the card association's efforts to make the awards more accessible. "When we started, there weren't a lot of young people going to the awards," she said. Beth Snyder agreed. "Definitely the first year we went there were huge tables of big corporate companies and we were like, 'What are we doing here?' " said Snyder, founder of One Canoe Two, itself now a well-known, though still independent, paper goods company. It can feel like there are the Hallmarks and the American Greetings of the world, and then there's you.
But Snyder also recalled how validating it felt to win her first Louies, back in 2013. "I remember walking home from the Louies that night and saying—I had two business partners at the time, and I said to them, 'You guys, this is huge. We're going to be OK. We're going to make it.' " (It didn't hurt that she also got to meet a personal hero that night: illustrator Mary Engelbreit, who was receiving a lifetime achievement award.)
All in all, I found that, even in their more casual form, the Louies continue to motivate card-makers—especially industry newcomers. At this year's awards, I met Brooke Samuelson, a 28-year-old who won a Louie for Wedding Invitations Deluxe, Modern. A graphic artist for a community college by day, Samuelson designed the invitations under the aegis of her freelance business, B12 Creations—in fact, they were the invitations for her own wedding. "I was like, 'Well, I might as well enter, you never know if you don't try,' " she said.
Samuelson traveled from Nebraska to attend the awards, and the stationery show, and brought along her husband, mother, and aunt. "The Louie Awards are just kind of the mecca of the stationery industry," she said. "Just to be a top-three finalist, I couldn't believe it." Of course, she was no longer just a finalist; she had won.
Card of the Year went to Up With Paper Luxe, for its "Woodland Birthday" card, in which intricate paper cutouts depict bears, an owl, deer, and other creatures at a multispecies forest birthday celebration. It retails for $8.99.
Secondi of 417 Press ended up taking this year's Rising Star award. A few days after the awards, she was already seeing an uptick in orders and interest. She said she wasn't sure if she preferred the old awards or the new format. "When it was a full-blown gala, you really felt—you've probably heard the tagline 'the Oscars of the greeting card world'—I feel like maybe it was a more prestigious event when it was a gala, but it was less accessible. Where do you straddle that line?
"I think times are changing in general, even for the National Stationery Show itself," Secondi continued. "Buyers can find card-makers on Instagram and vice versa, so trade shows aren't the destination they used to be."
Still, there was something gratifying about being celebrated as the best in a field whose goal is to help others celebrate life's big moments. We don't need greeting cards to mark life's milestones, but they certainly do add a sense of occasion; in the same way, Secondi didn't need an award to tell her she was succeeding—her sales figures do that just fine—but it meant something just the same. And at the very least, it provided fodder to further her online empire. I reminded Secondi, who I'd been corresponding with, that she would have to change her email signature, which had previously listed her as a "2018 Louie Award Finalist." Don't worry, she already had, she told me, and she'd added it to her Instagram bio too.