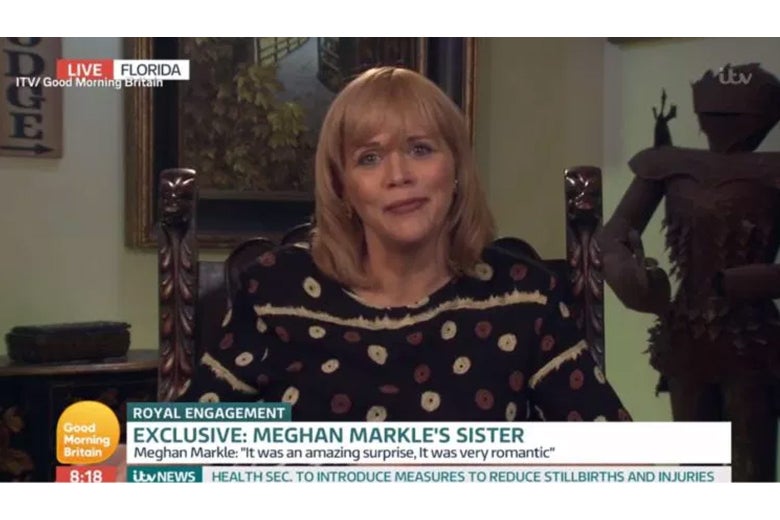 History tells us that the British monarchy can't stop a band of determined American rebels from stirring up trouble. And so, as England prepares for the wedding this Saturday between Prince Harry and Meghan Markle, Markle's relatives are dominating headlines on both sides of the Atlantic.
The main drama centers on Markle's father, Thomas, a former Hollywood lighting director who now lives in Mexico. Over the weekend, the Daily Mail revealed that he had posed for a series of paparazzi photos that "caught" him doing things like reading a book titled Images of Britain in a café near his home in Mexico. On Monday, the father of the bride said he would not attend the wedding after all, out of fear that his presence would be embarrassing. He then told TMZ he did want to be there—"I hate the idea of missing one of the greatest moments in history and walking my daughter down the aisle"—but on Tuesday said he would be having heart surgery Wednesday morning and therefore couldn't be there. (Markle's mother, Doria Ragland, is a yoga instructor and social worker who has shown impeccably good media-related judgment since the engagement announcement.)
But those just tuning into the Markle family drama this week have been missing out on a gloriously sprawling display that has been playing out on the far branches of the family tree for months. Unlike Thomas, who seems to have an active and loving (if complicated) relationship with his daughter, his other children and grandchildren have seemingly not spoken to her for years. But that hasn't stopped them from leaping into the grimy spotlight, participating in near-constant TV and tabloid interviews in the months leading up to the wedding. Keep your commemorative teacups: The Markle family interviews are a much more interesting memento of the union between the golden Brit and his American love.
The steadiest participant in the family show is Samantha Grant, sometimes called Samantha Markle, who confessed this week that she was behind her father's decision to pose for the controversial paparazzi photos. Grant is Thomas Markle's daughter from his first marriage, and she is a former actress and model who lives in Florida. She figured out the game early, pouting to Inside Edition in 2016 that she felt left out because Meghan had not spoken to her yet about the romance. In an interview this week, Grant confessed that she last saw her half-sister a decade ago, and they haven't spoken since 2015. Sometime between then and now, she dyed her blond hair a Meghan-esque dark brown. She is also hawking a memoir titled The Diary of Princess Pushy's Sister. Until recently, Grant's approach had been that of the concerned but loving sister; she gushed to Good Morning Britain in November that Markle has always been "very creative, charming, lovely, full of life, very vibrant, and she's never changed."
Taking the opposite tack is Grant's brother, Thomas Markle Jr., who recently shared an "EXCLUSIVE" handwritten letter with InTouch telling Harry that it was not too late to cancel the wedding. Meghan, he wrote on a yellow legal pad, is a "jaded, shallow, conceited woman that will make a joke of you and the royal family heritage." Then again, appearing on Inside Edition in the wake of a domestic violence arrest last year, he said that Harry was "lucky" to have her.
The late-breaking stars are Tracy Dooley and her large adult sons, Thomas and Tyler. Dooley, a former florist and "aspiring radio and TV personality," according to what appears to be her  LinkedIn account, was once married to Thomas Markle Jr. and knew Meghan when she was a child. In a bizarre appearance on Good Morning Britain in January, Dooley sits between her sons and extols preteen Meghan for being "talented" and "vivacious." Tyler, an Oregon pot farmer reportedly developing a strain called Markle's Sparkle, magnanimously extends his blessing on her decision not to invite the trio to the wedding. Thomas Dooley chimes in with "Yeah!" to his family's statements, sometimes speaking over them to echo their phrases exactly. The overall effect is excruciatingly awkward:
Publicitywise, the extended Markle clan is the id to Meghan's superego, the Roger Clinton to her Bill, the Michael Lohan to her early-2000s Lindsay. Their appearance in London this weekend is something like a blimp floating over the chapel reading "YOU'RE STILL AMERICAN!" They aren't villains, of course, they're troubled strivers, and with any luck they will be absorbed back into the pot farms of Oregon and the condos of Florida after Saturday. Meanwhile, the Dooleys arrived at Heathrow on Tuesday, reportedly to appear as special correspondents for Good Morning Britain.
---