Sunscreen is a year-round necessity. But when temperatures rise, and our Instagram feeds fill up with Rockaway Beach tacos, we're all a little more aware of making sure we're wearing the right sunscreen. According to Jennifer Stein, dermatologist at NYU Langone Health, everyone should look for a sunscreen with broad-spectrum coverage (which protects against both UVB rays that cause burning and UVA rays that cause lasting damage) and an SPF of 30 or higher, but a high SPF doesn't mean you can go hours without reapplying. Stein notes that you should be sure to apply sunscreen after every two hours in the sun, even if you don't burn easily.
Beyond those basic requirements, though, it can still be tricky to pick a sunscreen for your face.
To find the best ones to use, I spoke with Stein and Nava Greenfield of the Schweiger Dermatology Group, and both recommended sunscreens based on different skin types and activities. (That's of course in addition to hats, protective clothing, and staying in the shade whenever possible, since no sunscreen can completely prevent against sun damage.) Below, their favorites.
Best for Acne-Prone Skin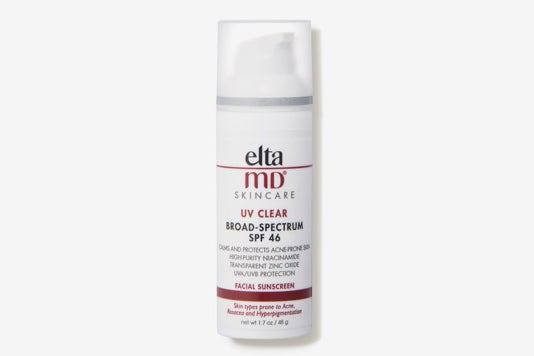 As an acne sufferer, putting sunscreen on my face provokes major anxiety. Will this clog my pores? Will it make me break out? Greenfield advised that those with acne-prone skin "as a general guideline, stay away from any generic pharmacy brands because they tend not to have the best formulations." Greenfield likes EltaMD UV Clear because it includes niacinamide, a vitamin B3 derivative with anti-inflammatory properties that can fight breakouts.
BUY: EltaMD UV Clear Broad-Spectrum SPF 46
$33, Amazon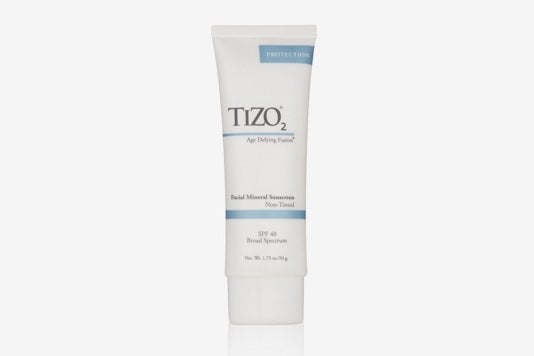 Stein recommended that acne sufferers look for liquid sunscreens over thicker creams: "Liquid is just not as thick, so it's less likely to clog your pores" she said. Tizo, which Greenfield called "really gentle on acne," has a silky, smooth feel that will work for oily skin. Strat writer Lori Keong also wrote about how Tizo can prevent body acne.
BUY: Tizo 2 Non-Tinted Facial Mineral Sunscreen SPF 40
$36, Amazon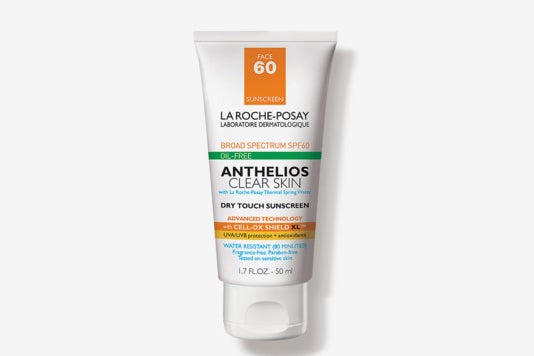 While the two products above use physical sunscreens like zinc oxide to block the sun's rays, another option is a chemical sunscreen that absorbs rays instead. Greenfield said "chemical sunscreen has a nice formulation that doesn't feel sticky." That sounds ideal for acne-prone skin, but unfortunately, there are few broad-spectrum chemical sunscreens that protect against UVA rays. Greenfield said one of the few FDA-approved chemicals for UVA protection is avobenzone, a main ingredient in this oil-free sunscreen.
BUY: La Roche-Posay Anthelios Clear Skin Dry Touch Sunscreen SPF 60
$15, Amazon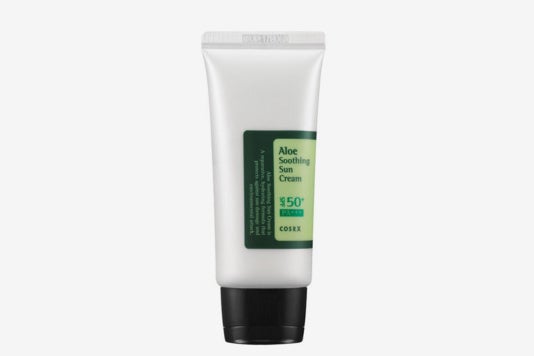 Our beauty writer Rio Viera-Newton is an expert on all things acne, so we trust her recommendation for this blemish-fighting sunscreen: "Not only is aloe vera an anti-inflammatory and anti-redness wonder ingredient, Cosrx's entire philosophy is to create affordable products for the acne-prone."
BUY: Cosrx Aloe Vera Sunscreen
$13, Amazon
Best for Dry Skin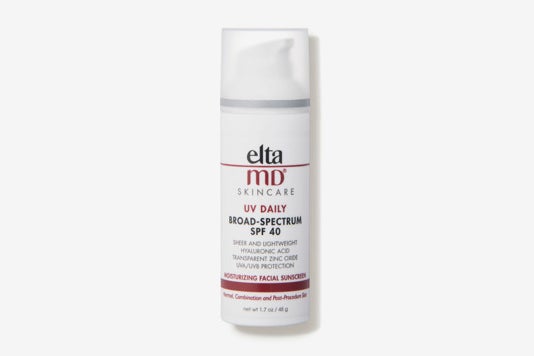 If you have dry skin and wear moisturizer with SPF, you may think you're protected, but Greenfield said that "it's never enough to just get sunscreen from your moisturizer because it gets dilute." Instead she recommended layering a moisturizing sunscreen for adequate protection. The hyaluronic acid in this EltaMD sunscreen will keep skin hydrated as well as protected.
BUY: EltaMD UV Daily Broad-Spectrum SPF 40
$27, Amazon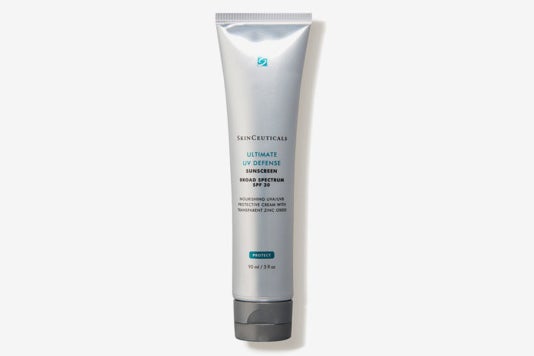 Greenfield said she also recommends this SkinCeuticals sunscreen to her patients with dry skin. It has a moisturizing base with a matte finish that won't feel greasy.
BUY: SkinCeuticals Ultimate UV Defense SPF 30
$94, Amazon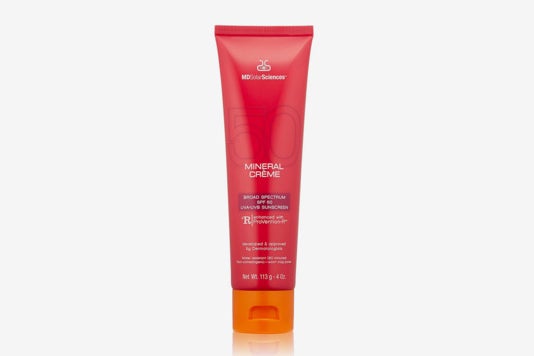 We discovered this natural sunscreen that's great for dry skin from a rave review on Amazon: "This is the best by far—not only a facial sunscreen but also moisturizer for under makeup. I use Retin-A, which makes my skin extremely sensitive. I have had problems finding a sunscreen or even moisturizer for that matter that does not feel like it is burning my face off, even ones made for sensitive skin. This has no sting whatsoever, which is just amazing to me." It also received the highest score possible from the Environmental Working Group, meaning it's ingredients are nontoxic.
BUY: MDSolarSciences Mineral Crème Broad Spectrum SPF 50 Sunscreen
$29, Amazon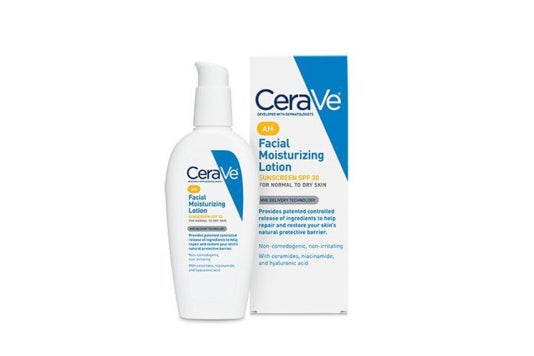 Strat writer Hannah Morrill says this less pricey choice for dry skin "checks all the boxes: Broad-spectrum protection SPF 30, sheer application, antioxidants to boost the sun-protective factor, anti-aging ingredients, and hydrators. Some dermatologists suggest that a spoon of sunscreen on the face yields the most reliable results—at $17 a bottle, you never have to feel stingy."
BUY: CeraVe AM Face Moisturizer With Sunscreen, SPF 30
$17, Amazon
Best for Sensitive Skin
Greenfield is a big fan of Blue Lizard sunscreen: "They're an Australian brand, so they take their sunscreen very seriously as [Australia] has the highest rate of melanoma." While made for babies, this sunscreen is also good for adults with sensitive skin as it's free of any parabens, chemicals, or fragrance that can cause irritation. It's also rich in the physical blockers that give you the most protection.
BUY: Blue Lizard Australian Sunscreen—Baby SPF 30 Plus
$15, Amazon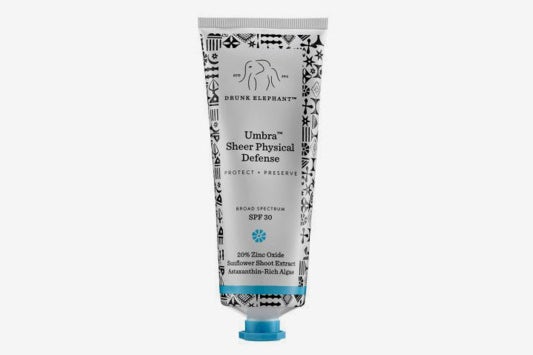 Hannah Morrill gives some more reasons to love physical sunscreens, and this one in particular, if you have sensitive skin: "Chemical sunscreens are far more irritating on sensitive skin. The [physical] mineral (or, chemical-free) shields titanium oxide and zinc oxide are far better—although often annoyingly hard to rub in. Here, a 20 percent concentration of zinc goes on impossibly invisible, and teams up with soothing and nonirritating botanicals." Rio Viera-Newton also relied on this one while on vacation: "I used it daily for a week and didn't break out once. It's also packed with marula oil and antioxidants that give your skin a nice, healthy glow."
BUY: Drunk Elephant Umbra Sheer Physical Daily Defense Sunscreen
$29, Amazon
Best for Exercising Outdoors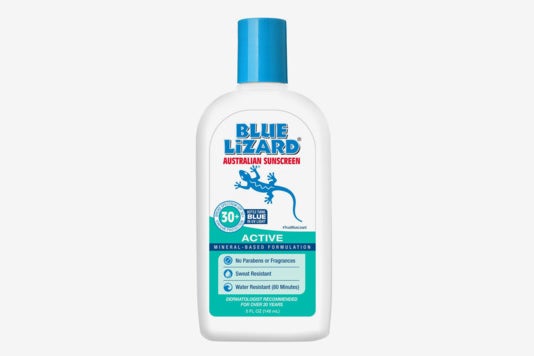 For working out, Greenfield uses the Blue Lizard Active sunscreen. Because the active formulation is water-resistant, it will still be protective if you get sweaty exercising in the sun. Stein said that while no sunscreen is waterproof, water-resistant claims are regulated by the FDA, so you can rely on a sunscreen with this label for swimming or sweaty activities.
BUY: Blue Lizard Australian Sunscreen Active, SPF 30+
$15, Amazon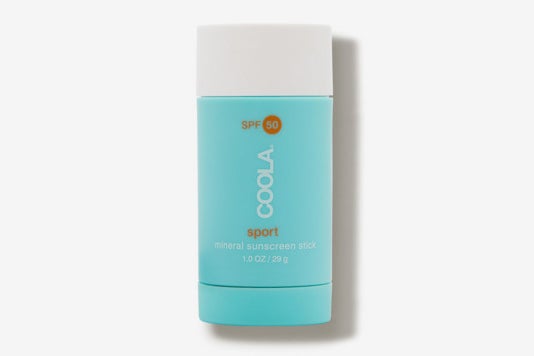 If you've ever put on sunscreen before a run, you're probably familiar with the stinging sensation in your eyes as the sunscreen drips down your face. Stein said, "A stick is a good way to get a sunscreen that doesn't run as much." We like this stick from Coola because of its high SPF protection, and it's water-resistant for up to 80 minutes in the sun.
BUY: Coola Mineral Sport SPF 50 Sunscreen Stick
$25, Amazon
Best for Swimming Outdoors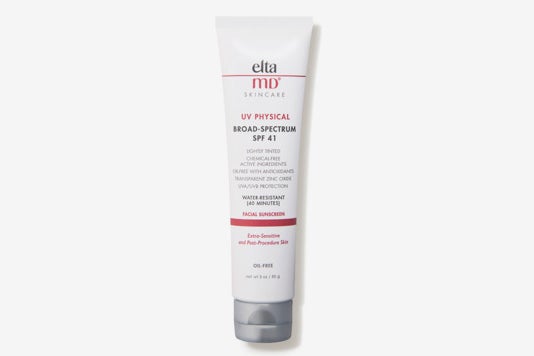 Similar to the EltaMD UV Clear formula, this version offers broad-spectrum protection in a gentle formulation, with the additional benefit of being water-resistant. Greenfield likes this sunscreen for when you're swimming in the pool or the ocean, but both doctors stressed the importance of reapplying. "When you get out of the water and you're toweling off, that's a good time to reapply the sunscreen," said Stein.
BUY: EltaMD UV Physical Broad Spectrum SPF 41 Sunscreen—Tinted
$30, Amazon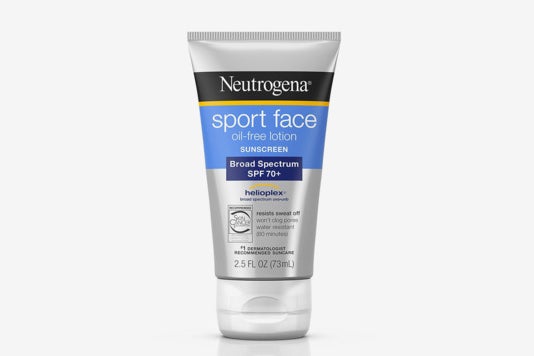 If you prefer chemical sunscreens, this under-$10 option from Neutrogena contains UVA-absorbing avobenzone and is also water-resistant for up to 80 minutes.
BUY: Neutrogena Ultimate Sport Face Oil-Free Lotion Sunscreen, SPF 70+
$6, Amazon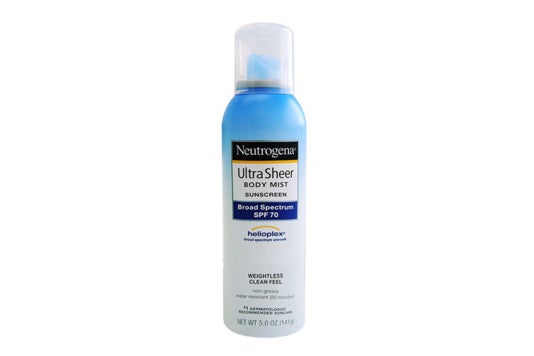 If you prefer to spray your sunscreen, check out this similar version from Neutrogena that will work for the body as well. Cut beauty editors said it's "perfect for topping off at the beach. Spray an even sheen on limbs and rub it in to avoid streaks."
BUY: Neutrogena Ultra Sheer Sunscreen Body Mist, SPF 70
$12, Amazon