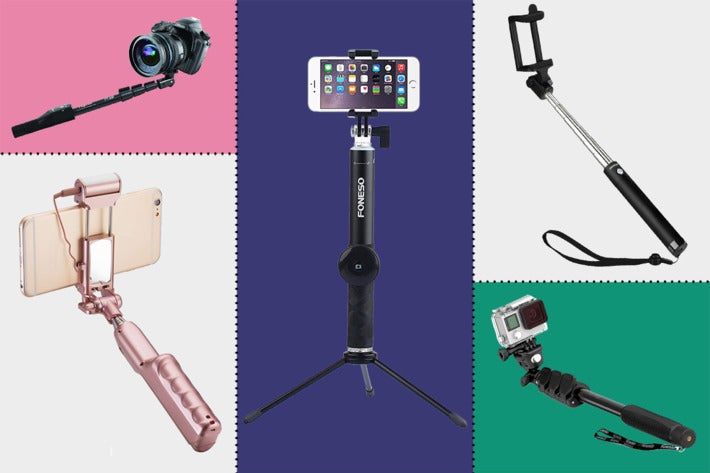 To find the very best products that no human being would have the time to try, look to the best-reviewed (that's four-to-five-star ratings and lots of 'em) products and choose the most convincing. You'll find the best crowdsourced ideas whether you're searching for comforters, bed sheets, or even Christmas trees. Below, the best selfie sticks determined by the hard-nosed reviewers on Amazon. (Note that reviews have been edited for length and clarity.)
Best Affordable Selfie Stick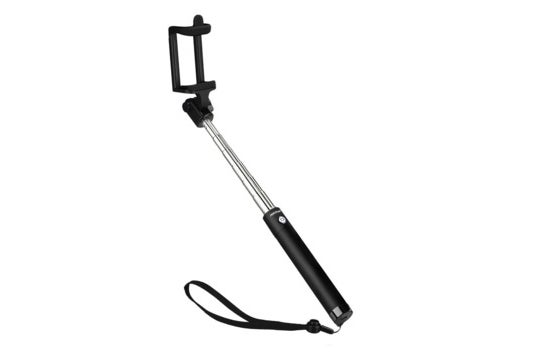 4.3 stars, 6,038 reviews
"Even I could make it work, and I took the nicest picture of myself in 50 years."
BUY: Mpow Selfie Stick
$10, Amazon
Best Selfie Stick With Tripod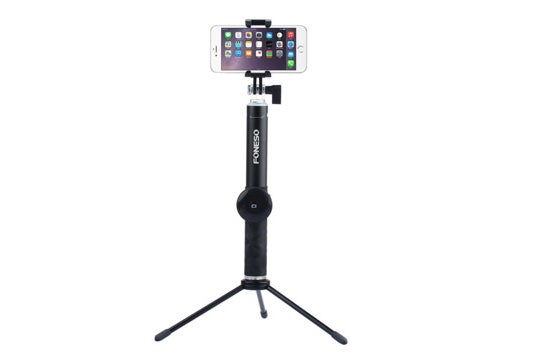 3.9 stars, 927 reviews
"The steel tripod base was something that I thought was just a bonus, courtesy of the manufacturer. However, after mounting it, I've used the base almost daily as a phone tripod, instead of my other traditional tripod. It's transformative and renders the stick rather useful as a short, 3-inch tripod, with a very small footprint. There are downsides to this design, of course; but for indoor use, and with the relative light weight of smartphones, it's proven to be an immensely useful addition that made this 'selfie stick' much more versatile than just that."
BUY: Foneso Selfie Stick
$17, Amazon
Best Long Selfie Stick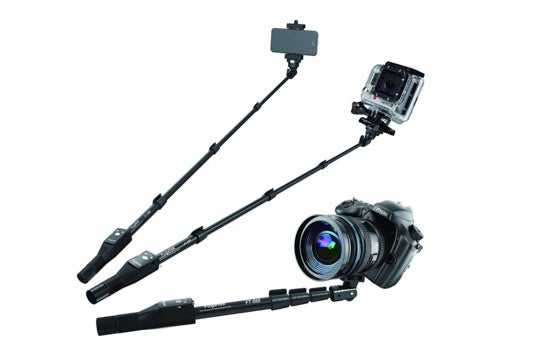 4.5 stars, 4,392 reviews
"Amazing stick. Very sturdy, and easily and quickly extendable and collapsible.
The spring-loaded 'C' clamp that you wedge your phone into is much better designed and confidence-inspiring than any other selfie stick I've encountered (most of which actually try to spit your phone out and onto the ground). The screw-down 'C' clamp is even more confidence-inspiring. My best friend and I REALLY liked the square mirror plate that snugly snaps on to the back of the spring-loaded 'C' clamp. Pros: stick-extension length (farthest I've ever personally seen), and the ease of adjustment of the various tubes.
BUY: Fugetek FT-568 Selfie Stick
$18, Amazon
Best Extreme Selfie Stick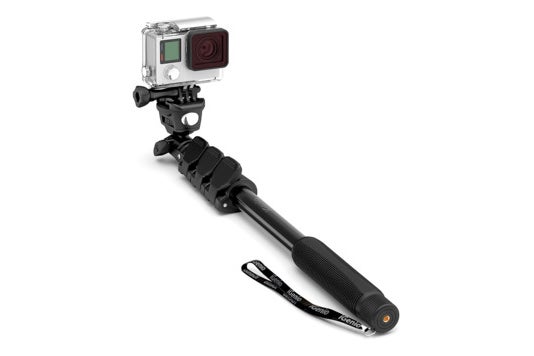 4.3 stars, 130 reviews
"By far the strongest selfie stick I have bought. I probably have bought 15 by now. I love giving them out as gifts. This is truly a professional-grade selfie stick that holds its shape even when I mounted my Canon Rebel T3i on it—just to go extreme. The combo was quite heavy to hold. So the issue will not be how much weight it can hold, but how much the user can lift with one hand. The locking mechanisms on the rod are comparable to those you find in high-quality camera tripods. I know, I do photography. The handle is comfortable to hold, with an all-rubber, ribbed design. The black satin finish seems to be baked on, not painted on. It has a good 4-foot reach."
BUY: Selfie World Waterproof Selfie Stick
$25, Amazon
Best Wired Selfie Stick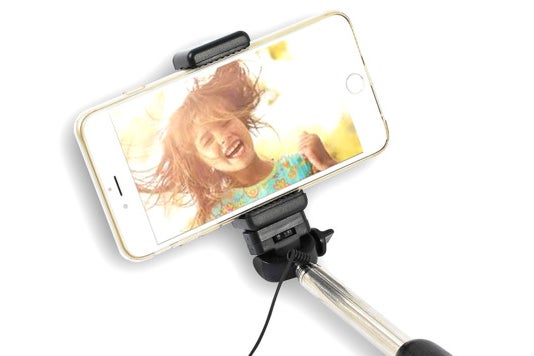 3.3 stars, 34 reviews
"Goodness, where do I begin! So I ordered the selfie stick as a gift for a friend who is preparing to go on a big European vacation. I thought she would use it to pose in front of all those beautiful sights and monuments. This is how it started, but now everybody around me wants it, and turns out WE ALL NEED a selfie stick because it is such a fun thing to have!!! We are having such a great time playing with it, and we are not a bunch of social-media-obsessed teenagers. The product is unbelievably easy to use. It did come with printed instructions, and I'm sure they are great, but you won't ever need them. It is all self-explanatory or instinctive."
BUY: InfinityMaker Cable Selfie Stick
$25, Amazon
Best Selfie Stick With Light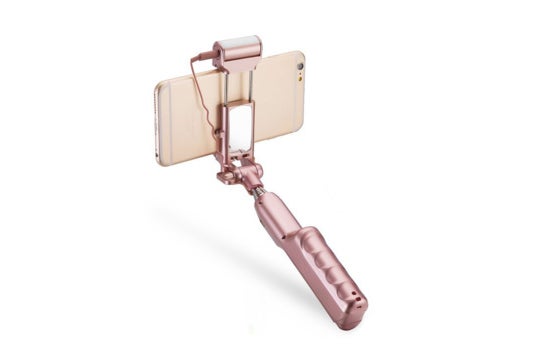 4.5 stars, 14 reviews
"The cutest, most inexpensive gadget I've ever bought. Does everything it says.
I love the lighting feature. Even in pitch darkness, it gives you good-quality bright lights. Great for videoing. I highly recommend if you're shopping for a good selfie stick."
---