Every generation gets the royals—and the royal wedding—it deserves. The Brits who lived through war and austerity and rationing were rewarded with the union of a Stakhanovite stiff and a handsome chancer. She's still on the job 71 years later. (He retired last year, at the age of 96.) My cohort, which optimistically believed we had inherited a more meritocratic future, got Charles and Di. She hugged and overshared, they both cheated, and the fairy-tale marriage was followed by a nightmare divorce and the gradual disintegration of the welfare state, state funding for education, and the fantasy of social mobility.
So who could begrudge the youth of today—whose inheritance is Brexit, growing inequality, and impossible property prices—an institution-shaking wedding: a gorgeous biracial American basic-cable actress and a socially engaged ex-soldier who rehabilitated himself after some youthful missteps. It might almost allow us to forget the sad state of the world for a few hours.
It would be a sideshow, a distraction, a giant, glittering masterpiece of choreography designed to disguise the giant sham and rip-off that is the British monarchy. Of this I, a royal-hater of long standing who almost got kicked off a bus for wearing a "Don't Do It Di" button in 1981, was sure.
And then, to my shock, this very modern royal wedding turned out to be really quite good. The usual business of military uniforms heavy with medals, horse-drawn carriages, and mumbled vows found a way to co-exist, sometimes easily and sometimes uncomfortably, with a genuinely rousing sermon, an Afro-Caribbean choir, and a couple that seemed utterly at ease with it all.
Things didn't seem all that different at first. The walk to the chapel was the British version of an awards-ceremony red carpet—thankfully without a mani cam. Perhaps the celebs on the guest list were a bit less Hello, a bit more Vanity Fair than a typical Windsor family ceremony—Serena Williams, Carey Mulligan, Idris Elba, the Beckhams, the Clooneys, the cast of Suits—but the outfit-analyzing, shade-throwing (a BBC commentator claimed, against all evidence, that a scowling Victoria Beckham was "clearly having a fantastic time"), and desperate attempts to get commoners who had once been in a room with Harry and Meghan to explain what the couple are "really like" were all too familiar.
But then, after an hour or so of awkward chapel chit-chat, Meghan stepped out of the Rolls, and even a mean old republican like me had to put aside my animus and concede that she looked lovely, they both seemed happy, and that Prince Harry—"shitting it," apparently—appeared to be as nervous and excited as a man making such a good match should. I honestly forgot about the previous week's daddy drama when Prince Charles—with a gorgeous magenta flower on his lapel—led Meghan down the aisle.
The death of Harry's mother really did loosen the stiffness of many a British lip, but we are still not a nation that speaks easily of love—even at a wedding. Perhaps easing us into the disruption that was about to be unleashed, the Right Rev. David Conner, the dean of Windsor, was affectless and mumbling, apparently attempting to lull the assembly into a stupor, just as snakes hypnotize their prey, so that he could speak of the "delight and tenderness of sexual union" in front of Meghan's serene mother and every last member of Harry's extended family. Harple didn't appear to be the slightest bit embarrassed.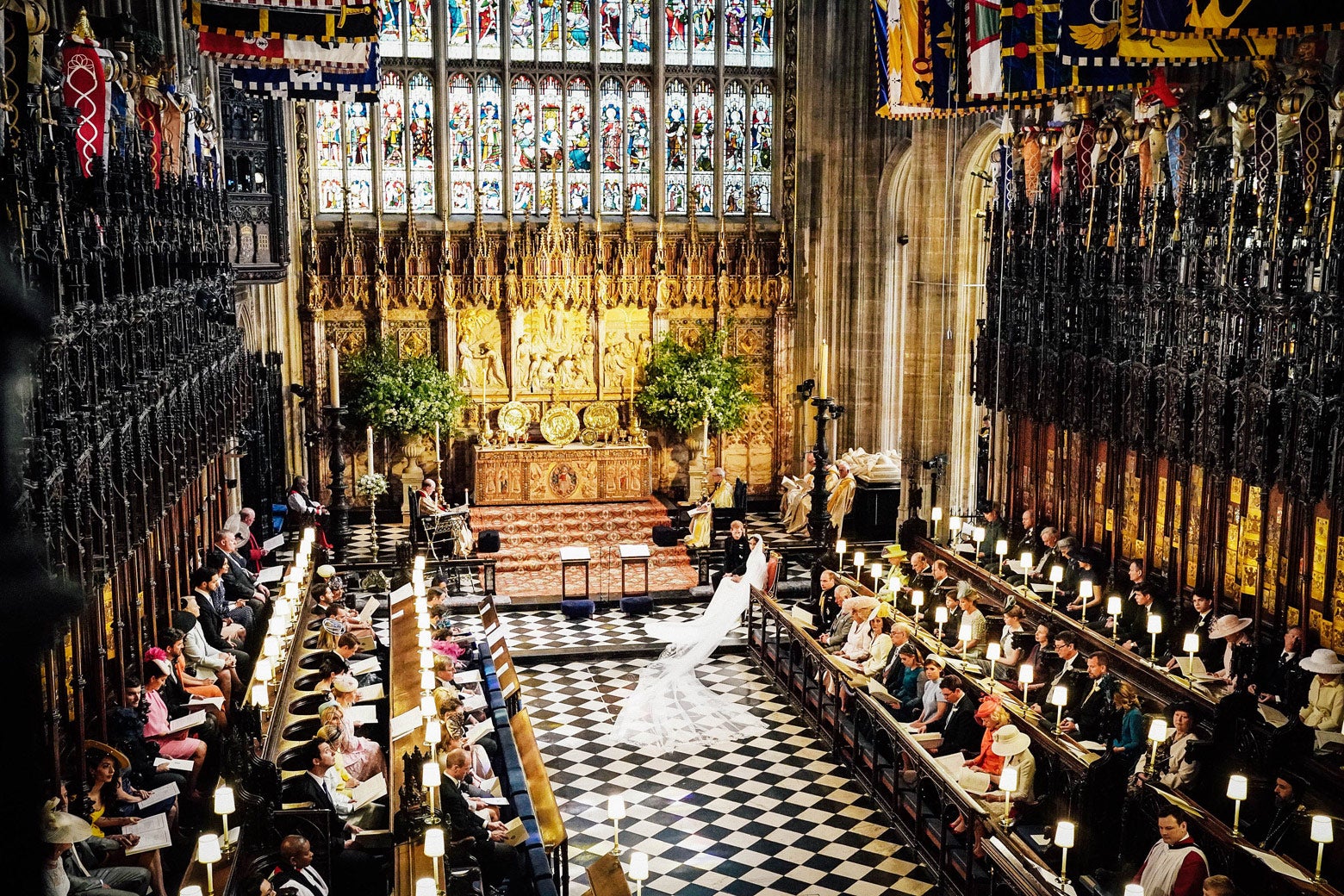 "Lord of All Hopefulness," the Ur–school-assembly hymn, must've made many traditionalists let loose a sigh of relief—and then another mumbling old white dude, Archbishop of Canterbury Justin Welby, solemnized the marriage. But wait, he addressed the couple as "Harry and Meghan." Harry and Meghan? Wouldn't we get to laugh at the prince's ridiculous forenames? Diana's screwing up of her husband-to-be's complicated string of names was the highlight of Harry's parents' wedding, back in 1981. Hmm, things have changed, I guess.
A reading, a song by the choir, and then Bishop Michael Curry—like Meghan, a black American—gave the address. Others more qualified than I can speak to the content of the sermon that he delivered, in another royal wedding first, from his iPad—but I am confident that Martin Luther King has never before been invoked at such an event.
During Bishop Curry's sermon about the power of redemptive, sacrificial love, the BBC's camera would occasionally linger on faces in the chapel: Markle's mother, Doria Ragland; the happy couple, demonstrating excellent engaged listening skills; Suits cast members looking proud to be American, and finally airing on a network; and lots of white Britons, famous and obscure, royal and common, looking, well, awkward. I wish I could tell you how many times Curry used the word love, but I suspect it was more times than it has been uttered in every royal wedding in history thus far. The dean of Windsor, his chair arranged so that his back faced Curry as he preached, appeared to turn and blanch when the American suggested that "when love is the way, we treat each other"—dramatic pause—"like we are actually family." (At this point, David Beckham grinned ecstatically—clearly he is a man who thinks of nothing but love.)
Curry's final stemwinder—about fire—cited the industrial revolution and the internal combustion engine and tweeting and social media dysfunction and slavery and Dr. King again and love and … well, it was rousing, and different, in an environment that has long needed a bit of difference, and brought more than a little bit of these United States to a chapel that at that very moment contained the head of the Church of England.
At the wedding of Charles and Diana, Dame Kiri Te Kanawa sang Handel's "Let the Bright Serafim." At Harry and Meghan's ceremony, the Kingdom Choir—directed by a spectacularly coiffed and dressed director—sang "Stand by Me." They were located at the back of the packed chapel, and few members of the congregation turned around to see the performance. They didn't need to.
The marriage—of Harry and Meghan, of Britain and America, of a white guy from Windsor and a black woman from Los Angeles—has changed Britain, if only a tiny bit, and no acknowledgment is required. Without using the word slavery, the head of the American Episcopal Church reminded the whitest family in the world—until now—of the origins of its wealth and privilege. Meanwhile, the couple at the center of it all looked like the happiest people in the room, which is exactly as it should be.
As they left the church, surrounded by cavalry members and swords and cameras, and prepared to stuff what seemed like miles of dress fabric into the Ascot Landau carriage, a gospel choir sang Etta James' glorious "Amen." Even I am praying that this royal wedding fulfills its promise—because it promises so much more than you'd expect, in 2018, a royal wedding ever could.