CAMBRIDGE, Massachusetts—The rare occasions I've thought or talked about breastfeeding would usually result in my nodding along while a friend or colleague told me about their misery with it: the difficulty of waking up every two hours for feedings or pumping, the pain it caused them, and the isolation and emotional angst they felt at having to leave work or social settings constantly to feed their babies. I was always there to give them permission to quit, to assure them their baby would be fine, that formula wasn't poison, and that their mental and emotional health mattered at least as much as their newborn's potential health perks from breast milk. "Breastfeed or don't breastfeed. You do you," was as far as my "lactivism" went. It was an easy line I'd dispense to anyone who needed to hear it.
But last weekend I attended a hackathon—a techie term for a weekend of brainstorming and problem-solving—for the breast pump, and basically every other flawed aspect of breastfeeding in the U.S., and I decided my old line was a cop-out.
I've never been in the position of breastfeeding, and I had every excuse in the book for why I'd never thought it through before. I think in 2018, we're still squeamish about it, and that squeamishness has kept it solely a "mother's issue," one you don't really learn about until you experience it yourself.
Each time I mentioned the hackathon to my childless friends (I have dozens of friends with kids, but they aren't the friends I chat with about weekend plans at happy hours), the reaction was somewhere between amusement and incredulity. "A breast pump hackathon?" one friend asked, chuckling, until he realized I was serious and not laughing with him. He recovered: "Why? I mean, what is that?"
But I'd done my research. I'd already spoken to the organizers about what motivated them to host this hackathon in the first place. So I found myself having to explain to these friends exactly how wretched the infrastructure of our society is for women who work and breastfeed; why pumping is impossible for some women, even if they've won the employer lottery and have the space and time to do it; why it takes serious financial resources to be able to breastfeed, even though it's touted as a "free" option; how barbaric the equipment we provide the vast majority of women is—that standard insurance-funded pumps abrade and cause enormous pain.
Beyond that, the usual trappings of the media have limited most of the public discussion about breastfeeding to just another mommy war, where individual mothers and their judgments are the biggest barrier out there, allowing other mothers to feed their babies as they please.
In my first few hours at the Make the Breast Pump Not Suck Hackathon, hosted at the MIT Media Lab, I was afraid my fears about the dangers of breastfeeding mommy wars were being confirmed. There were photographs of nursing mothers wearing crowns and capes on the walls. A participant went onstage to tout the lost ancient art of the hand expression of milk (using your hand to make milk come out of your breast)—a process she referred to as "normal" and pumping, in turn, as "not normal." A resting room projected relaxing images of microscopic breast milk onto the wall—and called breast milk the "ultimate representation of mother, connection and love." If that's what breast milk was, I thought, what did formula represent?
How would some of those friends I'd reassured of their right to quit without guilt feel about this breastfeeding mysticism?
But this woo-woo breastfeeding culture, I learned, was all best understood from the perspective of people who actually weren't like my distressed friends at all—mostly white, middle-class professionals people assumed first and foremost to be capable of making their breastfeeding goals if only they tried hard enough. But I heard about the other side of this bias: the deep skepticism medical practitioners and society in general show toward the right and ability of mostly women of color, and lower-income women, to make breastfeeding work for them.
Some mothers described insisting again, and again, that they wanted to breastfeed their babies, only to have staff at the hospitals they gave birth in whisk away babies and put them on formula without consulting them first. Jennifer Roberts, chairwoman of the hackathon's advisory board, described driving 45 minutes from her home in Southeast D.C. to a distant white neighborhood in order to get to a hospital that would give her the birth and feeding experience she wanted. Another woman I met asked for a space to pump at work and was given access to a large room—where she noticed a surveillance camera staring back at her. When she covered the area where she sat with a curtain for privacy, she was told she had created a safety hazard. Despite the U.S.' decades-long propaganda campaign to promote breastfeeding, it remains what keynote speaker Kimberly Seals Allers called a "luxury of the privileged."
I met others at the hackathon who, far from being fervent apostles for "breast is best," are childless like me but want to change breastfeeding from luxurious to accessible. Two undergraduate students from University of California–San Diego attended in order to find better ways to promote mother-child bonding because it's shown to be a major factor in preventing postpartum depression. I met two men who were there just to learn, and to see if their skills in engineering and design might be of any use.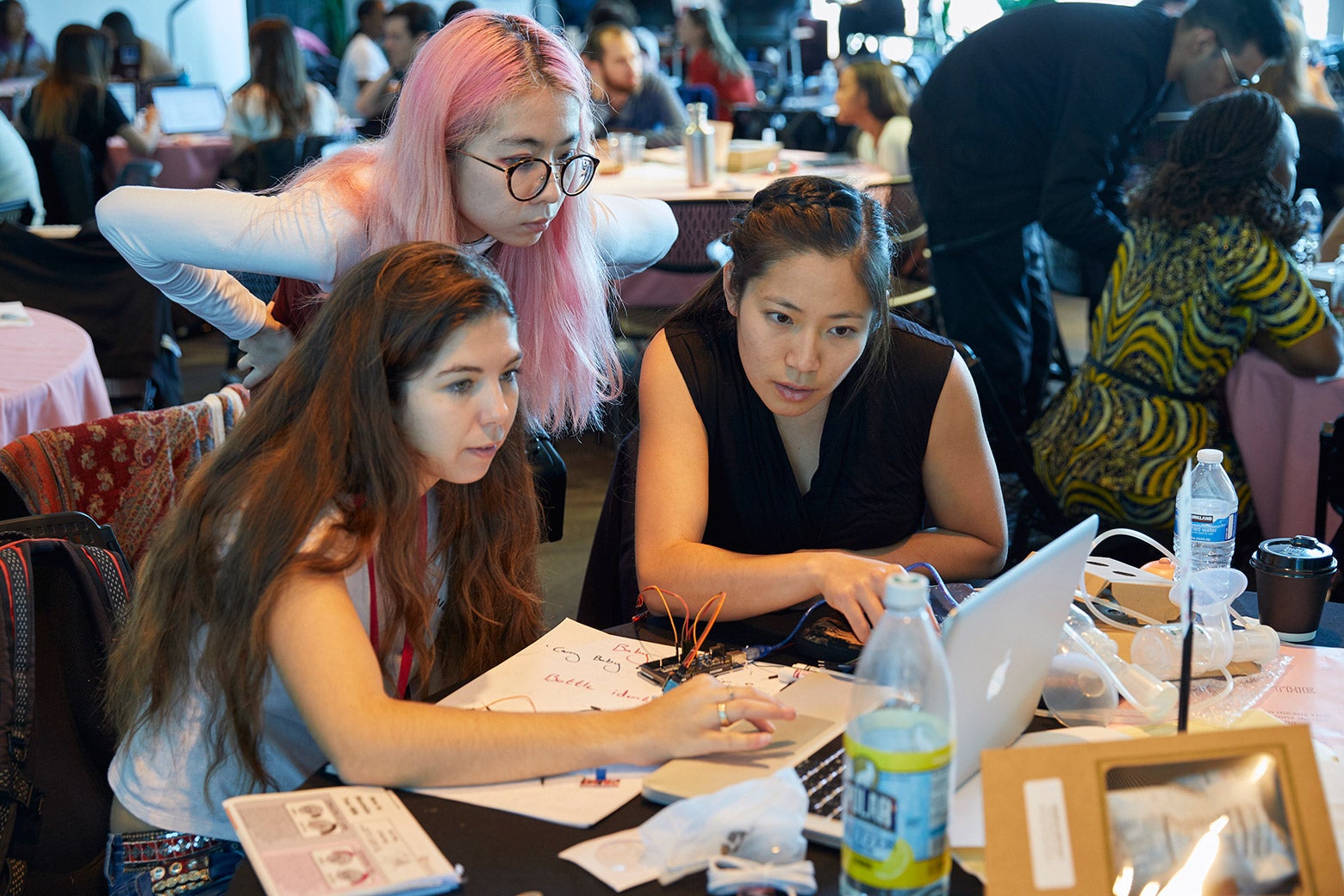 Diego Solano, a product design engineer, came to the hackathon from San Francisco. He doesn't have kids, a wife, or even a girlfriend, but he felt that in attending and contributing to any attempts to improve breastfeeding experiences, "present Diego was helping future Diego."
Dominic Cardoso, also childless, works in special effects artistry and traveled from Atlanta to use his design skills to solve problems he learned about at the hackathon. Solano and Cardoso ended up working on a team led by staff from the New Orleans Breastfeeding Center to create an emergency kit for breastfeeding women that could help them collect and save milk in the face of a disaster—whether a natural disaster like a hurricane, or human-caused disasters like deprivation and poverty. Dominic was tasked with finding ways to keep pumped milk cool without access to electricity.
The near-impossibility of breastfeeding or pumping in a disaster was one of dozens of "design flaws" our society has created for mothers, across race and socioeconomic classes, trying to give newborns breast milk that hackers tried to solve. In conjunction with the hackathon was a simultaneous summit on paid family leave, a policy critical to most women's ability to breastfeed and look after their own health, since one-quarter of women go back to work within two weeks of giving birth—an atrocious statistic that contributes to the United States being firmly at the bottom of developed countries' maternal health outcomes.
We can say, "Breastfeed or don't breastfeed. You do you," to our friends who need to hear it. But I've begun to wonder if even those friends needed more from me. If the investment is truly in supporting women's decision-making and making the entire process of motherhood less frantic and depleting and more dignified, we have to do a lot more.
I know the "breast is best" statistics are used to guilt some women into misery, to put their baby's small chance of improved health outcomes above their own sanity, and sometimes their own health. But this is just one side of the coin. The reason to advocate for making breastfeeding and pumping easier isn't to pressure more women into doing it: It's about pressuring our culture, from medicine to engineering to the workplace, to adapting to the needs of the women who for whatever reason—to save on formula costs, to bond with their babies, to give their babies even a fraction of a better chance at good health—want to breastfeed, but can't.
Correction, May 3, 2018: The photos in this post were previously credited to Catherine D'Ignazio. The photos were taken by Rebecca Rodriguez.