This post is part of Nosh, a special pop-up blog about snacks. Read more here.
My favorite snack is Bamba. Those puffy, airy, savory peanut clouds, something like cheese puffs but with peanut butter, are just too good to resist. I loved Bamba as a kid, when it was the main snack served at birthday parties. As a student, I used to have a whole bag as dinner. To this day, I get Bamba every time I find can it (which is not often enough), as it tastes like childhood and like home.
So why have you never heard of Bamba? Probably because you were not raised in Israel, as I was. Bamba is king back home, and it has been so for dozens of years. In fact, it's not only delicious, it is also healthy, in a roundabout way: Scientists believe consuming this snack at a young age can help prevent peanut allergies. Seriously.
If Bamba is blowing your mind, think of how many more excellent snacks you may not know about if you're limiting your search to that single aisle of your local supermarket. While you're trudging along with Triscuits, Filipino, Iranian, Russian, Swedish, and Mexican immigrants to America are happily chowing down on wonderful delicacies from their homelands. These are the snacks that bring back happy memories just by the noisy colorful designs on their bags, snacks that are part tasty and part nostalgic, and that even second generations of immigrants still grow up on.
Luckily for the uninitiated, American neighborhoods are filled with ethnic markets that offer access to all manner of superior snacks. Some of these are interesting twists to the all-American chips-peanut-cookies categories, while others are reserved for more adventures types who think there's nothing odd about having friends over for drinks and dried squid. Just think outside the (Cheez-It) box and go treasure hunting at your local ethnic spot. It's there that your snacking habits are sure to evolve from common to deliciously cosmopolitan.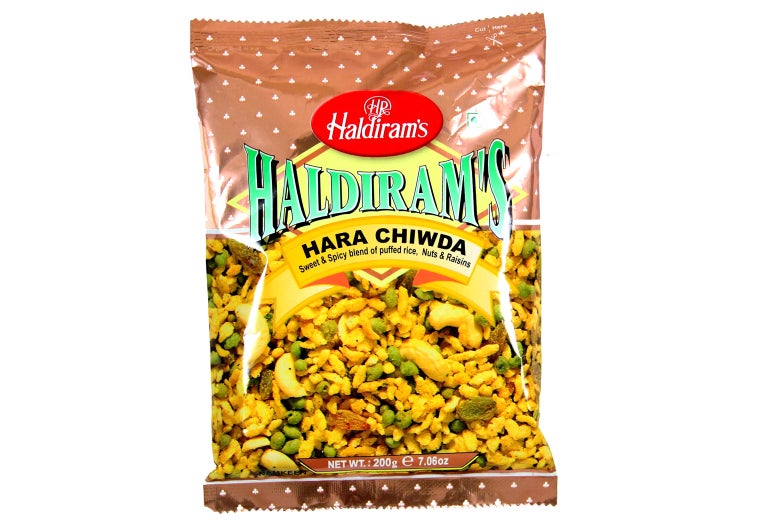 Let's start with Indian markets. Their crunchy snack mixes, sometimes known as chiwda or in the general name namkeen, come in a huge variety and contain any combination of chickpea flour noodles, flattened rice, nuts, dried fruit, brown lentils, and moong beans, all baked or fried (mostly fried) and seasoned for a spicy to really spicy crunch. In India, you can make your own combinations in specialty stores, but even the pre-mixed bags you can find in the U.S., such as Haldiram's, are great.
While in the Indian store, try looking for jackfruit chips from Kerala in south India. They are crispy, thicker than your average chip, and salty with a unique mild flavor. Another south Indian favorite that's worth checking out is murukku, crispy twisted savory mild cookies made of rice and lentil flour with spices and chili.
Looking for other alternatives to potato chips? Try the Chinese spicy gluten chew chips, called la tiao. They come in a variety of flavors, but don't expect your barbecue or sour-cream usuals. Instead, you'll find these chips in chicken, goose, crab, and steak flavors. Or go even meatier with Mexican chicharrónes (crunchy fried pork rind) with flavors like chili and lime.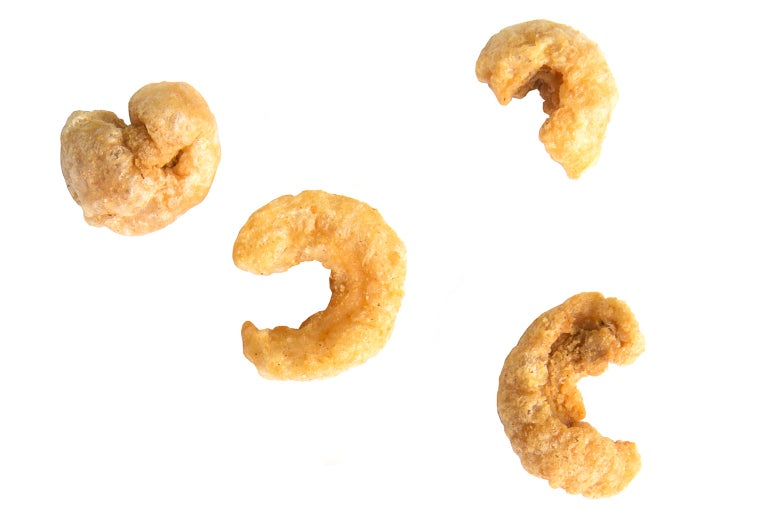 Moving on from chips to nuts, the best places to hunt are Middle Eastern supermarkets, whether Lebanese or Persian. They offer nut mixes that include pistachio, almond, cashew, pumpkin seeds, and coated peanuts called kri kri. What makes these mixes so addictive is that they are toasted extra dark, which brings out the best in their flavor.
Like fruit rolls? Stay at the Middle Eastern markets and try the many natural, no-added-color fruit leathers filling the shelves. The variety spans from the popular sweet-and-sour apricot leather to the more exotic pomegranate, sour cherry, and plum.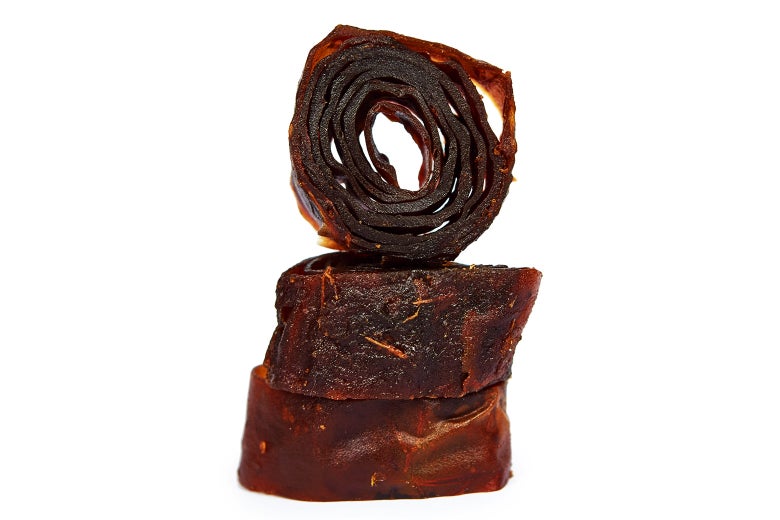 Another great healthy-ish snack idea from the Middle East is the fresh green almonds sold for a very short season in the spring. The fresh nuts have yet to grow the woodsy shell, so you can consume the whole nut with nothing but a sprinkle of salt. With the lifting of the trade embargo on Iran, Iranian pistachio, tea, and spices have begun filling American Persian stores. But don't let the healthy theme fool you: We're also now seeing the Iranian version of Cheetos, known as Chee.Toz, in U.S. stores. These come in a dozen different flavors, including chili, ketchup, or onion and parsley.
Licking it up a notch, at least in terms of adventurousness, comes the Filipino pusit: dried skewered squid in a sweet-and-sour flavor. But snacking on dry fish is not unique to the Philippines. Russian supermarkets offer a variety of dried salted fish, such as vobla, bream, and yellow-striped trevally, to have as a snack with beer. (You'll recognize them by the images of busty blondes drinking beer on some of the packages.) Do as the Russians do, and replace your mixed nuts with a dried fish next time you have your friends over to watch a game.
A lesser-known fish snack is the Italian-French-Balkan bottarga. It is cured and salted fish roe, usually gray mullet, with a flavor so strong it is sliced razor thin and served with bread alongside alcohol. Bottarga is available in the U.S. in some Italian supermarkets.
Then there are the Asian shrimp chips, dried squid, fish crackers, crab sticks, and a huge variety of dried seaweed. The latter is available now in most chain supermarkets, but you'll find an exciting variety at Chinese and Korean supermarkets in kimchi, wasabi, and even green-tea flavors.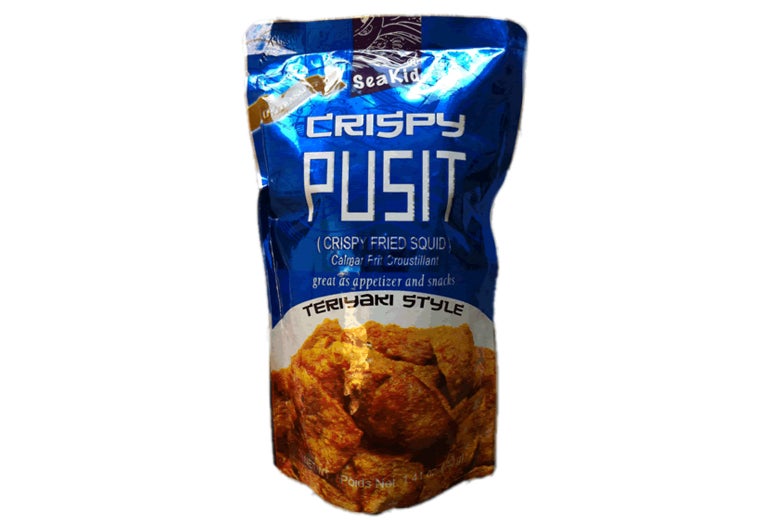 Rather go for a sweet snack? Ethnic markets have you more than covered here too. Just head back to the Eastern European havens, where endless choices of chocolate, taffy, caramels, and candies are sold by the pound. Some favorites are Calian cream fudge (you'll recognize it by the smiling cow on the wrapper), yellow Mont Blanc sesame and chocolate candy, Mieszko marzipan in chocolate, Ctakah Monoka caramels (look for the wrapper with a cat holding a cup of milk), Moskovite filled caramel (red wrapper), and Korolevsky cream-filled chocolate.
Italians like to snack on a slice of bread spread with a thick layer of Nutella. At most Italian supermarkets, you can get the real stuff, made in Italy. It has a more distinct hazelnut flavor than your regular supermarket brand thanks to the darker toasting of the nuts. Some stores offer also other gianduja (hazelnut chocolate) spreads. As a serious explorer, you should try them all.
Italian stores are also an endless source for cookies, biscotti, and cantuccini. But in the spirit of casual snacks, don't miss the Loacker brand of wafers in hazelnut cream, chocolate, lemon, and coffee flavors.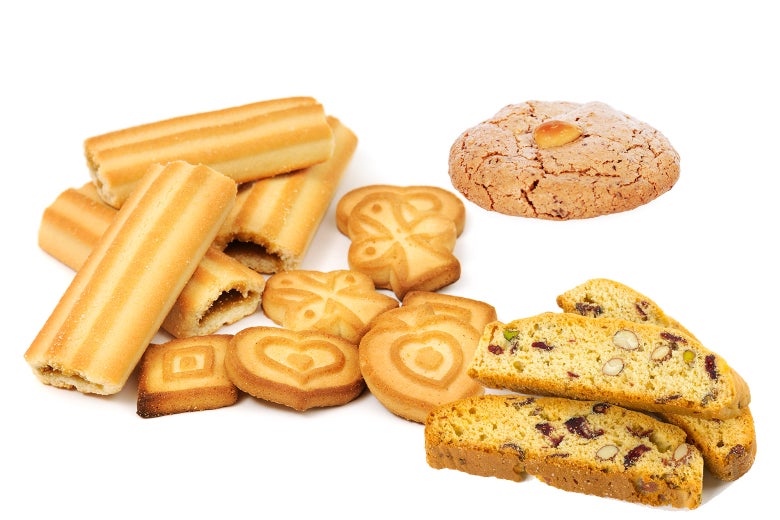 Try to find the Argentinian cornstarch cookies called alfajores that are stuffed with dulce de leche and coated with shredded coconut or chocolate. These are usually available at Latino supermarkets.
Still on the dessert front, Asian supermarkets offer a variety of Japanese Pocky sticks, those popular thin dipped cookie sticks, in mâche, strawberry, chocolate-banana, and cookies-and-cream flavors. The same variety applies to the Japanese Kit Kat. Also try Chinese favorite White Rabbit creamy taffylike candy, even if it's only for the cute wrappers.
Scandinavian and Dutch salty licorice is an acquired taste, so much so that Saveur magazine offered tricks on how to stop hating it. ("Stop thinking it's candy.") But in the spirit of adventure, give it a try, together with any of the snacks we've touched on here. After all, millions of immigrants who keep going back to their motherland's favorites can't be wrong. Learn from their good taste, and turn yourself into a snacking citizen of the world.