This post is part of Outward, Slate's home for coverage of LGBTQ life, thought, and culture. Read more here.
On Monday, the gay-oriented dating app Grindr pissed off a bunch of its users—and not for the usual reasons of randomly deleting messages or turning live grown men with plans! into flakey ghosts.
A Buzzfeed News report revealed that the service—which had only last week weathered news of a security vulnerability around location data—was sharing user HIV statuses and other profile details, alongside potentially identifying information like email addresses and phone IDs, with two outside companies hired to help test the app's technical performance. Additionally, the BuzzFeed piece, drawing on a study from the Norwegian nonprofit SINTEF, found that Grindr was providing different user data—like gay "tribe" (e.g. twink, otter) and relationship status—to third-party advertisers.
While Grindr and the two optimization contractors—Apptimize and Localytics—insisted that the HIV-related data (culled from the optional "HIV status" and "last tested date" fields) were encrypted, confidential, and secure, and that such arrangements are typical in the industry, users were rightly outraged. To many, it seemed unconscionable that a company dependent on queer community investment for its success would share information widely viewed as private and, for those living with the virus, a source of (illegal) discrimination in employment, housing, medical care, and the like, not to mention general stigma and even violence.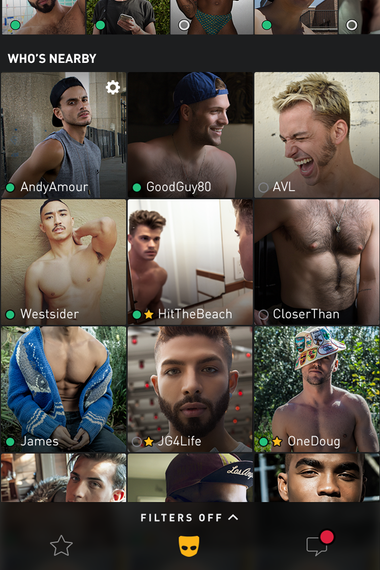 By the end of the day, the backlash succeeded: Grindr said it would stop sharing the data with the next software update, though the company's chief security officer bristled at the suggestion that there had been any wrongdoing in the first place. (One almost sympathizes with his frustration, given that one of the two partnerships was ostensibly necessary as part of rolling out a new, widely praised feature that reminds users to get tested on a regular schedule.) Scott Chen, the company's chief technical officer, said in a statement that while "HIV status information within our platform is always regarded carefully with our users' privacy in mind," Grindr needed to "operate with industry standard practices." "We assure everyone," he added, "that we are always examining our processes around privacy, security and data sharing with third parties, and always looking for additional measures that go above and beyond industry best practices to help maintain our users' right to privacy."
What such measures might entail remains to be seen (competitors like Hornet certainly have some ideas); given that the issues here seem more sloppy than sinister, it seems plausible that Grindr could course-correct. But in the meantime, queer men who use the app in their search for lust and love would do well to take stock of the relationship.
There is, of course, the not-super-helpful reaction to this story: that alas, one cannot expect privacy on the internet anymore, and that if you are using a free service, you are almost certainly the product. Indeed, participation in Grindr or any similar app is not compulsory, and sharing personal information in a public forum—as Grindr itself dryly reminded users—is extremely optional. While HIV status is categorically and consequentially different from something like "tribe," there is a certain irony in users of a service famous for self-exposure being upset when that service (potentially) exposes them.
But the "it's your own fault; just leave" line of thinking here ignores the central role Grindr and its sisters, now almost a decade into their collective existence, play in gay life. I always feel a bit weird describing Grindr or Scruff as dating apps, because they clearly function as much more than match-makers. To my mind, they are more like virtual gay bars or lounges, which facilitate romance and sex, but also offer idle talk, the passive stimulation of the crowd, and at the very least a means of killing time. At core, these apps provide what bars and similar physical spaces always have, which is a queer public house—only with Grindr, it's a sort of omnipresent parallel dimension you can slip into at any time via your phone. Press a little skull or paw icon, and (almost) all the straights disappear; suddenly you're immersed in the comfort of your own kind. Sometimes, actually meeting up feels like a bonus feature to this core functionality. I don't think so many of us would spend so much time in there otherwise.
Queer people have always needed spaces like this where we can relax and be ourselves; making such havens digital is only smart. But there's a danger in mistaking a Chinese conglomerate-owned corporate enterprise like Grindr for your friendly neighborhood LGBTQ center or pop-and-pop queer pub. The "let your hair down" freedom and sense of community accountability we naturally attribute to queer retreats does not necessarily mix well with "industry norms" and the demands of the marketplace. I understand as well as anyone how easy it can be to feel "at home" in a Hornet or a Scruff, but it's worth remembering that users will pay for the hospitality in one way or another.
So what's to be done? Delete or migrate from Grindr if that makes you feel better. Aesthetically and functionally, it was never a very good app to begin with. Despite occasional efforts at queer community engagement like health messaging and their lively publishing platform Into, Grindr-proper has never felt like a particularly community focused, politically progressive, or, like, happy place to be. (Scruff, though still very much a company, fares far better on all metrics, including security, for my money.) We should also resist the creeping governmental crackdown in more organic queer spaces like Craigslist personals. But screens aside, try to reinvest in queer homes as they manifest IRL. Bars and community centers and civic organizations are all still out there, and gay game nights require very little overhead to start up in your own living room. My bet is that while they are not as readily or widely accessible as Grindr, such spaces will scratch the itch for queer connection that draws so many of us to the grid. And, while it may sound crazy in our age of stats and pics before "hello," they can absolutely get you laid.