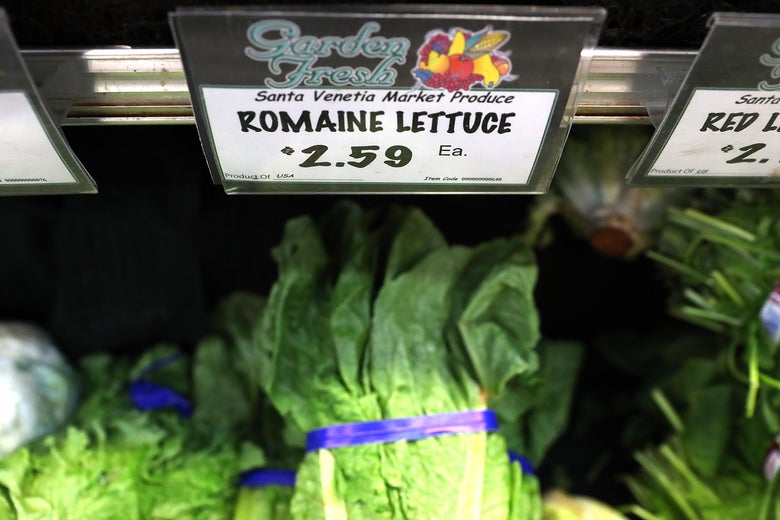 Last week, salad lovers everywhere found reason to fear their roughage when a Centers for Disease Control and Prevention report identified romaine lettuce as the source of a multistate E. coli outbreak that has sickened at least 60 people from Connecticut to California. While no deaths have yet been reported, five people have developed a type of kidney failure called hemolytic uremic syndrome. Officials haven't determined the exact path of the outbreak, which is why a recall hasn't been issued yet, but officials believe that it started with produce from the Yuma, Arizona, growing region. By last Friday, the agency had expanded its warning from just chopped romaine to all types of romaine from the area, including whole heads and hearts and salad mixes. "If you cannot determine the source of your romaine lettuce, throw it away and don't eat it," the U.S. Food and Drug Administration said in a statement.
Lettuce puns and apocalyptic headlines soon ensued. The New York Times asked, "When Is It Safe to Eat Salad Again?" NBC News tweeted out, "No one should eat romaine lettuce—or any lettuce at all." The Richmond Times-Dispatch warned, "Toss out the romaine lettuce or risk E. coli." My mother promptly texted and bullied me into throwing away a recently-purchased head of romaine lettuce despite the fact it was grown in California. With all the dire forecasting, it's been pretty hard to keep calm—and that's speaking as a very occasional consumer of lettuce. So, what has it been like to be a professional salad-maker, accustomed to slinging vast quantities of romaine, in a downtown business district over the past few days? Are there just dumpsters full of romaine lettuce somewhere? Have panicked customers come in demanding a refund for a romaine salad?
To find out, I visited a local Hale and Hearty shop, where I was quickly reassured by Tesha, a cashier, that their supply of romaine wasn't affected by the outbreak as it wasn't sourced from Arizona. "You're the first person who's asked me about it," she told me, banishing any notions I had of panicked customers switching their Caesar to a kale salad at the last minute. Tesha told me there hadn't been any change in romaine-consuming behavior that she had observed. It made sense—while customers at some establishments have necessitated management response, the patrons of this particular Hale and Hearty were notably blasé about the whole affair.
When asked what she had heard about the outbreak, one customer looked down at her pre-packaged romaine salad and said, "Oh yeah, this probably isn't a good idea then." Before I could assure her that she was probably safe, she walked away and proceeded to buy and, I assume, consume the aforementioned salad. Monae Evans, another customer, told me she had heard about it from her aunt and thought it was fake—which, fair. We all have that aunt. Evans wasn't all that concerned though, since she typically favors kale anyway.
Those who prefer still other lunch options appear to be even less bothered:
---