"Why do so many men work as nannies here in Sweden?"
Residents of Stockholm love to joke that tourists from the United States are easy to spot fresh off the airplane: As they look around the city's cobblestone streets, they seem bewildered at the sight of so many men—alone in public, no female partners in sight—pushing children in strollers. They ask why nannying is such a popular job for men. Visitors are shocked to learn that these men aren't paid babysitters but, in fact, fathers.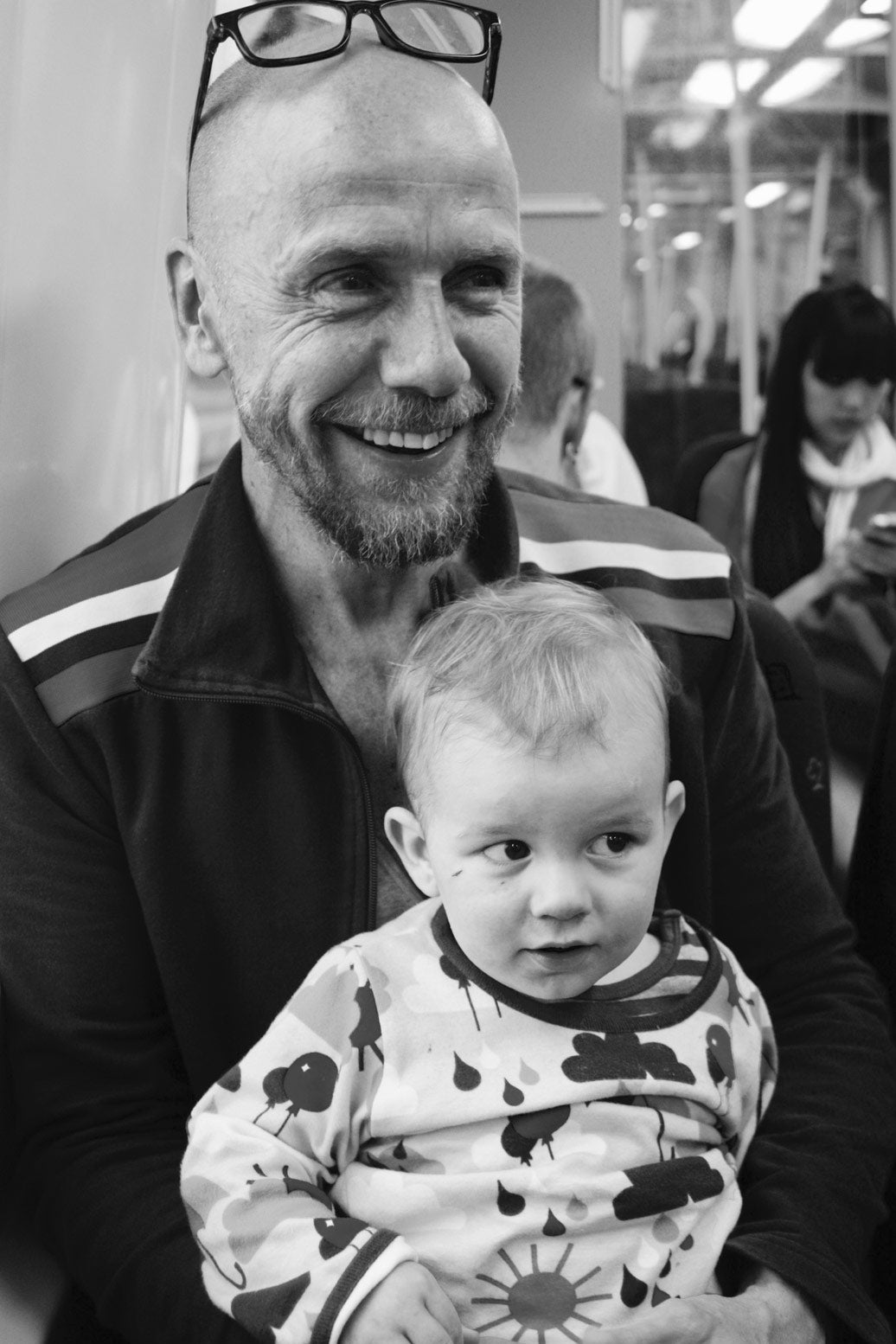 This reaction speaks volumes about family life in the U.S. Americans assume that mothers care for children, even though about 70 percent of moms also work outside the home today. U.S. visitors to Sweden assume that if men spend time alone with children, they must be getting paid for it.
Sweden is known today as one of the most gender-equal nations in the world, with a long history of intertwining family policy with gender equality and labor-market policy. Since the 1970s, Sweden has reinforced what policymakers call a dual "earner-carer model"—a vision of family life in which both parents work for pay outside the home and care for children. Sweden frames family support and the task of child rearing not as private issues but as collective responsibilities. As a result, they socialize the cost of child rearing across society with policies detailed alongside the photographs below. Through these policies, Sweden has enmeshed the goals of gender equality, the combination of work and family, and high employment levels.
I traveled to Sweden in 2013 as part of a five-year interview project that compares the daily lives of working mothers in Sweden, Germany, Italy, and the U.S.—countries with very different work-family policies and cultural attitudes about parenting.
For heterosexual couples in Sweden, an equal division of labor was crucial in enabling women to have both rewarding careers and happy home lives. One mother, Elise, explained: "People are very equal here. There's nothing to even question. It's like, of course, you're equal. Of course the father can change a nappy or he can do the dishes … nobody would find that strange in any way."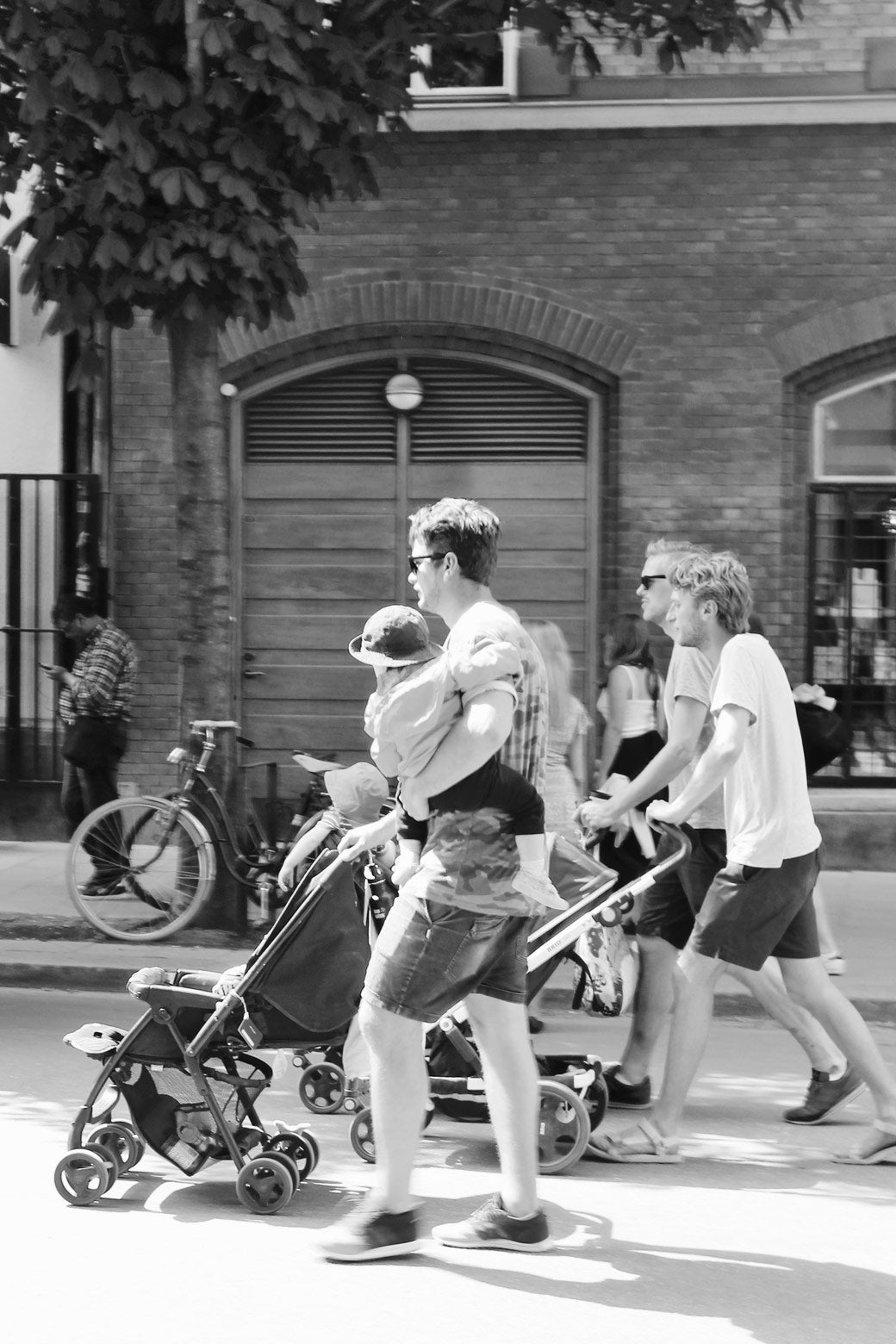 When I show photos of Swedish dads with their kids to my undergraduate students in the U.S., the room predictably tends to erupt with enthusiastic praise and expressions of endearment.
This reaction is quite different in cities like Stockholm, Berlin, and Reykjavík, Iceland. Rooms are silent. People admit after my talks that it seemed a bit odd that I'd taken the photos at all: Really? Pictures of men and their kids sitting on benches? Eating lunch? Riding the bus? To them, these routines were wholly ordinary, unworthy of note.
But Sweden is not yet a gender-equality nirvana: Swedish policymakers remain concerned about the persistence of the gender wage gap, women's and men's tendencies to cluster in different jobs, and women's greater use than men of reduced working hours after childbirth and longer parental leave. Immigrants, especially immigrant mothers, remain disadvantaged in the labor market. But the changes Sweden has already made make me feel optimistic about the role that work-family policies can play in furthering a gender-egalitarian society, one where masculinity and caregiving aren't mutually exclusive.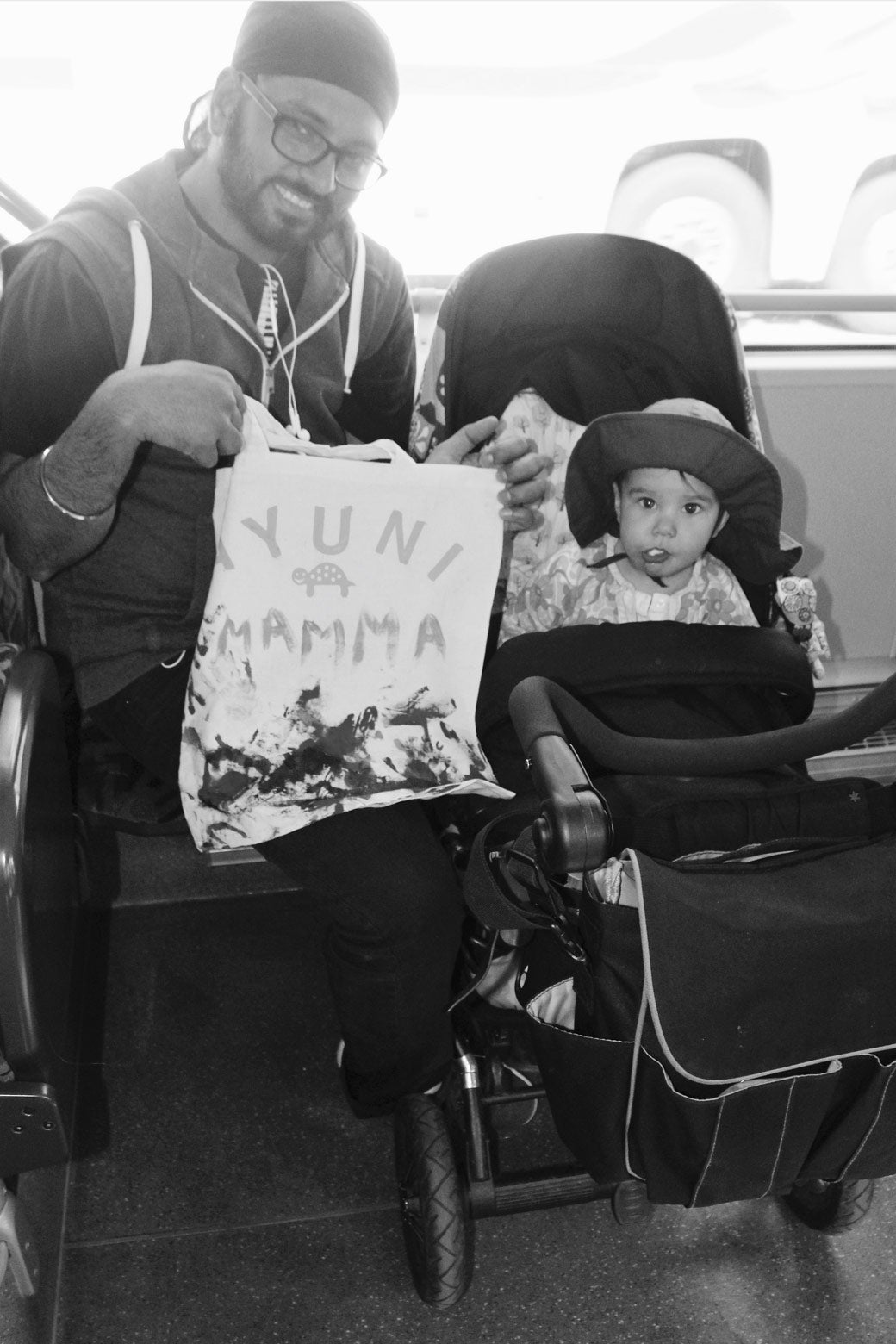 One dad, Henrik, reflected, "American men don't think we are real men if we take care of our children. It is not an obligation to care for my children—it is my right." While full gender equality may not be a reality yet, Swedes are doing something very right by fostering a culture in which no one bats an eye at the sight of men with strollers.
A host of federal policies aim to support parents' abilities to spend time with their families and achieve a sense of work-family balance. For instance, Swedish parents have a statutory right to reduce their normal working hours by up to 25 percent (with a proportionate decrease in pay) until their child reaches the age of 8. On the other hand, the United States has no national work-family policy to support caregiving.
One mother explained to me, "We have this expression … 'latte daddies' here. You know? They go to the café and they have a latte and see other daddies with their children and they hang out. If you go to a playground here, you will see lots of dads with their children. Yeah, it's quite an exotic view, I suppose, for some people."
Child care and preschool are synonymous in Sweden—it's considered a universal entitlement. Municipalities provide preschool and school-age child care services with a strong pedagogical focus for all children ages 1–12. Roughly 99 percent of Swedish child care staff are trained to work with children. Full-time preschool costs are calculated based on income. Low-income families pay nothing. Costs for wealthier families are capped at SEK 1,382 (approximately U.S.$150 a month. These fees cannot amount to more than 3 percent of net household income). Parents' contributions cover roughly 10 percent of the total cost of child care, with the rest covered by the state, which spends more subsidizing preschool services than it does on its defense budget.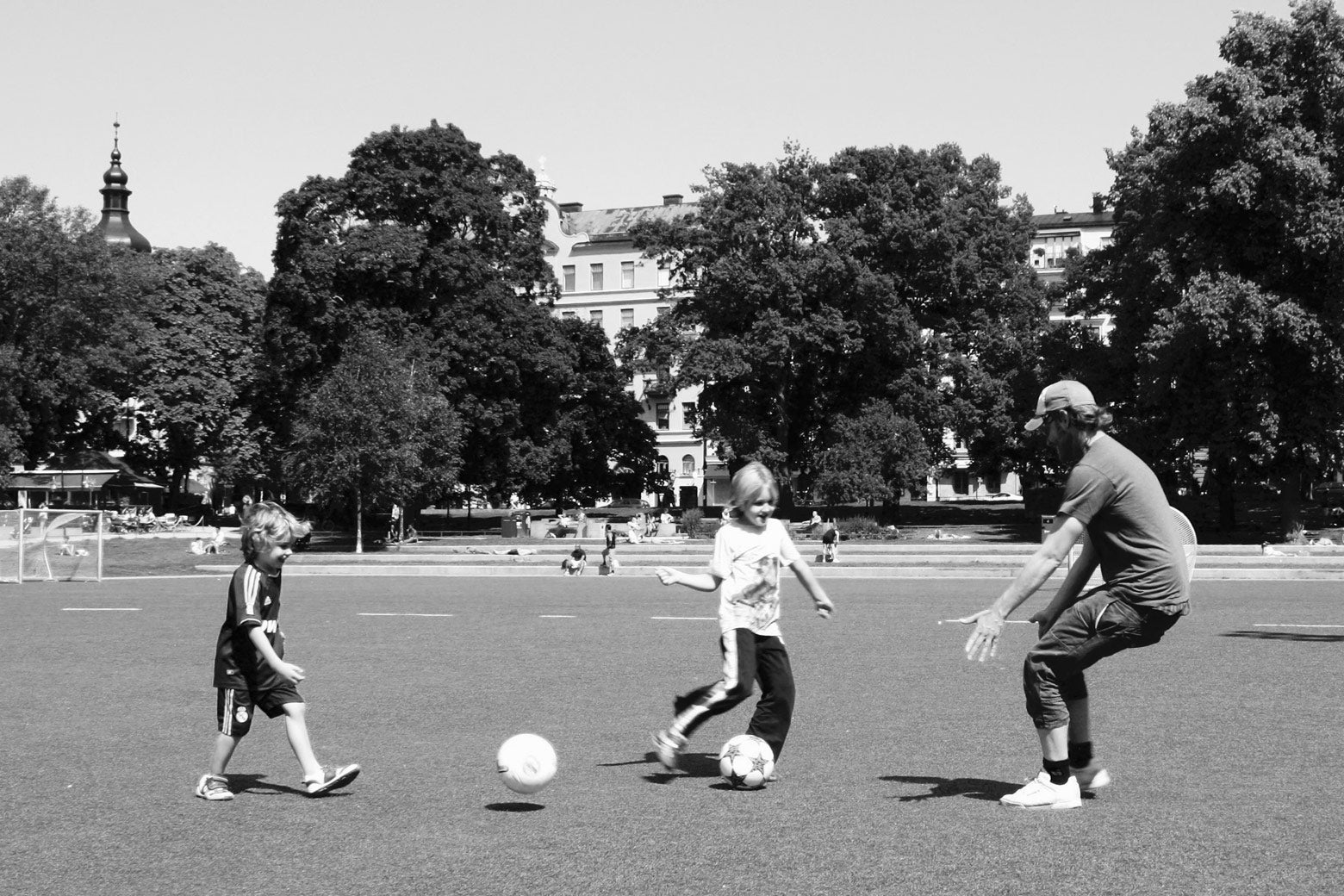 By way of contrast, the U.S. has no federal child care system. Families are expected to turn to the market to meet their child care needs. For those who do, they find vast differences in the quality and cost of care. Full-time day care for a child aged 0–4 costs an average of $9,589 per year in the United States.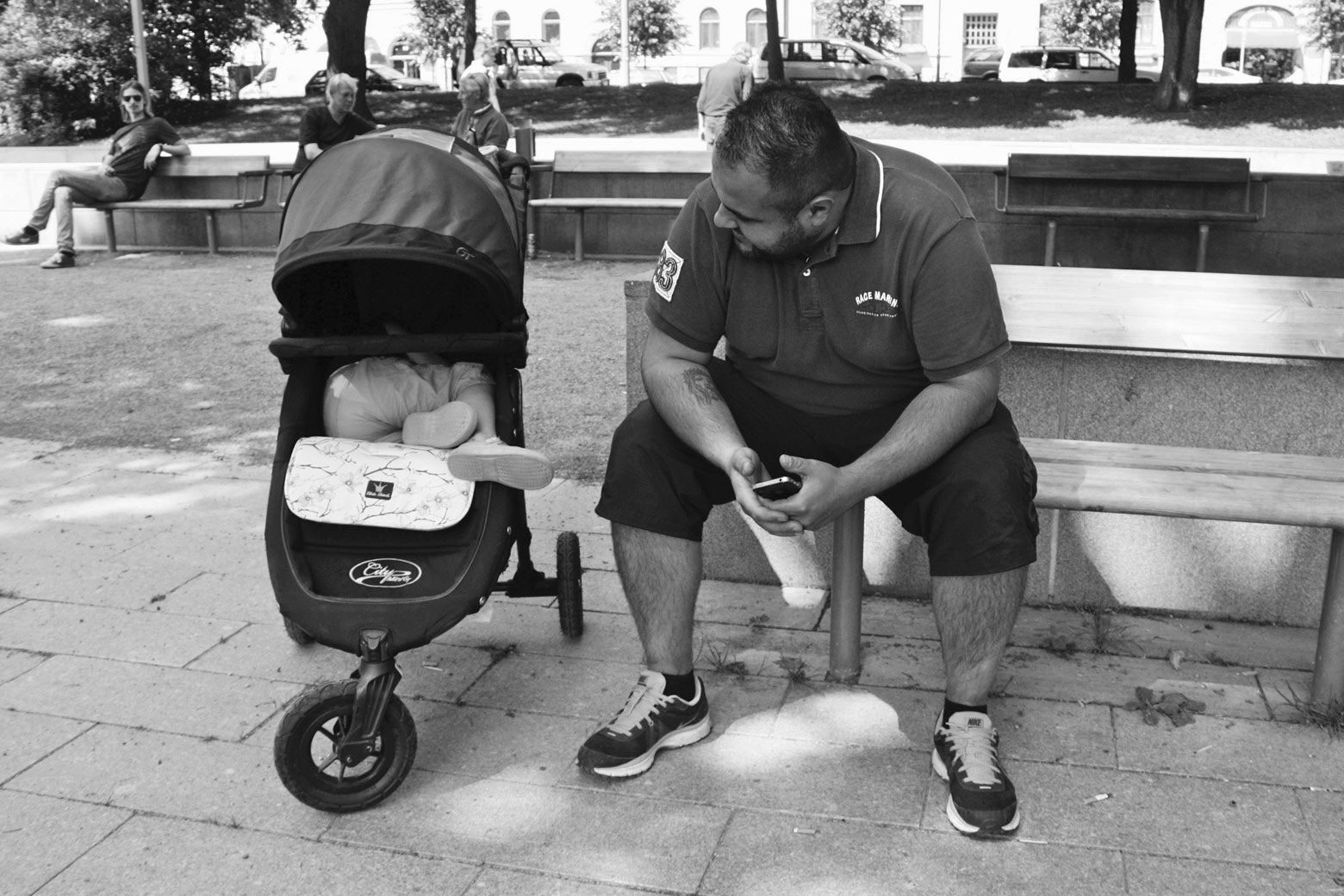 Sweden's work-family policies have shifted over time as different political parties have held office and cultural attitudes have changed. What has remained constant for the past several decades, however, is the Swedish government's stance that gender equality is a cornerstone of Swedish society. The state has sought to use work-family policy to explicitly further the goal of gender equality. The current government has declared itself a feminist government, stating: "Women and men must have the same power to shape society and their own lives. This is a human right and a matter of democracy and justice."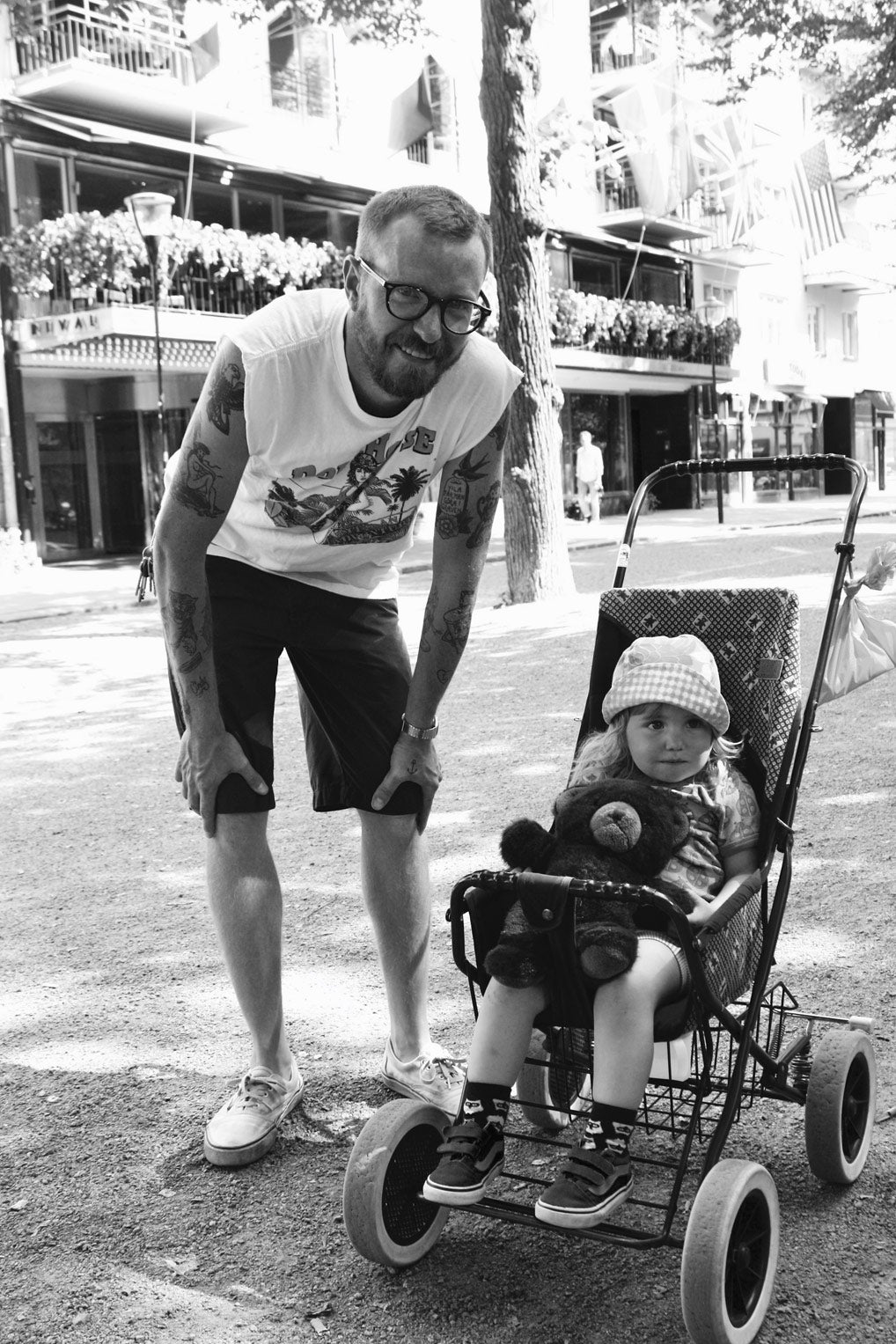 In 1974, Sweden was the first welfare democracy to introduce paid parental leave (föräldraledighet) to both parents. This law signals that fathers should take greater responsibility in caring for their young children, that children possess the right to have access to both their parents, and that fathers should facilitate mothers' return to and involvement in paid work after having a child.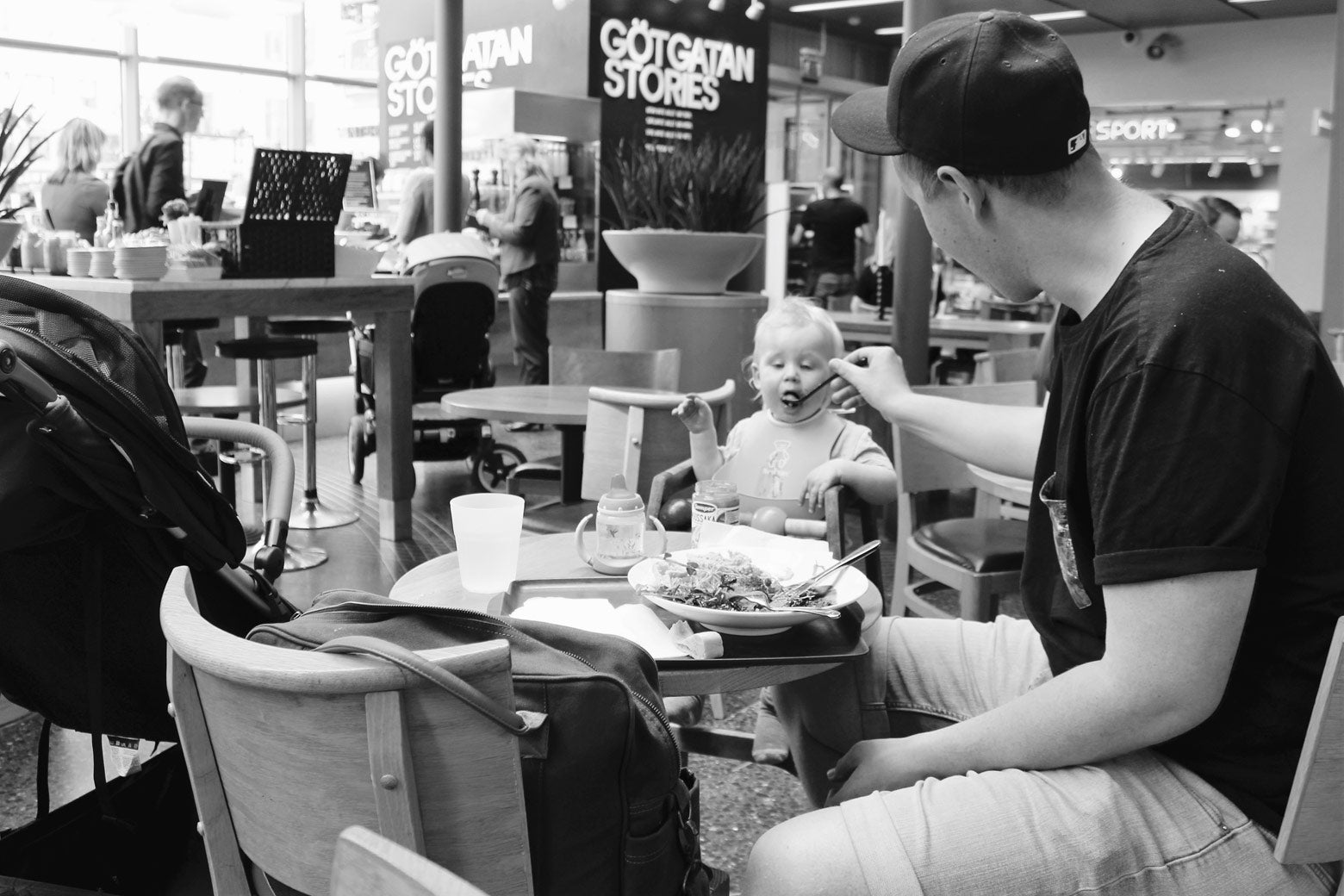 Parents are entitled to 480 days of paid parental leave when a child is born or adopted. Out of these 16 months, three months are reserved solely for each parent (referred to as a "use-it-or-lose it" model). This is meant to incentivize men to take leave, referred to informally as pappamånader, or "dad months." Some portion of this leave is used by virtually all mothers and 9 out of 10 fathers. Single parents receive all 480 days of leave. In comparison, the U.S. is the only industrialized country in the world without federally mandated paid parental leave.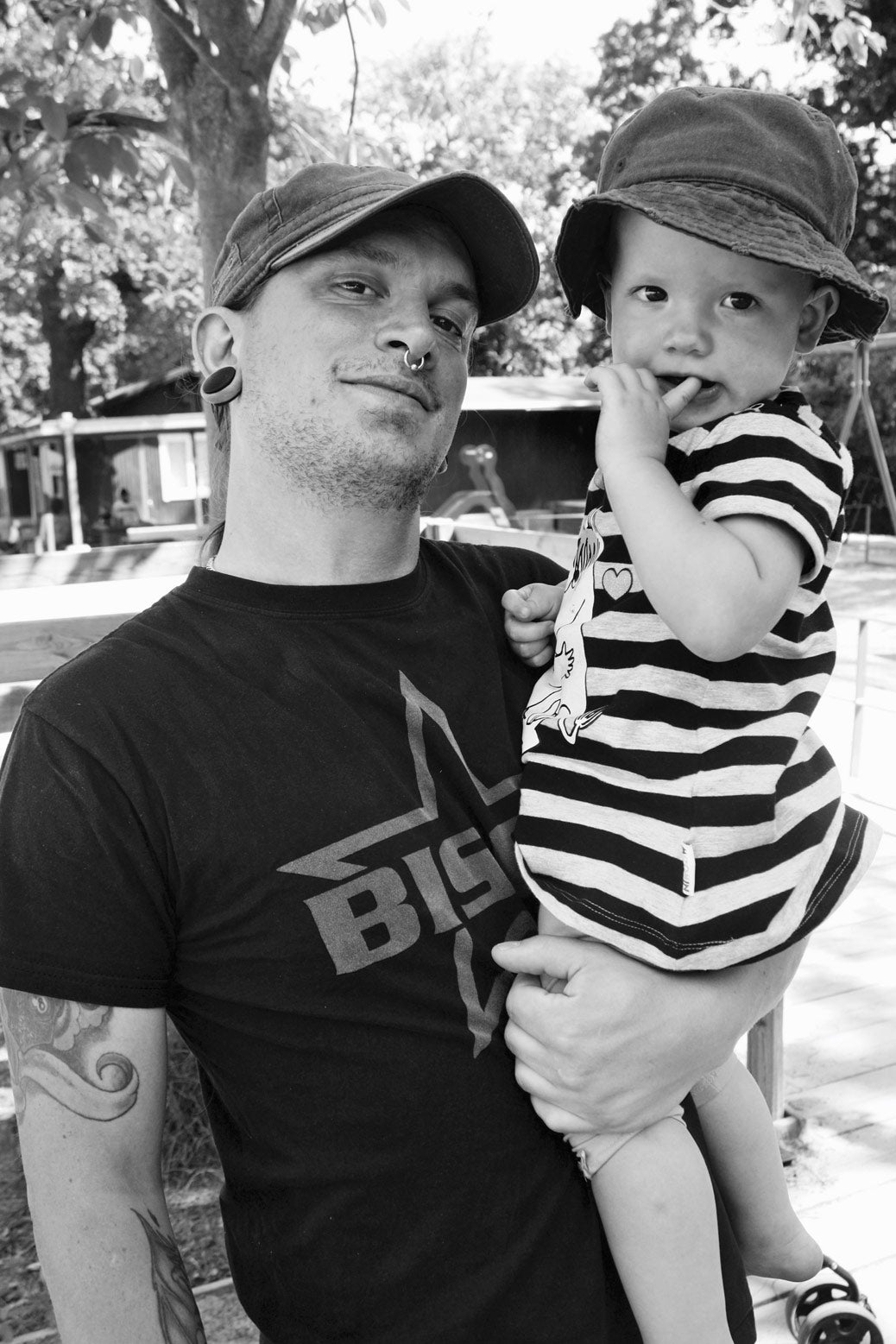 To encourage mothers and fathers to split the parental leave days more evenly, an "equal opportunity bonus" (jämställdhetsbonus) was added to Sweden's parental leave legislation from 2008–16. Regardless of whether or not a couple was married or co-habiting, parents who split the leave time more equally got up to U.S.$1,500 in "bonus" compensation.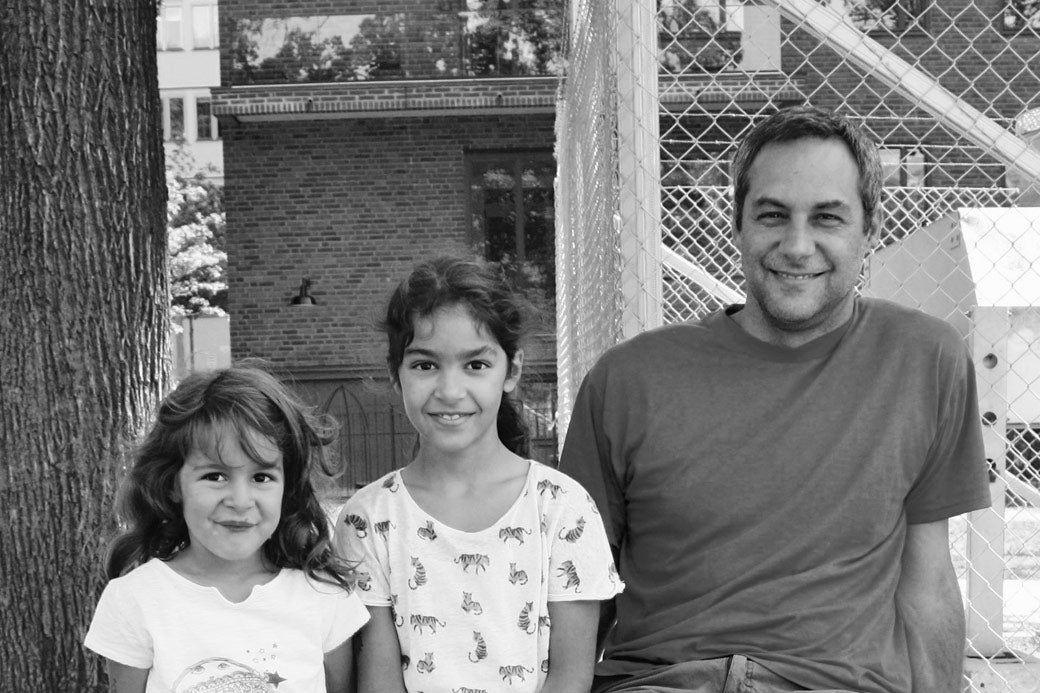 Studies have found that Sweden's parental leave policies and reforms have increased men's share of total parental leave days: In the mid-1970s, men used less than 1 percent of these days, and in 2010, they used roughly 23 percent. While they have a long way to go to reach parity with women, Swedish men have the highest use of parental leave by men anywhere in the world.
Swedes also have a right to paid time away from work regardless of whether they have a new baby at home. While the U.S. has no federal minimum vacation days for workers, employees in Sweden are entitled to 25 days' minimum paid vacation, with some employees receiving more as a result of union agreements.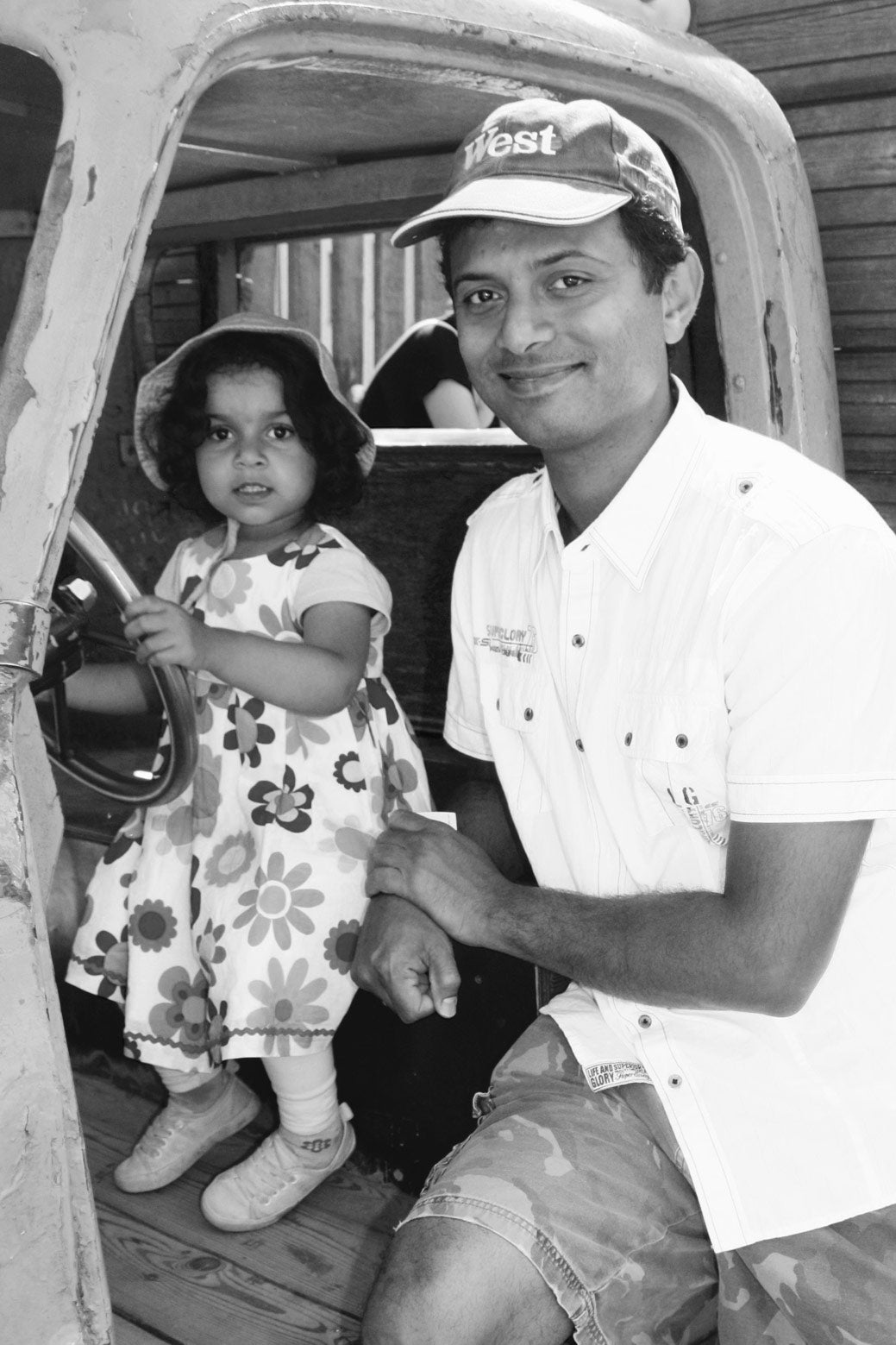 A wealth of research suggests that policies like paid parental leave that support fathers' involvement are beneficial to families like this one (pictured here at a playground). Studies demonstrate that families with fathers who take more leave, for instance, share chores and child care more equally with mothers. Men who take longer leave also report being more satisfied with parenting and are more engaged in the care of their children afterward. They also report having stronger bonds with their spouses and children.