This post is part of Nosh, a special pop-up blog about snacks. Read more here.
Ah, the summer of 2015—a simpler time. For some, it brings back memories of major events in the news: the legalization of same-sex marriage, the Iran Deal, the Pope's visit to the United States. On the pop culture side of things, Jurassic World and Inside Out were dominating the box office, and on the radio, Omi's "Cheerleader" was inescapable. But for a select few, summer 2015 is synonymous with a totally different kind of song, one that wasn't heard by nearly as many people but still managed to make quite an impression: the Nuts.com rap jingle.
Here's a little taste:
Nuts.com, now an online purveyor of snacks, was founded by Sol Braverman in 1929 as the Newark Nut Company. They've rebranded since snagging that enviable (and for the less mature among us, snicker-worthy) domain name, but the company is still in the Braverman family. And somehow, without the benefit of a massive marketing department, the relatively scrappy brand managed to create an earworm that rivals Kit-Kat's "Gimme a Break" or Subway's "Five Dollar Foot Long" in terms of sheer stick-in-your-head-ability.
Yet while the Nuts.com rap jingle is notorious among those who have heard it, when I brought it up in a meeting full of Slate staffers, no one had any idea what I was talking about. I assumed that because I'm from Union County, N.J., where Nuts.com is headquartered, the tune must have been a local phenomenon. Not so, according to CEO Jeff Braverman; but it was exclusive to Sirius XM radio, and it only ran for a short time.
Braverman explained that he wrote the jingle himself relatively quickly after buying remnant space (the leftover ad time on radio that hasn't already been sold) on a number of different Sirius XM channels, including ESPN and Z100. In 2015, Nuts.com didn't have a proper PR department, so the creative process involved him and his family, plus a couple of consultants he brought on board. "We had no idea what the hell we were doing, to be honest," Braverman said. "We started by thinking, we're going to test on radio, so what should we do? It started as more of a poem and then we got a little carried away."
Braverman was worried that, since the campaign would be broadcast all over the country, using a rap might offend "little old ladies from the South." Still, he whipped up a draft and then turned to his relatives for feedback. His wife, Rachel, even recorded a demo of an early version:
After plenty of back-and-forth, Braverman then handed the project over to his brother-in-law, Adam Cohn, who had prior experience as a DJ. (That's Cohn's voice you can hear rapping in the finished version.) Nuts.com started running the jingle on Sirius in June. The campaign lasted just a few months—by the end of September, the company had switched to live reads by radio hosts—but not before it had made a major impression, for better and for worse. "We were shocked that people even cared about this," said Braverman. "Right away, people responded, including people calling in to say, 'You're driving me crazy. Stop. Get that off the air.'"
Here's a sampling of some of the feedback: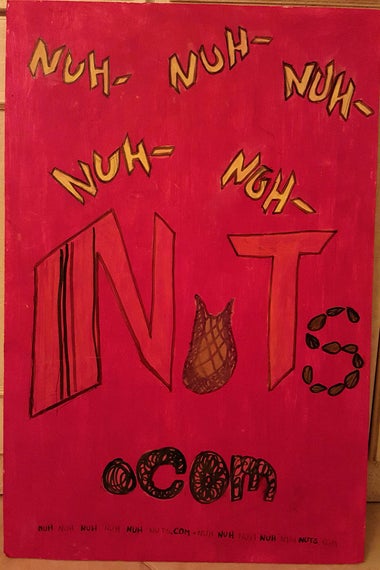 I hear your commercial on Sirius Radio. The one where the guy says nuts six times then dot com. Yeah I hope someone was fired for that. I will never buy from this site thanks to that commercial.

Derrick
Your commercials are the most annoying thing I've ever heard in my life. I will be boycotting anything you guys have the offers on is that things on the air it's freaking terrible. It makes me want to rip my radio out of my dashboard and bash my face into the empty hole where it used to reside.

JR
Your nuts.com jingle on ESPN Radio cannot suck enough! Can't turn my radio off fast enough and even then the annoying jingle remains in my head. Nut nana nuts nana nuts dot com my ass.

Fuck you nuts and your advertising too.

Thank you and have a nice day!

Tom
And so on. But the jingle also found its share of fans, including some who asked the Nuts.com team to put it online and to release it as a ringtone, which they did. The rap even inspired its own fan art, sent in by a listener who wrote: "Just wanted you to know that hearing your jingle on our long drives from Weston to Melrose, Florida has forever bonded my daughter and I. It's my birthday today and my daughter made me this…"
The rap is a little unconventional and, yes, definitely goofy. That pronunciation of "hun-guh-ry" gets me every time. But it's also oddly suited to a company whose customer service representatives urge you to "Stay nutty!" and whose packaging screams "I'm not like a regular snack company, I'm a cool snack company."
Braverman was kind enough to let me peruse some early drafts of the rap, which included verses written specifically from his point of view: "I'm the boss man Jeff, here to fill your needs/ From trail mix and cashews, to chia seeds." And while he was game to talk about its creation, he mostly seemed perplexed by my interest in a jingle from three years ago. What I can't understand is how anyone could possibly forget a tune so catchy, so pervasive, and so utterly meme-able, that even three years later, I can't get it out of my head.