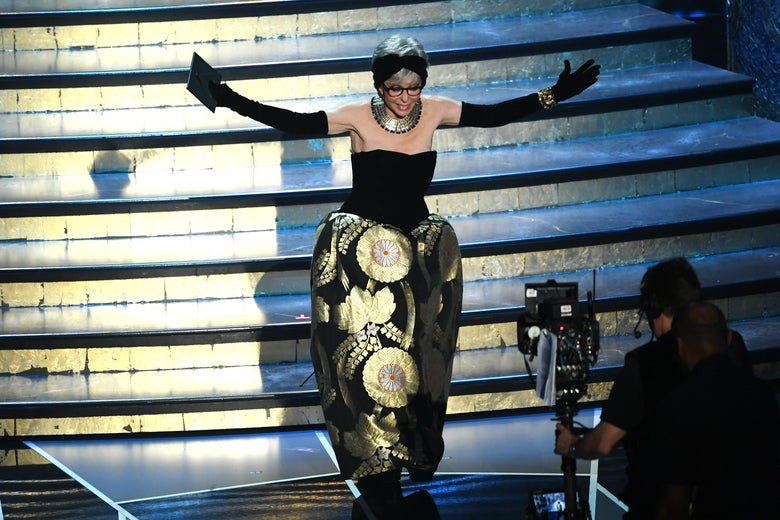 Sunday night's Oscars contained two Easter eggs for fans of fashion and celebrity media. On a night when most A-listers get custom-made designer gowns or debut a brand-new of-the-season look, two actresses wore dresses they had actually, astonishingly, worn in public before.
The graceful Rita Moreno showed up on the red carpet in a gown made in Manila more than half a century ago. She wore the same dress to the 1962 Academy Awards, where she took home the Best Supporting Actress award for her turn as Anita in West Side Story. With a graphic floral pattern in metallic shades, the gown set Moreno apart from her industry peers decked out in the solid colors and intricate beadwork of contemporary formalwear. The EGOT winner had the original bodice altered from a boat-necked sleeveless style to a strapless one for the 2018 event, then added three-quarter length gloves, a beaded collar necklace, and a headwrap.
While Moreno's outfit repeat read as a charming callback to her days as a young rising star, Tiffany Haddish's was a beat in a running joke. During her opening monologue as a Saturday Night Live host in November, Haddish claimed that her team had told her she couldn't go onstage in the white gown she was wearing because she'd already worn it to the Girls Trip premiere. "They told me… 'It's taboo to wear it twice,'" she said. "I feel like I should be able to wear what I want, when I want, however many times I want, as long as I Febreze it." Haddish said she loved the garment so much, she'd put it on for every fancy event she might attend, including but not limited to bat mitzvahs, Baptist church services, and all of her future weddings.
Keeping her promise, Haddish got onstage to present two awards at Sunday's Academy Awards in the same gown, though she walked the red carpet in a gorgeous Eritrean ensemble in tribute to her late father. She and Maya Rudolph made a few good jokes about racial diversity at the Oscars, but never mentioned the repeat dress. That only made the joke better. It was a gift to Haddish completists, the fans who follow her every appearance and love the way she leans into her new-to-Hollywood everywoman shtick.
The statements Haddish and Moreno made with their respective gowns were mirror images of one another. For Haddish, who survived childhood trauma and homelessness to become a late-blooming comedian, a $4,000 Alexander McQueen gown is a symbol of Hollywood's image-obsessed excess and a well-deserved marker of her ascent to stardom. Wearing it on three separate occasions mitigates the disconnect—for both viewers and herself—between her down-to-earth persona and her place at the top of critics' must-see lists. (See also: stepping over a velvet rope to curtsy for Meryl Streep.) For Moreno, as veteran a star as Haddish is new, her dress is a nostalgic reminder of the magic of being where Haddish is now—coming off a breakout role, with new opportunities and the benefits of mainstream recognition rolling in.
Celebrity outfit repetition feels like a gesture toward the way everyday people, those of us on the other side of the screen, navigate our wardrobes. For many of us, clothing is our main means of self-expression, and it has always played a visible role in human moments of ceremony and transition. Some clothes—wedding dresses, caps and gowns, religious garments, funereal black—are imbued with obvious symbolism, but even everyday wear comes to hold meaning for many people. The black Limited blazer that got me through my first job interview, the tie-dyed and cut-up T-shirt I wore to every party my senior year in high school, the fuzzy blue jacket my aunt bought for her honeymoon and handed down to me decades later, the vintage dress I scored on the weekend trip where my fiancée and I got engaged—these are more than just clothes to me. They're monuments to my history, family, and cherished memories, reminders of previous versions of me. A Hollywood wardrobe speaks of money, taste, and access; a regular one tells a life story.
By disobeying the conventional wisdom that would have a film star never repeat an outfit in public, Haddish and Moreno are embracing the sentiments that garments accrue beyond their aesthetic value. Haddish will always cherish that McQueen dress as the impossibly luxe outfit she wore to the premiere of the film that made her a star. Moreno has spoken eloquently about the narrow range of roles she was offered after her West Side Story win, which made her the first Latina winner of the Best Supporting Actress award. She thought she'd be in the running for more fully-realized characters than the degrading "barefoot" Latina stereotypes, but she just kept getting offered the same old stuff for years. The difference was, after the award, Moreno had the confidence and cachet to turn down those roles. Today, she plays a lead in a Netflix sitcom that offers a whole spectrum of complex, lovingly written Latinx characters. The dress Moreno wore on Sunday is a talisman from an inflection point in both her own career and American film, and a gentle nod toward the slowgoing process of demanding representation in Hollywood. On Moreno, it looked like a victory lap, a reminder of those few lucky people who live to reap the rewards of the ground they've broken.
Support our journalism
Help us continue covering the news and issues important to you—and get ad-free podcasts and bonus segments, members-only content, and other great benefits.
Join Slate Plus
Join
---