When friends and colleagues heard that I was reporting on the eccentric world of Jane Austen superfans, one question was uppermost: Do people hook up at Jane Austen camp? At first, I grew irritated at these inquiries, which seemed to assume that Austen cosplay is somehow centrally about sex. (It's not, really; it's mainly about books, and only a little about sex.) Still, as I spent more and more time in the world of the Janeites, I came to meet quite a few older couples for whom the Jane Austen summer camp doubled as a romantic getaway—a chance to rediscover the pleasures of flirting with one's spouse.
Some, in the tradition of R.W. Chapman and Katharine Metcalfe, had fallen in love with each other in part through discovering a mutual love for Austen, and there are various academic power couples across the world whose unions owe their beginning to an indiscreet moment at an Austen conference; as Kipling's narrator says in his 1924 short story "The Janeites," Austen remains a "bit of a match-maker" even in death, and at the larger conferences I occasionally met a child conceived (the parents told me) with the aid of Austen's prose as aphrodisiac.
Most of the couples, though, are "mixed" marriages, wherein one partner (often but not always a woman) is the true believer and the other partner a willing or sporting participant. On the first evening of the summer camp, I met one such couple, a vivacious pair of sixtysomethings, the woman slim and glamorous in her bonnet and evening gown and the man stout and kindly in an officer's jacket, rarely taking his eyes off his wife, whom he regarded at all times with a smile of mingled deference and infatuation. While we sat together over a late dessert, they explained their routine. The husband had performed theater in his college days, the wife said, distinguishing himself in yellow stockings as Malvolio in Shakespeare's Twelfth Night. "He had never read a word of Jane," she told me, "but the first time I asked him to join me at a JASNA ball, he didn't blink—he went to have his costume fitting the very next day!"
The husband nodded at her and addressed me without looking at me. "It is a bit like playing a role," he conceded, sounding almost bashful. "And of course we have our games—"
"He means courtship," she translated. The man grinned as if at his own foolishness and put down his cake fork.
"Sometimes we will separate before the ball, and observe one another from across the room—" he began.
His wife, unable to hold back, cut in: "—and sometimes we dance with other people!" The statement had a quality of risqué confession, and she raised her eyebrows as though we were discussing a major scandal. The husband giggled.
"She lends me out," he explained. "She won't tell you this, but I think it's because there are often so few men around, and she likes to see the women dancing."
"Liar!" she declared in triumph. "He's being very bad—the reason I have him dance with other people is so I can watch him." She squeezed his hand. "He's very good." Her mate shook his head.
"We've been taking lessons for some years, and I can claim only competence."
The wife persisted. "It is thrilling to watch him charm the others." They looked at each other and she coaxed him. "You can be so charming and I'm not sure you even know it."
"But we always end up together," the man continued, dodging the compliment. "After we've spun the room with other people, that is."
His wife leaned toward me and spoke in a stage whisper, widening her eyes suggestively: "We always pretend that it's the first time we're meeting."
"That actually sounds really fun," I said.
"It is. My friends tease me about it"—she paused and laughed—"they say that we are kinky."
"That's not what it's about," the man said quickly. "That's not why—"
She now held his hand in both of hers. "It's nothing improper, just a little game, a vacation almost …" She broke off and they looked at each other, and it was difficult not to think of Admiral and Mrs. Croft in Persuasion, one of those older couples whose mutual good humor and evident marital bliss make such an impression on Anne Elliot. Like the Crofts, this couple have no children, and like the Crofts, after many years of marriage they are still visibly in love.
After a long, private pause—for its duration there was no one in the room except for the two of them—the husband turned to me as though awaking and said: "It can be a pleasure to meet one's wife as a stranger."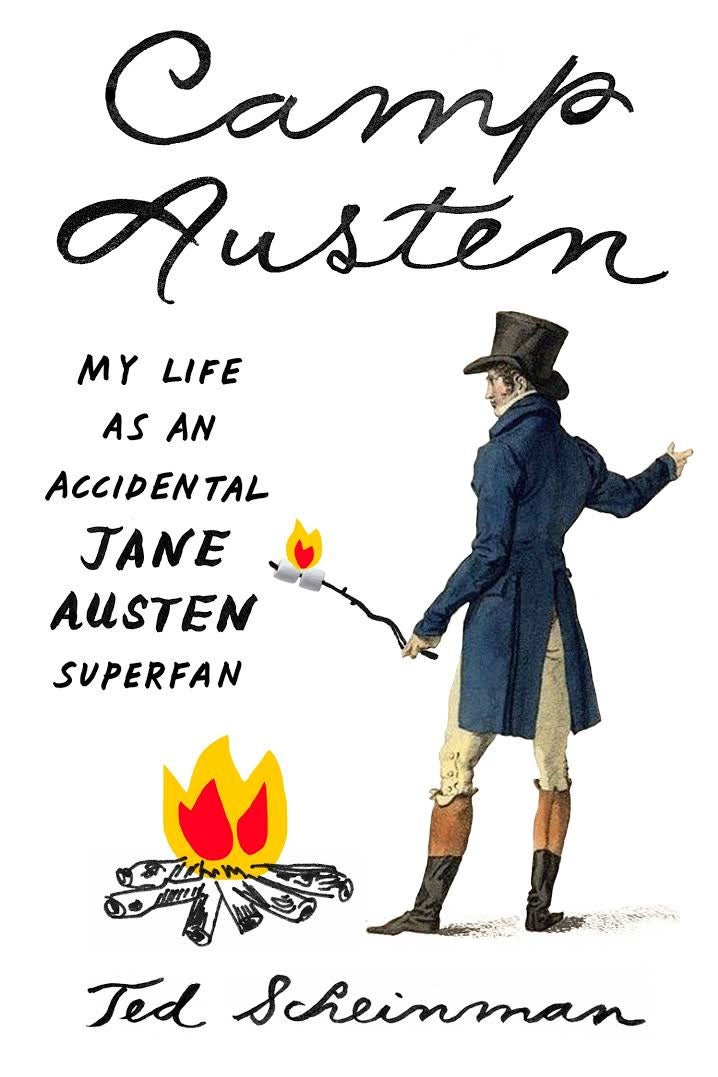 The following day, while stealing a quiet moment in the shade of a tree, I spotted the wife in close conference with two other women, one on each of her arms as they traipsed across the quadrangle en route to a plenary discussion on "Mothers and Daughters in the Novels of Austen." The husband followed them at a distance of a few paces, laden with various objets: Under his right arm, he carried a clutch of hardbound books, while his wife's reticule—a tiny period handbag—dangled from his wrist. On his left arm was a tote bag with an image of Colin Firth scowling in a frilly collar, and he busied his left hand snap­ping photos of the three ladies in procession. Occasionally he would stop to request that they turn around to effect a tableau. The ladies smiled and pretended to primp their hair, like Betty Boops of the Regency. Before the quartet exited my field of vision, I saw the husband bounding in pursuit of the three women, yelping a bit and waving the reticule in the air. When we bumped into each other the next day, he told me he was worried his wife had forgotten her heart pills.
"My wife's friends said I had made a spectacle of myself," he said, smiling at the figure he had cut. "Still, it would hardly have been good manners not to inquire."
Excerpted from Camp Austen: My Life as an Accidental Jane Austen Superfan by Ted Scheinman, out now from FSG Originals.