In Suburban Slide, the Better Life Lab explores the changing face of poverty in the United States and how the symbol of American prosperity became the new place of poverty. In a six-part series, we explore what this means for Americans' work-life conflicts and American identity in general.
Eman Khamis and her family came to the U.S. from Egypt in 2015 and were sponsored by their cousin in Northern Virginia. A social worker by training, she hoped those skills would translate to a better life for her family in the U.S. But after a few weeks of a fruitless job search, and with her cousin no longer able to house them, Khamis ended up in a local homeless shelter. Nothing worked. Her English skills and degree didn't translate as easily as she'd thought, so she started working at McDonalds as her husband struggled with cancer. Eventually, her husband's health improved and with the help of multiple social services agencies—Cornerstones (a local nonprofit social services provider) and the Adam Center (a local mosque and social service organization)—she found housing and work. Though she'd prefer to work in her chosen profession, using her skills and enjoying the opportunity for advancement and economic stability, to make ends meet and survive, Khamis instead took a job pushing travelers in wheelchairs around Dulles International Airport. Considered a "tipped worker," she made $6.25 per hour when she started (tipped workers are exempt from minimum wage laws). "I'm trying to work, increase my income. It's my dignity," said Khamis.
In this series, we identified new suburban trends toward unstable incomes and unaffordable housing. In American cities, social services, as provided by government, nonprofits, and philanthropy, attempt to fill that gap by assisting those in need to fight material deprivation (food, shelter, etc.) and promote economic mobility. But since suburbs largely sprang up in a post World War II world for traditional, middle-class breadwinner-homemaker families, these supports are even more scarce when and where they're needed now. In a new geography of suburban poverty, families face a spatial mismatch between services and needs.
In many ways, what Khamis found in her experience in Reston, Virginia, was a best-case scenario, and she's still struggled with chaotic income, medical issues, and finding affordable housing. Properly funded, robust social services could have offered even more. If Khamis lived in nearby D.C., she might have had easier access to housing, additional job training, English classes, public transit, or other supports that are unavailable or in limited supply in the suburbs.
In his work on social service capacity in the D.C. metro area, where Khamis is based, University of Washington social policy professor Scott W. Allard found that poverty has rapidly expanded in the surrounding Washington, D.C., metro: an astounding 125 percent increase in suburban poverty between 1990 and 2014 (from approximately 164,000 people to 368,000), in comparison to a fractional 13.6 percent increase in the District of Columbia (from 96,000 people to 109,000). And the geography of social service capacity shows great variation within a metro area. According to Allard, the city of Washington both spends more and has more available per poor person than its surrounding suburbs: In fact, even though the number of those living in poverty is far smaller, "The District of Columbia nonprofits reported more funding than the rest of the metro region combined ($765 million versus $667 million)."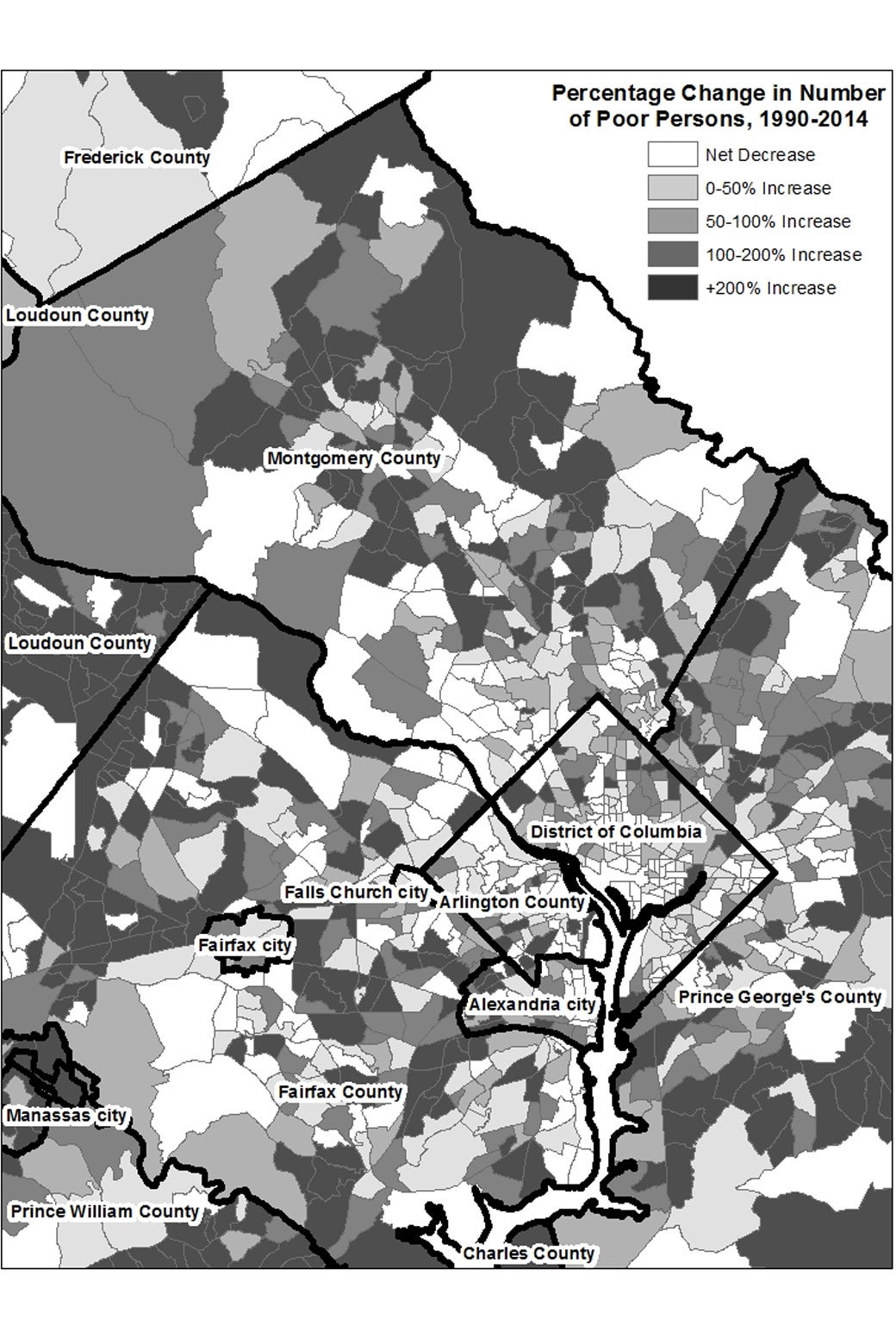 The fact that poverty has grown, while spending on services hasn't, means the availability of social supports even in a wealthy part of the U.S. are limited and not everyone is as lucky as Khamis to receive help during times of insecurity and to facilitate an exit from poverty or economic insecurity. That need is only likely to increase in anticipation of continued wage stagnation, an aging population that will cease working and will need to live off of, in many cases, insufficient savings, and future economic crises.
Additionally, when social services do exist in the suburbs, due to budget cuts and overstretched resources, they often lack the capacity to address material hardship of families like Khamis', or help her improve her English and certify her social work degree in the U.S. In many ways, Khamis' experience was a best-case scenario: She did eventually get housed, find a job, and begin English classes. Options that probably would not have existed in a poorer suburb.
Although families are not supposed to spend over thirty days at the area homeless shelter, the Khamis family ended up staying there three months. Fair market rent in the fast-growing suburban Virginia, averages $1,731 for a two-bedroom apartment, so making $6.25 per hour made it difficult for Khamis to find a place to live. In a place with denser access to social services, a non-profit might have helped them find housing earlier, avoiding the shelter stay. Even so, as a new immigrant Khamis cannot participate in most federal government assistance programs such as Medicaid, subsidized housing, or Temporary Assistance for Needy Families (TANF) for her first five years in the United States.
Sociologist Alexandra Murphy has found there are fewer anti-poverty organizations in poor suburbs than poor central cities. And due to America's long history of racial segregation both within cities and suburbs, both urban and suburban Black communities have access to fewer resources than their white counterparts. Murphy found that the racial composition and proportion of foreign-born residents in suburban communities impacts the likelihood that suburbanites lack social supports. According to Murphy, in addition to race, the history of these places really matters. There are generally fewer social services in suburbs, but there's also wide variation between suburbs depending on the time when poverty grew there. For wealthy suburbs like Northern Virginia, widespread poverty and strained social services are a relatively young phenomenon.
So, what is being done to fill in the gaps? At best, organizations working to reduce poverty have to be increasingly creative, and flexible, in their service delivery and program outreach. And one organization in Northern Virginia provides a sterling example of how social service providers might work extinguishing the gap between services on the one hand, and needs on the other.
"As people come to us requesting services, we serve them as quickly as possible to avoid waitlists and turning people away because we don't want to be another barrier, another door slamming in the face of individuals already facing many obstacles," says Joan Wise, director of self-sufficiency services at Cornerstones in the Dulles corridor in Northern Virginia. Though the median income in Fairfax County is $107,000, Cornerstones sits at the corner of four Title I schools—designated by the percentage of students from families poor enough to qualify for free and reduced-price lunch—in an otherwise affluent suburb of Washington, D.C. In a corner of Fairfax County where refugees from the Middle East and Central America have recently settled, many of Cornerstones clients are immigrants.
"Since no one walks in needing one thing, our care managers work intentionally with clients to develop a service plan and walk them through services" comments Wise. Khamis and her husband, for example, take alternating shifts at Dulles airport to organize the care of their children who are 4 and 5 years old. There is little money left over for paid child care even though she obtained a security certificate, so she now makes $13.77 per hour directing travelers to their gates and watching for unattended baggage and emergencies.
The work is better than Khamis' first job in McDonalds, where she sustained a severe back injury from a grease spill and fall. Cornerstones has had to get creative, co-referring clients like Khamis between eight organizational partners in a collective impact model that offers health and dental care, housing supports, intimate partner violence counseling, immigration services, ESL classes, and employment services, to name a few. Other suburbs can take a leaf out of Cornerstones' book by providing more resources, physically located where impoverished families live, and that care managers make the process of coordinating benefits and services accessible and intentional based on client needs.
Some organizations, choose to bypass the "middle man" and bring the services directly to the people: These organizations understand the transportation challenges for the suburban poor, i.e. taking three busses and a train to get across town to a tax filing center and with kids in tow. However, funding for services dipped during the recession. According to the 2015 survey from Nonprofit Finance Fund, nonprofits report only meeting a fraction of the growing need.
"What we're seeing in new clients are more complex needs," comments Wise. And at the same time, the situation on the ground is changing. "Employers aren't hiring full time, and their employees don't get benefits; people get pushed out from other areas where affordable housing is dwindling." In the absence of social services, people there are left to rely on family, friends, and neighbors, but that care may or may not exist for a new immigrant like Khamis. It is still an imperfect system despite the fact that the shelter eventually connected her with affordable housing units Cornerstones owns and manages, and their local food pantry.
This scrambling for survival is not what Khamis envisioned when she moved to the U.S.: "American dream is not a good dream. When I came, I had a goal and a plan. Here I am running, running, running—I don't have a life. It's not easy. You need to have a plan or goal, or you'll go crazy, lose your mind and family."