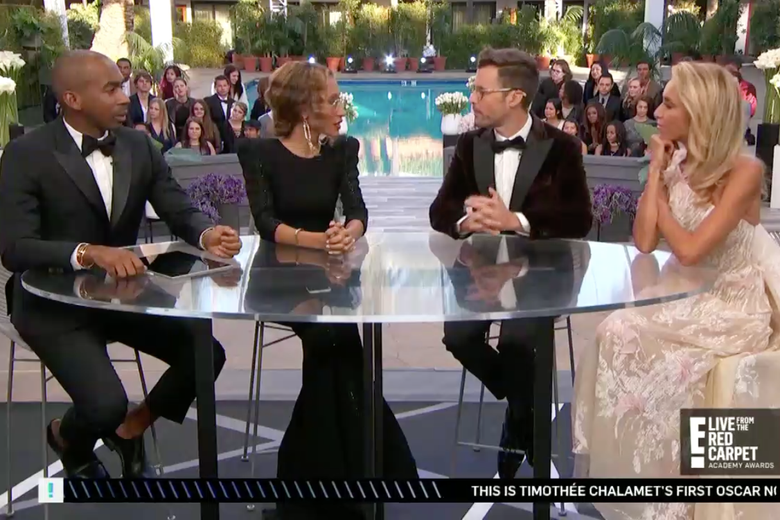 When celebrities started sauntering down the Oscars red carpet on Sunday, it seemed like the big Golden Globes blackout of two months ago might as well have never happened. The color-coordinating was a shallow gimmick that kept the focus of the evening on women's bodies, but at least it gave actresses an excuse to buzzkill bubbly red-carpet interviews with invocations of sexual assault.
This time around, everyone was back in their colorful gowns, twirling for the cameras and name-dropping designers with TV anchors, most without even their Time's Up pins to remind viewers of the industry upheaval of the past six months. At the Golden Globes, everyone in black sounded hopeful that the protest was just the beginning of a movement that would remake Hollywood in a more just mold. But as the Oscars red carpet spectacle proceeded apace, it appeared that whatever momentum had built up at the last major awards ceremony had quickly sputtered out.
Unless, that is, you were watching E!. The network's red carpet coverage is perhaps the best-known and most-watched of any; it usually pairs on-carpet interviews with fashion analysis from a seated panel. This year went a bit differently. E! insisted on keeping host Ryan Seacrest in his usual red carpet posting, in spite of the sexual assault allegations his former stylist recently brought against him. In the week leading up to the show, there was much talk about how stars should approach Seacrest—if they should boycott his interviews or talk to him as usual—since a third-party investigation commissioned by E!'s parent company found "insufficient evidence" to support Hardy's claims. Jennifer Lawrence said she didn't know whether she'd give Seacrest an interview, but noted that "He has not been to trial for anything. I am not a judge. I am not a jury." #MeToo founder Tarana Burke said E! shouldn't have sent Seacrest out at all, thereby forcing celebrities to cast a verdict on Seacrest's character by accepting or avoiding his microphone.
Seacrest usually gets an elevated platform above the red-carpet fracas, and stars line up to climb the stairs and chat with him. On Sunday, he was far less conspicuous, sent to mingle on the carpet itself with all the other members of the press. E! must have assumed that a prominent perch, if boycotted and empty, would call unwelcome attention to the Seacrest debacle.
If that was the point, the producers dodged one wave of humiliation but walked directly into another. From the viewer's perspective, it seemed that hardly anyone wanted to talk to Seacrest. He bagged a few interviews at the beginning (Whoopi Goldberg, Allison Janney, Donald Sutherland, three members of the Get Out cast), but as the countdown to the Oscars ticked down, the panel of fashion analysts threw it over to Seacrest less and less. "Live from the red carpet," the usual title and tagline of the broadcast, ended up as kind of a misnomer—instead of watching Seacrest talk to the stars as they made their way toward the theater, viewers watched an increasingly tongue-tied panel pick apart red-carpet photos taken just minutes before and just a few dozen yards away. Entire stretches of broadcast passed by between commercial breaks with not a single interview from Seacrest. It felt uncomfortable and dull to watch, like scrolling through Instagram photos posted from a party going on next door.
Seacrest has denied the allegations against him; his accuser, Suzie Hardy, is backed by a former co-worker who says he witnessed multiple instances of Seacrest's alleged abuse, and by several other associates and friends who have said Hardy told them about Seacrest's behavior when it happened. Before Sunday, E! considered filming Seacrest's interviews on a 30-second delay, so producers could cut away if any of his interviewees said something that could embarrass him. At the Golden Globes, Debra Messing and Eva Longoria told E! on camera that they were disappointed to hear that the network paid a former female anchor half as much as her male counterpart. A longtime producer of the red-carpet broadcast said E! fired her for letting Longoria's comments go on air. (E! denied that claim and says the network routinely films red-carpet interviews on a delay to ensure smooth transitions.) This time, the closest E! came to airing a criticism of itself was Seacrest's interview with Taraji P. Henson. The actress, ostensibly referring to Mary J. Blige's dual nominations for Best Original Song and Best Supporting Actress, told Seacrest, "You know, the universe has a way of taking care of the good people." She tilted her head and smirked. "You know what I mean?"
E!'s decision to move forward with Seacrest as the red-carpet host was a poor one, and not only because it made the pre-show a drag. Seacrest's presence cast a fog over the whole program, undercutting every segment with a reminder of the ways capitalism uses sex and sexism to grease its machinery. Commercials for the Khloe Kardashian vehicle "Revenge Body," an E! show in which people lose weight to get back at their haters, aired between excruciating minutes of Giuliana Rancic struggling to find ways to describe actresses as "present" and "fun" instead of merely beautiful. Elaine Welteroth, the former Teen Vogue editor responsible for the woke-ification of the magazine, sat on the fashion panel to pile compliments on Laura Dern's "long and lean" body and Viola Davis' arms, which Welteroth was pleasantly surprised to see so courageously bared. Davis is living proof that "it's a special night for women over 40 looking incredibly confident and beautiful," Welteroth said. The sentence sounded like it was missing a "despite…"
The #MeToo cloud hanging over the anchors' heads did create a moment or two of unintentional comedy. Poor Josh Horowitz was tasked by E! with explaining why Jane Fonda would be presenting the Best Actress award instead of Casey Affleck, who would have customarily held the honor as 2017's Best Actor winner. Affleck took himself out of this year's Oscars, reportedly because he recently settled two sexual harassment lawsuits. As E!'s camera panned up and down Fonda's body on Sunday, Horowitz tried his best to clarify the situation without making anyone remember the whole #MeToo thing. "Traditionally, Casey Affleck the winner of the Best Actor award from the previous year, [would] be presenting this award that they are doing tonight," Horowitz said. "Obviously, there are some issues there. Casey took himself out of the—an awkward situation, so Jane and Jennifer are going to be doing the duties."
Even though Seacrest was largely out of sight, no thanks to E!, the red-carpet broadcast served as a dispiriting commentary on the state of a #MeToo movement as adopted by the commercial entity of mainstream Hollywood. Any attempt at a topical reference to Time's Up or gender equity was doused in undue optimism or studied banality. "I think they're making a statement by showing up together," E! anchor Kristin Dos Santos said of Mira Sorvino and Ashley Judd, two alleged victims of Harvey Weinstein's abuse. She continued: "Such an incredible year in film for women, I have to say. Women in film making great strides." To her credit, Dos Santos then cited a few facts about the dearth of female directors in the industry. But she located the blame in the hearts of women rather than in the many structural barriers to their success. "I hope a lot of young girls are watching tonight, and they see that it's a valid career option to be a director," she said. "Go for it, follow your dreams."
Girls watching movies today will undoubtedly see themselves in Greta Gerwig, Ava DuVernay, and Dee Rees, and it's hard to overstate the importance of representation in the ability of a child to imagine her future. But little girls are also watching the unveiling of a generations-long con that took young, hopeful upstarts in Hollywood and pressed them into bargaining chips to be traded on the value of their sexual desirability. They are watching to see whether the industry truly remakes itself as a place where women can thrive on their own terms, or whether industry leaders will merely orders a few cosmetic repairs while the foundation continues to rot.
"We're not there yet, but we've got to keep pushing and change will come," Dos Santos said on Sunday, concluding her spiel on the fight against sexism in Hollywood. "Thank you for saying that, that was so beautifully said, thank you so much," Rancic replied. "And right now, we're going to head back out to, uh, Ryan, on the red carpet."
---