After they finished training for the day and tucked their skis away, Jon Lillis posted a photo of himself and his brother Chris on Instagram. "The best-looking brother contest starts now," the caption read. Behind them, broken clouds crept over the snowy mountains of Saas-Fee, Switzerland.
In Rochester, New York, their parents Bernie and Jamie Lillis were just waking up. Bernie commented on the now-deleted post: "Everyone knows Mikey's the best looking brother." Jon replied: "You're probably right." Bernie called Jon and asked how training was going. World Cup competitions were a few weeks away, the start of a 15-week odyssey that would end at their first Olympic Games. Jon, 23, and Chris, 19, both World Cup champions in aerial skiing, had been working toward Pyeongchang 2018 for more than a decade.
On that late October day, the Lillis brothers were winding down. Training had been mellow—simple double backflips with a few twists. "How are things at home?" Jon asked his dad. "Fine," Bernie said. Their youngest brother, Mikey, 17, a virtuosic aerial skier and Olympic hopeful in his own right, was home on a weekend break from training in Lake Placid, New York. Bernie told Jon how, the night before, Mikey had talked excitedly about his time at the Olympic Training Center, how he had his entire winter of competitions and fantasy football planned out. That night, Mikey died in his sleep.
Four months later, Jon is getting ready to compete in men's aerials this weekend. Chris and their parents are in Pyeongchang to cheer him on. The Lillis family knows they'll be asked about Mikey constantly. The Olympics, after all, are meticulously engineered to generate maximum pathos, to make the emotional stakes of each athlete's narrative seem as high as possible. When you're still in the midst of grieving a massive loss, it can be painful and exhausting to have your personal tragedy become an uplifting story—a television-ready narrative arc full of tears and hugs and lessons. "People want to say, 'What were your ups and your downs?' " Jamie said recently, closing her eyes. "Unfortunately, we had our hearts ripped open." Now, she says, they have to figure out how "to channel this into something that can work for Jon and Chris. To motivate them. Because this is the story now."
That morning in October, Jamie took a shower, got dressed, walked into the kitchen, and saw it was 10:15 a.m. Mikey had to go back to Lake Placid the next day. He had things to do. She stood at the bottom of the stairs and shouted for Mikey to get up, but he didn't respond. She walked up the stairs, their two dogs, a yellow lab and a heeler mix, clamoring at her heels. She stopped outside the cracked door on the landing. The dogs didn't barge past Mikey's door like they normally would. Instead, they put their noses to it. Mikey laid in his bed in the way he always slept, with one loose fist tucked against his jawline, propping up his chin. Jamie says she knew her son was gone before she even opened the door.
"We're coming home," Jon said when his father called him, catching his breath. "We're coming home." By the time he said those words, he'd already dropped his phone after Bernie first told him his brother was dead, already screamed and thrown two chairs, already broken his hand by punching through a cabinet, already collapsed on the floor, and already watched Chris' face go white when he found out. He thought it must've been a car accident when he first got the news, but Bernie couldn't say how their brother died. They didn't know.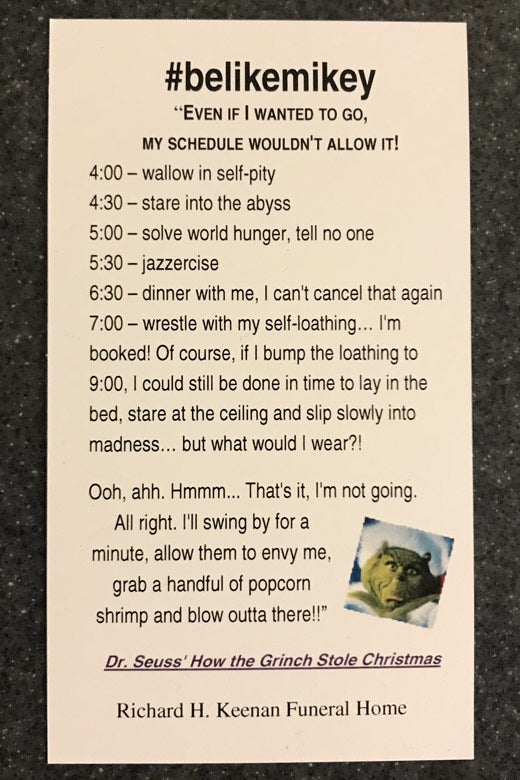 Their coaches got them up and out of the room. They walked to a bar where Chris played pool for five hours. Chris remembers how brutally physical the experience felt: choking, shortness of breath, auditory and visual hallucinations.
They drove three hours to Zurich, then flew to New York City, then Rochester. Pasta and people filled their kitchen and living room. More than 1,000 friends and relatives came to remember Mikey. Jon and Chris made the services feel as personal as they could, including pictures of Mikey with muscle cars and Yankees hats and Buffalo Bills jerseys. U2's "Beautiful Day" accompanied the slideshow. Mikey loved Christmas—he put on a Santa hat the day after Thanksgiving and played How the Grinch Stole Christmas on a loop. Jon and Chris put his favorite quote from the movie on the prayer card.
When they returned to training 10 days later, their teammates tried to treat them normally. But Chris and Jon found that everything about the sport reminded them of their brother. They'd all moved away from home in their early teens to pursue freestyle skiing, and they'd all found early success.
Even though they'd often be far apart—one in Europe, one in Canada, one in Lake Placid—they were always tracking each other's scores and FaceTiming to analyze each other's jumps. Now, Chris found he could only sleep during the day, inevitably waking up in a start after a nightmare about Mikey. He'd stay awake until 5 a.m., then make breakfast and fall asleep at 6 a.m. He'd wake up at 4 p.m., then go to the hill to practice his quadruple-twisting double backflips.
A few weeks later, the World Cup tour started. The Olympics were two months away. Chris and Jon kept returning to the thought that Mikey was an athlete too, that he wouldn't want them to throw away their chance. The brothers got matching tattoos on their chests, big ones of Mikey jumping with a sun-soaked mountain behind him. Jon doubled down on the sport itself, an event that creates 15-second jags of either ecstasy or pain. "Jon started jumping like a maniac," Bernie said. His jumps were phenomenal; he landed some of the most difficult tricks in the sport.
Chris was different. He was always trying to find a reason for everything. "This sport, it's tinkering with your conscious and subconscious mind. If I fell, why'd I fall? Why'd I eat that for breakfast? You dissect everything whether it's healthy or not. But I had to stop, and bring myself away from myself." Soon, he started jumping better. He says he eventually realized that loss could be "just as much a catalyst for helping you compete as it could be something that cripples you to the point where you don't make it." When they reached the World Cup stop in China, a 45-mile-per-hour headwind blew Chris off course. He crashed and tore his ACL. His road to the games ended.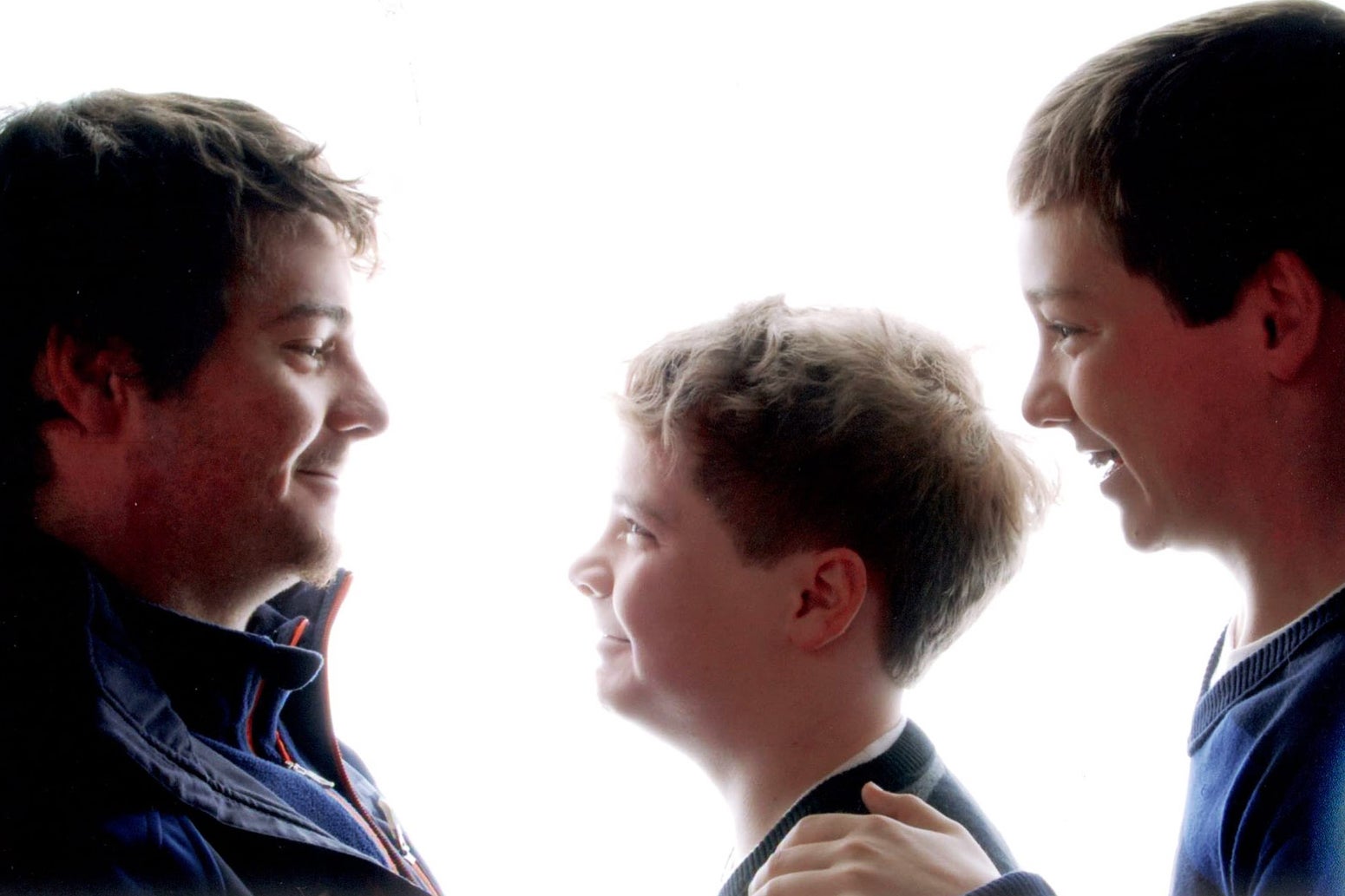 In the next month and a half of somewhat sedentary recovery, Chris found quiet. "It was easy when I was training. 'Alright I'm jumping, need to jump well, jumping for Mikey, need to jump well.' It's all about that day, a single moment. You get jacked, you push things away, and don't let yourself break down. You suppress those feelings because those are the kind of things that could get you hurt." He willed himself to look away from reason. There was no reason for what had happened. The Lillis family still doesn't know with certainty how Mikey died; they've been told it was probably a heart arrhythmia, but autopsy reports came back inconclusive.
"The three of us at the same Olympics one day," Jon said. "The path seemed so clear for all of us." Now they try not to project too far into the future, because they've learned how useless that can be.
Three months after Mikey died, two weeks before the games, Jon sat in the Olympic Training Center cafeteria in Lake Placid. "Sometimes I wish I could just call him and wake him up in time," he said. His brown shoes were untied, a black down jacket zipped up to his chin. Jon has pierced ears and tattoos of his brother's initials alongside mountains and the phrase Some things are worth waiting for. Chris has a far less hardened exterior at first glance. He uses more of the muscles in his face and has a kiddish smile. Mikey was a mixture of the two of them. He was the kid who let an "ah, shit" slip at age 4, then needled his dad when he thought his punishment could've been tougher.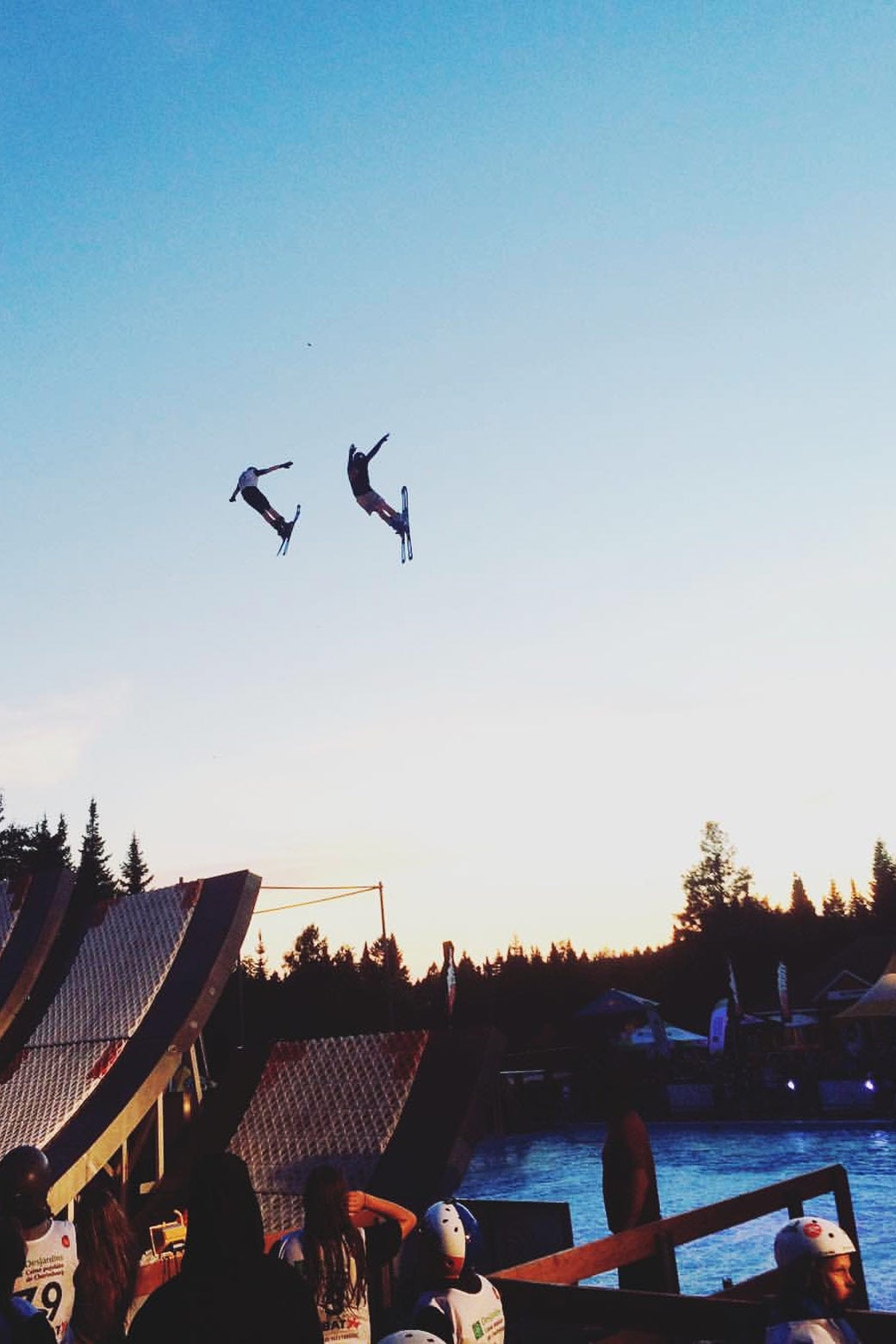 The Lillis family had convened to watch Jon compete at the last World Cup stop of the season. At the jumping complex the night before, some 40 friends and relatives stood at the base, all clad in navy blue hoodies adorned with images of Mikey.
Jon didn't perform well enough to medal, but it didn't matter. He'd already emerged as the top-ranked men's aerialist on Team USA. He'd made it through the past four months of competitions, of hearing his peers whisper, "Did you hear about the jumper whose brother died a few months ago?" People he hadn't seen in months asked him how he was coping. The best condolences might've been the silent ones—like when a friend from the Chinese team said nothing because finding the words across languages wouldn't do.
Jon still hasn't opened most of the messages he received after Mikey's death. "The good ones just make you sad," he said. The bad ones—"I know how you feel"—make him angry. He's tried to stay glued to the present. "I do everything to put and keep myself here," he said. He thinks about how grief is nonlinear; it doesn't follow a checklist. "I haven't moved on to the saying goodbye to him," he said. He looked down under the table. "These are Mikey's shoes. I wear his clothes all the time. We're the same size."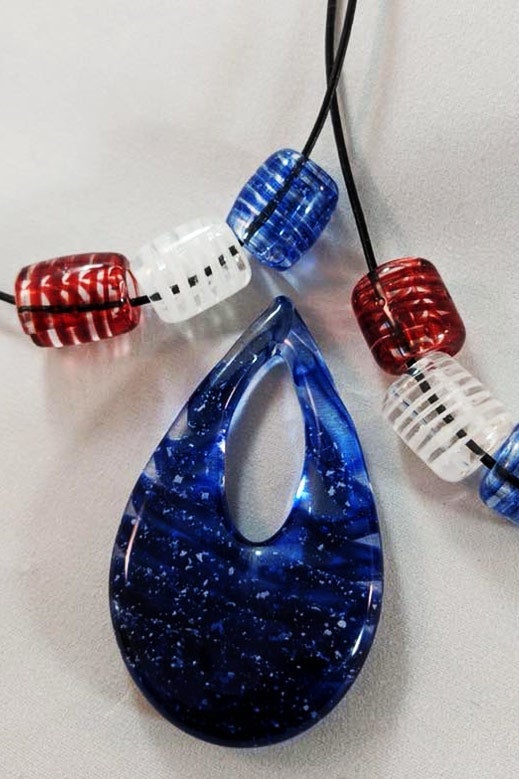 He knows he won't be able to convey his feelings in full when the questions rain down on him in South Korea. Jon knows what he'll be asked: What does it mean to you, this year? After everything. He's prepared to offer a curt, banal refrain, because he knows that when it comes to loss—especially one that will become so much more public in the next two weeks—he'll be addressing a curious but disconnected audience. I'm doing it for Mikey, we'll hear. But there's no use trying to explain, via sound bites, what it was like to care so deeply for a younger brother—and then to mourn him—while also fulfilling a dream they created together.
When Jon was officially named to the Olympic team, he told his mom he wanted to carry Mikey's ashes with him. A glass artist who'd seen a local news story reached out and offered to infuse the ashes into a glass pendant. Jon wore it around his neck during the opening ceremony.
After the games, Chris said, is when "the family gets to reboot." South Korea will be a bookend for this stage of their lives and also a beginning. But first, Jon will stand at the top of the hill for the last time this season and look down at the jump he's seen thousands of times. He'll ski down the hill, throw himself into the dark, and let himself fall back down. Hopefully, his skis will break smooth new tracks in the snow.
Read the rest of Slate's coverage of the Pyeongchang Olympics.
• Adam Rippon Skated Flawlessly but Lost to Two Guys Who Fell. Here's Why.
• Why Isn't NBC Talking About the Sexual Harassment Allegations Against Shaun White?