Having met so many 80-plus-year-olds in possession of a bottomless well of stories and life advice, we present the series "Interview With an Old Person"—which is, well, exactly what it sounds like. To nominate yourself or an elderly person in your life, email humaninterest@slate.com.
What is your first memory?
My mother wanted me to learn responsibility, so she gave me this hen. I was to feed her and take care of her while she was sitting on the eggs. Then after the chickens were born, they were my chickens. To this day now, I can't stand anything with feathers.
Then when I wasn't yet 6, my mother went to the hospital to have surgery. I had had a birthday, and my mother was in the hospital, and my older sisters were taking care of me. Originally, I had one, two, three, four … you know, I never did count up how many brothers I had. She had gallbladder surgery, and she'd caught pneumonia and she passed away.
I'm sorry. What did your family do?
Well, we were in the Oklahoma Panhandle, and my dad bought a house in town so that everybody could go to school. In the wintertime, we lived in town, and in the summertime, we lived out on the farm. I loved living on the farm. But then the Dust Bowl came, and then the Depression hit, and he lost everything.
I can remember putting stuff over my face—we'd take a tea towel, something just to keep the dust out. I remember we went to see my brother who had married, and they had twin girls, and they couldn't hang their clothes out because it was so dusty. We didn't have dryers then, and the place was a mess. I said to myself, "I'm not going to get married!"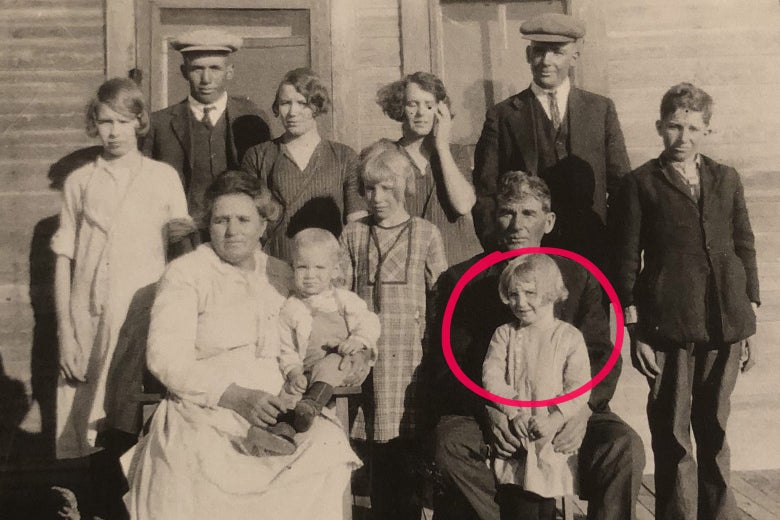 How many times have you been in love in your life?
Not very much.
Any time?
Oh, maybe once when I got married. I don't know, it was so different in those times. It was wartime. I don't know. I wasn't interested. I accidentally got married to somebody. I think it's because I liked his parents.
You accidentally got married?
Oh, it wasn't quite that bad. We dated two years, and then I guess we decided, oh, he'd take me to see his parents in St. Mary's, and I really fell in love with them. They were the sweetest people I ever met. They were just like real parents. I fit real good in that family, so we finally got married in 1943.
Two weeks later, he got called to duty.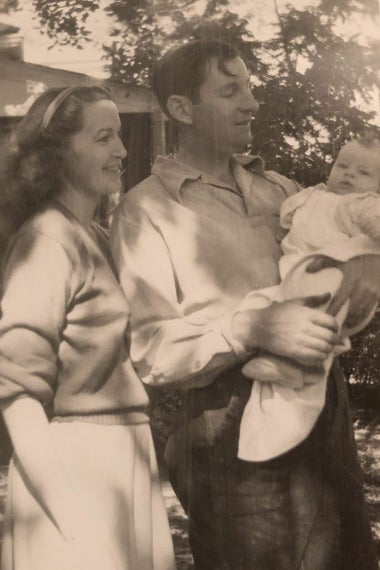 What did you do during the war?
I got a job with the civil service in a prisoner-of-war camp in Alva, Oklahoma. I was the, well, observer? I don't remember what they called us. But the colonel interviewed the German prisoners [and] I was the one that sat there, and took the notes, and listened, also, so he wouldn't be all by himself.
Do you remember what they interviewed the prisoners about?
I don't. But I know they looked at me. They undressed you when they looked at you. It seemed like it was just about every night, some German would escape. And if they couldn't find him, he probably just ended up living with some family. I had a sister that lived out in the country, and to get out to her place, I went by a train that would stop in a cornfield, or some kind of a field. When I went back to work, I found out a couple German prisoners had escaped. They found them close to that spot. The way I understand it was, if they went back, they'd get shot.
Who was the first person you voted for?
Franklin Roosevelt. I was 21 I think. My father-in-law enrolled me because I was on the coast. I went out there when my husband's ship would come in. He enrolled me as a Democrat, which was a big joke.
What was your favorite age?
I liked it when we had children. It was like when I was growing up, and you'd go visit your friends and take your children. I remember when I was small, on Sunday night, in the summertime, we'd usually go from one family's house to another, take turns having homemade ice cream. I loved those times.
How many children do you have?
We had five daughters. We had four, and then we went to Alaska and darned if we didn't come back with another one.
Why did you go to Alaska?
My husband was stationed there. We were there three years. I actually looked out my window one morning, and that wind was blowing so hard that the bird was trying to fly and he couldn't fly forward. That was pretty cold.
How long were you married?
Let's see, we were married in '43. We were visiting one of our daughters, and at mass, the priest said, "Now, I want you to stand up, those that have been married five years." So we stood up. When he got to 56, 57 years we were still standing. He said, "OK. I congratulate you. You can sit down." My husband had cancer, and he passed away in '01. So we were married 58 years. We enjoyed each other's company.
Do you remember what the happiest day of your life was, if you had one?
I've had so many. Recently, one of them was the party they had for me on my 95th birthday. That was so wonderful because my nephews and nieces came from so far away. I didn't even know they were coming.
What was the saddest day of your life?
Probably when my daughter died. She was in the Navy. She was having trouble remembering, and she had a brain tumor, but it took two years for them to find it.
What makes you happiest now?
I just like to see my grandchildren. And I like my friends. And I like to have a good cup of coffee and a good biscotti. I made those in my younger days and I put a dollar a piece on them. Good God, it took forever to make them. And they were huge.
Do you use the internet?
I have a computer. I play games with it. If something's bothering me, or I just don't know what I want to do, I go in and play a game on the computer. I play solitaire all the time. I had email for a while and then they put me on Google and my eyes are not what they used to be and there's a lot of icons I'm not familiar with. But I did use it. I got in touch with some of my old high school friends. Oh shoot, it was fun. Then that computer wore out, and we never could get the stuff off of it, so I lost track of all of them.
What's something that you do every day?
Work a crossword puzzle, or some other kind of puzzle. In our paper, the Topeka Capital-Journal, we have three puzzles, and I do two of them, usually. Sometimes, my eyes aren't so good, so I can only do one of them. I'm a Catholic, and I do novenas and other prayers. I do save my eyes for that. I also watch television.
What do you watch?
I like the Hallmark movies. That kind of stuff. And I love Doris Day. I guess she may be gone. And what's her name, Sandra Bullock. She's good, too.
Is there something that you're looking forward to right now?
Oh, I just enjoy being around my family. And if I don't enjoy it, I don't do it.
Is there anything you regret?
Not really. I could have been better at stuff.
Like what?
I don't know. Just better. I was never the best.
Read more from Slate's Interview With an Old Person series.
Louise Gili, Age 100, From Millburn, New Jersey