Jennifer Aniston and Justin Theroux announced Thursday they have separated "lovingly" after two years of marriage. The news was met online and by the celebrity press with the usual mixture of schadenfreude and mourning. E! News called it "unexpected and disappointing"; Glamour asked its readers if they were sitting down before breaking the news.
As for me, I wasn't surprised in the least. And not just because I'd followed the tabloid rumblings of their demise—separate lives on separate coasts, her birthday trip that didn't include him. Rather, it was because the couple left a giant whopping clue right out in the open: a spread in Architectural Digest.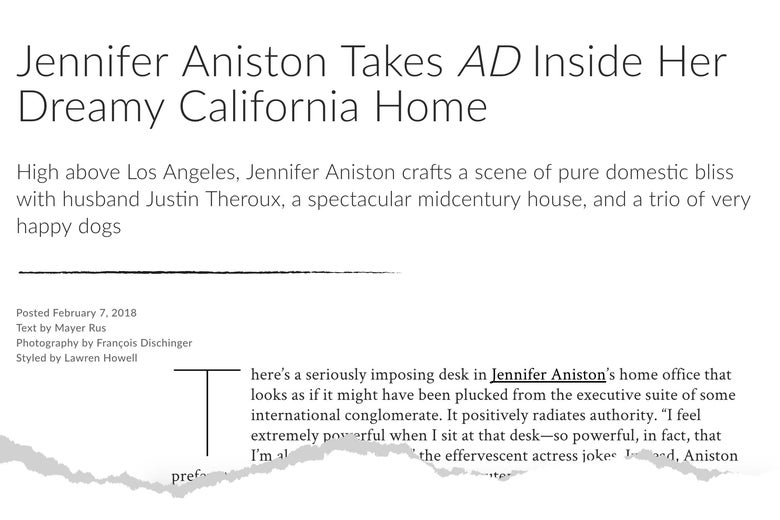 Aniston appears on the cover of the magazine's current issue, curling up in a rattan hanging lounge chair in the couple's "spectacular midcentury house" in Bel Air. The feature itself is an unremarkable tour of 21st-century design for the 1 percent: vintage leather club chairs, hand-painted wallpaper, a custom marble bathtub, and bland quotes like "Sexy is important, but comfort is essential." But this article's very existence now feels like a tipoff that the couple was on the rocks. Call it the Architectural Digest curse.
This is not the first celebrity couple to appear in the magazine shortly before declaring their relationship kaput. Naomi Watts and Liev Schreiber showed off their Tribeca loft in the March 2016 issue, six months before they announced they had broken up. Marc Anthony and his model wife posed in their Dominican Republic getaway in the same issue and filed for divorce by the end of the year. Drew Barrymore's art adviser husband talked up his in-home office in 2015, and they split early the next year.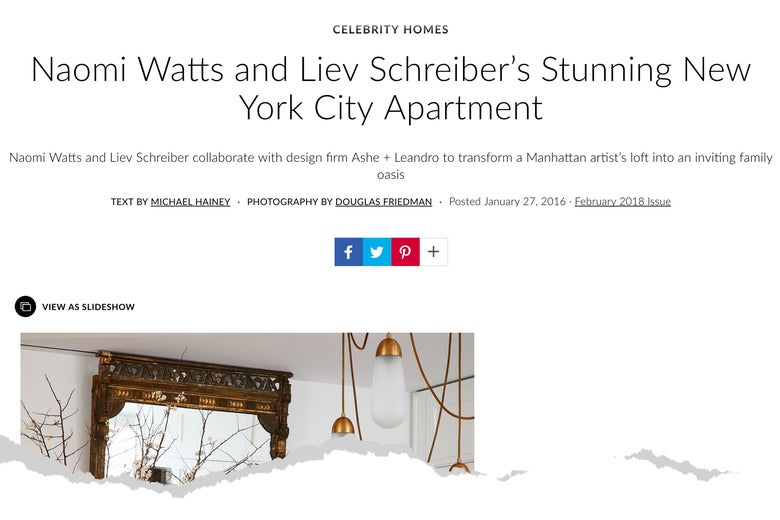 Here's my hunch: Celebrities show off their homes in design magazines when they're thinking about selling them, because a splashy feature boosts a property's profile. (Similarly, loaning a work of art to a museum generally raises its value.) And property sales sometimes mean a couple is splitting their household and organizing their finances in preparation for a split. As the New York Times put it a few years ago, "lurking with quiet devastation behind many 'for sale' signs is the big, sad shift that almost always requires that somebody move out: divorce." And so, readers could ogle Patrick Dempsey's Gehry in Malibu on the magazine's cover in March 2014; his wife filed for divorce less than a year later. This particular story has two happy endings: The house was soon sold for $500,000 more than the asking price, and the couple later reconciled.
Many celebrity couples have survived the AD curse, of course, and not all of the splits seem to have led quickly to real estate deals. But property shuffles can be one of the few public indicators that an intensely private couple is preparing for a big change. Sure enough, Us Weekly reported yesterday that Aniston plans to sell the house.