It's no secret that sitting in front of a computer for eight or 10 or 12 hours a day isn't great for your health. "Sitting puts excessive stress on the low back, shoulders, and neck and can lead to low back pain, neck pain, shoulder impingement, carpal tunnel and more," says Dr. Caleb Ridgway, a chiropractic sports physician who has treated the U.S. Olympic Track and Field team. Those aches and pains (and fear of death by sitting) are exactly what drive so many people to look for standing desks and laptop stands—really anything to help them set up a slouch-proof desk and get work done without suffering from the consequences of sitting.

But even if you're convinced about the benefits of standing more during the workday, it can be hard to know which type of laptop stand, standing desk, or other ergonomic office accessory will actually relieve the physical stress. Plus, simply owning a laptop stand won't really help unless you know how to align it properly.
That's why I reached out to chiropractors, sports doctors, and physical therapists for advice on which ergonomic office accessories can actually help prevent slouching, improve posture, and hopefully get you to focus better—or at least feel less bad all of the time, even if you do have to stare at a screen all day.
Laptop Stands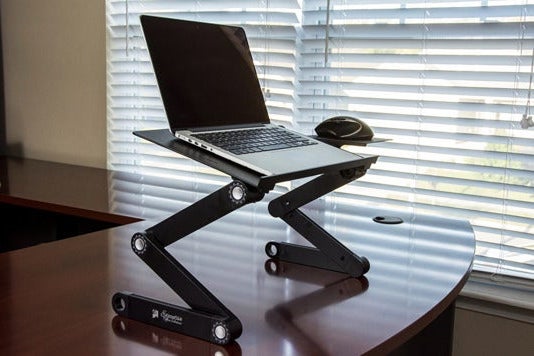 "​I really like the Executive Office Solutions Aluminum Adjustable Laptop Stand. It is adjustable, lightweight, and has CPU fans to prevent overheating. It's important to find a laptop stand that is sturdy, adjustable and allows you to easily manipulate the height so you can seamlessly transition from a sitting to a standing position and vice versa. When transitioning from a seated to a standing workstation, I recommend taking it slow and allowing your body to acclimate to the recent change in position. Start off spending an hour or less per day for the first couple of weeks, slowly increasing the amount of time.
Maintain good posture and keep the shoulders relaxed at all times. Within just a short amount of time, the new workstation will feel natural, and your body will thank you." —Dr. Caleb Ridgway, chiropractic sports physician
BUY: Executive Office Solutions Aluminum Adjustable Laptop Stand
$40, Amazon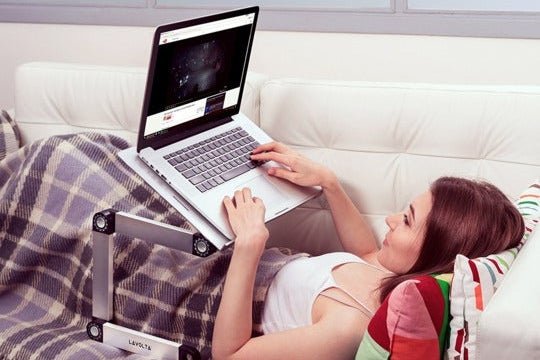 "The use of laptops and working from home or at a desk that hasn't been ergonomically assessed can pose a real problem for many. I tend to recommend laptop stands that can be adjusted, like this one. The beauty of this stand is that you can use it while sitting and standing and even set it up to use in bed or on the sofa." —Lyndsay Hirst, physiotherapist
BUY: Lavolta Folding Laptop Table Desk Tray Stand with Mouse Board and Cooling Pad
$95, Amazon
A Computer Stand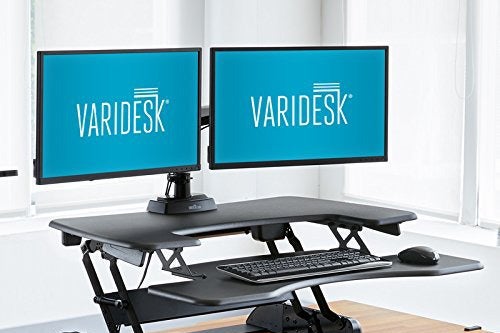 "Both standing and treadmill desks showed some promise of an ability for improving health outcomes with regular use. The use of a treadmill desk typically resulted in greater physiological improvements than the use of a standing desk. This may be the result of the treadmill desk interventions tending to be of longer duration than the standing desk interventions. … However, the longer the task time, the lower the effects of changed posture. Substituting prolonged standing for prolonged sitting results in a greater feeling of discomfort as a likely result of discomfort in the legs, back, or shoulders due to prolonged standing. With a sit-stand workstation, the individual would be able to adjust their posture at the onset of discomfort and thus reduce the total amount of discomfort resulting from prolonged time in the same posture. [You] should look for a desk that offers the most versatility for changes of position in three planes to accommodate a variety of body types and postures." —Joe Tatta, DPT, integrative pain expert
BUY: VARIDESK – Height-Adjustable Standing Desk – Pro Plus 36
$395, Amazon
A Timer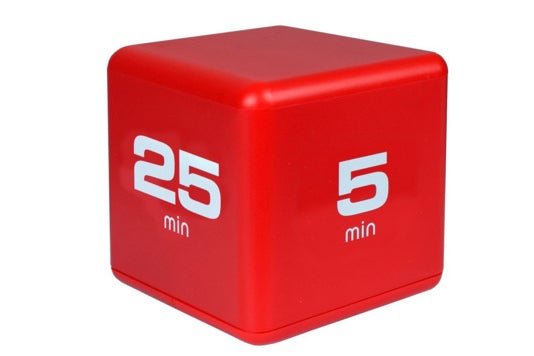 "Prolonged sitting, specifically when working on a computer, can cause us to roll our shoulders forward which leads to poor postural and functional mechanics of the shoulders and gives rise to rotator cuff injury and adaptive muscle shortening. For the best results, I actually recommend using the Pomodoro technique to balance your time sitting and standing. This simply means get up every 20 to 25 minutes for about 5 minutes to keep you conscious of sitting too long." —Dr. Scott Weiss, physical therapist and professional trainer
BUY: Miracle Cube Timer, Time Management Model, 5-10-20-25 Minute Preset Timer
$25, Amazon
An Exercise Ball Chair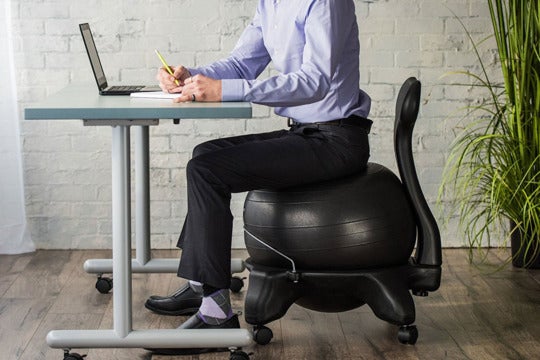 "The brand or type of solution is not as important as the position that you keep your body in. The important thing is that you have a balanced position. … The exercise balls are great because if you do not balance on these balls, you fall, so it forces good posture. The balls will only work if you balance and therefore you are sitting upright in a pole position. [But] variety and movement are key. Whether you use the ball or a workstation, or a variety of other options, it is all about posture and what facilities proper posture." —Dr. Sean McCaffrey, chiropractor
BUY: Gaiam Balance Ball Chair
$74, Amazon
A Posture-Improving Accessory for Your Current Office Chair
"The stand is not as important as changing your posture every 20 minutes. A perfect stand can place you in correct posture, but after 10 minutes, you will start to slouch. It is the slouch postures that over time stress your soft tissue and lead to discomfort, muscle spasms and soft tissue injury. Simply changing our postures and stretching in the opposite direction will alleviate any discomfort. The lumbar roll corrects this faulty posture and maintains the proper 'lordotic' curve in your low back. It also automatically corrects your head posture from being forward to setting your ears correctly over your shoulders." —Aideen Turner, physical therapist certified in the McKenzie Method, and CEO, Virtual Physical Therapists
BUY: The Original McKenzie Lumbar Roll by OPTP
$22, Amazon
One more thing
You depend on Slate for sharp, distinctive coverage of the latest developments in politics and culture. Now we need to ask for your support.
Our work is more urgent than ever and is reaching more readers—but online advertising revenues don't fully cover our costs, and we don't have print subscribers to help keep us afloat. So we need your help. If you think Slate's work matters, become a Slate Plus member. You'll get exclusive members-only content and a suite of great benefits—and you'll help secure Slate's future.
Join