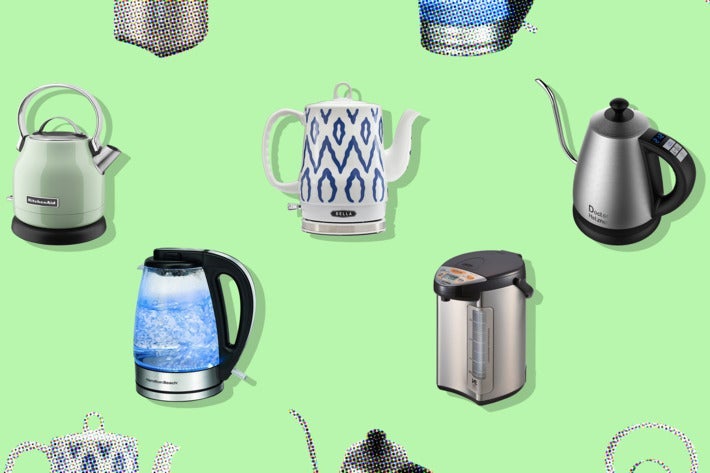 To find the very best products that no human being would have the time to try, look to the best-reviewed (that's four-to-five-star ratings and lots of 'em) products and choose the most convincing. You'll find the best crowdsourced ideas whether you're searching for comforters, bedsheets, or even Christmas trees. Below, the best electric kettles determined by the hard-nosed reviewers on Amazon. (Note that reviews have been edited for length and clarity.)
Best Electric Kettle for Less Than $20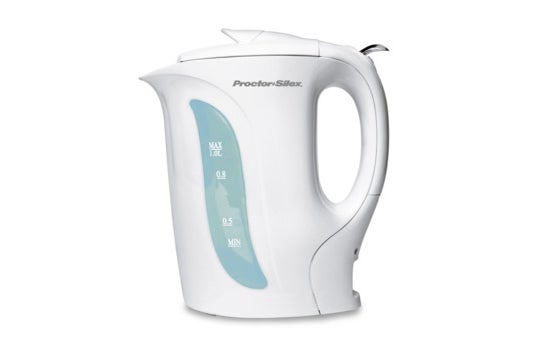 4.1 stars, 2,704 reviews
"I love this electric kettle! I use it three or four times a day to boil water for French-press coffee, oatmeal, tea, etc. It heats the water quickly, even when filled to the max level, and the auto-shutoff feature has never failed. The size is perfect, and the detachable cord is a huge bonus. I also feel it is sturdy enough. The light weight does not feel 'cheap'—it makes it easy to handle even when full. Well worth the money. You will not be disappointed!"
BUY: Proctor Silex K2070YA Electric Kettle, 1-Liter
$15, Amazon
Best Stainless Steel Kettle for Less Than $25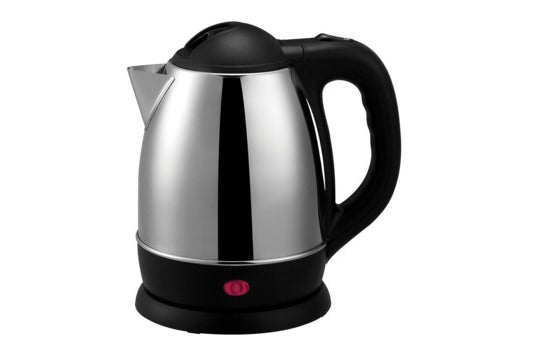 4.2 stars, 779 reviews
"I love this little guy! It doesn't take up much room on my countertop. It heats water to the boiling point quickly (four to five minutes for one liter) with a lot less energy used than a teakettle on my stove. It doesn't heat up my kitchen. If I put water in it to boil and wander off, it turns itself off automatically. No worries about leaving the kettle on the stove top boiling away. Everything is stainless steel except for the lid, which is plastic. No water comes into contact with the lid even when pouring. I would recommend it to a friend."
BUY: Brentwood 1.2 Liter Stainless Steel Tea Kettle Model KT-1770
$19, Amazon
Best Cordless Stainless Steel Electric Kettle for Less Than $50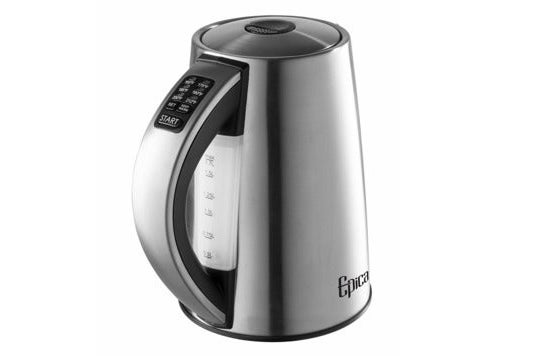 4.5 stars, 1,686 reviews
"I was looking for a replacement kettle and was ready to buy another single-temperature kettle. A tea-loving British friend told me that there were optimal temperatures for different kinds of tea, and suggested that I get a variable-temperature kettle. He helped me to find this one.
I'm very glad he did, and I am so pleased with the Epica kettle. I've tried it on a variety of teas—white, green, herbal, and black—and they really are much better using the proper water temperature, which is simple to set. I also appreciate that the lid pops rather than flips open to fill, and remains well-sealed when closed. It is also easy to seat on the plugged-in base, and the kettle itself is completely mobile without having to pull the plug. It now lives on the kitchen counter."
BUY: Epica 6-Temperature Variable Stainless Steel Cordless Electric Kettle
$40, Amazon
Best Cordless Stainless Steel Electric Kettle for Less Than $100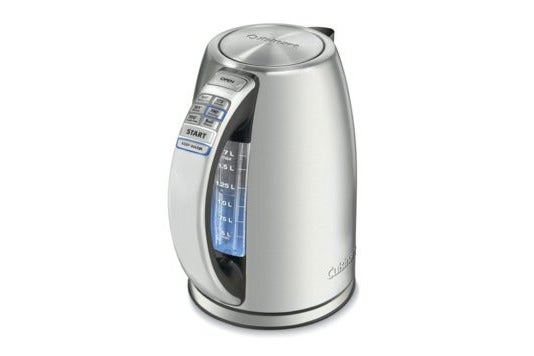 4.0 stars, 3,934 reviews
"I have now used this kettle for over a year and a half, and it still works fantastically!! Still using it two times or more per day. I drink many types of tea and love to make French-press coffee upon occasion, too. The temperature selections are phenomenal for multiuse. It has a window for easy measurement, looks high-tech with an elegant design, and its working quality and features are well worth the rather steep price tag. I am very happy that I can choose to keep the water 'cooking' for a half an hour (for when I'm busy or have company) or program it to immediately shut itself off. I used to have accidents using a stove top tea kettle, no more with this appliance. I couldn't be happier with it."
BUY: Cuisinart CPK-17 PerfecTemp 1.7-Liter Stainless Steel Cordless Electric Kettle
$78, Amazon
Best All-Stainless-Steel Electric Kettle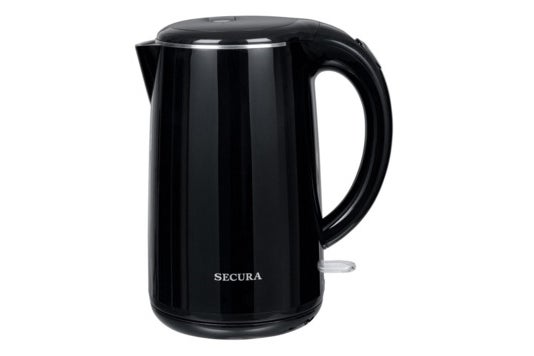 4.4 stars, 3,543 reviews
"I finally decided to get an electric kettle after my hubby kept boiling my pots dry! So far, we love this electric water kettle!!! I didn't need a kettle with all the bells and whistles—we just wanted simple, and this is it! I don't know what took me so long to get one, but it is so much nicer than boiling water on the stove. The ability for the kettle to shut off after boiling is exactly what we need, but also with this pot, the water left in the pot stays fairly hot for a while, so when you want another cup of tea or coffee, just turn it on again and you get your boiling water fast. I also do like with this pot that the outside of it does not get hot, and I also liked that the whole inside where the water touches is all stainless steel. It does not drip when you pour either, and the button on top to open the lid is simple and seems sturdy. We are very happy with this kettle!!"
BUY: Secura 1.8 Quart Stainless Steel Electric Water Kettle Double Wall Cool Touch Exterior
$40, Amazon
Best Gooseneck Electric Kettle for Less Than $50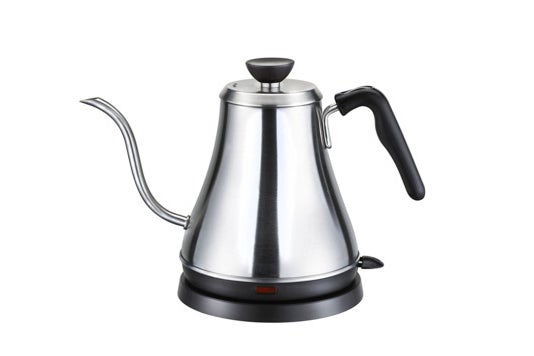 4.4 stars, 598 reviews
"Love the gooseneck! This one replaced my bulkier ceramic kettle. The gooseneck spout allows me to pour water for several cups of tea without dripping all over the counter. Heats up quickly, no problems with quality. I wish the base was a little heavier, but some nonslip sticky pads give it some stability on the counter. Careful though—since it's metal, obviously it gets hot to the touch, but the handle stays cool."
BUY: Willow & Everett Electric Gooseneck Kettle for Pour Over Coffee and Tea – 1L Electric Teapot Drip Kettle
$34, Amazon
Best Gooseneck Electric Kettle for Less Than $75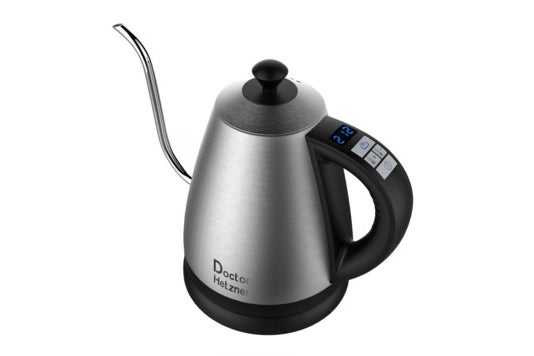 4.6 stars, 316 reviews
"The high quality of this kettle is definitely beyond my imagination! I love its stainless steel, which is more superior to most other kettles in the market. The temperature-control function is a must for coffee lovers like me. I used to boil water each time I wanted to have hot water, but now I no longer need to wait! I also like the feeling of pouring water using this kettle with very good control of water flow. The control panel is very easy to use. A must-have in your kitchen!"
BUY: Electric Gooseneck Kettle with Preset Variable Heat Settings, 1.2L
$38, Amazon
Best Vintage-Looking Stainless Steel Electric Kettle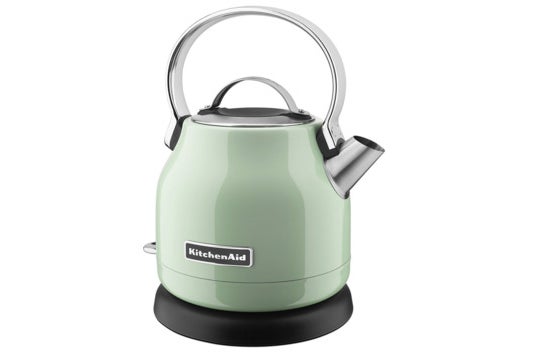 4.4 stars, 348 reviews
"This is a beautifully designed, well-made, back-to-basics kettle. I feel quite privileged to have something so elegant in my kitchen. It is a no-nonsense kettle: You put water in it, return it to its base, push a little lever down, and it boils your water (with a discreet white light near the switch to tell you it's working), clicking when it's done. No internet connection required, no fancy filters to change, no voice control or annoying beeps. It's a kettle, pure and simple, which is all it needs to be."
BUY: KitchenAid KEK1222PT 1.25-Liter Electric Kettle - Pistachio
$78, Amazon
Best Design-Friendly Ceramic Electric Kettle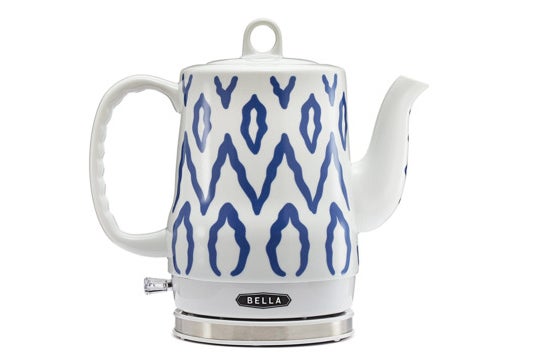 4.2 stars, 1,414 reviews
"Wow, this is even prettier in person! I'm so happy I gave it a shot. I almost didn't … I mean, how difficult is it to fill a standard stove-top kettle to boil some water? And I was worried about cluttering my counter. But this baby really is so easy to use, and bonus, there's no annoying whistling or forgetting to turn the stove off. And bottom line: It's MUCH faster. By the time I've got my tea bag ready, the water's done. Plus, it looks awesome on my counter and works with my blue-and-white décor. It's ceramic, so it's a tad bit heavier than a plastic unit, but I don't care, it's no heavier than a full tea kettle. And pouring from the longer spout is easier to control. It's as functional as it's lovely, which makes up for the little bit of heft. I prefer it over plastic any day."
BUY: Bella 1.2L Electric Ceramic Tea Kettle
$36, Amazon
Best Glass Electric Kettle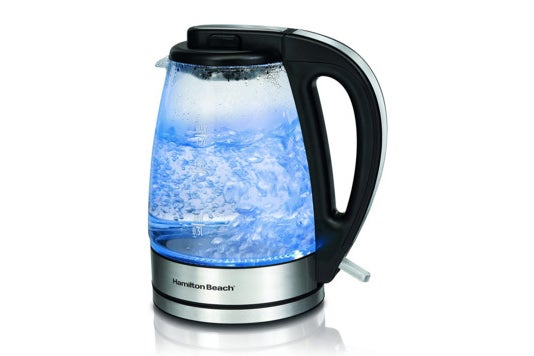 4.1 stars, 2,211 reviews
"This is my fourth electric kettle and easily the best. In general, the kettle heats water quickly, stays quiet, and holds a lot of water, enough for my French press every morning. I wanted a kettle that was glass, to get rid of the plastic scent and taste that hangs around for a while with every new [kettle]. Instead, this one is safety glass, so the water tastes fresh—which means my tea and morning coffee taste fresh. Also, on a simply aesthetic note, I love the colorful blue lights within the glass kettle that signal it is 'on.' Much more fun to watch than my last kettle."
BUY: Hamilton Beach 40865 Glass Electric Kettle, 1.7-Liter
$30, Amazon
Best Small Electric Kettle With Swivel Base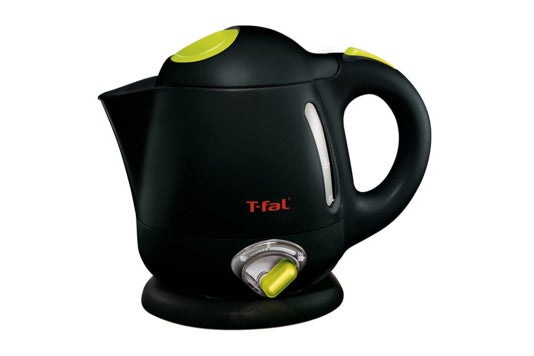 4.5 stars, 2,409 reviews
"I absolutely love this little kettle. I have had it for a few months now and use it daily to make tea in the morning and in the evening. It's the perfect size to make a cup of tea for myself or even a few friends. Another big plus is the adjustable temperature that makes it great for making not-too-hot chocolate for my kids. It's cute and fits nicely on the counter. I like that it swivels on the base, so the handle on the pot and cord on the base can be in different directions if it's convenient. It heats the water quickly and has not had any problems."
BUY: T-fal BF6138 Balanced Living 4-Cup 1750-Watt Electric Kettle with Variable Temperature and Auto Shut Off, 1-Liter, Black
$21, Amazon
Best Travel-Friendly Electric Kettle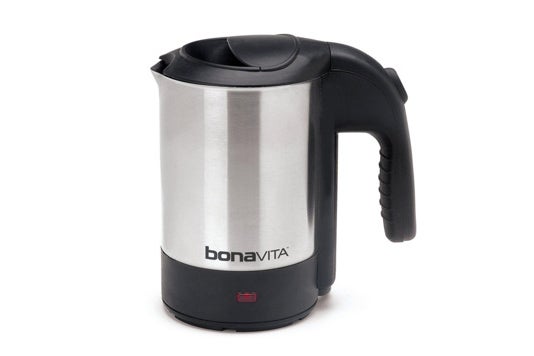 3.9 stars, 696 reviews
"This is a great alternative to in-room hotel coffee pots, which always make bad-tasting tea for water, and I don't like microwaved water. It's light enough to pack in my bags, and for me, worth the space it takes up. Sometimes it's nice to have your favorite tea with you when you're traveling, and this makes it easier."
BUY: Bonavita 0.5-L Mini Kettle, Stainless Steel
$24, Amazon
Best Electric Water Boiler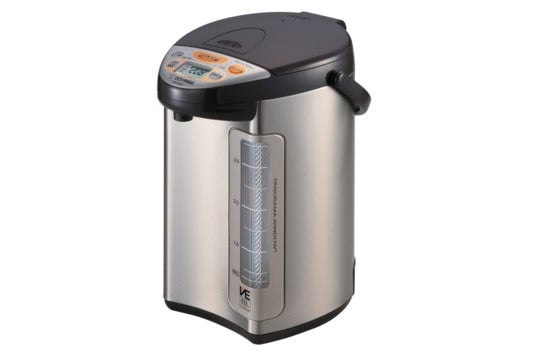 4.6 stars, 340 reviews
"I've been waiting years to get one of these. I love that I have five liters of hot water ready at any moment. It's perfect to not have to boil tons of water when I'm ready to make kombucha, kefir water, or tea. It makes for no mess and no fuss, as opposed to when I had to boil gallons of water on the stove and pour it into my containers. This goes straight where I need it when I need it. Saves me lots of time and hassle!"
BUY: Zojirushi America Corporation CV-DCC40XT VE Hybrid Water Boiler and Warmer, 4-Liter, Stainless Dark Brown
$160, Amazon
One more thing
You depend on Slate for sharp, distinctive coverage of the latest developments in politics and culture. Now we need to ask for your support.
Our work is more urgent than ever and is reaching more readers—but online advertising revenues don't fully cover our costs, and we don't have print subscribers to help keep us afloat. So we need your help. If you think Slate's work matters, become a Slate Plus member. You'll get exclusive members-only content and a suite of great benefits—and you'll help secure Slate's future.
Join Slate Plus
Join
---