With little fanfare, Lyft recently significantly expanded the amount of time its workers will be able to take paid family and medical leave, one of a small but growing number of U.S. companies stepping up to meet the needs of the modern workforce. Though a majority of children are now being raised in families where all parents work, only a handful—14 percent—have paid family leave.
At Lyft, it all started with one woman, and one meeting.
One night in May, a dozen women from different tech companies met in Twitter's Silicon Valley headquarters for a conversation.
Over cubes of cheddar cheese and Twitter's own brew of Kombucha on tap, the Parents in Tech Alliance had a chance to discuss issues facing the tech industry, where a growing number of millennials are now becoming parents. The "parennialls," as the millennial parents have been christened, were facing unequal or inadequate paid family leave policies, and groups like the Parents in Tech Alliance were giving them more incentive—and information—about speaking up and confronting the cultural status quo.
One of those women was Sarah Johal. Johal, the high-energy founder and organizer of UpLyft Parents, one of Lyft's employee resource groups, was determined to improve upon Lyft's current paid leave plan, which was generous but staggeringly unequal: three months of paid leave to primary caregivers—read mothers—and between four and six weeks of paid leave for secondary caregivers—usually fathers. (What defines primary and secondary can itself be problematic and not always clear-cut, and there's a lawsuit pending with JP Morgan now to sort that out.)
"It was unequal treatment," said Johal. "We want to match the office benefits with the values of inclusivity that Lyft very much cares about."
Through the meetings at Twitter, Johal was introduced to Annie Sartor and Orli Cotel of PL+US (Paid Leave for the United States), an organization quietly finding its way into workplaces all over the country, helping employees amass the tools and information needed to lobby their own HR departments or boards of directors for improved paid family leave plans. PL+US was one of the organizations behind Walmart's improved paid leave policy; they're mobilizing employees to improve on on Starbucks' paid leave plan; they're also supporting the plaintiff in the aforementioned discrimination lawsuit filed against JP Morgan Chase for unequal paid leave policies.
Johal, it seems, made the right connection at the right time.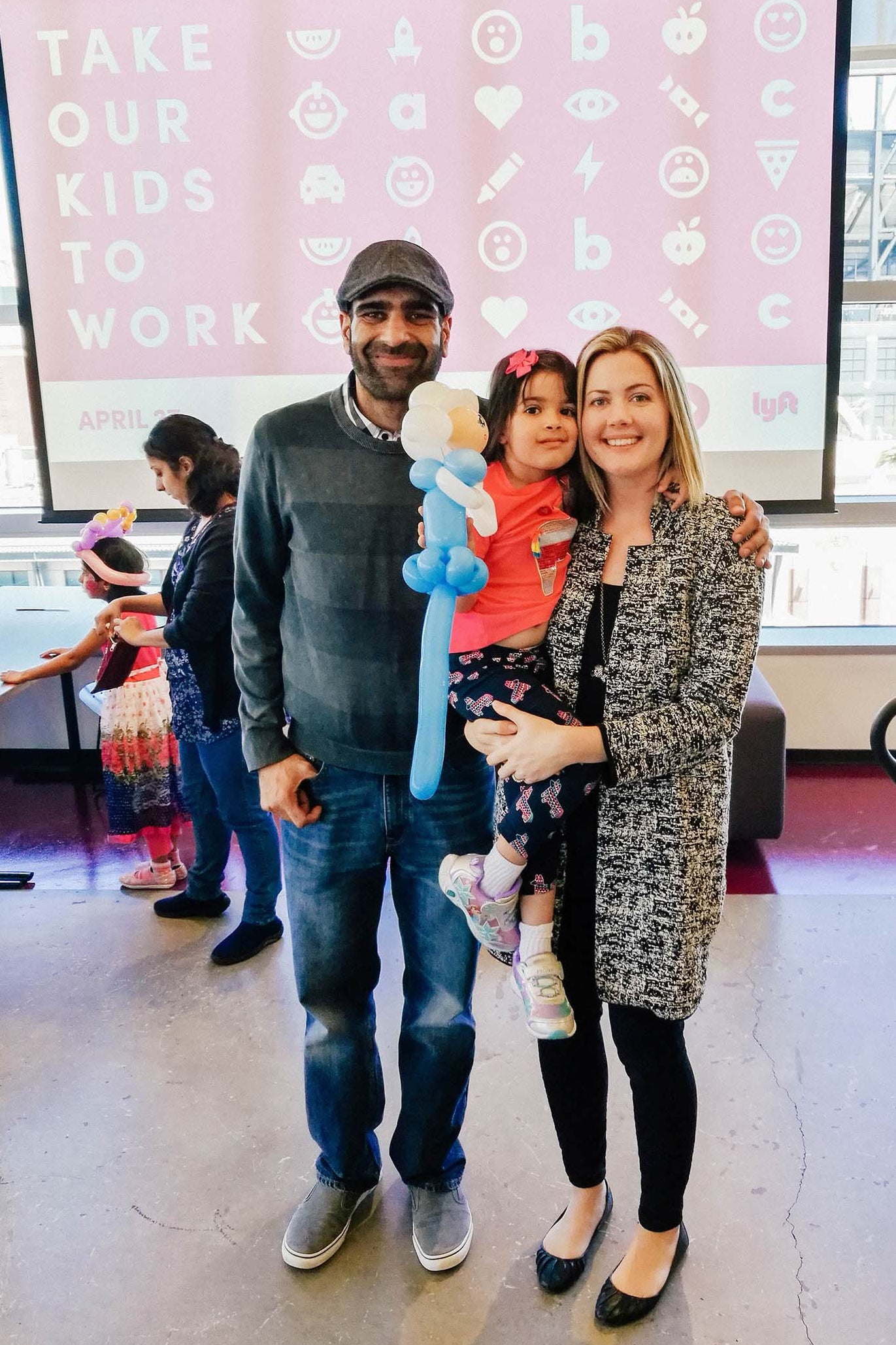 "We're at tipping point this year for paid leave policies with private employers," said Brianna Cayo Cotter, chief of staff at PL+US. "And we are doing everything we can to make that a reality."
Johal began emailing with Cotel and Sartor, who helped her compile a business case for paid leave, something she could share with her benefits team. In August, Johal formally presented her case for an expanded paid leave policy to the benefits team, citing examples of retention-growth and paid leave benefits their tech competitors provided. A decision was put on hold when Lyft hired the first chief people officer, Emily Nishi, in October, who proceeded to do a full audit of the current benefits.
In January, Lyft made the internal announcement that the new plan would expand paid parental leave for both men and women who work full time to 18 weeks. And it's not just new parents who will benefit: The policy also expands caregiver support leave from two weeks to 12 weeks, all of which are 100 percent paid. Bereavement leave was expanded to two weeks. Employees who took parental leave in 2017 before the policy was in effect will have the option to use their additional weeks this year. The policy is effective immediately, without a waiting period, so there is no minimum time an employee needs to work at Lyft before being able to take advantage of the benefits.
PL+US is hoping for more cases like Lyft and more employees like Johal, driven to do the work necessary to lobby their companies internally for changes in their paid family leave benefits. Sartor said she is approached repeatedly by women (usually women, often pregnant women, though occasionally men) who want to see a change in their company's paid leave policy but aren't sure about the way to go about it. PL+US has recently launched a webinar to walk interested parties through the details of launching their own quests for paid leave.
People who succeed in making their draft policies a reality have a few common threads: They are able to put together a business proposal with consistent components, including the business case for a paid family leave policy, which usually emphasizes recruitment and retention both for high- and low-wage workers, especially for moms returning to work after having a child. They are also willing to do the work for the company in outlining what a plan should look like with cost calculations included. (PL+US recommends at least 12 weeks for all parents, birth and non. Research suggests longer periods for optimal infant, child, and maternal health and well-being.) And finally, the successful employees are able to show why the benefits align with broader company policies and goals.
"The good thing is there are lots of people like Sarah who understand that this is urgently needed by staff, and it's a good thing for the company, " said Ellen Bravo, director of Families Values @ Work.
While Bravo applauds Lyft for a policy improvement, like many of the paid leave activists, she believes that a national policy is needed to ensure paid family leave for everyone, not just those who work at companies that are receptive to employee concerns and can afford to pay the benefits. "There are also lots of people in companies who can't do this on their own, or where you simply wouldn't get a hearing," said Bravo. Many small businesses, including members of the Small Business Majority, support a federal plan because they don't have the resources to provide paid leave on their own.
Those opposed to mandatory paid family leave policies, such as some state and local Chambers of Commerce, have decried them as "job killers" and argue that any mandate could impose undue costs on businesses. Other paid leave opponents argue that such decisions should be left up to the states. There is some internal debate as to how much people in such Chambers of Commerce oppose paid leave policies, with some internal surveys showing large support for the measures. And the opposition has grown notably quieter as more state and municipal policies have gone into effect, and more companies have adopted their own policies voluntarily.
But even expanded paid family leave plans that PL+US helps lobby for aren't always straightforward wins. Lyft's policy only applies to their full-time corporate staff, not for any of the estimated 700,000 drivers who work for them. A spokesperson for Lyft said there were no plans to add drivers at this time.
"A great policy is one that is equal, applies to all parents and all classes for employees," said Sartor. "It's not just for those who work in a corporate office." Starbucks, too, is facing backlash for giving different paid leave to employees in their corporate team and those in their coffee shops. And Walmart has received criticism for excluding part-time workers, who make up a significant portion of their staff, from their new celebrated paid leave policy.
Nonetheless, Johal considers this a win for her company. She wants to shift the goal of UpLyft Parents toward building awareness of the newly expanded paid leave policies, both for employees who can take advantage of the policies and managers and peers who should support them. In any workplace, subtle cultural signals and language can either encourage or discourage workers from actually using leave policies. For instance, calling family and leave a "vacation," Johal maintains, "is a type of microaggression that can cause parents to feel slighted or excluded."
And like Walmart, Lyft has the opportunity to be a transformer in their space. "In any industry, companies are competitive and they pay attention to what other competitors are doing," said PL+US's Cotter. "If you can get the biggest players to change their policies, very quickly everyone else changes their policies to be competitive. If you get the industry leaders to move, you can get a lot of movement."
Support for this article was provided by Rise Local, a project of the New America National Network.