If you are Lil' Kim, or if Christmas sweaters are just too Puritanical for your taste, this season's fashion outlook will be a big relief. "The Reindeer Boob Is Coming to Town," promised the BBC this week. Allure documented several cases of people "Decorating Their Boobs to Look Like Reindeer Faces" by popping their breasts out of sweaters and embellishing them with googly eyes and pom-poms. The Sun called it a "nipple trend" in a piece republished by the New York Post, the putative arbiter of urban breast fads. A British blog, with no material evidence, claims bare boobs dressed as reindeer faces constitute a "new craze sweeping Manchester."
But the original commercialized breast-as-reindeer exposed itself long before the internet caught wind of the concept. It was 2014, in the Salt Lake City, Utah workshop of Sheri and Tyler Wiseman, who run a Christmas sweater Etsy shop called Your Sassy Grandma. The entrepreneurs put together a kit comprising one red pom-pom pasty (for the nipple), googly eyes (for the upper breast), and felt reindeer antlers (for the collarbone). It was meant to be used on a breast flopped over the top of a one-shouldered tank top (not included). The Etsy description talked a big game: "If you want to stand out at your Ugly Sweater Party, Burlesque show or even just to have a fun night in your bedroom, then this reindeer is for you!!"
The arresting image on the site—basically a naked boob!—went semi-viral, Sheri told me in an email, but it wasn't until the couple made an upgrade in 2015 that the internet really took notice. That year, the Wisemans took regular men's holiday sweaters and cut out one gigantic hole in each, leaving room for a dude's entire pec to peep through. Before long, the Wisemans had made a women's version, including the entire pasty kit and a sweater with a garland-rimmed hole, perfectly aligned over the space where a right breast should be. And this remarkable sweater is the one that has finally sold me on the one-boobed garment trend.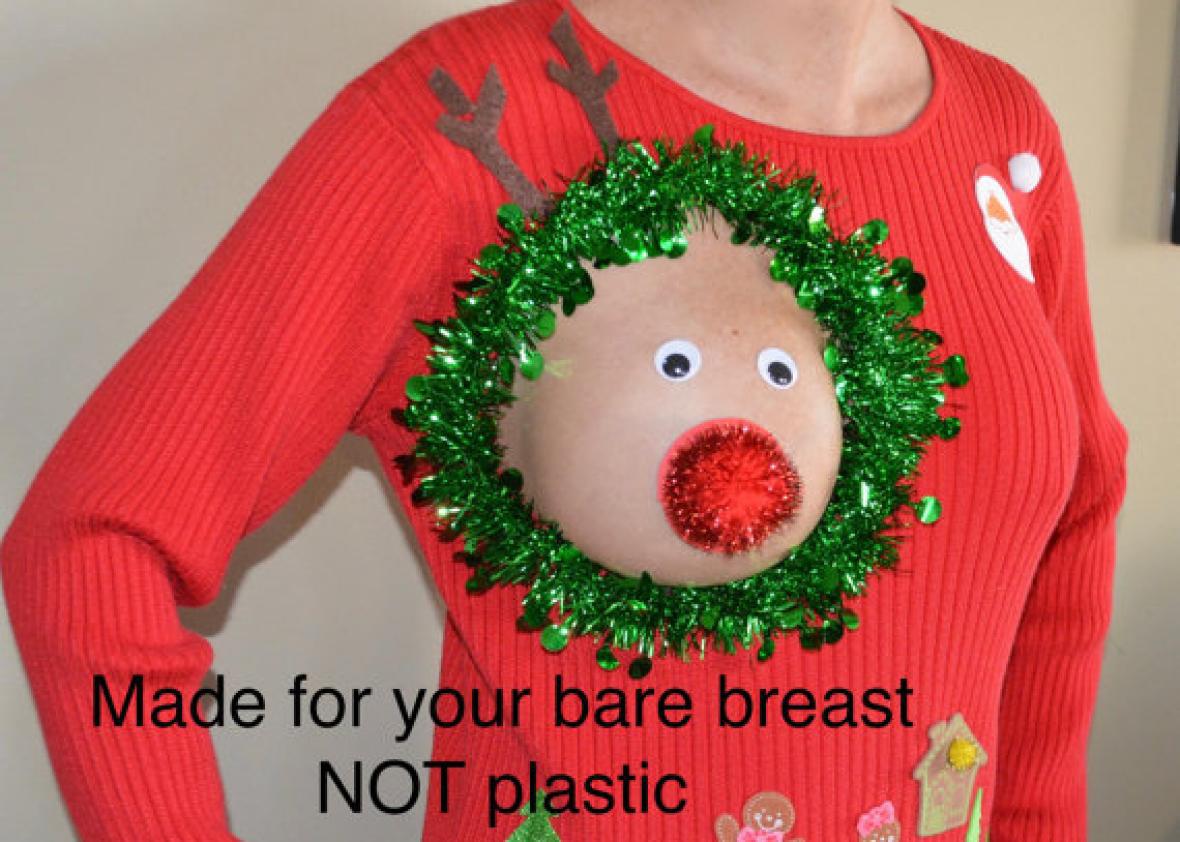 "It was made to be a funny and sexy alternative to your standard ugly Christmas sweater," Sheri says. "When we were creating it, we hadn't planned on it becoming the 'international breastfeeding sweater.'" Sheri is referring to the 2015 Facebook post in a group called "Beautiful Breastfeeding," which elevated the sweater to global acclaim with a link to the Etsy listing. Now, the listing includes a warning: "This sweater is not intended for breastfeeding…The pasty is for a one-time use, once removed the adhesive is no longer sticky. (We have contacted the Huffington Post and asked them to correct the article.)"
The sweaters have proved so popular, Sheri says, that she and her husband "keep running out of base sweaters and can't make them fast enough." They've sold more than 150 to date! Sales would be even crazier if there weren't so many copycats out there. (Check out #reindeerboob on Instagram for some representative examples.)

Against my better judgment and the urging of several colleagues, there's something about this trend that really speaks to my aesthetic sensibilities. By covering up the entire torso except one breast, then making a cartoonish joke of that breast, the purportedly sexy sweater exposes the social construction of both sexiness and breasts. The costume casts a film of skepticism on breasts as objects of erotic, forbidden fantasy, reminding us that breasts are merely bags of blood and tissue, with some specific biological functions, until our minds transform them into targets of desire. It's hard to say or think anything remotely suggestive when you're looking a reindeer straight in its googly eyes. It's breasts, in drag.
But according to Sheri, there have been some damaging misconceptions about what the sweater actually entails. Some people "don't believe that it's a 'real' breast; they think it's plastic," she says. "We started getting a lot of returns and order cancellations because of that. So we ended up typing it in big bold letters 'NOT PLASTIC!' Even now people still think it's plastic and have to cancel their order." Others doubt that the sweater would work for them. At Slate, a few women pointed out the "perky privilege" one must have to keep the reindeer from running around, and Sheri says some people have told her their reindeer "would be pointing to the ground."
The Wisemans also offer a family-friendly store stocked with Christmas sweaters for kids and more conservative adults. There's still a one-shouldered tank top in stock there, with felt antlers glued to the model's chest. Unlike the Your Sassy Grandma version, this one covers the breast in a festive red-and-white knit. But, like a vestigial organ from a sexier time, the red pom-pom over the nipple remains.