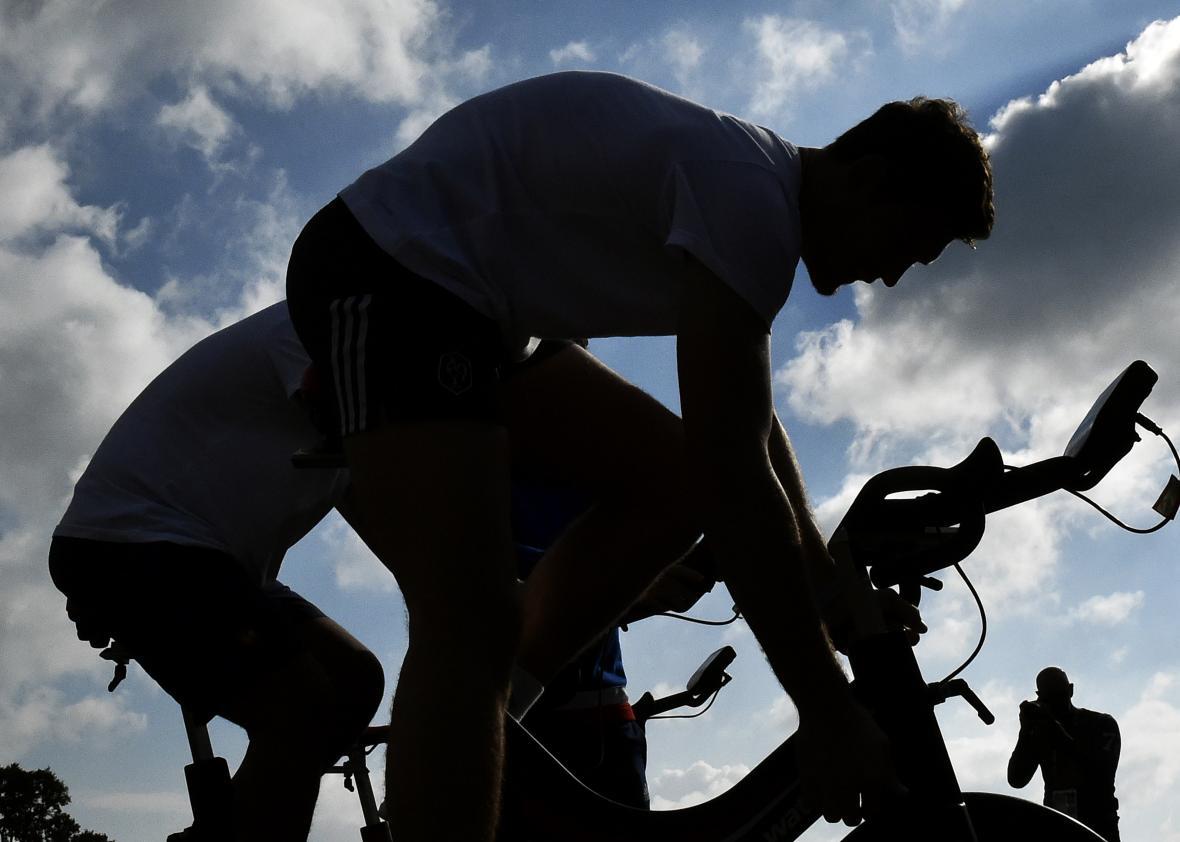 This article originally appeared on the Strategist.

To find the very best products that no human being would have the time to try, look to the best-reviewed (that's four-to-five-star ratings and lots of 'em) products and choose the most convincing. You'll find the best crowdsourced ideas whether you're searching for comforters, bed sheets, or even Christmas trees. Below, the best exercise bikes determined by the hard-nosed reviewers on Amazon. (Note that reviews have been edited for length and clarity.)
Best Indoor Cycling Exercise Bike, Overall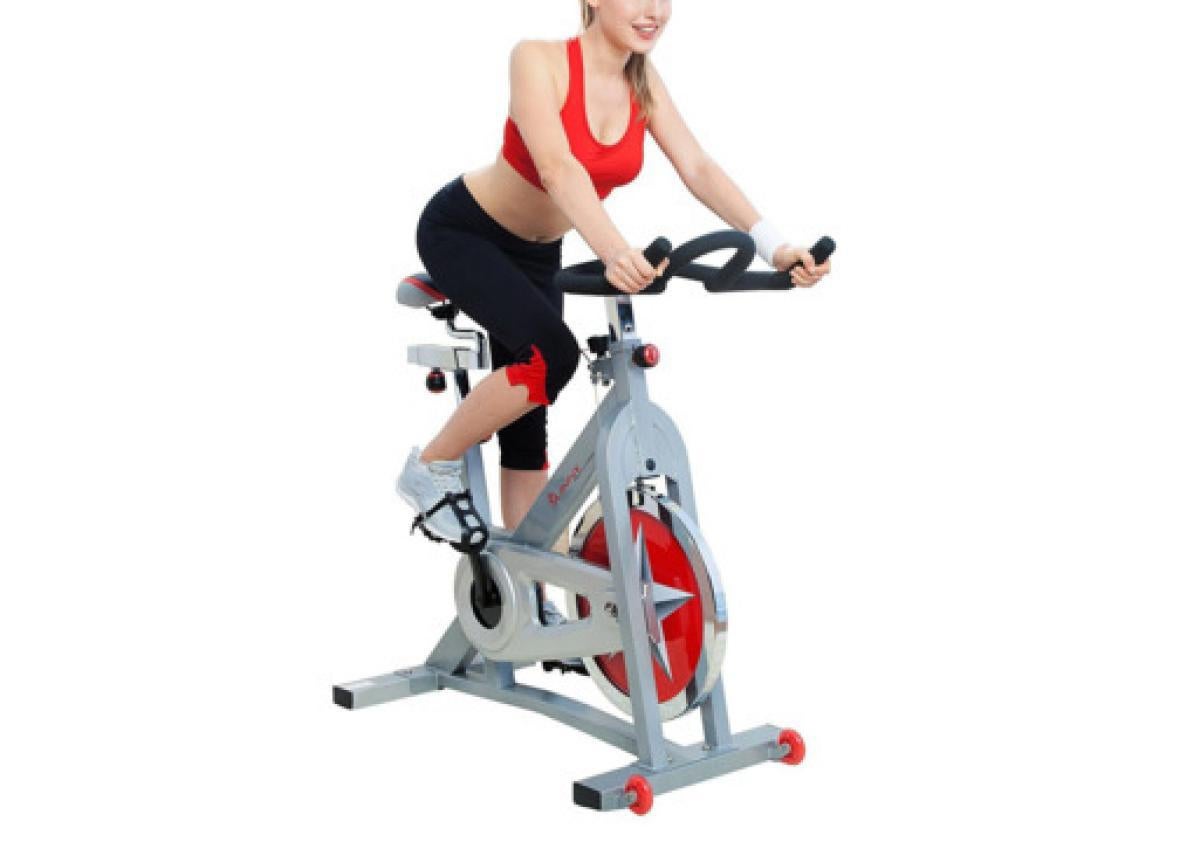 4.2 stars, 2,274 reviews
"I love going to spin classes, but don't have the ability to attend when classes are scheduled because of work and family. I bought this bike to add to my great gym in my basement—and I love it. It's solid, heavyweight metal; the 40-pound flywheel and construction provide the right amount of tension and stability to do any kind of workout you wish—standing on the pedals with heavy tension or fast pedaling with light resistance. This bike was easy to assemble—took less than 15 minutes … Great purchase!"

Sunny Health & Fitness Pro Indoor Cycling Bike
$254, Amazon
Best Indoor Cycling Exercise Bike Less Than $150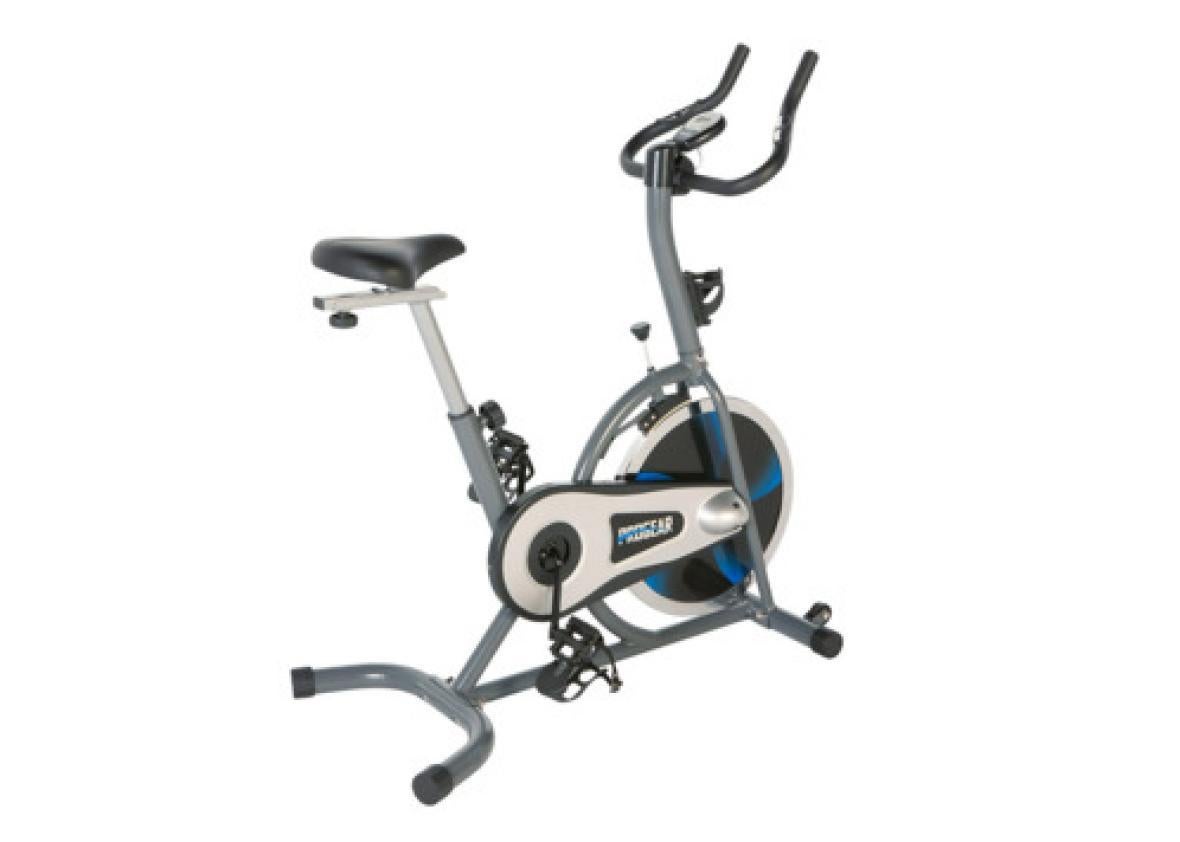 4.2 stars, 113 reviews
"I started working out at home, so I decided to buy several things that would work and not take a lot of space. I went back and forth with deciding to buy this bike because I knew it would be a big purchase, and if it didn't happen to work, I didn't want to deal with the return and headache. Well, no need to return. It has been one of my favorite fitness-related purchases—aside from the Bosu Ball. LOVE, LOVE, LOVE and definitely recommended to anyone who wants to get in shape and get a good cardiovascular and leg workout … It is big enough to feel comfortable, and steady and small enough to fit it nearly anywhere. I live in NYC and the apartments here aren't huge, and it is perfect. The bike is also very beautiful, so it does not look bad if you just leave it out. The seat is comfortable, so I don't think I would be buying cushions for it … So, in conclusion, if you're thinking about buying it, definitely do so. It is 100 percent worthy and fantastic."

Pro Gear 100S Exercise Bike/Indoor Training Cycle
$132, Amazon
Best Upright Exercise Bike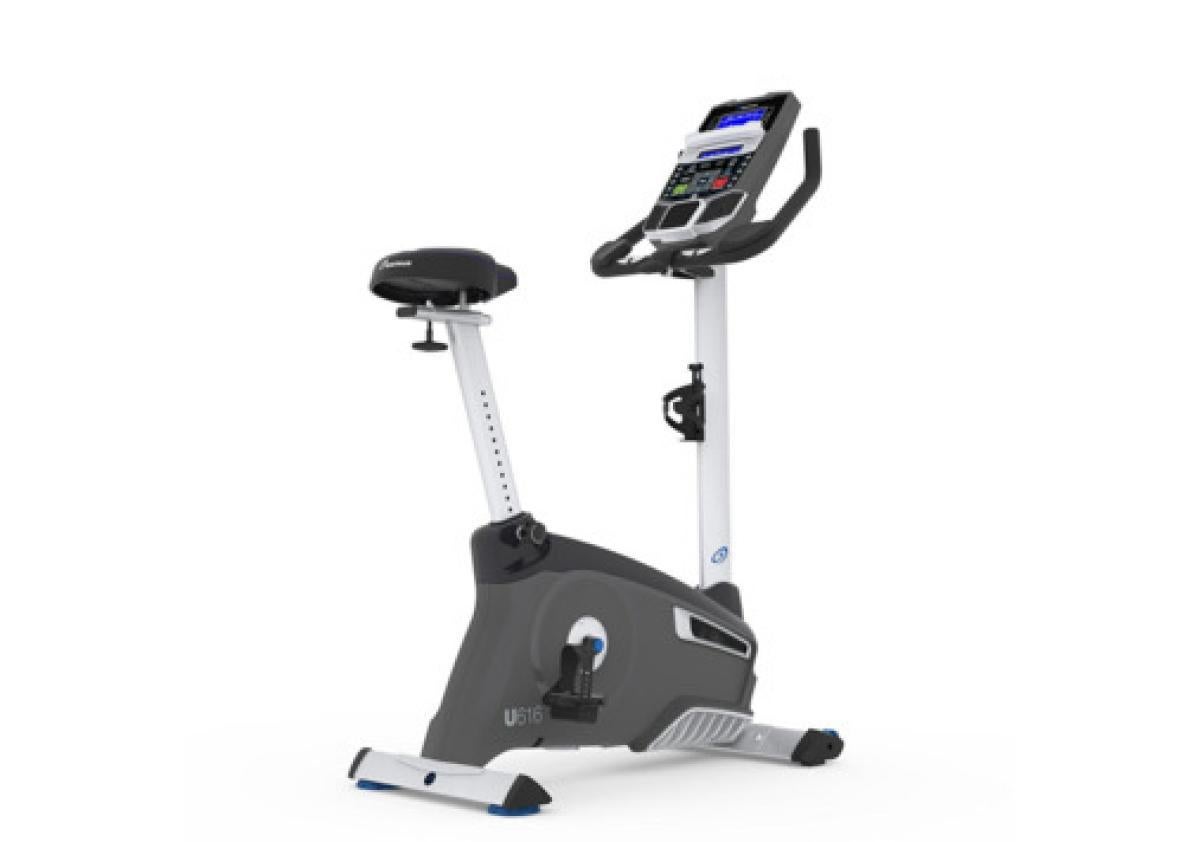 4.3 stars, 126 reviews
"I have been a 'gym rat' for decades and work out five [or] six times per week. I have used the best commercial upright bikes out there. This one, to my surprise, is every bit as good and even better than most of the commercial bikes you find in gyms. The seat is extraordinarily comfortable—the most comfortable of any stationary bike I have ridden. The programs are easy to use, and the pedaling and resistance are extremely smooth and fluid. I ride on level 20 (highest level is 25) for 40 minutes, and it is no problem for the machine at all. I get my heart rate going at the high rate I like for the duration of my workout. The heart-rate monitor sometimes gives erroneous readings, but I find that is the case on the best commercial machines as well. I put this bike together in 30 minutes by myself. A really outstanding piece of workout equipment!"

Nautilus U616 Upright Bike
$349, Amazon
Best Folding Upright Exercise Bike, Overall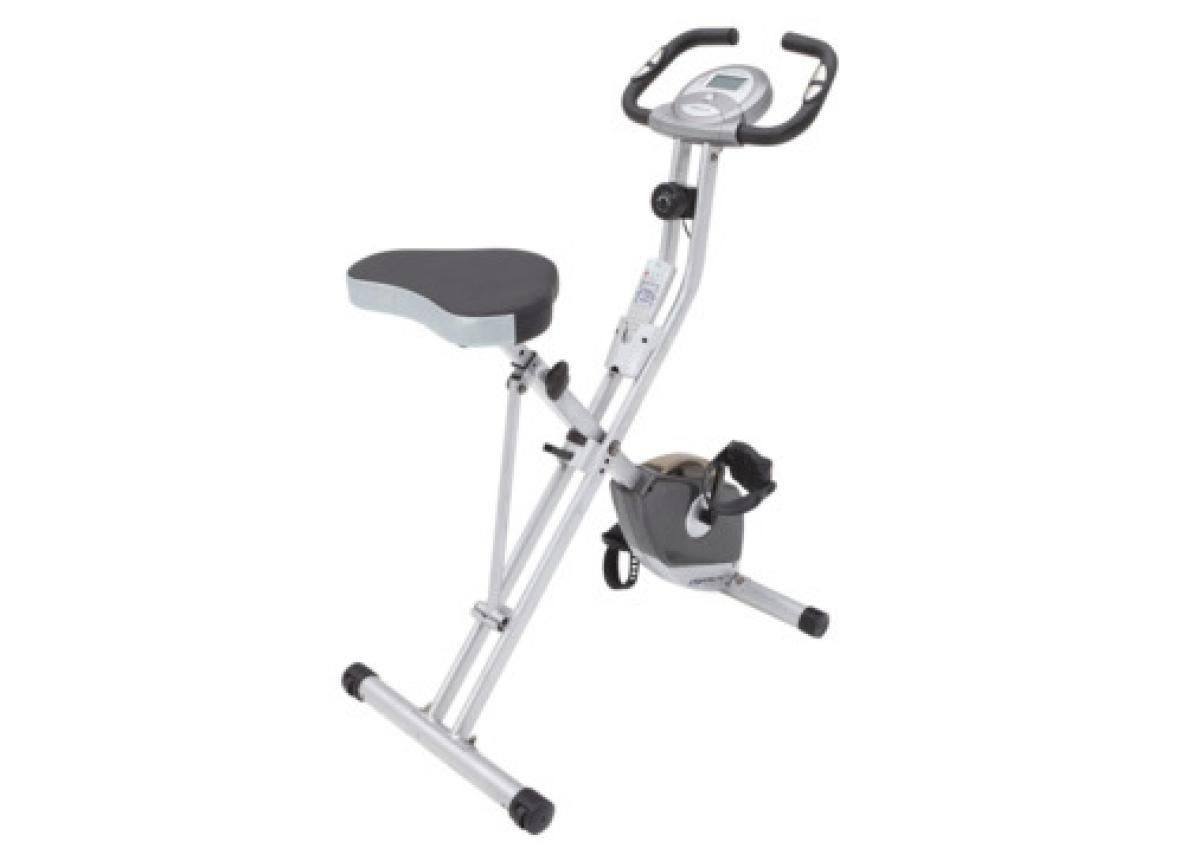 4.4 stars, 4,882 reviews
"I really wanted an exercise machine I could use at home for the days I don't make it to the gym (which, I'll admit, is most days). However, I also have a small apartment with limited floor and storage space. I love that this bike fits snugly against the wall when not in use without sacrificing comfort or sturdiness (even with my big booty) in order to be compact.
Bikes are not usually my go-to exercise equipment because they give me a sore butt and crotch when I push myself, and sometimes, even when I don't. However, this bike doesn't feel the same to use as a regular bike or the standard exercise bike you would find at the gym. The pedals are further forward and the seat is wider, and I actually find it to be more comfortable. I am still able to get my heart rate up and work my legs just as well as other bikes while sitting fully back on the seat. I have not noticed any aches or pains indicating the positioning is problematic, but I have noticed considerably less pain caused by the seat than I usually experience using exercise bikes.
It is quiet, smooth, tracks everything I want to track, has appropriate resistance, and still works great six months later. I am very happy with my purchase!"

Exerpeutic Folding Magnetic Upright Bike With Pulse
$130, Amazon
Best Folding Upright Exercise Bike With 400-Pound Weight Capacity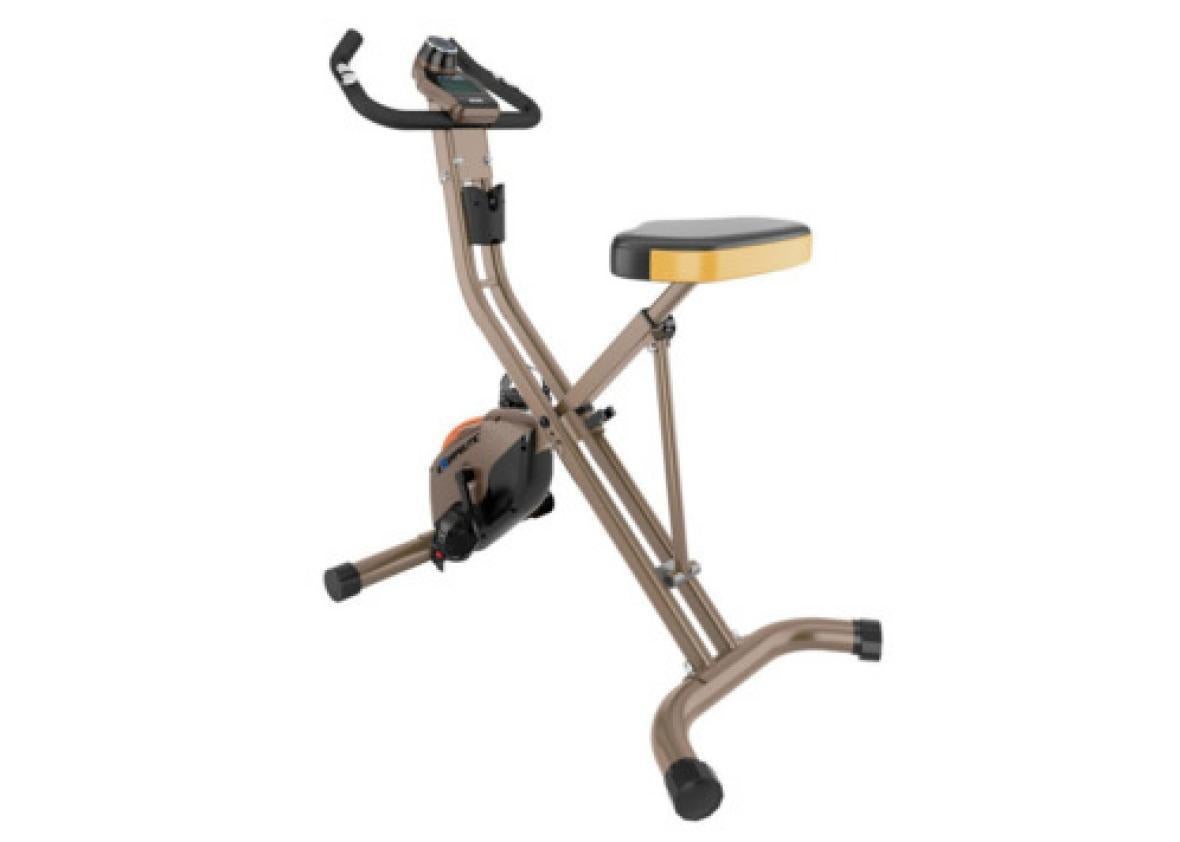 4.3 stars, 505 reviews
"I've had this for about two weeks now. It has been wonderful and convenient! I needed some lower-impact cardio exercise to incorporate into my regime (jogging was taking its toll on my knees and ankles), and I am so glad I came across this. The seat takes some getting used to, but it supports my six-foot, 320-pound self in my journey to weight loss. The reviews are somewhat correct about the resistance levels being a little weak. I have pretty strong legs (from lugging around this weight most of my life) and levels four to seven work just fine for me. I only, however, use this machine for moderate exercise in 20- to 40-minute periods. The setup is very easy. Took me about 30 minutes to do alone, and all the necessary equipment is included. Highly recommended."

Exerpeutic Gold 500 XLS Foldable Upright Bike, 400 Lbs
$165, Amazon
Best Folding Upright Exercise Bike Less Than $100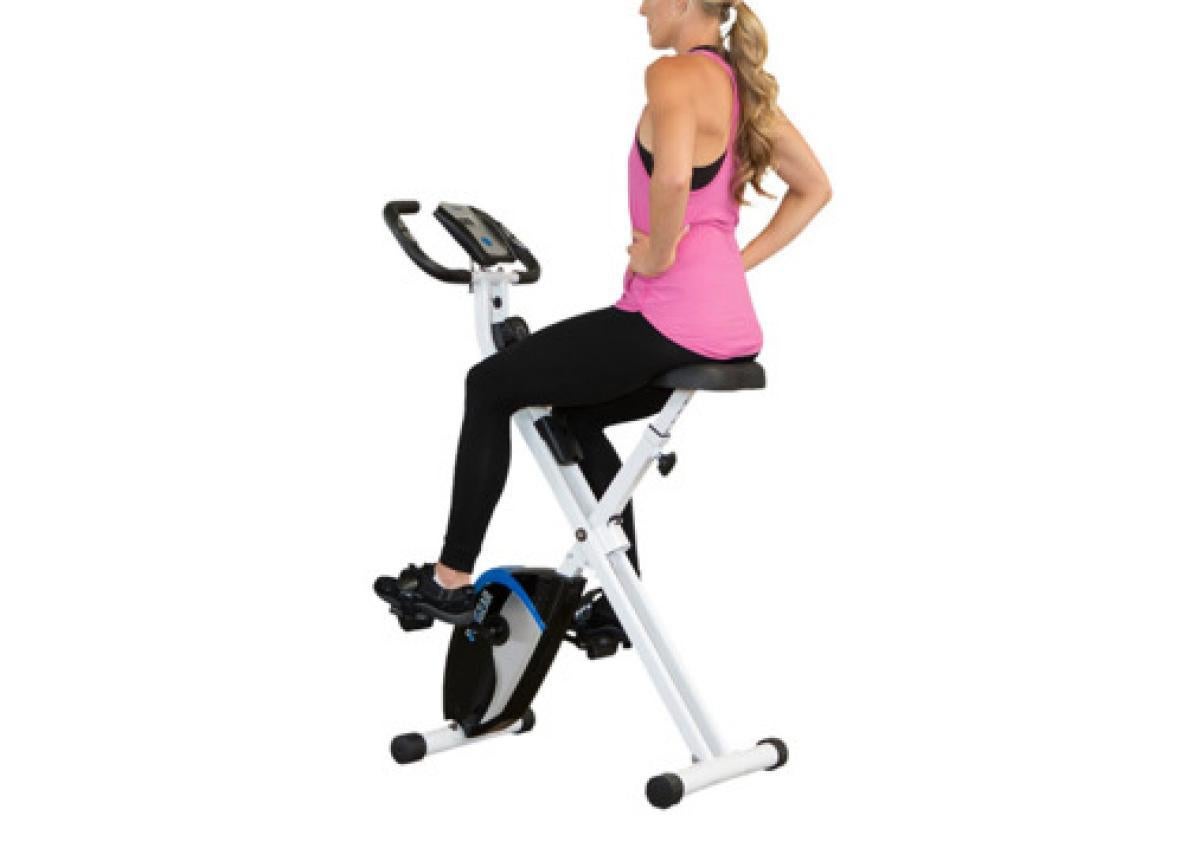 4.5 stars, 116 reviews
"I can't believe what a good product this is, especially for the price! The ride is comfortable, smooth and quiet. It barely makes any noise at all. It is much more comfortable, smooth, and quiet than the expensive models I use at my gym and at physical therapy. You would be able to use this in front of the TV without disturbing anyone else in the room … I only weigh 125 pounds, but it is big enough to feel sturdy [and] small enough to fold up to put away and save space. I am very happy with this purchase."

ProGear Foldable Magnetic Upright Bike
$85, Amazon
Best Upright Exercise Bike With Fan-Resistance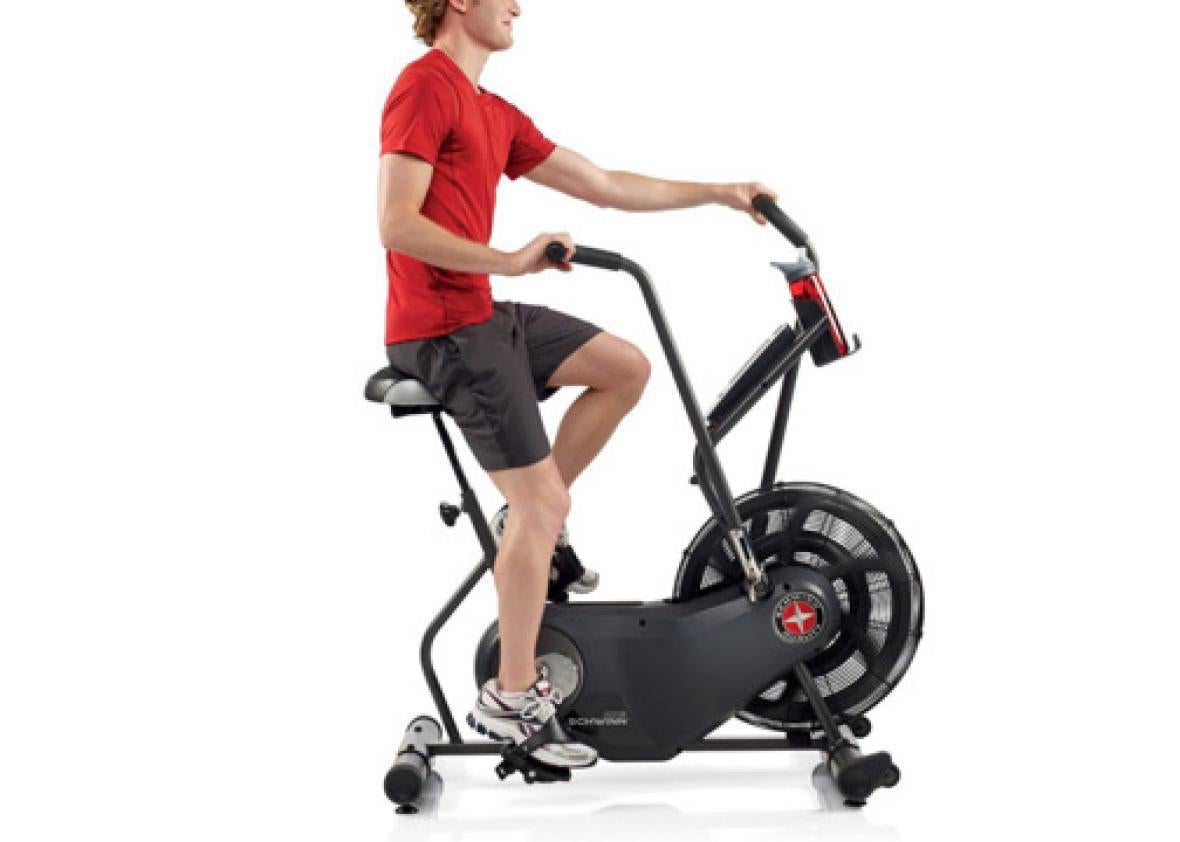 4.1 stars, 496 reviews
"This bike is a BEAST. It's really heavy and structurally sound, and definitely gives a full-body workout. The adjustable seat makes it comfortable for taller people—both my five-eight self and six-one-or-so boyfriend have no problem, but it might be a bit of a reach (literally) for shorter folks. Since it's so substantial, it really kicks your ass when you're first getting used to it, but the hard work pays off: Between diet and using this bike regularly, I've lost almost 40 pounds and my boyfriend has lost around 50. I absolutely love this bike and would definitely recommend it!"

Schwinn AD6 Airdyne Exercise Bike
$500, Amazon
Best Recumbent Exercise Bike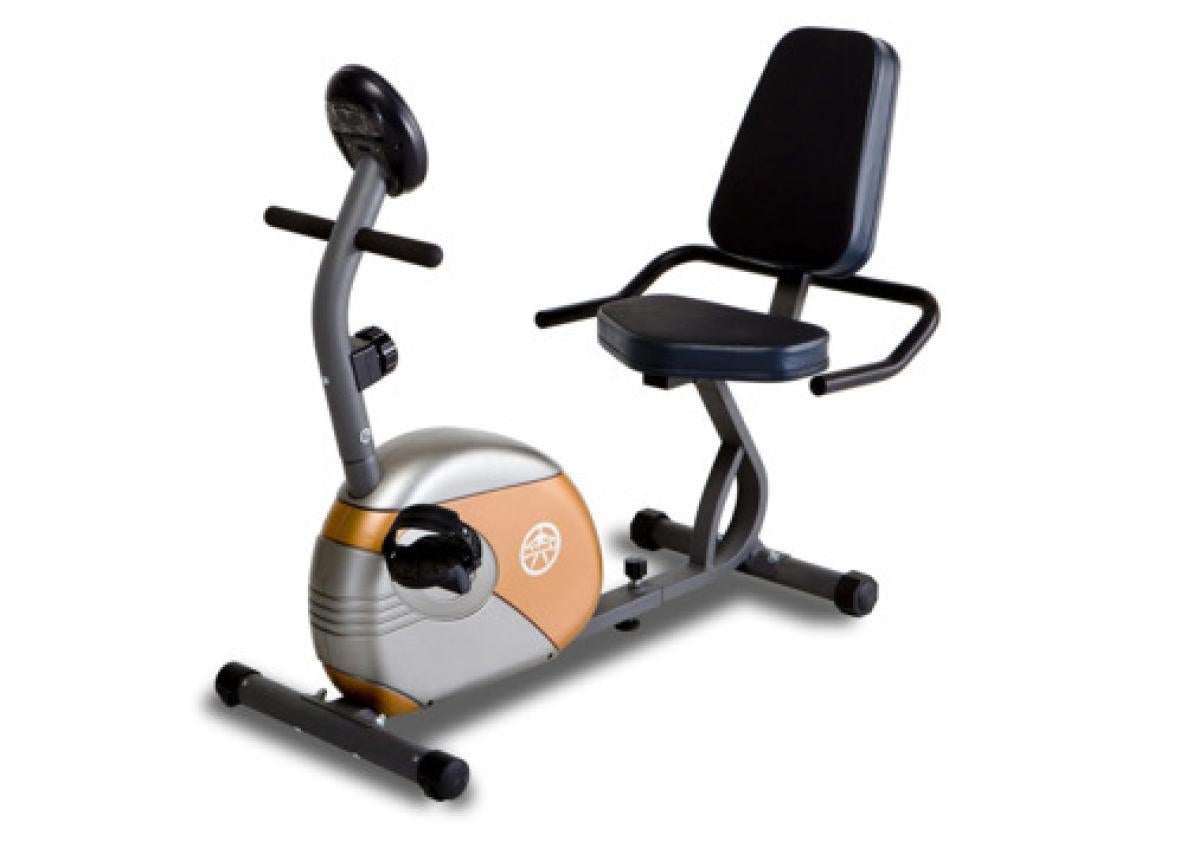 4.1 stars, 4,797 reviews
"I've been using this bike for about two years, and I absolutely love it. I turn on the television and watch a movie or play video games and the time flies by! I honestly forget I'm riding it sometimes, though that depends how good the movie or video game is! I have to get up every 30 minutes to stretch and give my buttocks a break, but it's a very comfortable seat overall. I keep a pillow stashed between the seat and backrest for even more comfort. When I started, I was 400 pounds, so there's no weight limit that I'm aware of. Easy to assemble, and you can adjust the tension from one to eight to make your workout easier or harder. Plus, the legs rotate forward or backward, so you can ride in any direction you please. It also allows you to adjust the length from the seat to the pedals, so if you're short or tall, you can adjust it to fit your needs … The unit is magnetic, so it's very quiet—can't hear a thing when you're riding. The digital screen tracks time elapsed, calories burned, distance traveled, and current speed; you can set it to rotate between these display options or set it to stick to a single option (for instance, if you only want to see time elapsed). I haven't replaced the batteries yet (I think they're two AA), so they seem to last forever … I lost 60 pounds over the course of a few months doing no other exercise other than riding this recumbent bike in my room. Yeah, it's THAT good. Great exercise bike that's well worth the price!"

Marcy Recumbent Exercise Bike With Resistance ME-709
$122, Amazon
Best Folding Recumbent Exercise Bike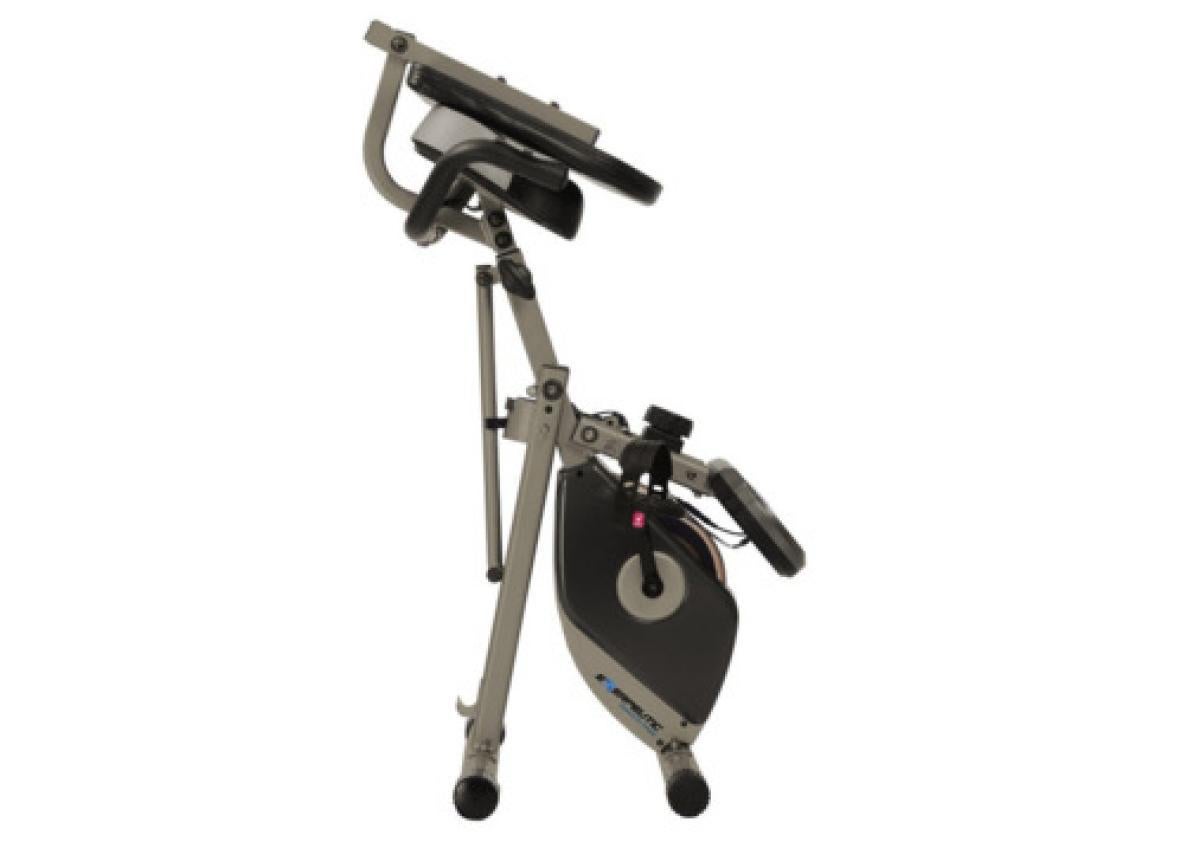 4.4 stars, 2,400 reviews
"This is perhaps the nicest gift I've ever treated myself to. My ideal piece of exercise equipment would have been a treadmill (I LOVE TO RUN), but it simply wasn't an option—they cost too much, take up too much space and require a lot of maintenance. This handy-dandy little exercise bike, however, takes up very little space and is quite affordable (compared to, say, my old gym membership or a treadmill) … Love the tension control—I can definitely break a sweat on this bike and get a good burn in my legs. Computer function is nice, but I don't buy that I burn nearly as many calories as it claims I do. The heart-rate monitor was surprisingly accurate for me (I have my own heart-rate monitor I use on runs to compare it to), and I like that I can see how long I've been working out for—in reality, though, I almost never pay attention to the display … Very happy with this bike, love the space-saving design, and I find it to be a very comfortable, 'semi-recumbent'-style bike."

Exerpeutic 400XL Folding Recumbent Bike
$97, Amazon
Best Upright Exercise Bike With Desk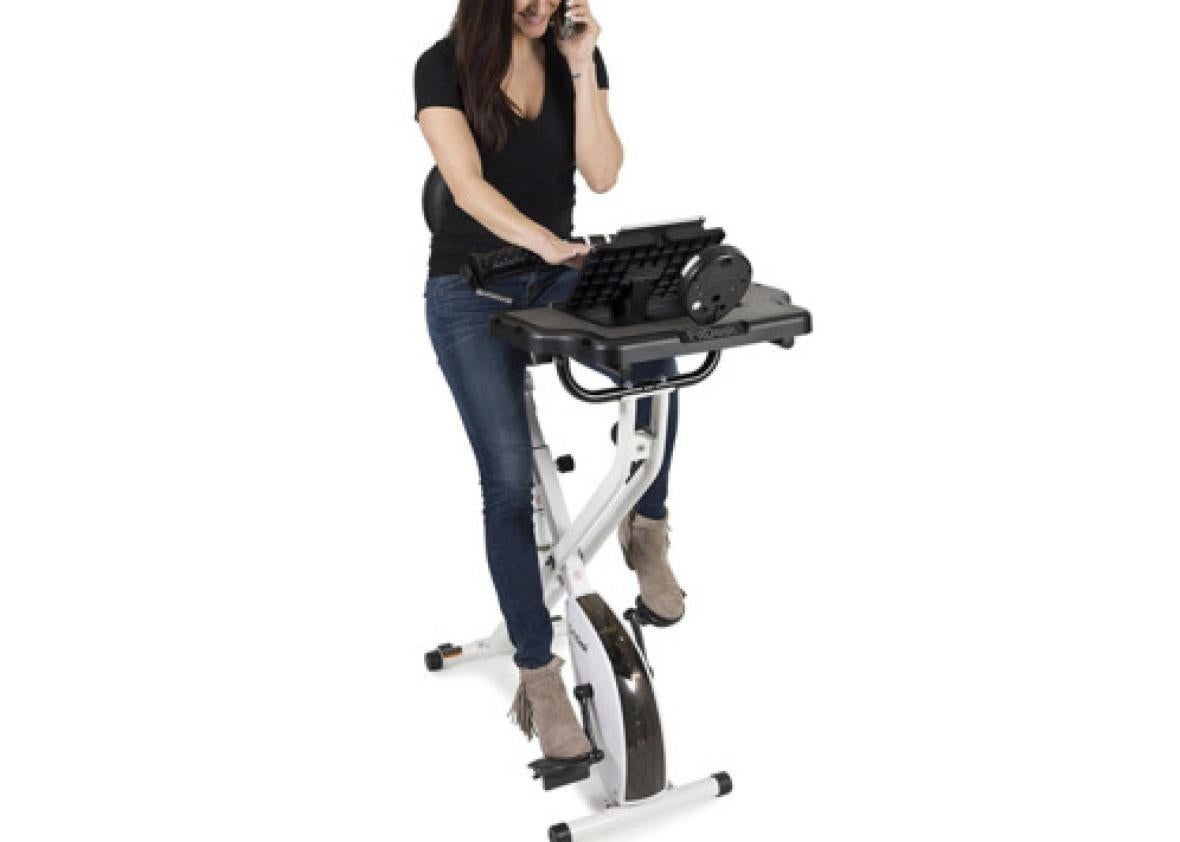 4.2 stars, 1,443 reviews
"I haven't been this delighted with a product in a long time. As a college professor, I can't avoid sedentary evenings. Or rather, I couldn't. That all changed last week when I assembled this bike and begin clocking 20 miles per day while doing a few hours of research. The design is ingenious—I especially like the drawer for my phone, as well as the strap securing my laptop … It took just under two hours to assemble, and I agree with the other reviewers that a ratchet set is handy if you have it, but not essential. You should also tighten the bolts once a week or so, which isn't hard. As for usability, you're not going to want to spend a full day on this, but you won't have to. I find that reading, emailing, note-taking, web-surfing, and movies work best on the Fitdesk; intensive writing might be better saved for a desk on which you don't have to expend a few brain waves to keep the pedals moving. That said, if you pedal at light resistance, you'll barely be aware that you're doing it, and I do think the process keeps me more alert, even if it divides my attention a hair. I don't know how these guys keep the prices so low, and they even donate some of the desks [to] schools! I'll check back in if I have troubles with it down the road, but if I get a year out of this, it will have paid itself off many times. I don't use the phrase 'life-changing' lightly, but it just may fit here."

FitDesk Desk Exercise Bike With Message Bar
$265, Amazon
Best Recumbent Exercise Bike With Desk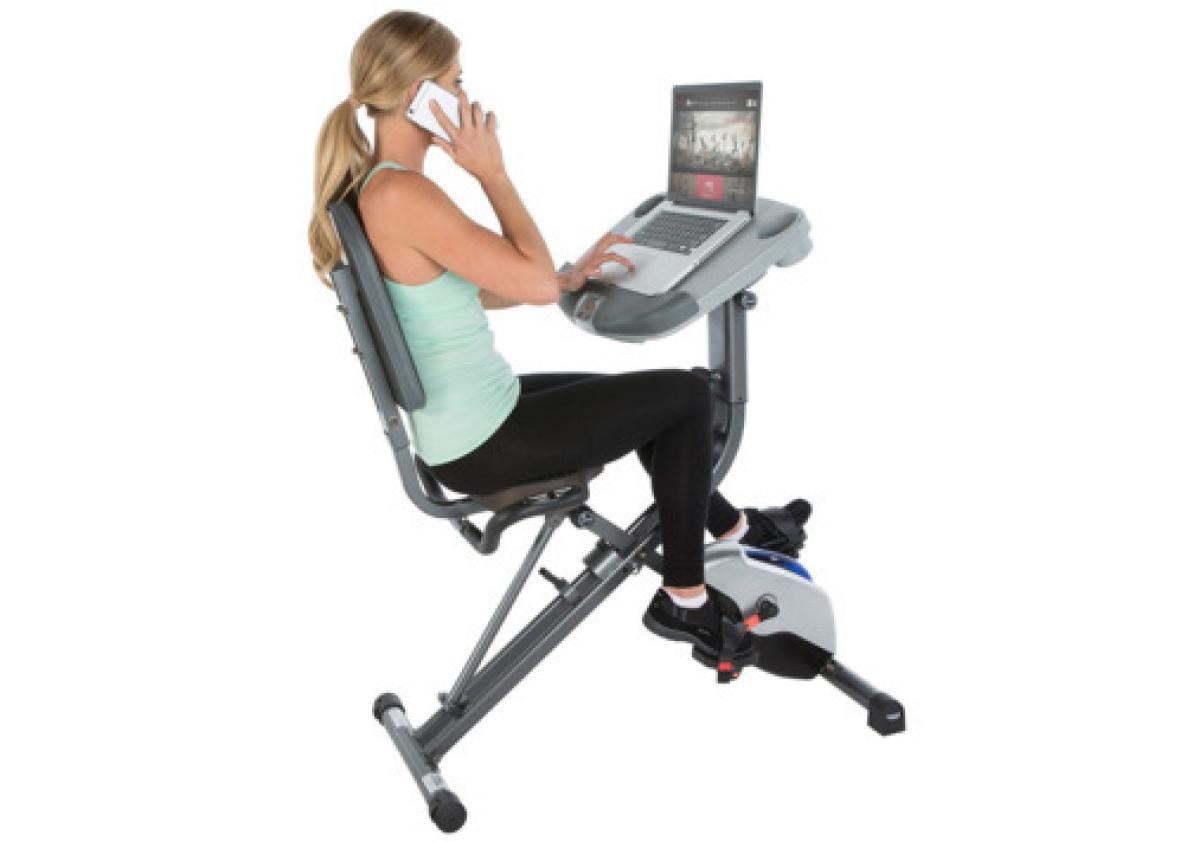 4.2 stars, 381 reviews
"I love this bike! I am able to type on my MacBook Pro (15-inch) without any shaking or discomfort. I set the tension to about six (out of eight) and end up getting a pretty good workout while also getting my work done. This bike is really changing my sedentary work lifestyle; I recommend it to anyone who wants to stay active throughout the day. Easy to put together and fold and store. I'm really surprised by how awesome this bike is—wish I could have it at work, too!"

Exerpeutic Workfit 1000 Desk Station Folding Semi-Recumbent Exercise Bike
$200, Amazon
Best Under-Desk Exercise Bike, Overall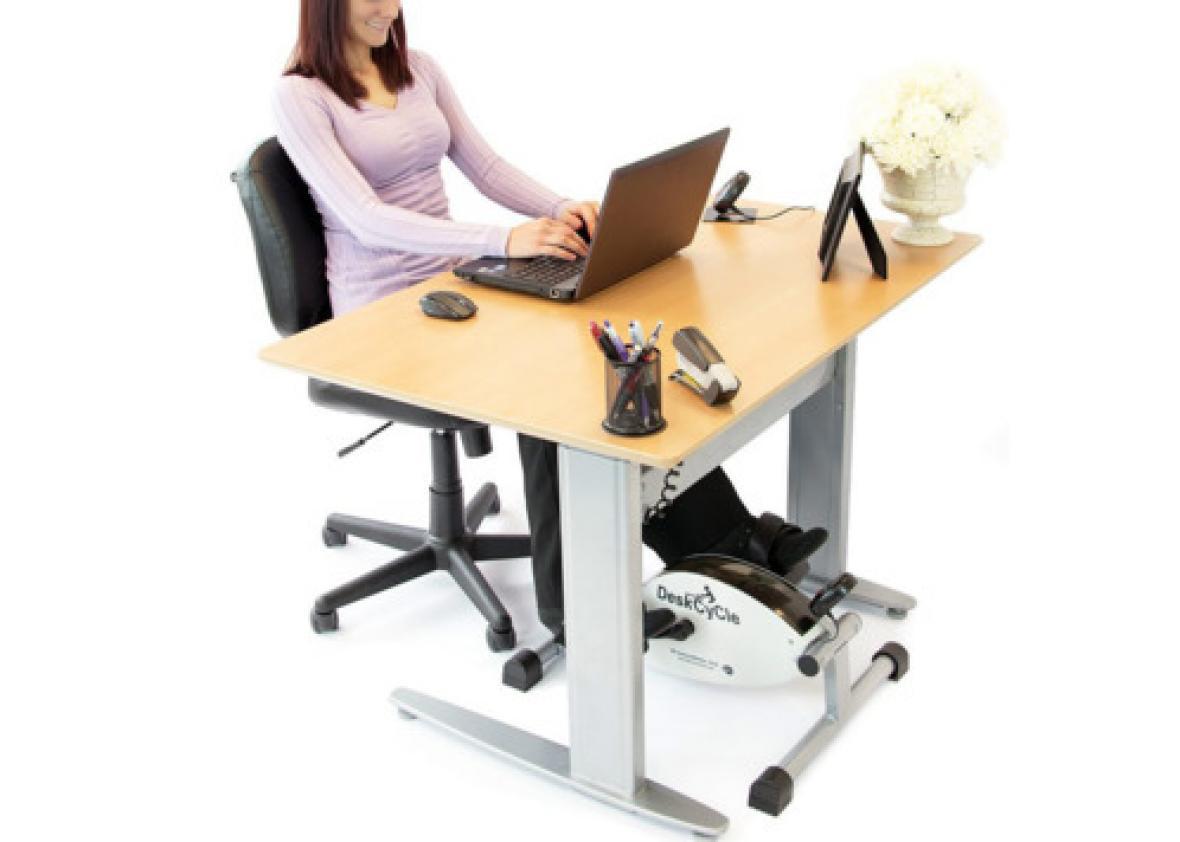 4.7 stars, 1,716 reviews
"I LOVE this exerciser! I have a typical desk job and used to struggle to fit exercise into busy work days and even busier evenings with family commitments. I now exercise an average of 1.5 hours a day—riding 25 to 35 miles—while I'm working. I tend to use it while I'm on calls and don't have to do heavy typing. It's low, but still would not allow me to pedal under my keyboard tray, so I have it under another part of my desk where it works just fine while I'm on the phone. The machine is heavy, well-made, and virtually silent. My workspace is carpeted and I have a rolling chair, but I find that on tension-setting three I'm still able to pedal without the chair moving much, and haven't had to use the included strap. I use my abdominals to help hold the chair in place for added exercise benefits. Also, I'm a fidgeter, and a surprise bonus of this machine is that the pedaling takes care of my need to fidget, so my concentration and focus on work is actually greater while I pedal. Who knew? … Overall, it's a life changer! I highly recommend this gizmo for people with sedentary jobs."

DeskCycle Desk Exercise Bike Pedal Exerciser, White
$159, Amazon
Best Under-Desk Exercise Bike Less Than $100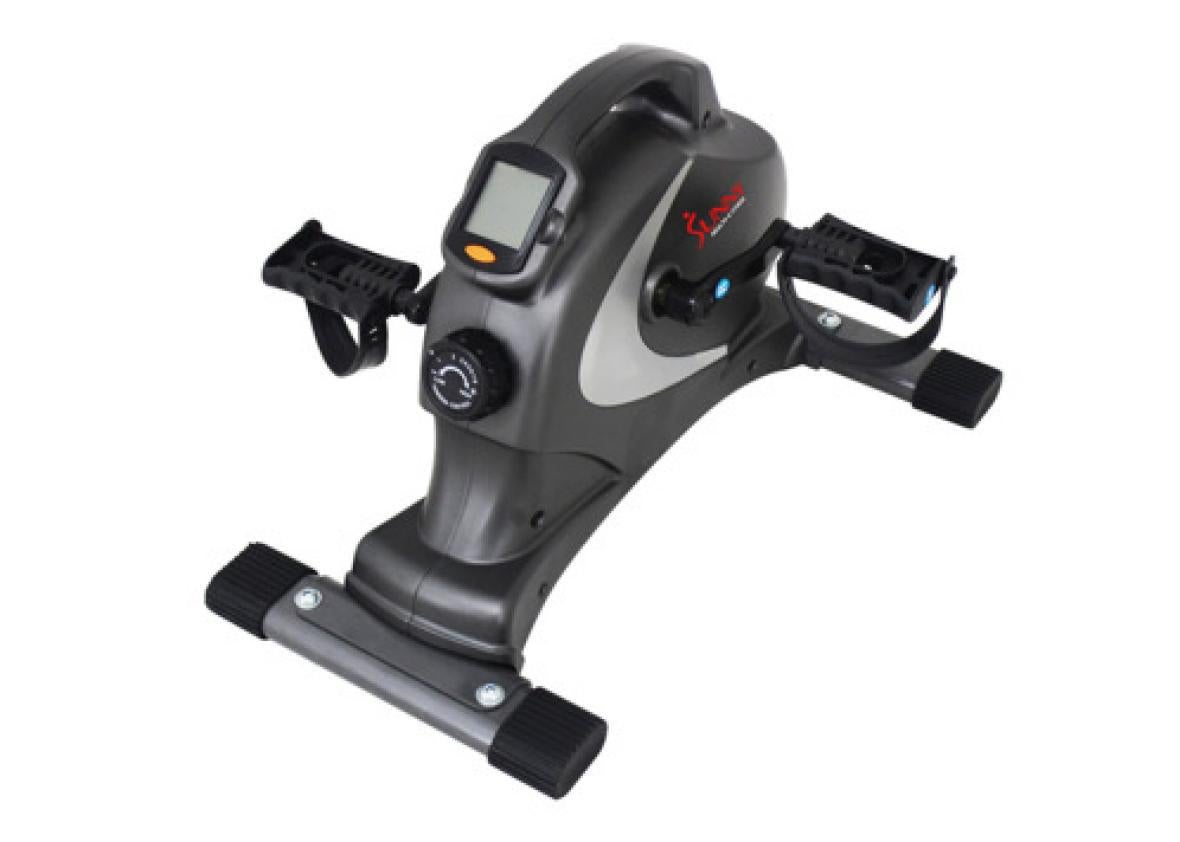 4.3 stars, 630 reviews
"I seriously wish I found this five years ago. I am pretty active but work a lot, sitting at a desk 10 hours a day at a pretty stressful job. My legs get achy from sitting; I just feel lethargic and have gained a couple pounds I'm not happy about over the last couple years … Long story short—this is a life changer. I received it over the weekend, it's super easy to assemble, and did a quick trial run watching TV. It's a very smooth ride, and completely SILENT, which is perfect for the office. First day taking it to work, I biked 13 miles throughout the day—AT MY DESK … I feel more energized and not like a worthless sloth sitting all day. As far as resistance goes, there are adjustable settings, so you can go as light or heavy as you want, digital monitor showing calories and distance, and it's small enough to fit right under your desk. I am using the fourth out of eight on the difficulty level, and it's just enough to not get super sweaty at work, but still get a good work out. I have zero complaints and can't wait to get back in shape!"

Sunny Health & Fitness SF-B0418 Magnetic Mini Exercise Bike, Gray
$101, Amazon
This article is published through a partnership with New York magazine's the Strategist and Select All. The partnership is designed to surface the most useful, expert recommendations for things to buy across the vast e-commerce landscape. We update links when possible, but note that deals can expire and all prices are subject to change. Every editorial product is independently selected by New York magazine. If you buy something through our links, Slate and New York magazine may earn an affiliate commission.
---