Just after midnight, a woman in a blue gingham dress named Miss J grabs me on the shoulder.* The air in San Francisco smells like smoke; today, a Wednesday in early October, is the fourth day of some of the largest and most destructive fires north of the Bay anyone can remember. Around us, people dance; Luz, a DJ visiting from Berlin, is cuing up wailing divas that have a mix of San Franciscans—bears in red lycra bodysuits, lesbians in fedoras, people of all races and genders and classes—spinning in plumes of artificial fog outlined in lavender light. There is a feeling of freshness, of freedom, of something slightly undiscovered, that can be rare in more homogenous gay scenes. "I want to kick the DJ off the stage and sing sad songs about the fires," Miss J, a trans-identified drag performer, says. "A friend of mine is fighting them, and it's awful. But the music is so fucking good I can't stop dancing." She spins away.
We're in the Stud, a gay club located in San Francisco's South of Market area that's been open since 1966. Last year, the bar was in danger of closing, its longtime owners preparing to sell and facing an almost-tripling of the monthly rent. Across San Francisco—across urban centers worldwide—gay bars, and especially bars catering to class- and race-diverse crowds, are shutting down due to reasons ranging from economic to cultural, as rents in urban areas rise and dating apps make some queer people (mostly men) feel the need for in-person connection less acutely. Marke Bieschke, a nightlife writer and alt-weekly veteran, called the bar "one of those spaces where I had a death watch. It was a place where I was thinking, 'okay, when this goes it's time to leave San Francisco.'" But instead of just watching, Bieschke joined a class-, gender-, and race-diverse group of 18 San Franciscans—people with varying levels of experience in nightlife, business, and community organizing—and formed a collective that bought the bar, negotiated a two-year continuation of its lease, and created one of the first worker-owned nightclubs in the world. They began operations on Jan. 1, 2017.
They didn't want the reborn bar to cater only to rich white gay men or to collaborate with gentrification like some other new "queer" spaces in town, including the Peter Thiel-funded Yass social club. "We tried to be intentional about opening it up from being just a men's space," said Maria Davis, owner of another bar and collective member. "We have 1/3 of the coop as women, and a significant percentage are also people of color, people from different age groups, people from different class backgrounds." Collective member Houston Gilbert described a system in which each member paid an equal base amount to join, with a few putting in additional funds to raise the full capital required to save the space. "This kept the cost of entry relatively low while also promoting diversity among the collective's founders and potential future members," he said, noting that the group structured itself strictly around the equality of each collective member's voice. "It's crazy," Gilbert said, "if you'd told me that I'd love going to two-hour collective meetings I might not have believed you, but now working on it with these people has become such an amazing part of my life."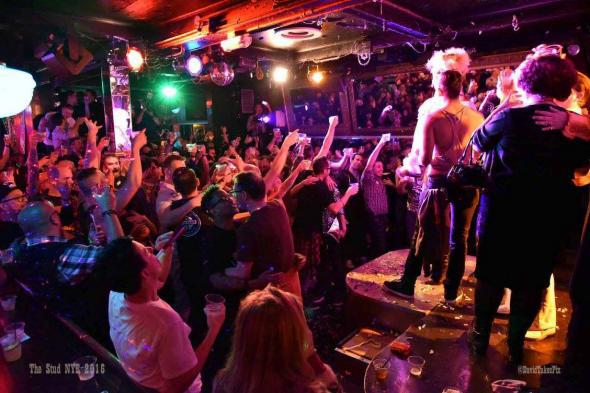 Everyone involved in the Stud tends to mention the first time they saw the building. It sits low and exposed, filling out the front of a low-lying industrial block on Harrison Street, all wild-west type and blinking neon. Davis remembers visiting San Francisco, "being 14 or 15, a little punk rock kid, and driving up with some older friends. We drove off the freeway and it was the first thing I saw. I had heard of it, being involved in queer culture and politics, and I thought, wow. There it is. I'm home." "I grew up driving past it all the time," said Honey Mahogany, drag queen, RuPaul girl, and Collective member. "If you're coming from South or West of the city this is where you'll get off to go to Civic Center. It was this bright and loud building in the middle of this industrial area and I remember seeing it and thinking it was somewhere a little dangerous, somewhere a little wild."
Going to the bar in a Lyft or Uber, themselves symbols of a San Francisco defined by skyrocketing rents and tech fortunes, you run a gauntlet of brand-new shiny condo towers. Cheaply built, they look almost temporary, like stage sets. They're forcing the Stud out of its current location within two years, and the collective is actively searching for new space. "In this climate it's almost not a possibility to find space because landlords want fly-by-night tech companies that won't do too much alteration," says Bieschke. "There's still a lingering feeling of homophobia. Not so much direct homophobia but there's a narrative that queer bars are closing so landlords don't want to rent to us, which makes it a self-fulfilling prophecy." The night I visit the bar in October, someone recollects a sexual encounter in one of the condo towers' construction sites with some "good trade" they met inside. Interrupted by police with flashlights, the pair had to run back into the bar in their underwear to call a cab home.
Back in the '70s, the Stud building was surrounded by warehouses and other industrial buildings; the bar itself began as part of a group of alternative and leather-leaning gay bars that defined and produced a particular kind of male sexuality. In December of 1970, pioneering gay liberation newspaper Gay Sunshine Journal published an article called "Showdown at the Stud." It was "a heavy bar," the paper said; "on a weekend night you'll find it packed with cowboy-hip white and Black bodies pushing and rubbing against one another…the sexual tension is electric—exciting if you're in the mood, depressing if you're not." One Friday night, the cops moved in on "about 75 people milling around … the pigs had decided to vamp on these long-haired white and Black Fags, and this was the appointed hour." The cops beat up several men and arrested two for assault when they defended themselves and their friends. Slamming the apathetic response of the city's more established gay networks, the article concluded that "the pigs have told us something. We had better get ourselves together. All the telegrams and meetings with important people aren't shit. We have got to do it ourselves."
37 years later, some collective members still feel this sense of going it on their own, of, as Bieschke says, "a lack of city will to take action" to defend queer communities and spaces. Nate Allbee, another collective member who has worked in the campaigns and offices of the City Board of Supervisors' progressive faction, did, however, cite legislation about historic districts and the assistance of several Supervisors and city offices in facilitating the takeover last year.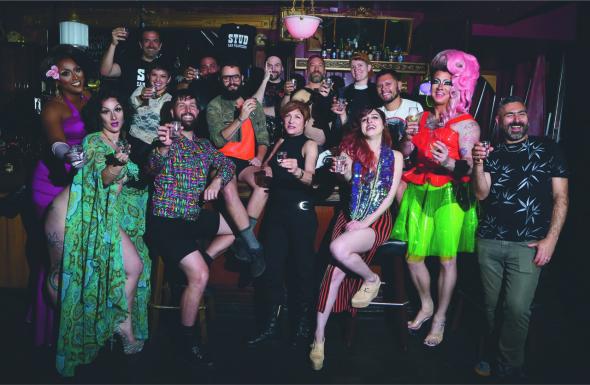 In the 1980s and 1990s, the Stud was a different but no less political bar. It served as home to Trannyshack, founded by drag queen Heklina in 1996, which Bieschke remembers as the time he first arrived in San Francisco. "That was back when there was a Black bar and an Asian bar and an old man bar and you were supposed to stay in your space. But the Trannyshack era was a groundbreaking moment, part of the homocore movement and tied into the zine moment, a moment of deconstructing mainstream gay culture and trying to produce something to go against it. The Stud was one of those places where the formulation of 'queer' as a category of difference was produced." Mahogany recalls the Stud being "one of the places I felt I could fit in, perform, or just hang out in my body however I was dressed that day."
The past year has been tough but successful. Gilbert tells me the bar is, in addition to being a "touchy-feely" collective, "relentlessly data-driven." "That allows us to have a mix of parties," he explained in an email. "We could fill the place up with cute boys with beards (who we love) every night but instead our programming committee combines parties that are going to do really well with parties that are going to bring in communities we really want to include or different kinds of events that are going to keep the space mixed and diverse." None of the collective members had much experience working in such a non-hierarchical way; all of them spoke about needing to "evolve" towards ways of working that combined the idealism they felt when taking the space over with the often-unglamorous realities of running a club.
Changes in the city itself have made their task more challenging. Matthew Paul, one of the promoters of the Wednesday-night party I attended, said it's harder and harder to work in nightlife in San Francisco. "During the week," he says, "everyone has a job now. Not as many people who work irregular hours or in the service industry can afford to be here. It's hard to get a crowd." Nevertheless, business is up 70 percent over the same time last year, and the bar was full and raucous when I attended. And every collective member I interviewed raised, unprompted, the feelings of joy and purpose that taking over the space have filled them with, calling one another family and saying that this project was the most rewarding thing any of them had ever done.
The night of my visit, Miss J never makes it on stage, but the fires keep coming up. Before heading out, I have a last beer in the bar, talking with Bieschke and a couple of friends. Behind them, boxes are stacked to the ceiling, full of canned goods and supplies for people in the North Bay whose homes had burned down. A flyer announces that donations are being collected for post-hurricane Puerto Rico; another, faded one asks for supplies for Houston. "It feels like the apocalypse," someone says. I make a joke about how the last two days of headlines in the San Francisco Chronicle—Disasters Relentless and Calamity Widening—would make perfect drag names. Everyone laughs. Suddenly the Stud feels like a bunker, a hideout. "We're going to have to be a lot more like cockroaches," someone says, and here, it feels like good news.
*Correction, Dec. 12, 2017: This post originally misstated Miss J's gender identity.