Every afternoon except Tuesday, 17-year-old Ariadna Arredondo travels from Aurora Central High School to Tacos Acapulco to spend seven hours cooking and running the cash register. On Saturdays and Sundays, she puts in 12-hour shifts.
Clocking 52 hours a week at $9.50 an hour to supplement her mom's housecleaning income left Arredondo little time for homework throughout her high school years. And it showed. Her grades fell and she almost failed to graduate—just like 52 percent of her classmates. Yet just six weeks after she enrolled in a program that helps children who live in poverty remain in school, Arredondo is giddy with the thought that she will soon don a cap and gown.
"I'm so excited to graduate and to walk across that stage," said the senior, who lives in a suburb of Denver. "If it wasn't for this program, I would be ditching. Now, I want to go to college to be a psychologist."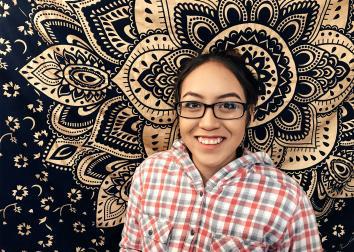 Offered by the nonprofit Communities in Schools in conjunction with Aurora Public Schools, the first-year program is preparing to help 60 more kids like Arredondo. Many of them are Latinas struggling to juggle schoolwork, child care, and household and work responsibilities. Aurora's CIS effort, held in modular classrooms on the high school campus, allows kids to structure their own schedule through independent study with teachers available into the evenings for questions.
CIS' relationship-based approach is one of several community-oriented interventions credited in part with slashing the percentage of Hispanic females in the U.S. who drop out of high school by two-thirds, from 24 percent in 2000 to 8.4 percent in 2015, according to the National Center for Education Statistics. Even so, the high school dropout rate among female Hispanics is higher than that of their white, black, and male peers, in part due to cultural expectations that Latinas will help their parents with child care and housekeeping, often at the expense of their education, said Sylvia Martínez, associate professor in educational leadership and policy and Latino studies at Indiana University–Bloomington and co-author of Barriers to Educational Opportunities for Hispanics in the United States. Programs like CIS are attempting to help resolve this in part by acknowledging these pressures.
Another is the Mother-Daughter Program at the University of Texas at El Paso, which has engaged 9,000 girls and their moms and inspired similar efforts in schools from San Diego to Wisconsin. The implementation of a Mexican American studies curriculum in Tucson, Arizona increased grades and graduation rates, as did work by community colleges in Miami high schools to ensure high-risk Latinas understood college was within their reach.
The changing demographics of the disparate Latino population, with a rising share born in the U.S. and a growing understanding among parents that education is essential to compete for jobs, are also responsible for the unprecedented increase in graduation rates among Latinas, said Martínez.
"Latinas' rate of acculturation outpaces their parents' rate of acculturation," Martínez added. "They tend to have a lot of conflict with respect to family issues and gaining independence, while white teens tend to have conflict with peer relationships."
This family centered culture can overlook the fact that today's students must assimilate into a high school system that expects them to put their studies first. Unpaid care work overshadows the financial future for America's fastest-growing female minority population, who often grow up to manage the money in their households and earn only 54 cents for every dollar collected by white men.
Each school year, the Mother-Daughter Program shifts gender dynamics in Hispanic households by working with students and their parents to understand the importance of a high school and a college education, said Josefina Tinajero, dean of the college of education at UT–El Paso and the program's director. Tinajero founded the program in 1986 with four other women after they realized that very few Hispanic girls in their region went on to attend college. That's not the case today. Program participants get pregnant as teens less often and are more likely to graduate at the top of their class, Tinajero said.
"I was at the football game the other day," she added. "And I met this grandmother who said her two granddaughters were in the program and both went to college."
The program works with school districts in the El Paso region who select 300 sixth-grade girls a year who would be among the first in their families to graduate from college. These students and their mothers attend five events at the university throughout the school year, including touring the nursing and engineering programs as well as other schools, talking with college recruiters, attending a career day where professionals talk about their jobs, and participating in community service projects.
Tinajero and her staff also provide parents with information about scholarships and financial aid and talk about what a college degree means in terms of career advancement and income. The curriculum has proved so powerful that mothers often also choose to go to college.
The program changed Sylvia Luna and her daughter's life. Luna enrolled in community college afterward, got a human resources degree, and went on to get a master's degree in business. After working as a federal grant coordinator at UTEP, Luna retired and now works part-time at a charter school. Luna said the program showed her she could pursue her dream to become a grant coordinator by getting a college education without owing thousands of dollars of debt.
"Dr. Tinajero was always very conscious of saying it doesn't take money to get an education," said Luna, whose daughter is now a school administrator. "I wouldn't have been able to help other people get an education if I didn't get one myself."
In Aurora, Colorado, Melissa Ramirez, a soft-spoken 17-year-old who cares for her two younger brothers and cooks and cleans every day after school, said the CIS program will allow her to become the first in her family to graduate from high school. She wants to go to college to study to be a nurse.
"Last year I started falling behind and I started ditching—I hated it," Ramirez said. "In this program if you're failing they won't make you feel bad about it—they will help you out. My parents still don't believe I'm going to graduate. But I am."