Flawless Sabrina (Jack Doroshow), who died on Nov. 18 at the age of 78, was many things: drag pioneer, queer activist, muse, and counter-cultural force, to name a few. But as the people who knew her—whether as Flawless, Mother, Sabrina, Grandma, or Jack—will tell you, the most iconic role she played, and the one that mattered most to her, was as a mentor to younger people.
Jack was born in 1939, and often recounted the difficulty of growing up as a precocious gay boy of mixed Jewish and Italian ancestry in a rough and almost exclusively Italian South Philadelphia neighborhood. Eager to experience the world beyond the childhood home he often referred to in shorthand as "19th and Tasker," Doroshow studied psychology at the University of Pennsylvania. It was during his time as a student there in the late 1950s that he began organizing the Miss All-America Camp Beauty Pageant, a cross-country circuit of drag contests that culminated each year in the Nationals. Flawless Sabrina, the drag persona that Jack conceived at 19, was a pushy Jewish grandmother who could emcee the shows without making the other contestants feel threatened. In one sense, Flawless was always the queer eminence grise that it would take Jack a few more decades to become.
Both Flawless Sabrina and the contestants of the Nationals were immortalized in the X-rated 1968 documentary, The Queen, which offers a rare glimpse of pre-Stonewall queer life and gender diversity. As queer historian Hugh Ryan has chronicled, for a time, Flawless/Jack was perhaps the largest employer of queer people in the U.S.; but he  decamped from the pageant circuit not long after the release of the film, working as a consultant on movies with gay content in Hollywood, and then as a private investigator and fixer in Paris, before returning in the late 1980s to New York, where his partner, the artist Curtis Carman, was based. There, Flawless continued to collaborate with untold numbers of artists, to host and attend many of New York's most infamous cabarets and parties, and, most important, to advocate tirelessly for artists, queer people, and children.
In recent years, Flawless was the subject of a 2011 tribute show at the Leslie-Lohman Museum of Gay and Lesbian Art and an honored guest at the 2016 Gay Gotham exhibit at the Museum of the City of New York, which featured clips from The Queen. On both occasions, he was characteristically humble and self-effacing, singing the praises of his friends-and-family-in-art, adamant that he was privileged just to be among them. This was a consummate performer who didn't actually care all that much about being in the spotlight.
As Jack frequently reminded us over the years, she pursued drag in large part because he understood it as a kind of camera. Recalcitrantly curious and devoted to the art of la truc (the trick), Flawless insisted that by daring to "inhabit the mask" of the star, she (and, by extension, any of us) would enjoy the best vantage from which to observe everyone else. As artist and cherished trans granddaughter Zackary Drucker said of Flawless to Ryan, "She's really a producer. And producers are not the visible people, they're the people who make things happen." (Drucker and the journalist Diana Tourjee are preserving Jack's lifework in the Flawless Sabrina Archive.)
In the spirit of recognizing all that Flawless/Jack did—most often behind the scenes—to "make things happen" for his friends and queer grandchildren, Outward has collected some remembrances of how her mentorship affected their lives. They represent just a small fraction of the profound legacy The Queen leaves behind.
* * *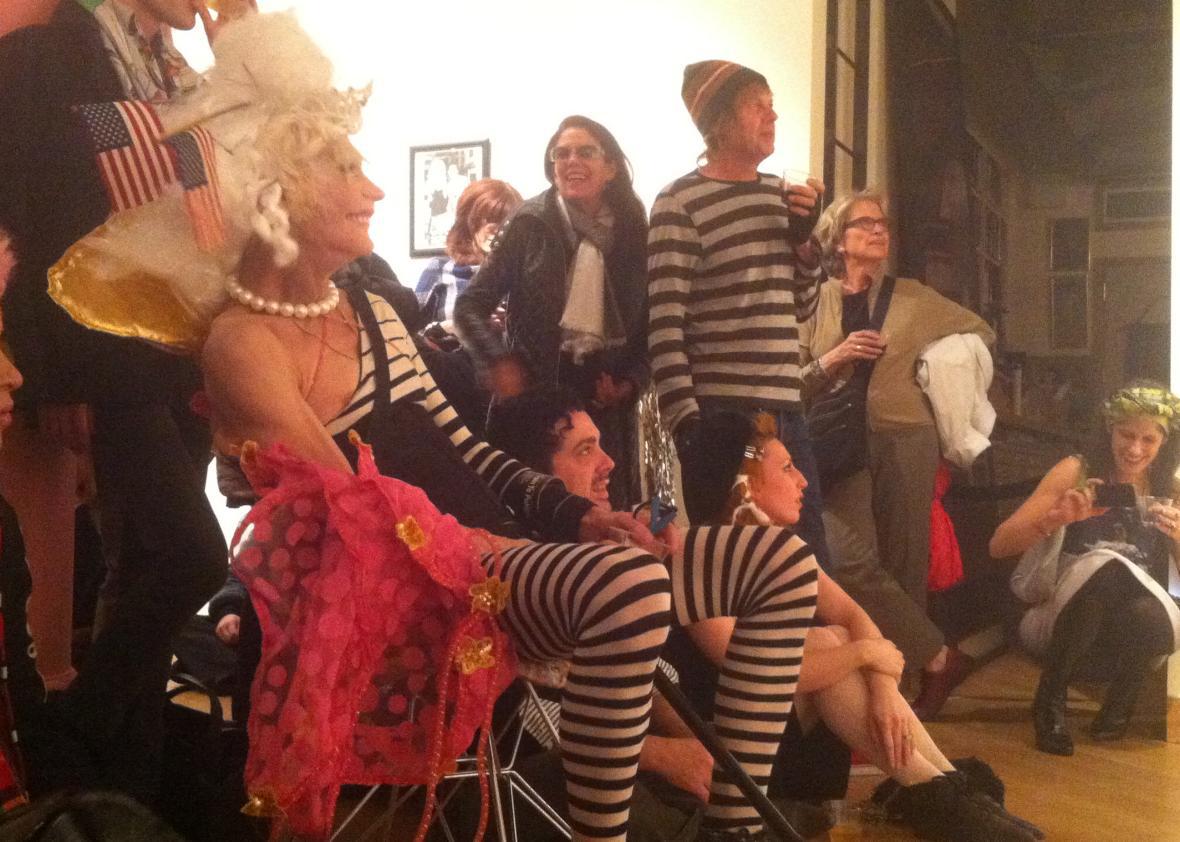 Submissions have been lightly edited for length and clarity.
I first met Flawless one evening in the spring of 2002 while I was an undergraduate at Hunter College on New York's Upper East Side, when one of her very dearest grandchildren, the painter Matthew Namie, dragged me to her radically eclectic apartment a few blocks away. Ironically, few places in the city have likely incubated and nourished the world of downtown art as much as that smoky uptown apartment, where Jack held court at his desk, surrounded by dense accretions of paintings, photographs, sculptures, and notes scribbled in lipstick and sharpie. Depending on the decade, visitors were as likely to include Andy Warhol, William Burroughs, or Truman Capote as Karen Finley, Susanne Bartsch, or Taylor Mac. And then there were her kids, as she called us, which could mean anything from a ten-year-old girl Flawless had secured a spot for at an after-school program in the Bronx to a 20-something aspiring gay novelist or a middle-aged suburbanite embracing their trans identity. We all came for different reasons, but we stayed for the same ones: Jack's relentless optimism and playfulness; his uncanny ability to synthesize well-worn clichés, erudite allusions, and the latest political news into stunning feats of folk wisdom; and his unwavering encouragement.
Over the years, we developed a routine familiar to so many of Jack's children and grandchildren: once a week or so I'd call and ask if he was up to having company and if he needed anything from the store. After riding the rickety elevator up to the fourth floor and pushing through Jack's perpetually unlocked front door, I'd heat up whatever I'd brought in the microwave and argue with him until he ate at least half of it. And for anywhere from half an hour to half a day, we'd talk about nothing and everything.
It was easy to be seduced by Flawless Sabrina. She was quick-witted, outrageously attired, endlessly entertaining, and generous to a fault. But it was Jack who mentored me these past 15 years. As I tried my hand at one pursuit after another— from poetry to photography to ethnography—Jack insisted that I need not be limited by any one of them. As I felt my way from student to teacher, Jack reminded me to not only aggravate critical thought, but to cultivate compassion. As my love and work conspired to take me on the road, Jack reminded me to travel light. As opportunities presented themselves, Jack cautioned that if it didn't make me nervous, it probably wasn't worth doing. And always, when I doubted myself, Jack repeated, "whatever you do is perfect," even, and especially, when it wasn't.
– Charles A. (Cam) McDonald, writer/cultural anthropologist
Mother Flawless Sabrina was one of the first people I met in New York. My friend Jade took me to her apartment on the Upper East Side, and like so many others before and after me, I sat, listened, and learned. Though I was young and naive, she treated me with respect and love, and her door was always open. She didn't mind that I was some dumb kid; she took it as her responsibility to wisen me up. I wouldn't be who I am today without having spent time with her and hearing her take on the world. I performed with her once for one of her Andy Warhol phone skits, and worked some of the same parties she did, and every time I saw her she had a smile and a hug. When I wrote my senior thesis play, I based a character on Mother Flawless to pay tribute to what she meant to me and to gay men everywhere. I don't know who among us could have had the courage to show up in a dress 50, 60 years ago. Without the no-fucks-givenness of Mother Flawless, where would we be today? I love you Mother Flawless, and will always carry your legacy within me.
– Thomas Flannery, writer and literary agent
Two summers ago, I visited Flawless in New York, and she read my cards. This time spent with her, and the friendship that followed, felt like a pilgrimage into the holy-land of queer ancestors. We talked about how important visibility is in the South, how I shouldn't be afraid of that visibility, but embrace it like a bull. She shared her own experiences with me of being pulled over by police in the state of Texas. We talked about pineapples and costumes, and she offered me juice. I'm forever thankful for the time I was lucky enough to spend with her, and will work diligently to make her proud. Rest in power, dear mother.
– Liss LaFleur, queer-femme artist from Texas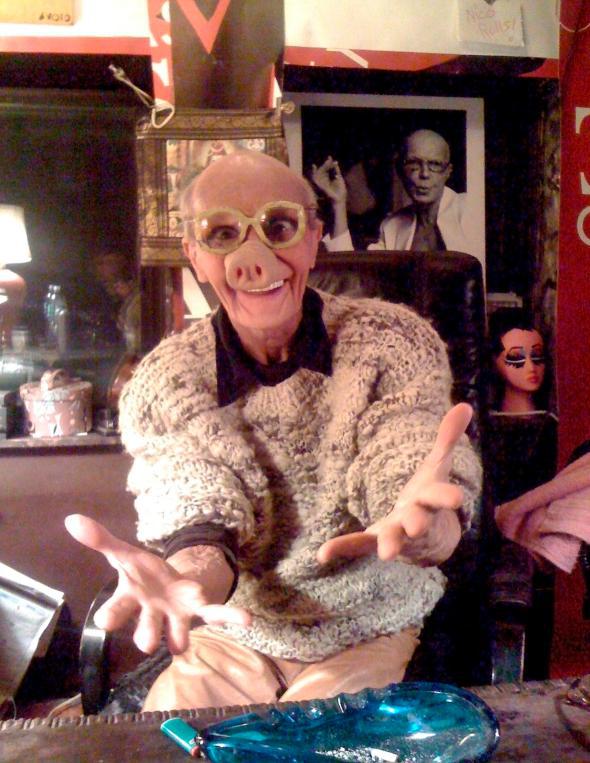 I met Flawless just after the election of Donald Trump, and we have spent the last year getting to know each other through the pain, fear, and intergalactic possibilities that this year has brought. Flawless heard me and saw me and was proud of me. She gave me the strength I needed to take on my life, brought me to own my truth, and loved me. I spent many nights by her side this year learning, rebuilding, recharging, and loving. She is an angel and will always be a center of my life, my work, and my ability to love. Without Flawless, I would not be here. I will carry her fearless beauty everyday.
– Chase Strangio, lawyer and Outward contributor
I spent many hours with Jack. In fact, he even harbored me on his couch when I was between apartments for a month or two. Over the years of our friendship, there were countless pearls of wisdom he shared, lots of cheerleading and encouragement, as there was with everyone who encountered him. I often wondered who was there for him when he needed to get things off his chest. When I'd ask him how he was doing he would always reply, "pretty good for an old fart," and leave it at that.
The encounter that perhaps remains with me the most is the first time I went to his apartment. We were returning from a nightclub, it was the wee hours of the morning, and he invited me over. His door was unlocked, he gave it a simple push open. The decor alone took me to another dimension, one of a New York that no longer was, and yet somehow, one that had yet to occur. We talked and talked, sometimes the conversation would go circular and his tangent would arrive at a place where I'd have to say:" I don't follow, run that last part by me again." He'd reply that he was taught by a mentor that the most powerful form of communication was expressing yourself so what you were saying could be interpreted at least three different ways. The sun finally came up, and he had convinced me that I should quit my job at the restaurant I worked at and devote myself to the pursuit of my artistic career full time. I left his house and did so.
– Brandon Olson, actor, writer, transvestite, artist
I only knew Flawless briefly, and yet so many of the things she told me have become mantras: "Everything you do is perfect"; "you're the boss applesauce"; "last long enough and you play all the parts in life." She reminded everyone who came near her that life was a gift to be shared and enjoyed. She was one of the most generous (and hysterical) people I've ever met.
– Hugh Ryan, writer and Outward contributor
One or two paragraphs is not enough. But I can say that Mother Flawless Sabrina's passion and joie de vivre rubbed off onto anyone who knew her. She could make you laugh and introspect at the same time. Her personal style was always original and the inventiveness made me really respect her creativity. There was a skill to her craft that made her deft in every situation. And her support and cheerleading for fellow artists was unwavering. Spending time with her in the apartment or out on the town was always a rare treat that I will never forget. She was fearless.
This is a silly little story, but I must tell it: At La MaMa, where I designed and stage managed Chris Tanner and Brandon Olson's Ravaged by Romance which had a slew of downtown luminaries, I first met Mother, who was part of the cast. Her role had her delivering a monologue from the small side balcony of the theatre and the only way to get to it was from the booth. Flawless would sit next to me and watch the show before she went on. One performance night I told her that I had to "pee like a race horse." She looked at me, opened her mouth, and pointed towards it. I swear, I was practically rolling around on the floor dying from laughter. I will never know if she was serious or just making a joke, but it doesn't matter. To be shameless was what made Mother one of my heroes. Shamelessly QUEER, hilariously absurd, proudly abject, undeniably original. I will miss her.
– Philip Treviño, designer in dance/artist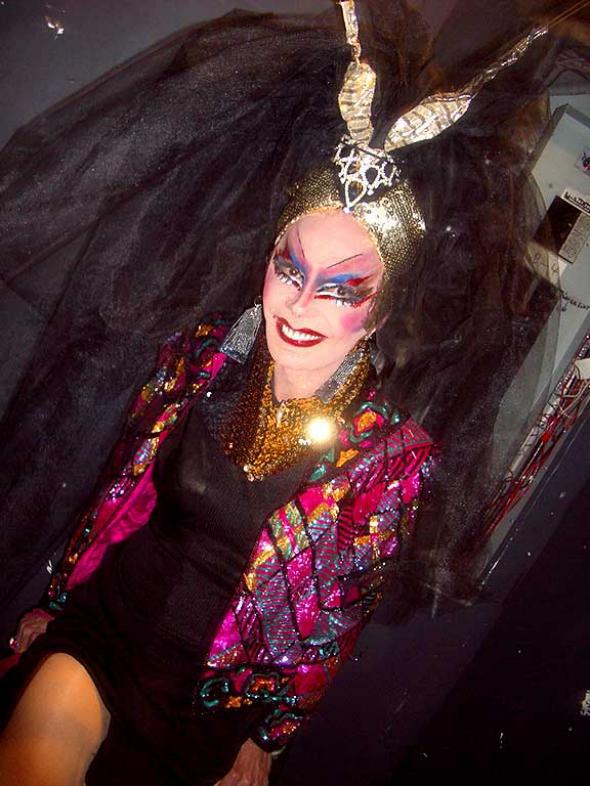 In this world of celebrating youth and tossing away those who lived longer than 40, Flawless Sabrina showed us her continued passion for life and work. Her work kept her engaged with a new generation, inspiring us to be our true selves. For me, Jack solidified my connection with the past and the histories of drag and burlesque. She wove magical stories of the past while inspiring the most innovative of young people. Flawless Sabrina inspires us to age riotously, not gracefully!
– Dirty Martini, General of the Burlesque Army     
In the simplest of words, I think it was her belief in and support of every artist around her that influenced me the most. When I moved to NYC and met Mother Flawless Sabrina, we seemed to be gazing at life from two very distant perspectives and two very different times. In one small step, on the Lower East Side, Flawless bridged the divide. She showed me that the distance I felt was only in my mind. I never saw her begrudgingly arrive at an event. She made a true effort to not just 'show up' at a party but to really be there. Some of the best advice I've ever received on how to live among other human beings was by simply watching her walk into a room and make the rounds. To see the joy and wonder on every face that turned her way can be summed up in one word: Flawless. She gave a sense of confidence to everyone she met. Before ever seeing any of my work, she offered me her home for my first art show. I didn't understand that kind of generosity, but she simply said "that's what it's here for." And it's the meaning behind those words that I aspire to live up to. Our lives are not our own. They should be lived with and given freely not just to those who share our stride, but also to the others who watch from the side. She may have stepped out of the spotlight for the time being, but I imagine the same steady hand that applied her eyeliner is now guiding the beam and directing it where to shine.
– Matthew Charles Crosland, flaneur
Flawless, or "Grandma Jack" as I and many of his "grandkids" affectionately referred to him, was a generous wellspring of timeless wisdom, style, and grace. I know that Witchy Bitch will be working overtime in the afterlife like an industrious butterfly, making sure that we all continue to "OWN IT!" "TAP THE THRUST IN ADVERSITY!" and always practice "DIPLOMACY DARLING!"
– Niko Solorio, video artist/musician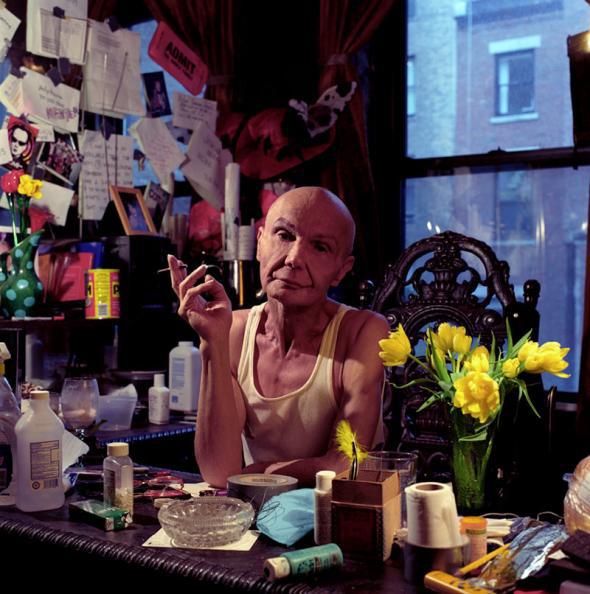 Ever since I met Jack, all of my work has been about her. She is always there, deep inside everything I do. We first met in 2007 when I asked her to play Dorian Gray in my project Dorian, A Cinematic Perfume. I arrived at her apartment and there I was, sitting in a room with Flawless and Holly Woodlawn! I thought I had died and gone to heaven. We talked about art, talked about life, and then Holly turned to me and said, "Forget about Andy, this girl taught me everything I know!"
He, she, they … Jack was beyond labels. S/he knew that the here and now was what was important, and it didn't matter what you called it. What mattered was that you were present, engaged, and never accepting anyone else's terms for living your own life. He taught me to live fully and to believe in the power of my art to change the world. In fact, he believed in my work more than I did! In moments of self-doubt, when I thought my work was total crap, Jack would snap me out of it with words of wisdom, giving me the strength and inspiration to move on. Jack's sheer presence taught me the beauty of survival and the transcendent power of self-transformation. She was a mentor, a friend, a spirit guide, and eternal inspiration full of hope and political fierceness. When we first met, I asked Jack if he preferred to be called Jack or Flawless Sabrina, and he said, 'I don't care what you call me… just call me!' Oh, how I wish I could call him one more time.
– Michelle Handelman, queer feminist artist filmmaker   
I'm remembering all the times she would show up at Cheez Whiz, or any of the other functions hosted by Sweetie, who we also lost earlier this year. Sometimes she was scheduled to perform. Other times she was summoned to the stage or would just be in the mood to take the mic and say a few things, whether she was in drag or not. She would talk and talk and we sat on the floor, just soaking in all the love and beauty and history that filled the room. Mother Flawless had seen and helped to shape decades of LGBT and drag history, and she made clear that what was happening on any given night was part of that long trajectory, and that we were all a part of it. And that we had to love ourselves and each other more, and keep on fighting.
– Noel Alicea             
Key remembrances: Walking into a performance with Angelo, and Flawless standing up and looking over our heads like she was reading auras, "Oh I like this, whatever this is," she said, waving her hands over our head. "This is very good." Or going with Rosie to her apartment for one of her clearance of elements sales. "Mother, is that make up brush sculpture on the wall over there something you would like to move on?" I asked. "Tell me dear, what would you do with that?" she replied. "I would put make up on new faeries with it." "Fabulous!" she said. "Now, Andy gave this to me for my birthday years ago. I think he had someone at the Factory put it together. He may have made it."
I love you Mother Flawless Sabrina. You touched me. You loved widely. Being so fiercely you, you changed the world.f
– Blue Bayer, jewelry designer/maker
Flawless was a dear mentor to me like he was to so many other people. Jack brought me into my own as a drag historian working with the moving image record ("you are the star of your own movie!") and generously offered me a pioneering perspective and profound education on the art, culture, and business of female impersonation in American culture. Jack was truly interested in your work, always there to actively listen, pinpoint and ask the most insightful questions and give Zen-like advice: "it goes where you take it," "go native."
We worked together on several projects, from numerous screenings of The Queen with Q&As to a documentary short uncovering some of The Queen's outtakes. I will forever miss his spritely warm spirit. There was no one like Jack/Flawless, and his deeply rooted impact on society will never be fully appreciated. The Queen is Dead. Long Live the Queen!
– Joe E. Jeffreys, drag historian       
Flawless lived so joyfully and lived so unabashedly as a queer person that I feel stronger and more able to be my eccentric weirdo self having met her, especially after hearing "you're the boss, applesauce" so many times! I will remember her always and think of her as an example of strength whenever I feel small.
– Buzz Slutzky, artist, writer, educator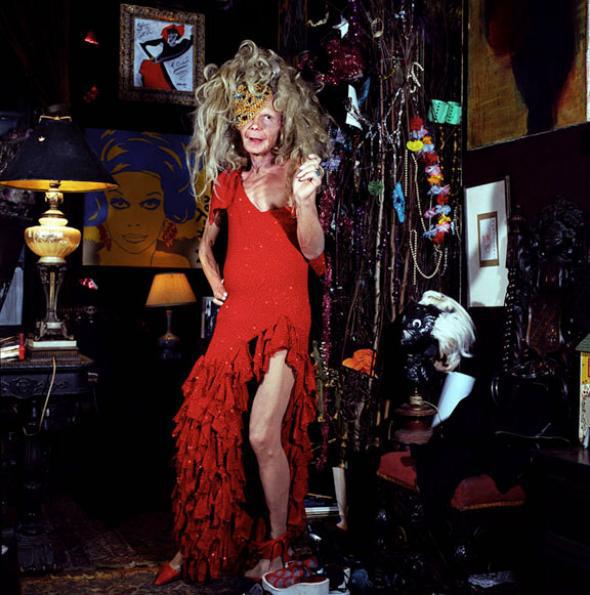 Jack (Mother Flawless) and I found one another in 2002, after one of his spoken word performances at NYC's Slipper Room. I took his photograph, and he invited me into his life. In retrospect, it was our shared history of having lived somewhat fabulously only to retire under the wings of men in our lives, that bonded us for a time—two queens coming out of our shells once again.
To me, no one was as fabulous to be around as Jack. Maybe we'd walk and talk by the Alice in Wonderland statue in Central Park near his home, or I'd bring him Chinese food while he held court in last night's makeup from behind his large desk. It was an honor to be one in a devoted coterie of feral young artists whom he mentored without expectation. I loved him. He encouraged me. He was hardcore. I'd never met anyone who used a sharpie as lip liner before, for example. He was fearless, and he was grace—always so disarmingly appreciative that young people would find him interesting and fantastic enough to hang around. I'll never forget him, his stories, or how fabulous I felt in my skin when I was in his high beams. It's my privilege to have known and been known by him. He's the queen I'll always want to be.
– Jade Barbee , EFT Practitioner/Musician
Mother Flawless Sabrina. The Queen. A monumental force has left the planet. Loved her so much. One night many years ago, in the basement of what was then a bar called Niagra on Avenue A, I was waffling about the future and offers to take my work out of the East Village to bigger, straighter, more mainstream venues. We were talking, and I asked her advice because she seemed to have seen it all and done it all. I'll never forget what she said: "You owe it to yourself and the talent you've been given to go out there and find out exactly how big your audience is!" I took her words to heart and have always been so grateful. She helped me to seize and own my power as a gender-non-conforming person and an artist. I'm just one of the thousands of people whose lives she changed for the better. I think I could safely say most of them are not even aware of what she's done for them. Pioneer, icon, lovely human being, creative spirit, and a true FORCE OF NATURE, Mother Flawless Sabrina will live forever in the movie The Queen and in the hearts of those of us she gave life to.
– Justin Vivian Bond, trans genre artist     
Jack became a part of my life when I was in school. I had my first gallery show in her living room amongst my closest peers. I matted my prints on her floor, and she watched and we spoke. I was always enamored by her voice, what she had to say or was thinking about, how intricately, and innately, she composed her thoughts. She was a paragraph ahead of me in most conversations. At first, I struggled to keep up. Later, I think I just wanted to savor her words. In a funny way, as much as I know that Jack is no longer with us in the mortal sense, I still feel that she is with me. And with all of the children that she mentored and collected into her family. There is no truer testament to her impact than the relationships between many of us that were born under her Upper East Side roof and through time and change remain a constant, living vestige of an icon who dared, relentlessly, and wouldn't accept anything less from us all.
– Phillip Gutman, photographer