Condé Nast announced this week that Radhika Jones will be the next editor in chief of Vanity Fair, the influential magazine of celebrity, politics, and culture. Jones comes to the job from the books department of the New York Times, and has previously served as a high-ranking editor at Time and the Paris Review. She has a PhD in English and comparative literature from Columbia University. She is also, according to one Condé Nast fashion editor, an "interesting" dresser—if you know what I mean.
Jones made her first official visit to Vanity Fair's office in Lower Manhattan to meet with her new staff this week, and the trade publication Women's Wear Daily overheard the reaction of a fashion editor who was there. The account of "one of the company's fashion editors in candid conversation with industry peers" is an inspiring reminder that even a financially and creatively floundering publishing empire can maintain its status as the white-hot epicenter of misplaced pretension. Here are the worst paragraphs:
"She seemed nervous. The outfit was interesting," the staffer noted. According to the fashion editor—who omitted Jones' admirable literary accomplishments from conversation—the incoming editor wore a navy shiftdress strewn with zippers, a garment deemed as "iffy" at best.
Jones' choice of hosiery proved most offensive, according to the editor. For the occasion, Jones had chosen a pair of tights—not in a neutral black or gray as is common in the halls of Vogue—but rather a pair covered with illustrated, cartoon foxes.
The animal caricatures may have also been too much for Vogue editor in chief and Condé Nast artistic director Anna Wintour, who is said to have fixed one of her trademark stoic glares upon Jones' hosiery throughout the duration of the staff meeting.
The Women's Wear Daily item prompted much questioning within the small world of media people who care. Should this thinly-sourced piece of gossip have been published? (Yes.) Does the post describe a scenario that makes Jones look bad, or the fashion editor? (The fashion editor.) Is this anecdote representative of the larger culture at Conde Nast? (We feel safe to say yes.) And most importantly, what did the tights look like?
After several exhausting minutes of fashion research (Googling various combinations of "tights with foxes"), I believe I may have discovered the offending hosiery. Here they are: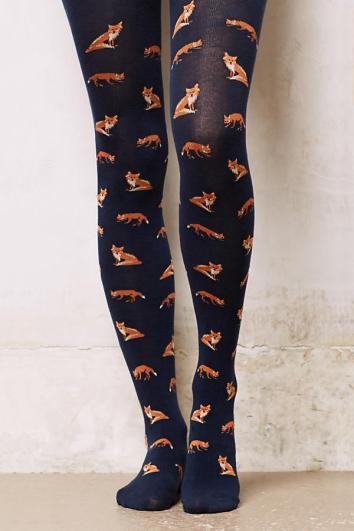 The evidence:
The tights were available in navy blue, which would match with the navy dress that Jones was said to pair them with.
The foxes are stylized enough to be described as "cartoons" by a snob.
They were $40 at Anthropologie, which feels about right for a books editor at the New York Times who will be making a lot at Vanity Fair but not as much as her predecessor.
The good news is that, from what I've read, Jones does not seem to be the type of person to care about insults from an underling who disses her appearance from behind a cloak of anonymity. Foxes eat chickens for dinner.
Update, 2:35 p.m.: The writer Rachel Syme found more fox-patterned tights for those inspired by Jones's style.