For some parents, "bring your daughter to work" day is a one-time, special occasion. For Laura Cedillo, it was her daily reality. Given the exorbitant cost of child care in the Bay Area, she'd been forced to rely on friends to watch her 2-year-old daughter. Things changed, however, after she spent all night in the emergency room after her friend, who was a younger, less experienced caregiver, accidentally dropped her child—thankfully there were no serious injuries. She exhausted the list of capable friends who could fill in, and without any family nearby, Cedillo began sneaking her daughter into her cubicle at the Native American Health Center in San Francisco. In her mind, the risks associated with getting caught were less harsh than the risks associated with not showing up period. "It's one of those horrible feelings where you not only think 'How do you find child care?' " she says, "but how do you find qualified child care when you're away from your family?" She felt desperate. "I gotta do what I gotta do, because I don't want to get fired."
At 2:30 a.m., Andria Carter gets off work from her shift as a clinical social worker at Children's Hospital in San Francisco. She drives to pick up her two boys from her caregiver's house only to find that her new baby boy is wide awake, again. He's been unable to sleep through the night with this particular caregiver for two months, which has started to also wear on Carter. To make matters worse, the caregiver (licensed by the state) was charging Carter for days she was technically closed. "It seemed like she was making up the prices," Carter said. "It was too much! I was working to pay for day care."
Carter and Cedillo were out of options until they found the grandmothers of Gma Village.
Gma Village was born out of T Lab, a social innovation lab tackling poverty issues in the Bay Area. The founder of Gma Village, Catalina Garcia, and her team at T Lab were tasked with solving a problem: how to provide child care for low-income parents who work shifting schedules.
California is one the most expensive states for child care. According to the Better Life Lab's Care Index, in California the average annual cost for in-home care is $30,184, and in-center care is $11,479. These costs are estimated for one child—add a second or third and those price tags skyrocket.
Parents who cannot afford in-home or in-center child care seek alternative options, lean on family or friends, rearrange work schedules, or exit the labor force altogether. Moreover, the options are slim for parents who work nights or unpredictable hours.
Through a design thinking process, the T Lab team began to map out the child care landscape in the Bay Area, with specific focus on Oakland. "We came in with beginner's mind. Two of the three of us are parents," Garcia says, "and we know what it's like to navigate child care, because child care is a challenge across income levels." Garcia's team spent six months talking to parents, subject matter experts, and child care providers. Once a week they also visited parent cafés, which are support centers run for parents with young children, and that's where they found the grandmas. These grandmas were at parent cafés to be around kids and to help nurture their community. Many of the grandmas were there because their own grandchildren are far away or already grown. Garcia's team began conducting community workshops to figure out whether the grandmas were the solution they'd been looking for. Garcia says, "The solution presented itself in one of those workshops," as they found grandmas were just as eager as parents to participate.
Gma Village is essentially a peer-to-peer marketplace, like Lyft or Care.com. It facilitates grandma-to-parent connections for child care services in underserved, low-income communities.
The grandmas attend an extensive orientation, which features background checks as well as a health and safety training. During orientation, they act out hypothetical scenarios, talk through questions for grandmas to discuss with parents, and learn about the village values: Nurture the children, be respectful, support one another, and keep open communication. Gma Village hosts regular meet and greets where parents, grandmas, and children get to know one another before entering into care arrangements. Once qualified, parents can log on to Gma Village and filter their search according to their specific care needs. They might seek care full-time, part-time, one-time, sporadically, or as backup. The suggested rate is $5 per hour, plus $2 for each additional child.
The cost structure came from another workshop in which Garcia's team brought two pieces of information to the decision table: 1) how much informal providers are paid through the CalWORKS child care or Alternative Payment voucher systems and 2) how much low-income parents could pay for child care based on their incomes. With voucher programs, qualified families receive subsidized child care because the government directly pays their informal provider. Garcia's research uncovered that providers are receiving about $2­–3 per hour from these voucher payments. Like many subsidized child care programs, parents are required to pay a "parent fee" or additional reimbursement rate to their provider. Parents, however, can't always pay these fees, and providers don't always collect. The village's grandmas and parents created a mutually beneficial price structure that works within the state's legal boundaries for exempt providers.
According to Garcia, a lot of the moms come into the village without a support network. If they did have one, most had already stretched it thin. "It's hard to sustain those relationships when you need care all the time," Garcia said.
Many of the grandmas worked previously in state or church day cares, Head Start programs, hospitals, and YMCA centers. A majority have additional certifications beyond health and safety, such as CPR, first aid, special needs education, and early literacy. What's more, most have raised children, and many did so alone. They understand the challenges of child care firsthand and can appreciate the benefit of having an extended family. By uniting mothers without nearby family networks with older women who want to provide this care, the village is also creating extended family networks.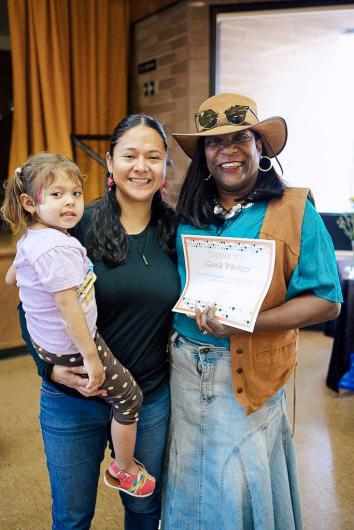 When grandma Tangie Parker first met Laura, she picked up Laura's daughter outside of the BART station. Parker soon realized that Laura was paying to get back on and rushing to catch her train for work. So, Parker started meeting them inside BART. It's these small acts of kindness that enabled them to build a foundation of trust. Laura recalls, "One time, I had to work later, and Ms. Parker waited for me at BART to give us a ride home."
"At a regular day care, if there's bad traffic and you're late, you get fined for that. With me, I understand," says Grandma Parker. "If you call me and let me know you're running late, or you need to stop at the grocery store first, I'm OK with that!" That's the Gma Village difference.
"I missed out on my children being little like this," says Parker. "I wasn't able to be a stay-at-home mom. I had to work in corporate America, wear a suit, punch the clock, and drop my daughter off at day care to be at work by a certain time. Now, I'm kind of like a stay-at-home mom," she said.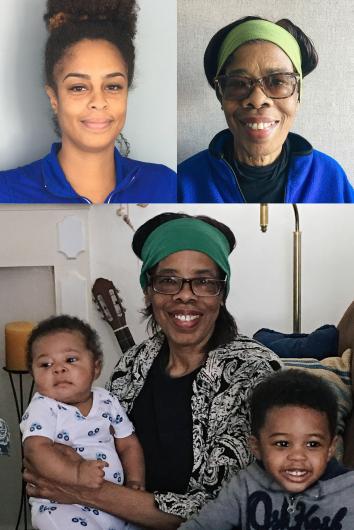 For Grandma Parker and the Carter family's grandma, Zada Flowers, the money is not their first concern but rather an additional bonus. "I get some backlash from people saying, 'It should be more money,' " said Parker. But, she asks, "If it's more money, how are we going to help the people who don't have it?"
The children of Gma Village have also fostered strong relationships with the grandmas. So much so, that Andria's baby now sleeps through the night, and her 2-year-old asks, "Are we going to Zada's?" on Andria's days off.
Garcia and the program are gathering more stories like these as they continue prototyping their services and attracting the financial support it would take to grow. Since they started in 2015, Gma Village has engaged over 200 parents and grandparents and facilitated over 500 child care exchanges. The program currently has 30 parents and 30 grandparents serving around 42 children.
Creating affordable child care on a national scale will take a lot more than small programs like Gma Village and more at the federal level than just expanding the child tax credit, although that's a necessary piece to the puzzle. Gma Village's three-generation approach to solving the challenge of child care is unique, but the idea behind it—getting communities to find their existing resources and put them into action—could be implemented anywhere. Maybe it shouldn't take a village to guarantee affordable child care for working families, but until the structural changes come, the grandmas of the Bay Area are ready to help.
*Correction, Nov. 1, 2017: This post originally reported that Gma Village reached a "predetrmined agreed-upon" amount for childcare offered through their program. In fact, Gma Village suggests the rate, but individuals are free to negotiate a different one.