When the fashion world descends on Paris each fall for a week of runway shows, afterparties, and celebrity appearances, the headlines follow. This year, among photos of Balenciaga's platform Crocs and Thom Browne's unicorn puppet, allegations that a gay club had forcibly ejected Violet Chachki, winner of RuPaul's Drag Race seventh season, went viral.
The controversy began after the well-known American drag queen took to social media the night of Sept. 30 to denounce Le Depot, a venue in the Marais gayborhood. In a tweet, Chachki claimed that the security staff had removed her for not being "masc presenting enough" (an allegation that the Le Depot vigorously denies). She then broadcasted the aftermath live on Periscope.
Predictably, many (mostly American) fans took Chachki's side, leaving negative reviews of the club on Yelp and TripAdvisor, which have since been taken down. Other observers remained more dubious of the allegations. Several Twitter users noted that Chachki had violated the rules of the club by posting videos of the darkroom to social media, a point that Le Depot also raised in a statement posted to Facebook on Oct. 3. Chachki, the club maintained, had also shown "an intolerable aggressiveness towards the security personnel who remained courteous" throughout the ordeal.
Among Paris' inchoate drag community, similar divisions appeared. Mirage, a Paris-based queen, defended Chachki, writing on Facebook that "no Parisian queen will come again" to Le Depot. Other queens were more apprehensive of casting stones, remaining mum on the issue or privately expressing doubt in Chachki's claims.
It seemed, based on initial reports, that Chachki's allegations weren't too far-fetched. She was not the first femme-presenting drag queen to accuse a Parisian club of discrimination. A year ago, another nightclub, which was hosting a "queer" party for the first time, found itself at the center of a similar controversy after its security staff refused for more than half an hour to admit two drag queens and forcibly removed a trans woman from the venue. The event's organizers had personally invited all three.
This incident and "Chachkigate," as some on social media dubbed the ordeal, appeared to confirm a suspicion among Paris' drag community: Despite its notable growth in recent years, the city's drag scene still faces many obstacles to entering—never mind dominating—gay nightlife.
As a newcomer to both Paris and its drag scene, I've learned that drag queens don't run gay nightlife in the French capital as they do in many American cities. Gay clubs, which here focus more on cruising and dancing, sometimes struggle to comprehend the outlandish, glamorous, outrageous queens who now arrive at their doorsteps along with the usual crowd of partygoers on weekends.
It may surprise Americans to learn that drag is a marginal phenomenon in Paris' gay scene today. Of course, to say that drag has never before existed in the French capital would be misleading. Anyone familiar with Cabaret or La Cage aux Folles (which was adapted into the 1996 American comedy The Birdcage, starring Robin Williams and Nathan Lane) should know that nightlife across Western Europe has had elements of drag since the early 20th century. But this legacy, instead of broadening the cultural reach of drag, ultimately pegged the art form to cabarets, isolating it from the gay community at large.
During the Nazi occupation of France, the queer inflections of cabaret culture temporarily disappeared, returning only after liberation. Paris saw a rebirth of the cabarets, ushered in by a new generation of drag performers, when establishments like Madam Arthur and Cabaret Michou opened their doors in the seedy Pigalle quarter in the late 1940s and '50s. These places saturated Parisian nightlife with the panache of the early sexual revolution. They popularized a novel drag form known as transformisme, or female impersonation, in which mostly male performers caricatured well-known European and American starlets. The transformistes often honed specific characters that they portrayed on stage night after night, sometimes in front of the impersonated celebrities themselves.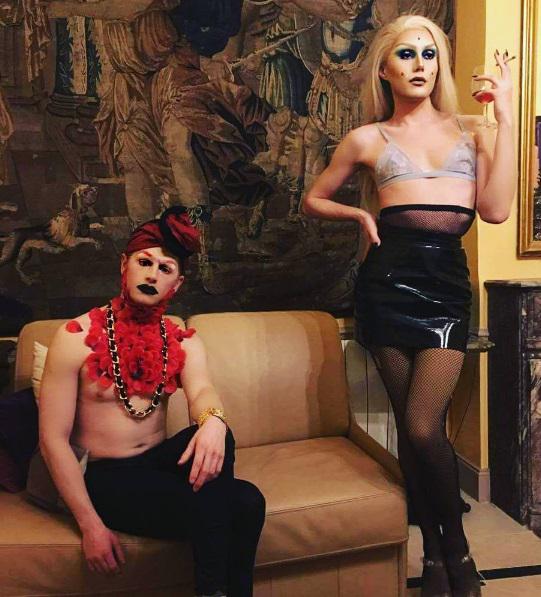 Like much of the gay community, transformiste culture suffered during the AIDS crisis of the '80s and '90s to the point of near-cultural extinction. Only in a handful of cabarets did the art form survive, mostly on its nostalgic appeal.
At the same time, in the United States, drag was evolving in its own ways. In the late '80s, the original cohort of "Club Kids"—an aesthetically experimental group of mostly young, queer personalities, including RuPaul, Michael Alig, Amanda Lepore, and James St. James—introduced drag into more mainstream venues, like the infamous Limelight club in New York City. They conceived of drag as a commercial and, more importantly, entrepreneurial endeavor. They were not acts in a variety show like the French transformistes. Instead, they were club promoters, artistic directors, and celebrities all-in-one. During this period, drag performers and queer socialites took center stage in urban American nightlife—both gay and straight.
The contemporary drag renaissance is no longer situated in America's largest cities. It has begun to spread across the globe, in part due to the rising global popularity of RuPaul's Drag Race. For the leaders of this revival in Paris, the type of drag that is now gaining prominence in the city is a clear departure from early cabaret performance.
"Transformisme is impersonating a celebrity or character that already exists," notes Miss Drinks, who hails from Colombia and has been doing drag in Paris for close to two years. "On the other hand, when I do drag, I'm creating my own varied persona."
Le Filip, originally from Croatia, sees a distinction between contemporary drag and its predecessors, too. For her, drag today is a sort of living "theater" that evolves with the artist's development. "When you're transformiste," she adds, "it's an act. It's repetitive."
Indeed, Paris' newest variation of drag mirrors more of the self-branded, self-starting, highly polished, American variety. This doesn't necessarily translate in a culture that has historically identified a niche for the art form in the cabarets. True, most clubs in this cosmopolitan metropolis tolerate the drag queens, but few have sought to admit them into nightlife as anything more than regular patrons.
Of the handful of establishments that have welcomed the queens, these generally cater to a wealthier class of Parisians and therefore embrace the queens on the condition that they enrich the club's atmosphere. In other words, the queens have to chat and take pictures with paying guests—much like cabaret performers did in the past. The accessory pigeonhole is difficult to escape.
As a result, Paris' queens have sought to develop their own scene from within. In 2014, the self-described "militant queer collective" Paillettes formed in order to organize drag shows in the city. Comprised of eight drag performers, one of the collective's first events was Dragathon, an annual public competition that pits two drag rookies against each other in lip-sync performances (again another American import). Now in its fourth year, Dragathon has had the singular effect of generating not only talent but also an audience for drag from within and without Paris' LGBTQ community.
"Dragathon helped a lot," Ryûq Qiddo, a genderqueer drag performer, believes. "It helped to get us together and to introduce [new queens] to people."
The competition is also a forum for personal and artistic development. "At the moment we're just absorbing all the influences that we have and mixing them with our drag," says Calypso Overkill, originally from Manila, who won the first edition of Dragathon. "The new generation of drag queens in Paris is very versatile thanks to soirées like House of Moda which has a new theme every time. It trains us to be creative.
House of Moda is among the small handful of monthly queer parties put on at more mainstream venues that attract drag performers. A few fortunate drag queens have even landed their own gigs in the past year, which is seen by many as the ultimate goal. A statuesque queen named Ghost, who dons a silvery up-do and beard, now hosts a New Wave party named Tech Noire every other month in the Chatelet district. On Thursdays, Cookie Kunty headlines in the widely successful Jeudi Barré. And a new group of club kids recently started Kindergarten, a cheeky, technicolor rave.
Yet none of these parties are located in the Marais, Paris' traditional gay neighborhood. In fact, the first commercially successful party to make inroads in the district was La Toilette at Le Depot—the very club that Violet Chachki accused of discrimination. Le Depot still doesn't satisfy everyone's criteria for a queer party. Women may not enter the club's basement, which is reserved for the sexual exploits of gay men. For an art form whose fan base includes many straight women, the rule is contentious.
Nevertheless, the party is a welcomed introduction of drag in Paris' gay district. The newest generation of Parisian queens continue to walk a fine line in the city, always pushing the limits of queerness and expression without offending the city's well-established gay culture. In the months I have spent exploring the drag scene in the French capital, I've found that Paris' queens are more restrained when out in public compared to the many plain-spoken queens I've met in the United States. Their movement is still young, and they don't want to develop a reputation for causing trouble.
Even so, these queens are poised to revolutionize drag both in Paris and beyond. In a city rich with art and fashion, nestled in a cradle of modern democracy and sexual liberation, the drag community here does not suffer from a scarcity of creativity or inspiration. With their own continued artistic efforts and just a little more support from the local queer community, they could well become new luminaries in the City of Light.