On Tuesday, one of the heroes of the modern gay rights movement died at the age of 88. Edie Windsor, whose Supreme Court victory slayed the Defense of Marriage Act in 2013, quickly rose to fame in the years that followed, becoming a recognizable face at queer benefits and celebrations. Her platinum-blond bob and impeccable style made her a ready icon, emanating the kind of joy and defiant glamour on which gay communities have thrived for generations.
If you follow a critical mass of queers on social media, your feeds, like mine, have filled with posts memorializing Windsor in the day since her death. Many include old photos of Windsor with her late wife, Thea Spyer, who died in 2009 after living for years with multiple sclerosis, just two years after the couple married in Canada. Because their marriage wasn't recognized in New York, where they lived, Spyer's death stuck Windsor with an estate tax bill in excess of $600,000. A legal wife would have been exempt from the tax—a fact of inequality that the Supreme Court used to justify its overturning of DOMA.
Now, that marriage serves as a vital symbol of queer love flourishing in the inhospitable landscape of a homophobic society. Scrolling through the photos that document their more than four decades together is an affirming experience unmatched by most other posthumous tributes to famous political figures. In images of Windsor and Spyer loving on one another, queer people can see themselves.
Part of the magic here is that the couple's photos span several decades, from times that didn't produce many photos of queer couples. Windsor and Spyer got engaged in 1967, when cameras were a luxury and film processing took some effort. Plus, back then, many gay couples lived in secret; they didn't document their relationships on paper at all. Any old photos we see today are usually pictures of family members, famous people, or historic events. Unless one's parents or friends are gay and past middle age, it's incredibly rare to see a collection of photos of a gay couple that date back to the '60s and march right up to present day. The existence of these images is a reminder that queer love has persisted throughout history, that mid-century queer life meant not only gay-bashings and clandestine bars, but also transcendent connection.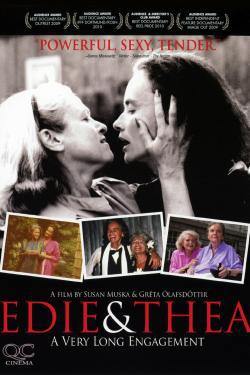 Then there are the photos themselves, which testify to a profound, radiant love. Windsor has spoken eloquently about what it's like to care for someone with a debilitating illness, recounting how they spun around dance floors on Spyer's wheelchair and how insulting it was when people treated Windsor like her caretaker. "I was never her nurse—I'm her lover!" Windsor once told the New Yorker. "I was just doing things to make her comfortable—and that was with loving her and digging her." She said they never abandoned their hot-as-hell sex life, even when the physicality of the act became complicated as Spyer's condition worsened. In images of the couple from decades past, that desire is palpable: They frequently lean on one another, press their cheeks together, lock eyes like they're about to kiss. The photo used to promote Edie & Thea: A Very Long Engagement, a documentary about their relationship, is bracingly intimate, as if the viewer happened upon the couple in their own bedroom.
These pictures hit me straight in the gut, both because of what Windsor gave us and because, in her love with Spyer, I see my own lovers and friends. Some of the photos seem to capture ordinary moments, when a pal with a camera saw a happy couple and hit the shutter. At the beach, in the city, in cluttered rooms and front yards, Spyer and Windsor could be any pair of lesbians navigating everyday life. I recognize their body language, the way they fit together as a butch-femme pair; I can see why Spyer made Windsor's heart quiver and why Windsor made Spyer's turn to mush. Even their old-school clothes, important markers of gender presentation, resonate with gays of today: I know at least three dykes with the oversized frames Windsor sported in this poolside shot and several dapper queers who would kill for Spyer's tailored trousers and loafers this fall. They are an undeniably beautiful couple. That helps.
Long after these photos were taken, after Spyer's death and her Supreme Court win, Windsor got remarried to a woman more than 35 years her junior. (Respect.) She spent the last several years of her life with her arms wide open, showing up all over the damn place to embrace the queer community she'd long loved, which finally got to love her back, loud and in public. Windsor was honored in several Pride parades, sure, but she also walked in the dyke marches, the more radical, in-your-face celebrations, better known for exposed breasts and protest chants than rainbow lanyards and celebrities on floats. She was one of the best of us. More importantly, in both her world-changing activism and her passionate, everyday love, she was one of us.